La Liga's New China Initiative Mirrors Long-Term Strategy in North America
The league's 15-year joint venture with Relevent served as a model for the effort to grow business in China
Less than two years after launching a long-term initiative aimed at growing its brand and business in the United States, La Liga is applying the same strategy to China. The Spanish soccer league on Thursday announced a 15-year joint venture aimed at growing its commercial presence in China amid competition from a plethora of Western sports leagues.
La Liga's formation of the Spanish Football Commercial & Marketing Company with Chinese sports and entertainment agency Super Sports Media and Spanish media company MediaPro via a long-term deal across mainland China, Hong Kong, Macau and Taiwan closely resembles the league's approach to the North American market.
Seeking to establish a foothold in the United States and Canada, La Liga formed a 50/50 joint venture in 2018 with New York-based Relevent Sports Group, an arrangement that caught the attention of the sports industry for its initial 15-year term.
"Developing and growing a market takes time and investment, so having a 15-yr outlook allows you to lay out a strategy and make decisions that can focus on the growth of the brand and monetization that can move the needle for the league and the clubs," Boris Gartner, chief executive of LaLiga North America, said in an email.
The league also made waves by declaring its intent to bring a regular-season match to the United States, an effort that has drawn opposition from several global soccer stakeholders, including the Spanish and U.S. soccer federations and FIFA. Gartner said the push will continue once the threat of the coronavirus pandemic subsides.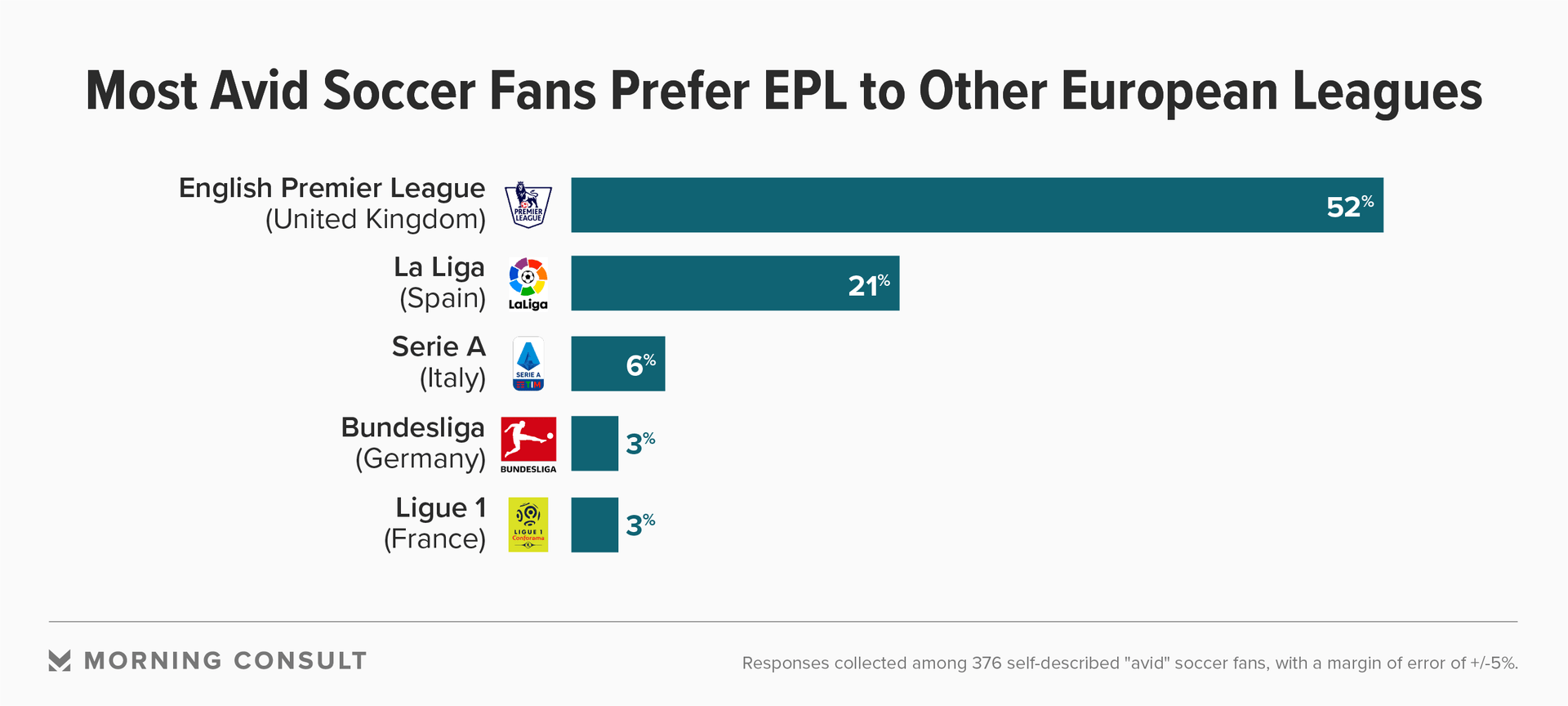 A Morning Consult poll conducted in August 2019 found that La Liga was the second most-popular European league among avid soccer fans in the United States behind the English Premier League by a wide margin (21 percent versus 52 percent).
In Relevent, a soccer events and media company bankrolled by Miami Dolphins owner Stephen Ross, La Liga president Javier Tebas saw an established player with a track record of monetizing international soccer stateside. Its annual International Champions Cup brings top clubs from Europe across the pond to play in front of tens of thousands of American fans.
"What was smart from his side was understanding that he was not going to be able to crack this market by himself with the mentality of managing everything from Spain," Gartner, who leads a team of 20 between New York, Toronto and Mexico City, said of Tebas in an interview last week.
While Spain's two premier clubs, Barcelona and Real Madrid, are household names, the other 18 clubs are far less prominent outside Europe. Raising the profiles of the other teams in the league's upper half, Gartner said, is a constant focus and a key to increasing sponsorship and media rights revenue.
Under Gartner, LaLiga North America has signed corporate partnerships in the United States with Verizon Communications Inc., Dish Network Corp.'s Sling TV and PointsBet within the past eight months. Gartner said the league has two additional sponsorships lined up for next season that have yet to be announced.
Gartner also led a renewal of La Liga's U.S. and Canadian media rights deal with beIN Sports last year through 2024, a three-year extension that a person with direct knowledge of the agreement said pays slightly more per year than the $166 million NBC Sports pays annually for the English Premier League's U.S. rights. That represents a portion of beIN's total spend with La Liga to air matches in 17 territories globally. 
While the move surprised some due to the programmer's lack of distribution with Comcast Corp. and AT&T Inc., Gartner acknowledged that sticking with beIN made financial sense for ownership and made La Liga the premier property for a linear network group, as opposed to being behind a paywall. He expects the rights will be in high demand in 2024, two years ahead of the 2026 World Cup in North America.
In China, La Liga expects Super Sports to deliver the type of market-specific focus and experience that Gartner and Relevent bring in the United States. There are, however, two key differences between the arrangements.
First, La Liga doesn't have any near-term plans to bring a match to China. Second, the joint venture in China isn't responsible for growing the value of the league's media rights: Super Sports holds the rights in China itself and distributes matches across linear television and its OTT service, iQIYI Sports.
In the short term, Gartner's team is focused on building excitement for the league's likely return to the pitch in June. It recently held an esports tournament in conjunction with LeBron James' media company, Uninterrupted, that featured well-known American sports figures playing "FIFA" with La Liga stars.
Alex Silverman previously worked at Morning Consult as a reporter covering the business of sports.
We want to hear from you. Reach out to this author or your Morning Consult team with any questions or comments.
Contact Us