'Global Is Cool': The Growing Appeal of Premier League Soccer in America
Soccer's perceived foreignness — once an obstacle — is now a boon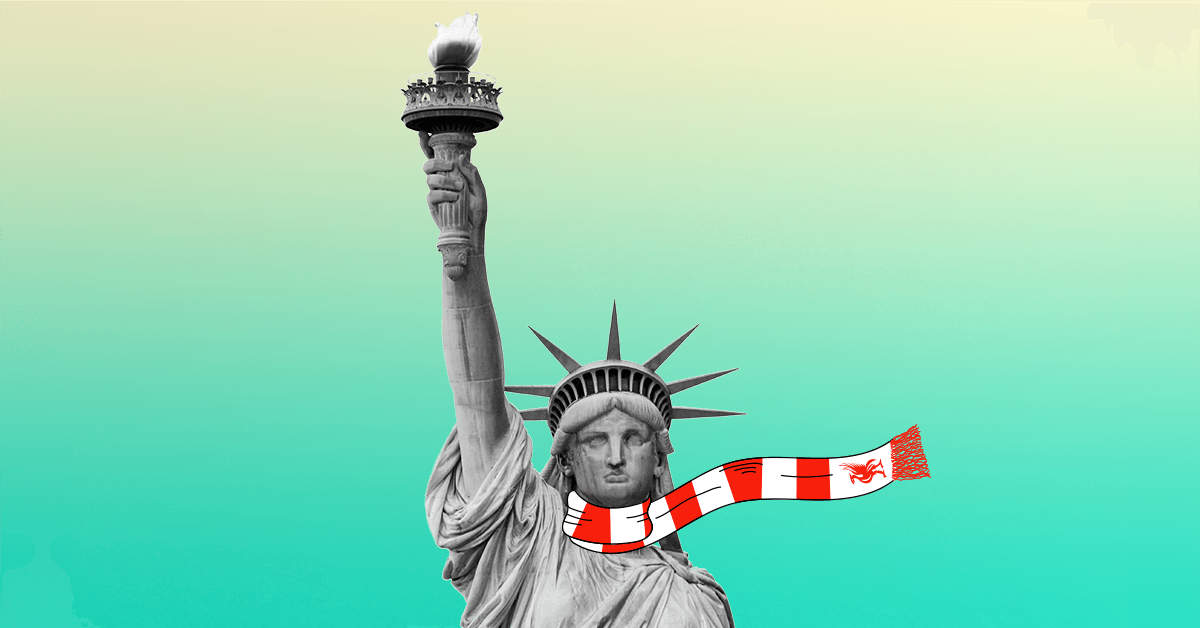 Key Takeaways
11% of U.S. adults and 52% of self-described "avid" soccer fans said the English Premier League was their favorite European soccer league

57% of the fans who had a favorite Premier League team said they began following that team within the past 5 years

EPL fan base is younger than fans of the top two U.S. sports leagues, the NFL and MLB
Globalization has opened up new opportunities for sports leagues around the world, and the English Premier League's decades-long efforts at cultivating the U.S. market is bearing more and more fruit.
The Premier League stands apart from other European leagues in its popularity among Americans, according to a Morning Consult survey: Fifty-two percent of self-described "avid" soccer fans said England's top flight was their favorite European soccer league to follow, more than twice the share who opted for Spain's La Liga. The top leagues in Italy, Germany and France were even further behind.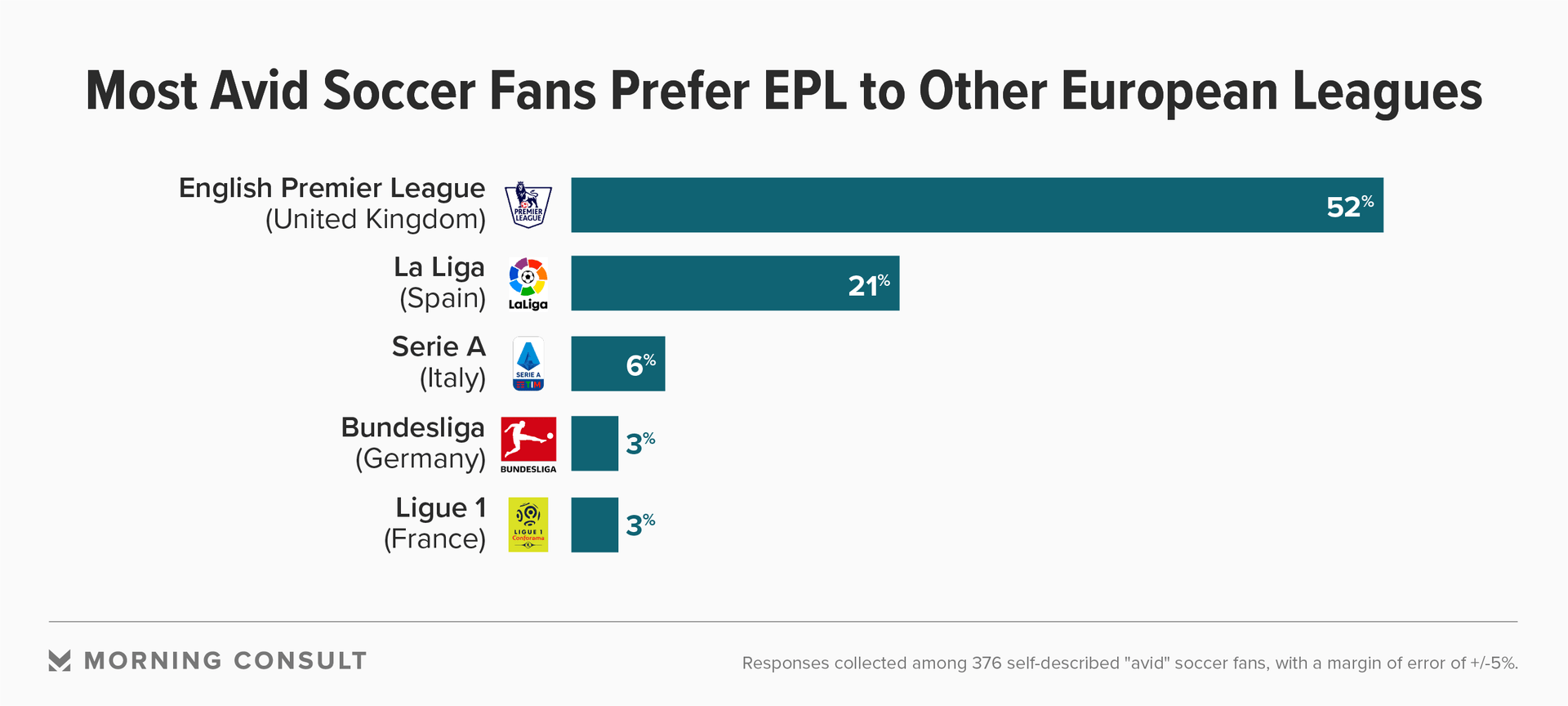 It's still a niche market. The poll, which surveyed 6,599 U.S. adults in the weeks ahead of the Premier League's Aug. 9 season kickoff, found 83 percent said they didn't follow any of the five major European soccer leagues, and just 6 percent described themselves as avid fans of the beautiful game. 
But as time goes on, that first number is likely to shrink, and the second number is likely to grow.
A majority of the Premier League fans surveyed said they began following their favorite team within the past five years.
That's come as an average of 34.6 million TV viewers have tuned into Premier League broadcasts on NBC Sports during each of the past six seasons, more than twice the 13.3 million viewers drawn during the 2012-13 season on ESPN, ESPN2 and Fox Soccer.
It's been a long road to American relevance for the Premier League, which has been regularly aired stateside since 1999, when the now-defunct Fox Sports World first provided full-season coverage of Britain's top division. What was once a key headwind for soccer — the game's perceived foreignness — has become one of its main drawing points.
"Global is cool, particularly for the younger audience," said John Guppy, an English-born former MLS executive and owner of Gilt Edge Soccer Marketing, the U.S.-based agency of record for the Premier League and two of its major clubs, Chelsea and Liverpool.
Fifty-five percent of Premier League fans in the survey were under the age of 45, making it a significantly younger base than the followings for America's most popular sports leagues, the NFL (43 percent under 45) and MLB (35 percent under 45).
The Premier League fan base in the United States boasts other favorable characteristics for marketers in comparison with America's leading pro leagues. It's more racially diverse than the NFL and MLB fan bases, and it has higher levels of educational attainment and income than the NFL. Its followers are also more likely to hail from urban and suburban areas.
The findings also indicate a fair amount of crossover appeal for the league, particularly within the past five years, drawing interest from fans of America's dominant pro sports: football, baseball and basketball. Roughly 3 in 5 NFL and MLB fans and said they'd been following their favorite Premier League team within the past five years, and among NBA fans — a comparatively youthful and diverse fan base — that number ticked up to 65 percent. 
"There are a lot of different psychological needs that you can at least partially meet through sports fandom — one is obviously the need to belong," said Daniel Wann, a professor at Murray State University and leading expert on the psychology of sports fandom. 
"But another equally powerful need, and one that can be met by following a different team, is the need for distinctiveness. At a basic psychological level, following a distant team gives you something unusual that allows you to stand out among your other sport fan friends," he said.
The digital age has helped nurture that impulse, Guppy and Wann said, with online forums and social media providing a digital water cooler scene to connect Americans with fans around the world. The fact that Britons and Americans share a common language gives the Premier League a leg up on its European competitors.
The energy from American fans is palpable, according to Andrew Mangan, founder of Arseblog, a fan site for supporters of Arsenal Football Club. Mangan completed a coast-to-coast U.S. tour following the North London team as it played exhibition matches in Los Angeles, Denver, Washington D.C., and Charlotte, N.C., in July. (Full disclosure: This reporter is an Arsenal fan and a habitual consumer of Arseblog content since 2006.)
Mangan, who runs the site he founded in 2002 from his home in Dublin, spoke of the "sheer enthusiasm" from American fans he met at pre-match tailgates, live podcast recordings and other meetups.
In most ways, these American fans are just like supporters back in the United Kingdom, he said, but the biggest difference is that enthusiasm — how the club is almost like a "shiny new toy."
"There's a thirst for knowledge about every aspect of the football club, top to bottom," he said, with foreign soccer's idiosyncrasies such as player purchases and the transfer market, multiple ongoing competitions and a less-regulated league and club management and business structure all holding a different appeal for new followers of the game. 
That American thirst continues to fill the coffers of the league and its teams. NBC ponied up roughly $1 billion in 2015 to extend its Premier League rights through the 2021-22 season, according to The New York Times, effectively doubling on an annual basis what it had paid to secure the rights a few years earlier. 
The ways American fans get hooked on a particular Premier League team are myriad. Often it's an affinity with a particular player that serves as a gateway. For example, this reporter's Arsenal loyalty has its foundation in Dutch soccer star Dennis Bergkamp, one of the most eye-catching players of the 1994 and 1998 World Cups, both of which were covered wall to wall in the United States.
The influence of video games also shouldn't be understated. "I've often said that if I ever wrote a book about the growth of soccer in America, the FIFA franchise would have its own chapter," Guppy said, referring to the EA Sports game.
For a professional sports team looking to establish a connection with teen consumers — perhaps the most desired target audience for professional soccer clubs, Guppy said — a video game is a natural gateway. Long periods of screen time allows people to quickly learn the players, teams and the venues involved, driving interest.
Familial ties to a soccer-loving country and travel experiences can also play a role in building Premier League fandom, as does the lack of competition for attention during weekend mornings, when most Premier League matches start. 
"NBC does a fantastic job," Guppy said. "They have essentially carved out the opportunity for the Premier League to own a moment in time, which is Saturday and Sunday morning. Nobody else owns that appointment-viewing slot."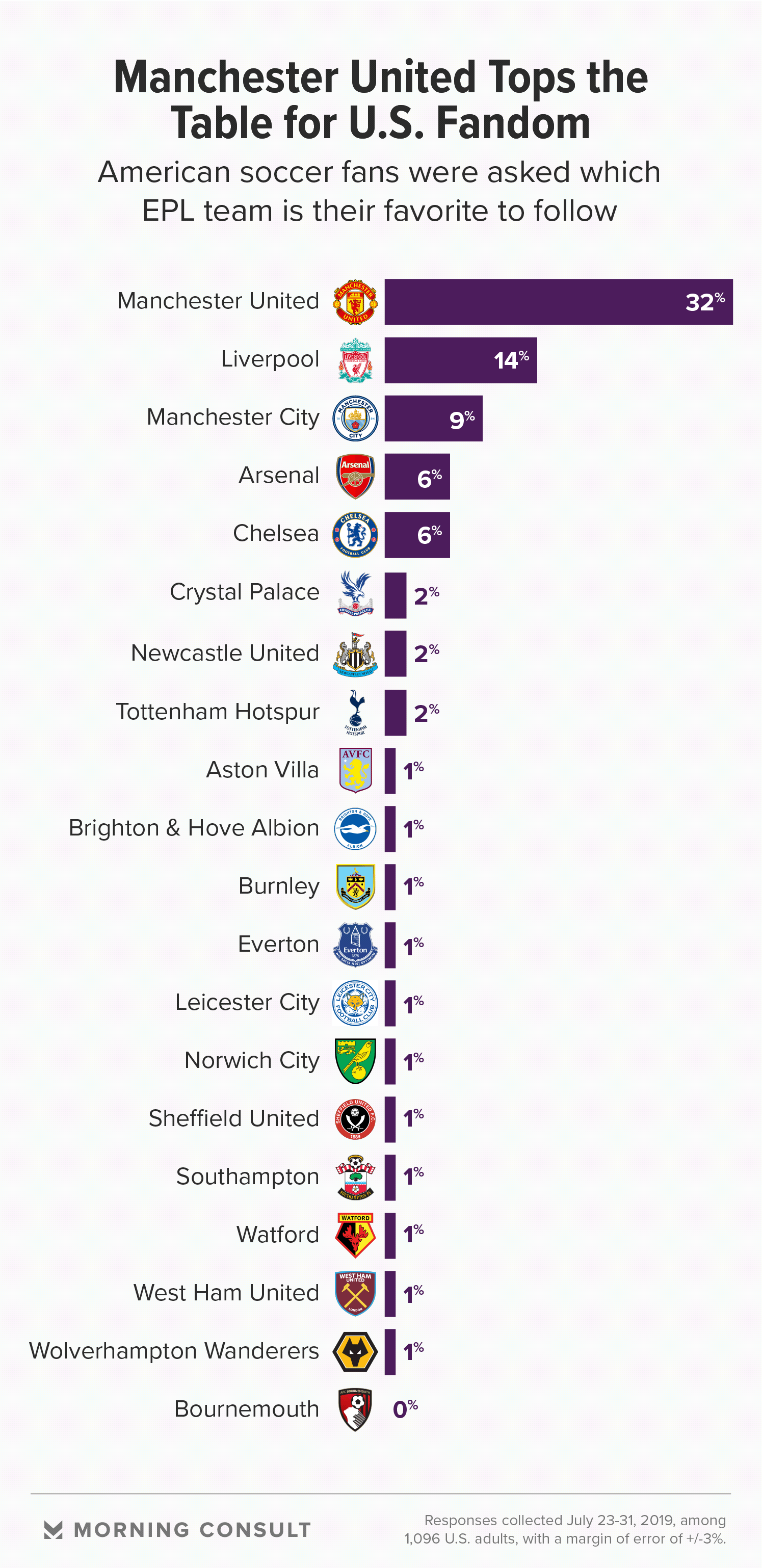 The early morning weekend games also have created their own soccer culture through the businesses that cater to these fans. In Washington, D.C., the country's top local EPL market last season, according to NBC Sports, each of the major teams have supporters' clubs who wake up in time to turn up at bars for 7:30 a.m. kickoffs, where they tuck into full English breakfasts, drink Guinness and join fans across the world in belting out the chants picked up by TV cameras inside the stadiums.
Of course, when it comes to deciding which club to follow, the survey's findings make two things plain: Success is the biggest driver, and clubs that have only recently reached the pinnacle are gobbling up market share. 
According to the Morning Consult poll, English football's two winningest clubs (including top-flight championships that precede the Premier League's establishment in 1992), Manchester United and No. 2 Liverpool, top the list of largest U.S. followings at 32 percent and 14 percent, respectively. They are followed by Manchester City (9 percent), which won only two league titles up until its 2011-12 championship season, but have gone on to win three more titles since then. 
Chelsea and Arsenal, at 6 percent each, were tied for fourth, and offer neat contrasts. While the former had won just one title before the 2004-05 season, it now holds six league championships in its trophy case. Arsenal, meanwhile, remains mired in a title drought that dates back to the 2003-04 season, when its "Invincibles" team went undefeated.
Cameron Easley is Morning Consult's lead analyst for U.S. politics. Prior to moving into his current role, he led Morning Consult's editorial coverage of U.S. politics and elections from 2016 through 2022. Cameron joined Morning Consult from Roll Call, where he was managing editor. He graduated from the University of North Carolina at Chapel Hill. Follow him on Twitter @cameron_easley. Interested in connecting with Cameron to discuss his analysis or for a media engagement or speaking opportunity? Email [email protected].
We want to hear from you. Reach out to this author or your Morning Consult team with any questions or comments.
Contact Us