Finance
Amid Record Job Loss, Over 3 in 4 Adults Support Collective Bargaining Actions
Backing for labor unions has support of just over half of public
Key Takeaways
56% say they support labor unions; 77% support workers' right to bargain collectively for pay, health care and time off.

Labor unions have higher levels of support among Democrats (70%) than Republicans (42%).

Strong majorities of Democrats (86%) and Republicans (73%) back specific collective bargaining priorities.
As Americans lose their jobs in record numbers and low-wage employees are asked to put their lives on the line to stock grocery store shelves, treat patients in hospitals and staff warehouses, worker protests and labor movements are increasingly popping up across the country.
New Morning Consult polling suggests that most adults are sympathetic to the cause.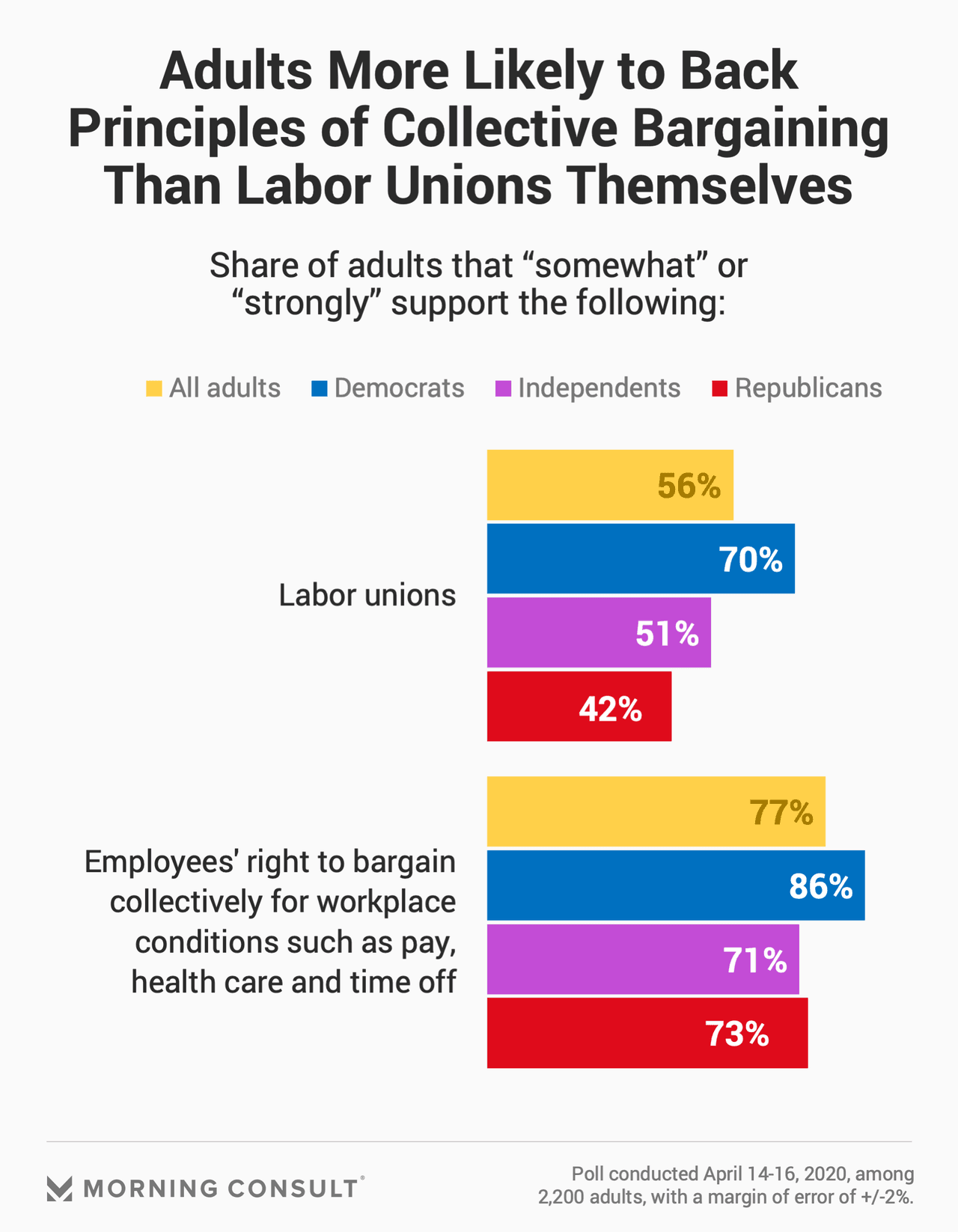 Fifty-six percent of adults surveyed by Morning Consult said they somewhat or strongly support labor unions, as backing trended higher among Democrats (70 percent) than Republicans (42 percent). The poll, conducted April 14-16, surveyed 2,200 U.S. adults and carries a margin of error of 2 percentage points. 
Those numbers shot up when adults were asked a similar question that excluded the term "labor union." Seventy-seven percent of all adults say they somewhat or strongly support "employees' right to bargain collectively for workplace conditions such as pay, health care and time off."
The rise in support reflects strong majorities in both parties: Eighty-six percent of Democrats and 73 percent of Republicans said they back employees' right to bargain collectively.
The survey results come as 22 million people filed jobless claims in the last four weeks, according to recent figures from the Labor Department, roughly equal to the number of jobs created in the stretch since the last recession. At the same time, frontline workers, especially those who work at Amazon.com Inc. warehouses and in grocery stores, are becoming increasingly outspoken.
Historically, support for labor unions is at a relative high, said Steven Greenhouse, a former labor journalist for The New York Times who has written books on the subject.
Gallup, which asks a similar question every August ahead of Labor Day, found that support for labor unions in 2019 was the highest it's been in more than 15 years. The same poll found, however, that support for labor unions tends to fall during tumultuous economic times.
Labor movements in general are moving to more white-collar jobs, garnering increased support among more Americans. Research at Columbia University, for example, has found that teacher strikes in particular have helped form more positive attitudes toward organized labor.
But while support for unions is high, it's still unclear whether that will translate to a sustained surge in labor activity. The impact of the coronavirus pandemic could be twofold, Greenhouse said.
"A ton of workers are very upset that their employers aren't doing enough to protect them, and that's creating increased sympathy for unions," he said. "At the same time, workers often feel more precarious, their lives are uncertain and those at work might fear that if you speak out and fight for a union, maybe they'll get in trouble."
On top of that, collective action might be more difficult to accomplish in the coronavirus era, simply because of logistics.
While some workers are organizing online, "it's hard to protest when you have to stay six feet apart," Greenhouse said. 
Claire Williams previously worked at Morning Consult as a reporter covering finances.
We want to hear from you. Reach out to this author or your Morning Consult team with any questions or comments.
Contact Us