54% of Voters Back Mail-In Voting for Presidential Election if Pandemic Persists
A slight majority of Republican voters do not share Trump's opposition to postal balloting
Key Takeaways
71% of Democrats, 50% of independents and 38% of Republicans back letting Americans vote for president by mail if the pandemic remains.

57% of voters said they were concerned that the election could be postponed due to the coronavirus.

55% of GOP voters said they support allowing U.S. voters to cast their ballots by mail in all upcoming elections, and support rose 10 points if the option were offered only during the coronavirus pandemic.
President Donald Trump and a number of his Republican allies have raised concerns about voting by mail in November's elections, even as public health experts expect the novel coronavirus sweeping across the country will still pose a public health threat with no vaccine expected until early next year at the soonest.
But according to a new Morning Consult poll, a little over half of voters -- fearful about voting in person during the coronavirus outbreak -- want the contest to go on and would prefer most Americans cast their ballots at the mailbox rather than risk contracting the coronavirus at their polling place.
The April 9-10 poll found 54 percent of registered voters said that the election should be held on schedule and that most Americans should vote by mail if the coronavirus pandemic is still a public health emergency. That includes 38 percent of Republicans, half of independents and 71 percent of Democrats.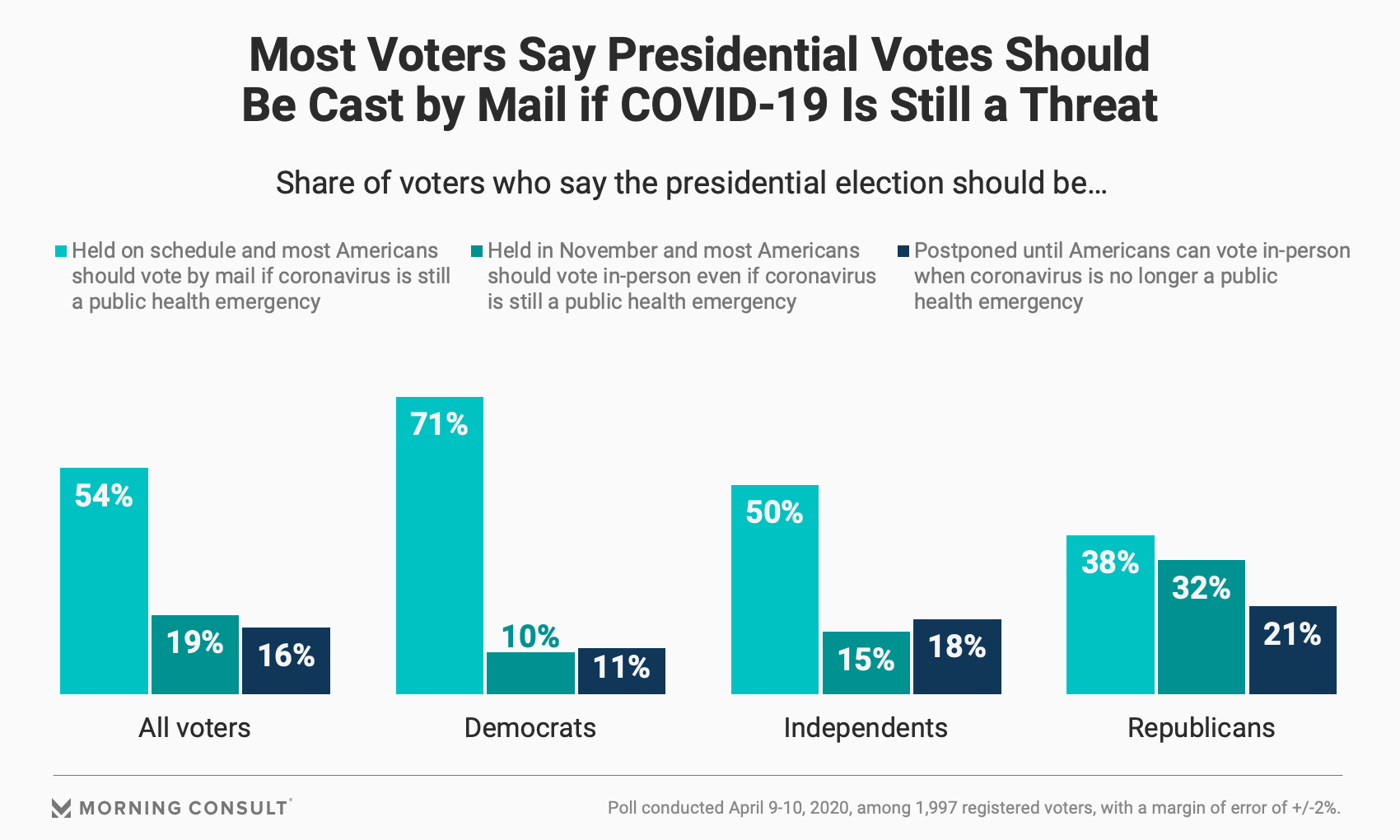 Nineteen percent of all voters, including 32 percent of Republicans, said the election should go on with in-person voting even if the pandemic, as predicted by experts, is still a threat, while 16 percent said the contest should be postponed in that scenario. 
More than half (57 percent) of voters -- including 72 percent of Democrats, 49 percent of independents and 47 percent of Republicans -- expressed concern about the election being postponed due to the coronavirus.
Laws allowing all-mail elections -- on the books in Colorado, Hawaii, Oregon, Washington and Utah, according to the National Conference of State Legislatures -- send voters ballots ahead of the contests to return by mail. They differ from some mail-in absentee ballot programs, such as the ones that allowed Trump to send his postmarked ballot in the 2018 elections and this year's Florida primary, which do not automatically send voters ballots, and in a third of the states, absentee voters have to provide a reason they can't make it to the polls. 
Trump has been transparent about his reasoning. In a tweet, he said mail-in voting "doesn't work out well for Republicans," citing dubious claims about voter fraud, and he urged Republicans to "fight very hard" against it and support expanded absentee options instead. 
That messaging has not trickled down to the party's rank and file. Over half of GOP voters (55 percent) said they support allowing U.S. voters to cast their ballots by mail in all upcoming elections, and support increased by 10 points in the survey when they were asked if they would support a vote-by-mail option only during the coronavirus pandemic. 
Voting by mail is widely popular among the overall population, with 65 percent backing it. Support rose to 71 percent if the option was given only during the pandemic. 
The majority of voters (58 percent), including 50 percent of Republicans and 71 percent of Democrats, also said they were confident that paper ballots cast by mail would be counted accurately, though more were confident in more common recent counting tactics, such as scanning a paper ballot into a machine or using electronic machines that provide a printed receipt.
But both Democrats and Republicans have more confidence that ballots cast by mail would be counted accurately compared to ballots that were cast online or using a mobile application. That reflects the 70 percent of voters who are concerned about voting equipment being hacked this year -- a fear matched by the share concerned about voting in person during the global pandemic.
Eli Yokley is Morning Consult's U.S. politics analyst. Eli joined Morning Consult in 2016 from Roll Call, where he reported on House and Senate campaigns after five years of covering state-level politics in the Show Me State while studying at the University of Missouri in Columbia, including contributions to The New York Times, Politico and The Daily Beast. Follow him on Twitter @eyokley. Interested in connecting with Eli to discuss his analysis or for a media engagement or speaking opportunity? Email [email protected].
We want to hear from you. Reach out to this author or your Morning Consult team with any questions or comments.
Contact Us