Majority of Republicans Support Putin Coming to Washington
And voters split on whether Trump believes Russia tried to influence the 2016 presidential election
Key Takeaways
73% of Republicans and a 43% plurality of all voters support Trump hosting Putin in Washington this fall.

A plurality of all voters say they believe Russia influenced the 2016 contest, while a larger share say Russia tried to influence the election.
Republican lawmakers have expressed misgivings about the idea of Russian President Vladimir Putin visiting Washington, D.C., but the bulk of Republican voters approve of it – putting the party's officials at odds with the GOP base.
A new Morning Consult/Politico poll found 73 percent of Republicans support President Donald Trump hosting Putin in Washington in the fall – joining a 43 percent plurality of all voters in support of the meeting.
The survey of 1,996 registered voters was conducted July 19-23, after White House press secretary Sarah Huckabee Sanders announced that National Security Advisor John Bolton was asked to invite Putin to Washington in the fall, following the two leaders' Helsinki summit last week.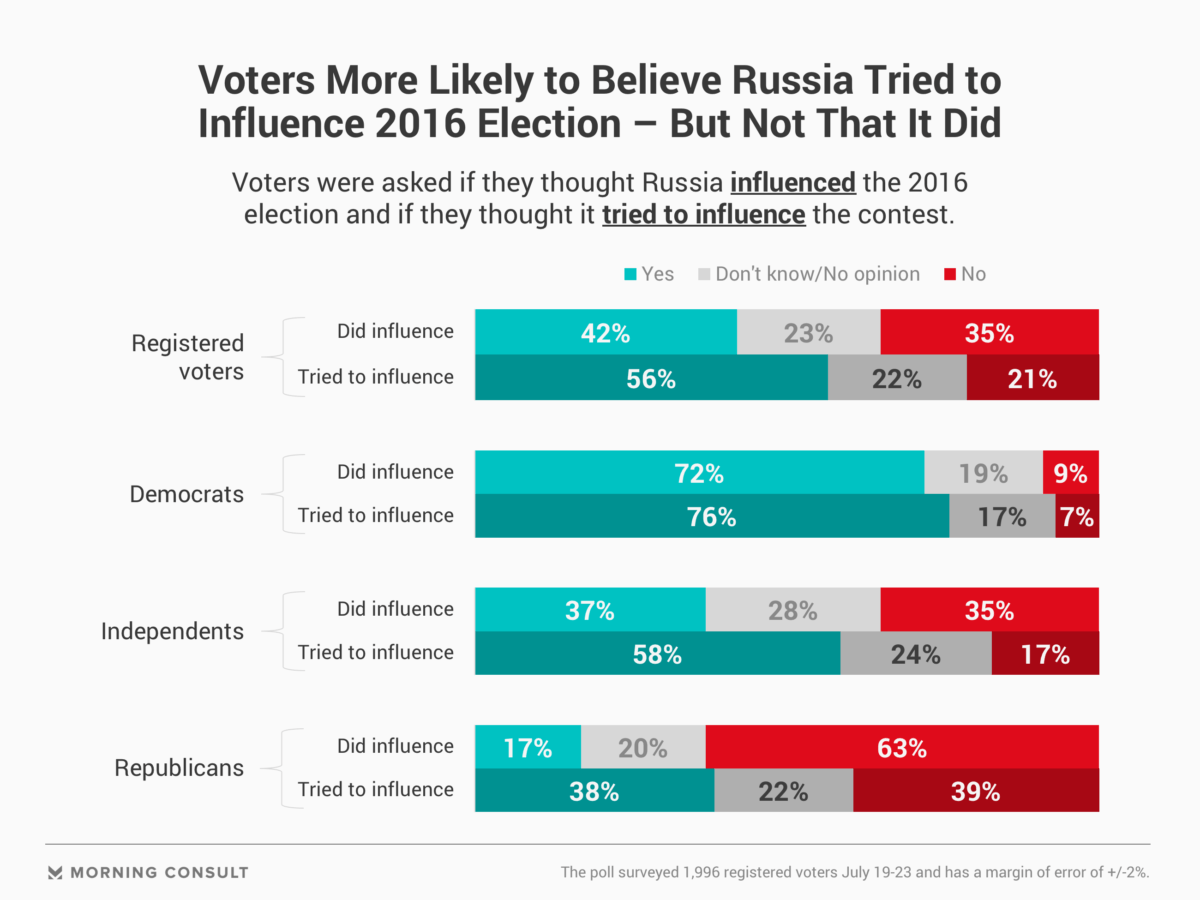 The prospect of another meeting – this time in Washington – has prompted some top Republicans to voice their reservations. Sen. John Cornyn (R-Texas), the party's whip, said he'd prefer that Trump put another meeting on the "back burner for a while," according to The Hill, and Sen. Pat Toomey (R-Pa.) told Politico "I'm not sure that's such a great idea at this point."
When asked by reporters about a possible meeting with Putin, House Speaker Paul Ryan (R-Wis.) on Tuesday said Congress "would certainly not be giving him an invitation to do a joint session," since that is "something we reserve for allies." Ryan added that he is comfortable with presidents meeting one-on-one with foreign leaders, but what matters is the message they present.
"If the message is 'stop meddling in our country' – 'stop violating our sovereignty' – then I support that," Ryan said.
Senate Majority Leader Mitch McConnell (R-Ky.) sang a similar tune, telling reporters later that day that "the speaker and I have been clear that Putin would not be welcome up here at the Capitol."
The Kremlin has not formally accepted Trump's invitation.
The White House spent the days following Trump's summit with Putin seeking to clarify the president's stance on Russian interference in the 2016 election.
Standing alongside the Russian president at their July 16 summit, Trump cast doubt on U.S. intelligence reports that accused Russia of meddling, saying, "I don't see any reason why it would be."
Back in Washington, Trump said he misspoke, saying the word "would" when he meant to say "wouldn't."
"I accept our intelligence community's conclusion that Russia's meddling in the 2016 election took place," he told reporters the day after the summit, adding, "Could be other people also; there's a lot of people out there."
Voters were split on what Trump actually believes about Russian interference: A small plurality (39 percent) said he does believe Russia tried to meddle in the 2016 race, while 34 percent said he doesn't. Republicans were split – 37 percent to 36 percent – on the question, while a plurality of Democrats said Trump does believe Russia tried to influence the contest.  
When asked about their own views, 42 percent of all voters, a plurality, said they believe Russia did influence the 2016 presidential election – while a larger share, 56 percent, said Russia tried to influence the contest.
Sixty-three percent of Republicans said Russia did not influence the 2016 election, down 6 percentage points since voters were asked the same question in January; other voters' views were largely unchanged.
Republican voters were almost evenly split on whether Russia attempted to sway the last presidential election, 38 percent to 39 percent.
Trump said Tuesday he was concerned "Russia will be fighting very hard to have an impact on the upcoming Election," but "based on the fact that no President has been tougher on Russia than me, they will be pushing very hard for the Democrats."
A majority of voters agreed with Trump that Russia would try to influence the 2018 midterms, and a 43 percent plurality said the same about the 2020 presidential contest.
But when it comes to who would benefit, U.S. voters had a different perspective: 47 percent thought Russia was more likely to help GOP candidates in 2018, compared to 13 percent who said it would help Democratic candidates.
Eli Yokley is Morning Consult's U.S. politics analyst. Prior to his current role, Eli was Morning Consult's senior reporter covering U.S. politics. Eli joined Morning Consult in 2016 from Roll Call, where he reported on House and Senate campaigns after five years of covering state-level politics in the Show Me State while studying at the University of Missouri in Columbia, including contributions to The New York Times, Politico and The Daily Beast. Follow him on Twitter @eyokley. Interested in connecting with Eli to discuss his analysis or for a media engagement or speaking opportunity? Email [email protected].
We want to hear from you. Reach out to this author or your Morning Consult team with any questions or comments.
Contact Us