Mapping Scooters' Explosive Growth, State by State and Country by Country
New Urban Mobility Alliance's new tool to track the industry shows devices have spread to 37 U.S. states in 2 years
Key Takeaways
11 U.S. states have just scooters as a micro-mobility option, compared to four states that only have dockless bikes.

Nine states don't have any micro-mobility device rentals offered in their cities.
In the two years since Neutron Holdings Inc.'s Lime and Bird Inc. introduced electric scooters to U.S. streets, the devices are now in 37 states, according to data from a new map tool aimed at helping city officials track which other communities are dealing with similar issues. 
As the U.S. growth of electric scooters outpaces that of dockless bikes, posing a regulatory challenge for local policymakers, the New Urban Mobility Alliance, a group created by Zipcar Inc. founder Robin Chase in January, is bridging the gap between the micro-mobility industry and policymakers with the release of a new map Wednesday detailing the presence of emerging shared devices in 626 cities worldwide.
According to the NUMO New Mobility Atlas, nearly a third (11) of those 37 U.S. states have scooter rentals as their only micro-mobility option -- meaning dockless bikes or moped companies don't operate in their states. And nine states don't have any micro-mobility rentals available at all.
The rapid adoption of scooters means it might be time for cities to rethink basing policy and land use decisions on car and bicycle ridership numbers, according to Harriet Tregoning, director of the NUMO Alliance, which is hosted by the Washington-based World Resources Institute Ross Center for Sustainable Cities.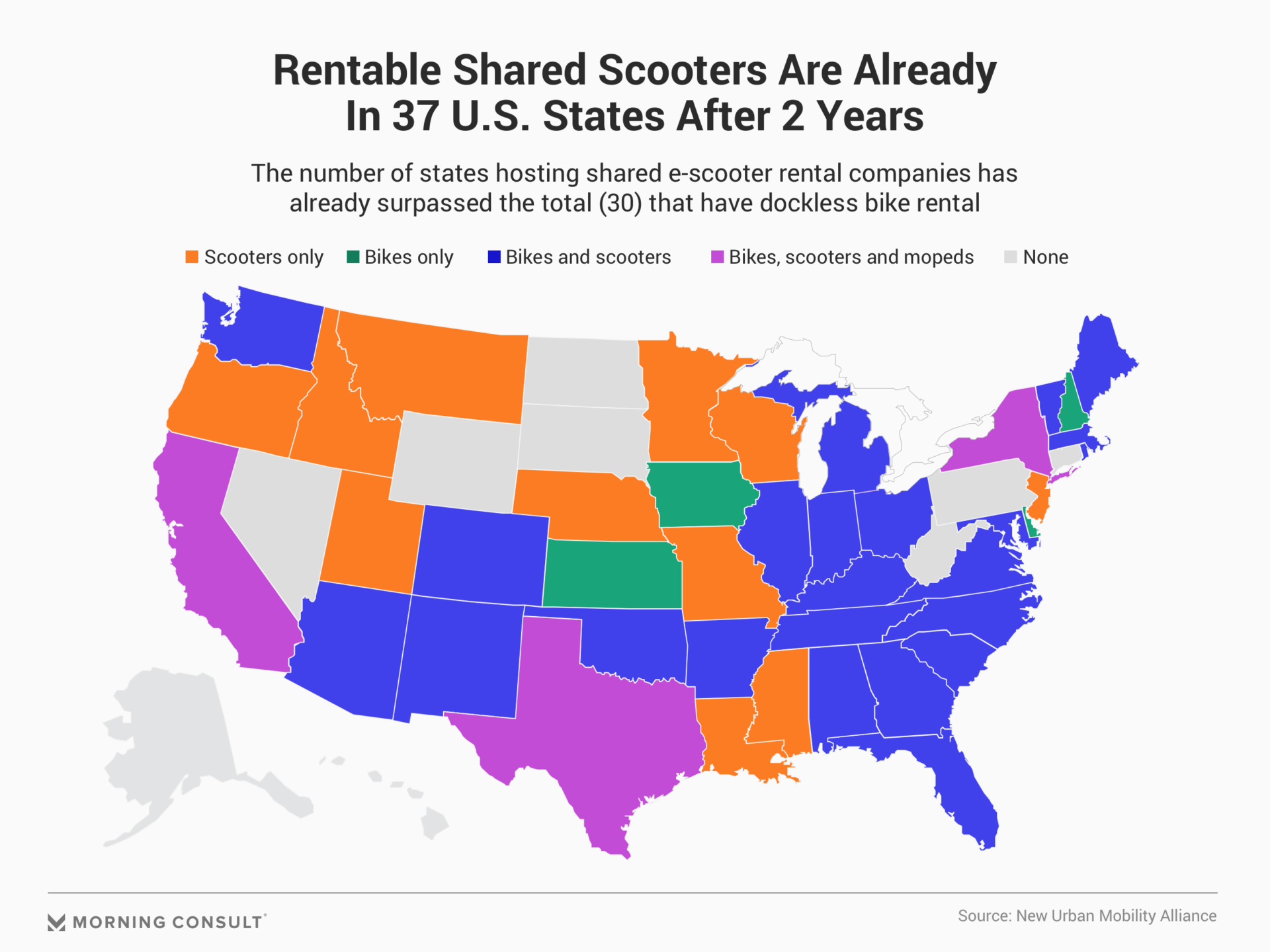 She said that micro-mobility adoption has been spreading rapidly among people who hadn't been using existing public transport options like docked bike share programs.
"Part of the reason we saw such rapid proliferation in the U.S., relative to other places in the world, is that we basically take twice as many trips by car at distances under 10 kilometers," or a little over six miles, Tregoning said. That's because in many places in the country, commuting by car is the only convenient option: The American Public Transportation Association estimates that 45 percent of Americans have no access to public transportation. 
Tregoning also said she sees the tool as a way to help city officials connect and learn from one another about different approaches to regulating the new vehicles appearing on their streets. In early 2020, NUMO plans to add information about how each city and region already regulates micro-mobility transportation, along with information about drones and autonomous vehicles. And the map, which was created in partnership with Populus, Grin and MaaS Latam, will also be updated frequently to reflect changes in the highlighted cities. 
"It will help a lot for cities to be able to rapidly climb the learning curve to see what other cities are doing," Tregoning said.
E-scooters' explosive growth has led to a number of headaches for city policymakers trying to solve complex transportation and infrastructure issues in places where many of the laws were written with personal vehicles, buses and bicycles in mind.
Tregoning said policymakers face a number of new concerns when figuring out how to regulate scooters: determining what part of the road scooters are best suited for, what the appropriate speed limit is, how many operators should be given permits to serve the city and which pedestrian areas need to be blocked off to ensure safe scooter use. 
Unlike docked bicycle programs, which often enter cities through a public-private partnership, scooters "entered without any existing partnership with cities," Tregoning said. "Overnight, they were appearing on the streets of many cities, and that caused a lot of consternation." 
The National Association of City Transportation Officials estimates that 38.5 million scooters trips were taken in 2018, the first year it measured such rides, compared to 36.5 million taken on station-based bike shares, which have been in cities since 2008. 
But that popularity comes with problems for cities: An April study conducted by the public health department in Austin, Texas, in partnership with the Centers for Disease Control and Prevention, calculated that 20 individuals were injured per 100,000 trips taken during the nearly three-month study period in 2018. And Miami officials preparing for Hurricane Dorian asked scooter operators to remove their vehicles from the streets due to concerns that the vehicles could fly through the air during the storm. 
While many scooter companies were initially eager to be in as many markets as possible to attract venture capital funding and new investors, Tregoning said that as those same businesses mature, they're evaluating which markets they should be in -- and that cities could risk losing out if they don't work to craft viable policies.
The market choices scooter companies make "are ways to send messages to cities about how land use and proximity affect the types of transportation options that are going to be available in the future," she said, adding that companies have typically pointed to low density as a main driver for leaving a market.
Sam Sabin previously worked at Morning Consult as a reporter covering tech.
We want to hear from you. Reach out to this author or your Morning Consult team with any questions or comments.
Contact Us