Shared Scooter Rentals in Cities Are Fueling the Market for Personal E-Scooters
But experts worry that cities might not be ready to regulate the growing industry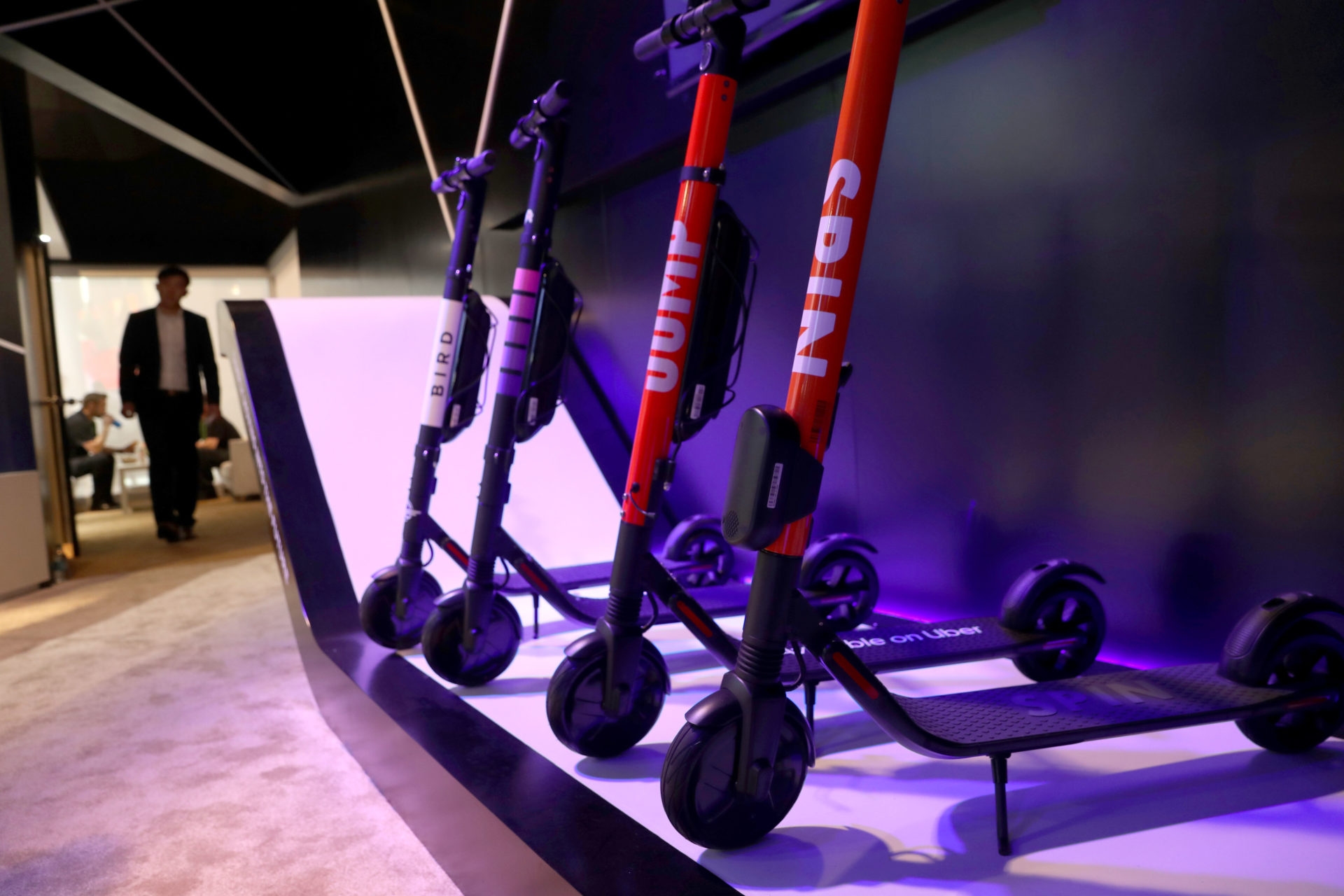 Key Takeaways
In the past three years, Colorado-based GoTrax reports experiencing 10x growth in scooter sales, due in part to the presence of rentals in cities.

RazorUSA LLC said it has seen "increased interest" from consumers in owning kick scooters and e-scooters, especially in cities where it operates its own rental scooter service.

Boosted said 82 percent of its customers use its micro-mobility vehicles as part of their commutes.
For Logan Dobson, making the choice to purchase his own electric scooter was "a functional decision."
When Dobson started his current role as managing director of Republican strategy firm Targeted Victory in February, his old 10-minute commute from Northeast Washington, D.C., to Capitol Hill turned into an "open question" with cross-city travel to Arlington, Va. Dobson said there are no direct public transit lines from his neighborhood to Arlington, so for the first couple months, he ended up relying on either ride-hailing services or his new favorite mobility trend: app-based scooter rentals.
But many days, e-scooters got Dobson to his office at the same pace as car services, so he started doing the math: If he invested roughly $700 into his own Segway Inc. e-scooter, it would take about seven months to pay for itself.
"I can charge at the office, and the only thing I have to deal with is my coworkers making fun of me," Dobson said. "So once I got past that particular mental hurdle, there weren't any problems with it."
And while Dobson said he doesn't know anyone else who personally owns a scooter – except for a distant college friend – executives at micro-mobility companies and industry analysts say the growing presence of e-scooters no longer ends at the shared, app-based vehicles scattered around city sidewalks.
Rather, the growing presence of these rental companies in cities has inspired a booming business for companies selling personal e-scooters and increased pressure on city regulators to adapt their infrastructure policies for micro-mobility vehicles, or those that weigh under 500 kilograms.
"People are realizing the opportunity of owning a scooter," said Rasheq Zarif, the future of mobility tech lead at Deloitte Consulting LLP, who added that the micro-mobility market has experienced exponential growth in the past two years.
None of the companies contacted for this story would disclose their exact sales figures, but they all said they are seeing a piqued interest in adult scooters for commuting. Jeff Lawrence, marketing manager for Carrollton, Texas-based GoTrax, said the personal scooter market has experienced tenfold sales growth in the past three years – and the company's scooter business "mirrors" that trend. Boosted Inc. Chief Executive Jeff Russakow said he's seen "strong growth" in sales of the company's Boosted Rev – its first e-scooter product, which debuted in June. And RazorUSA LLC President Jim Wagner said in a statement that the company has "experienced an increased interest in owning Razor kick scooters and e-scooters" and has had "even higher interest" in cities where it operates its own dockless e-scooter rentals.
Part of the growing trend of personal scooter sales stems from the prevalence of rented scooter ridership in cities: The National Association of City Transportation Officials estimates that 38.5 million trips were taken on shared scooters in 2018 – the first year the association of 69 major North American cities measured such rides – compared to 36.5 million trips taken on station-based bike share systems. And in one January study, McKinsey & Co. estimated that the entire shared micro-mobility market in the United States could be worth between $200 billion and $300 billion by 2030.
The popularity in city e-scooter shares is expected to prop up interest in purchasing personal e-scooters: According to a study released in June by UC Berkeley Haas School of Business and scooter manufacturer Unagi, about 35 percent of scooter riders are anticipated to prefer to own their own scooter over renting by 2025 – placing the potential annual revenue for e-scooter sales at $12 billion.
For GoTrax, the emergence of city rentals has prompted a whole new focus for its business. The company only sold one e-scooter when it started in 2017, with its main product being hoverboards. Eventually, the e-scooter started gaining traction, but it had a problem: It was initially designed for children and recreational use.
Soon, waves of customers were returning the scooters because they kept breaking under the weight of adult commuters and couldn't endure the wear and tear of daily city riding. Lawrence said that's when the company realized it needed to make an "adult-level" scooter.
Then the scooter rental programs entered cities.
"Sales on our website exploded," he said, because a lot of customers "already knew what they wanted" and were trying out the shared rentals before buying one.
From there, nearly everything changed. GoTrax's scooters got longer-lasting batteries, higher-powered motors and bigger, air-filled tires (rather than rubber ones). And its largest consumer demographic shifted from parents buying toys for their kids to men between the ages of 18 and 54 – meaning that the company had to upgrade not only its scooters but its entire brand marketing strategy. 
Russakow, the CEO of Mountain View, Calif.-based Boosted since June 2017, said in an interview that his company's business model is designed to benefit from the success of rental scooters. But, instead of being tied to hundreds of millions of dollars in venture capital funding like the rental startups -- creating an urgent need for them to find profitability in a business model that only charges riders a couple of dollars per ride -- Boosted has $73 million in such funding, charges over $1,000 per vehicle and can rely on the rentals as a form of marketing.
Boosted, which started in 2012 with electric skateboards, added e-scooters to its roster this past June after years of preparations. Russakow said he distinguishes its version, which sells for $1,599, from competitors as such: It's "vehicle grade," not toy grade. 
And that seems to be attracting a specific clientele: Per Boosted's latest internal data, 82 percent of its customers, including both scooter and skateboard owners, said they use their vehicles as part of their commute, with 95 percent of its customers saying they ride their vehicle at least two or three times per week. 
"A convertible is a really fun car, but unless you're really rich, you don't buy a convertible purely for Sunday driving," Russakow explained. "You're just buying a fun car to go to work, rather than a boring car to go to work, and I think that the same thing is happening for Boosted."
But e-scooter company officials said they're worried that city regulators' acute focus on writing rules for shared, app-based rentals leaves personal micro-mobility devices in the lurch. Sarah Kaufman, the associate director of NYU Rudin Center for Transportation, said cities should focus on regulating the overall micro-mobility market.
More micro-mobility modes are going to emerge, and so the best thing cities can do is plan for that, rather than setting up specific rules for scooters and then e-bikes and then electric skateboards and all of these other modes.
Sarah Kaufman, associate director of NYU Rudin Center for Transportation
"More micro-mobility modes are going to emerge, and so the best thing cities can do is plan for that, rather than setting up specific rules for scooters and then e-bikes and then electric skateboards and all of these other modes," Kaufman said.
In cities where government officials have yet to allow rentals, some people are turning to personal ownership as a solution to their transit woes. Before buying his e-scooter earlier this year, Keith Anderson, the senior vice president of strategy at Profitero Inc., had a 3.2-mile commute from Somerville, Mass., to downtown Boston that lasted nearly an hour and cost up to $50 daily with ride-hailing services.
Although Anderson lives in a scooter dead zone -- only nearby Brookline has allowed Bird Rides Inc. and Neutron Holdings Inc.'s Lime so far -- he liked that scooters provided an eco-friendly commute without forcing him to confront his fear of cycling. So owning was his only option.
But Anderson, who rides an Inokim brand e-scooter, said he had to modify his scooter to comply with the laws in Massachusetts, which took him months of research to dig up, adding turn indicators and brake lighting, among other features.
"Let's not take two or five years figuring out what would make this a viable mode of transportation," Anderson said. "Let's get to the bottom of it and update the law so that people know without having to spend months personally researching like I did."
Russakow said he'd also like to see more laws regulating the overall quality of e-scooters.
"There are standards for cars and motorcycles, and they won't let you take a car off the rental car lot if it isn't a street-worthy car," Russakow said. "And yet, people are taking toy- or leisure-grade products and putting them on the street where people are then using them as a vehicle."
Sam Sabin previously worked at Morning Consult as a reporter covering tech.
We want to hear from you. Reach out to this author or your Morning Consult team with any questions or comments.
Contact Us