Amy McGrath's National TV Strategy Helped Raise Millions. Could Other Senate Candidates Replicate It?
Strategists say approach targeting base-favored networks could work against other high-profile rivals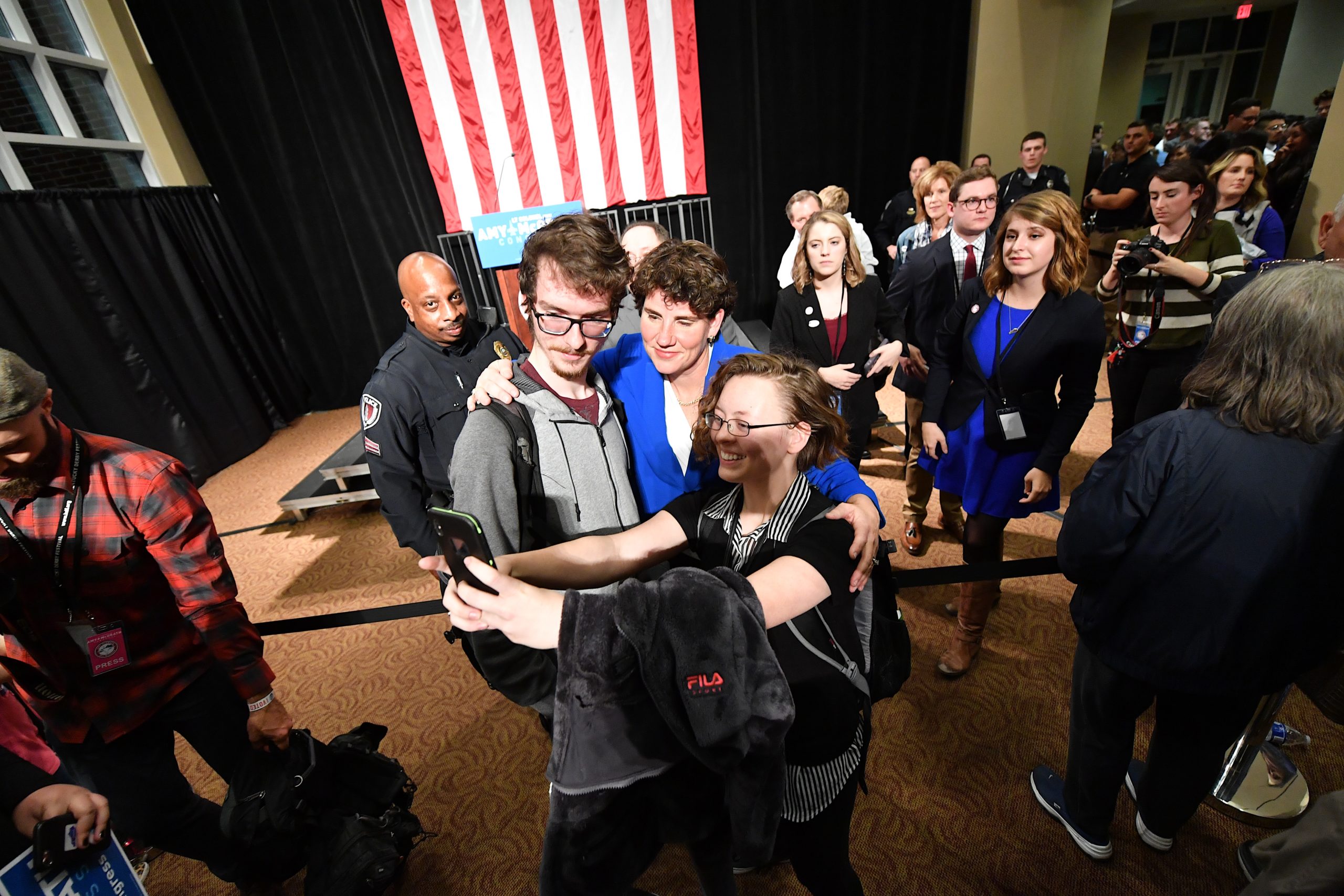 Key Takeaways
Sens. Lindsey Graham (R-S.C.) and Susan Collins (R-Maine) have larger national profiles than other Republicans defending Senate seats, creating an opening for Democratic challengers.

Admakers say the strategy could be replicated to mobilize energized Democrats now, and by presidential candidates in 2024 to grow profiles and build lists.
As Amy McGrath vies for the Democratic nomination in a long-shot bid to defeat Senate Majority Leader Mitch McConnell (R-Ky.) this fall, her campaign has claimed success from a move without much precedent: Putting a statewide campaign's television advertising money to work nationally.
For a campaign with financial resources aplenty, McGrath campaign manager Mark Nickolas recalled wondering why he wouldn't put a commercial on a few shows on MSNBC and CNN and see if the high cost of a national cable television ad buy was worth it to grow her donor base.
"My thinking was, 'We're never going to lose money on this, but maybe we'll make it,'" he said in an interview last week. "And holy s---."
Nickolas said the national ad spending, which he described as "modest" compared to the roughly $10 million the McGrath campaign has poured into Kentucky television markets so far, produced noticeable spikes in her incoming contributions. While the figures are impossible to nail down due to how her campaign tracks contributions, he said "it's added millions" to her $41 million-plus haul in a contest that has attracted the largest share of money from out-of-state and small donors of any top Democratic Senate campaign.
The self-described success of the national TV ads -- which take advantage of McConnell's status as the best-known and most-loathed Senate Republican among Democratic voters, according to a Morning Consult/Politico poll -- raises questions about whether such a play could be replicated in other high-profile contests.
My thinking was, 'We're never going to lose money on this, but maybe we'll make it.' And holy s---.
Mark Nickolas, Amy McGrath's campaign manager
"It wouldn't work for everyone, but it seems to be working for her," said Martha McKenna, founder of ad firm McKenna Media and three-time director of the Democratic Senatorial Campaign Committee's independent expenditure arm. "In a way, I'm surprised other people haven't copied it."
McKenna described McGrath's effort as an extension of now-traditional paid advertising strategies to reach Democrats nationwide via email and online platforms such as Facebook and YouTube. With many Americans still stuck at home due to the coronavirus pandemic, and with the Black Lives Matter movement protesting around the country, McKenna said the spots could be replicated to try to satiate Democrats' desire to stick it to President Donald Trump and the Republican-controlled Senate that supports him.
"Everyone's stuck inside, they can't door-knock and they can't get involved locally in their campaigns," she said. "You just want to take action and do something to fight back, and it strikes me that this is a good time to be talking to people on cable news."
It isn't unusual for candidates to turn up on national television platforms for the chance to get their name and message in front of their party's voters, whether it be Michigan Republican John James' appearances on Fox News as he challenges Democratic Sen. Gary Peters or South Carolina Democrat Jaime Harrison's cable news interviews in his bid against Senate Judiciary Committee Chairman Lindsey Graham (R-S.C.). 
But McGrath's move to purchase prime-time ads on cable shows goes a step further, shielding her from the scrutiny of questions from someone like MSNBC's Rachel Maddow while still putting her on the radar of the network's fabled audience of the Democratic faithful. It gave her an early advantage over her chief rival in the Democratic primary, Charles Booker, though he's experienced a late surge of money and local grassroots support amid the nationwide protests and used the moment to get in front of a national cable news audience the old-fashioned way with an interview. (A Data for Progress poll conducted June 13-15, well into mail-in voting for the June 23 primary, found Booker leading McGrath by 8 percentage points, after an earlier poll for Booker's campaign showed him trailing McGrath by 10 points.)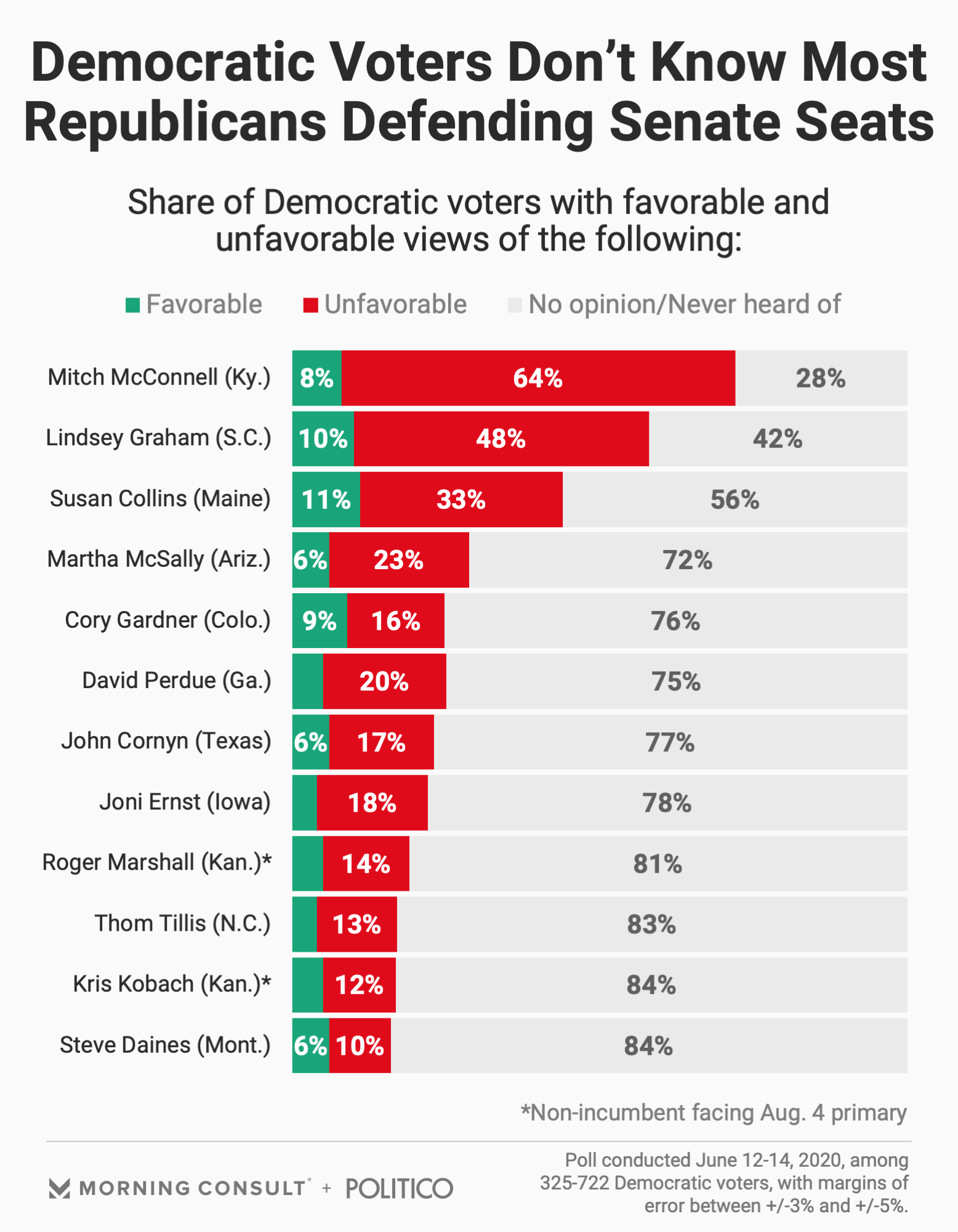 The Kentucky contest is rated "likely" or "solid" Republican by prognosticators, and Josh Holmes, a McConnell adviser, panned the practice in a February tweet, saying: "You gotta love a candidate running ads in 49 other states she's not running in." 
Nick Everhart, founder and president of the Republican ad shop Content Creative Media, cautioned that the national advertising strategy may have limited reach due to the "humbling reality that most senators outside of their states really lack profiles." Candidates who could benefit from the approach the most are also the most likely to be running against those with the most influence and power to mitigate it. 
"There has to be a national profile that only party leaders or former presidential candidates and key allies to a president might have," he said.
Case in point: Fewer than 1 in 5 Republican voters nationwide have an opinion about Peters as he faces re-election this year, according to the Morning Consult/Politico poll. And almost all of the Republicans defending targeted Senate seats this fall do not share McConnell's near-universal and almost totally negative name ID among Democratic voters, which sparked and fueled the McGrath campaign's national effort. 
But there may be threads to pull for some Democratic candidates, such as Harrison, another long-shot contender, or Maine House Speaker Sara Gideon, whom nonpartisan election analysts view as stiff competition for Republican Sen. Susan Collins. An ad-buying source said Harrison ran a commercial nationally on MSNBC just this week, though the Harrison campaign would not confirm.
Roughly 3 in 5 Democratic voters nationwide have opinions about Graham, a former Trump critic who has become one of the president's loudest defenders in the Senate, and 44 percent have views on Collins, whom liberal activists have targeted following her decisive vote to confirm Supreme Court Justice Brett Kavanaugh.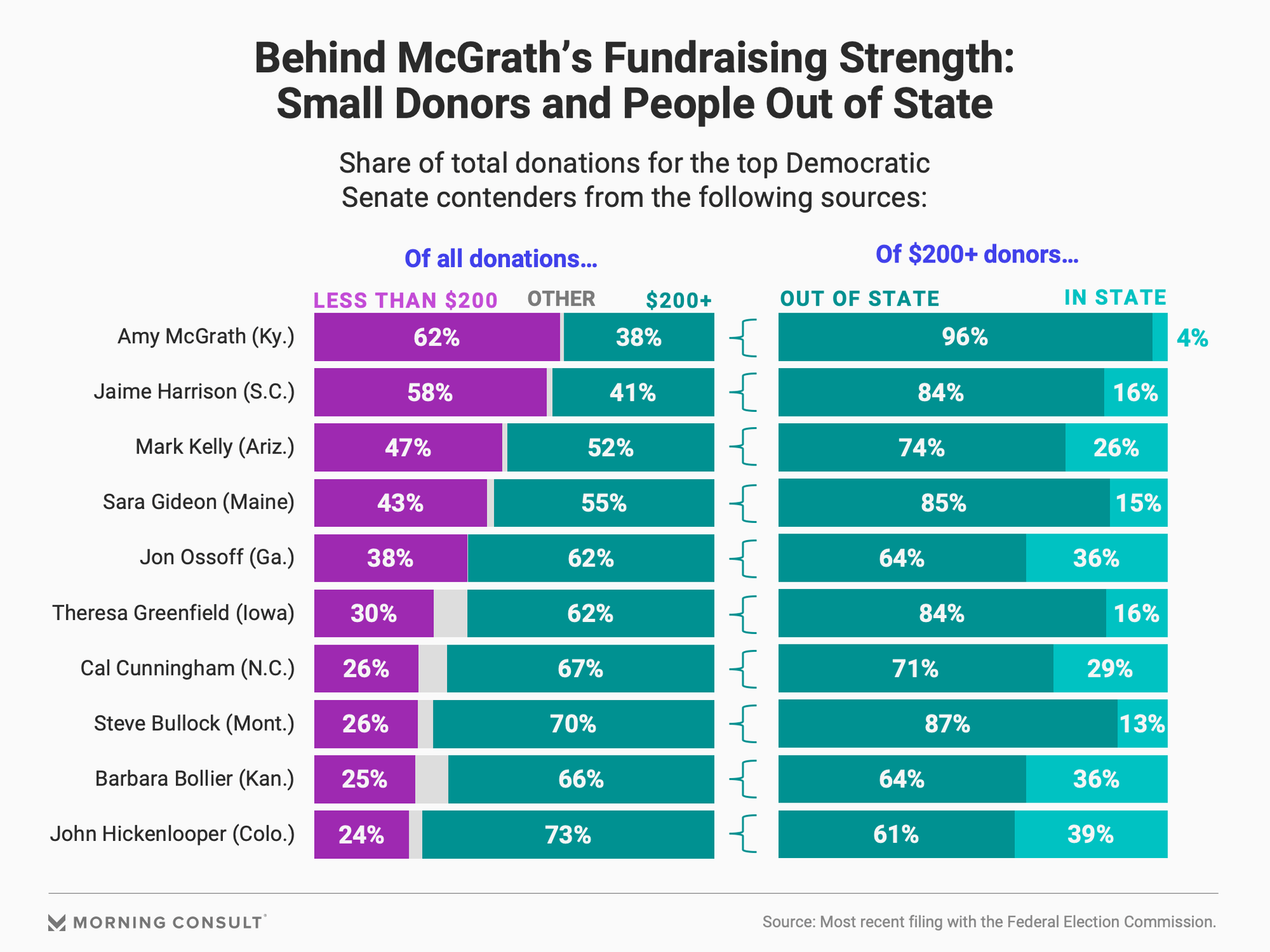 The GOP senators' boogeyman status is already reflected in the national and small-dollar contributions pouring into their opponents' campaigns: Harrison and Gideon have received over 80 percent of their reported contributions from national donors, and Harrison trails only McGrath in the share of his contributions that have come from small donors, according to campaign finance reports filed at the end of March.
With the proliferation of fundraising platforms such as ActBlue on the left and WinRed on the right, national media appearances, paid advertising and a prominent opponent are not the only ways for candidates to tap into national audiences. 
Former Democratic presidential candidate and current Montana Gov. Steve Bullock, who is challenging Republican Sen. Steve Daines, and Theresa Greenfield, who is challenging Sen. Joni Ernst (R-Iowa) with the strong support of EMILY's List, a national group that channels donors toward Democrats who will advocate for abortion rights, have received roughly the same share of out-of-state contributions as Gideon and Harrison. And Arizona Democrat Mark Kelly's place in a top-tier race against Sen. Martha McSally (R-Ariz.) as former Vice President Joe Biden and his allies target the state has resulted in roughly half of his campaign contributions coming from small donors.
But strategists say the national ad approach, which had been mostly shirked even by presidential campaigns, which prefer targeted state ads, could grow as campaign fundraising continues to exceed records and the need for small-dollar donors grows -- especially if candidates who embrace McGrath's blueprint bank an impressive sum of contributions in uphill races. 
"You could see a lot more 2024 presidential candidates on Fox News, One America News Network and MSNBC" around key moments such as campaign launches or debates "to spur fundraising or just raise awareness for the most dialed in of partisan voters and activists," Everhart said. 
"If the effort can pay for itself, it can have a very high return of investment in terms of raising one's profile," he added.
Eli Yokley is Morning Consult's U.S. politics analyst. Eli joined Morning Consult in 2016 from Roll Call, where he reported on House and Senate campaigns after five years of covering state-level politics in the Show Me State while studying at the University of Missouri in Columbia, including contributions to The New York Times, Politico and The Daily Beast. Follow him on Twitter @eyokley. Interested in connecting with Eli to discuss his analysis or for a media engagement or speaking opportunity? Email [email protected].
We want to hear from you. Reach out to this author or your Morning Consult team with any questions or comments.
Contact Us