Measuring the Impact of Super Bowl Exposure
Rappers Big Boi and Travis Scott received the largest increase in name recognition
Key Takeaways
Morning Consult polling shows an 18-point increase in ID for Big Boi.

Rams' quarterback Jared Goff and head coach Sean McVay scored the highest uptick in ID among QBs and head coaches (9 points).
The quarterbacks and head coaches from Super Bowl LIII on Feb. 3 received a bump in name recognition from their appearance in the game, according to Morning Consult polling. Yet, it was Super Bowl halftime performers Big Boi and Travis Scott who moved the needle more with the American public.
Across two separate Morning Consult surveys conducted Jan. 29-31 and Feb. 6-8, rappers Big Boi and Travis Scott saw their name recognition rise by 18 points and 13 points, respectively. Each of the surveys, which had a 2-point margin of error, were conducted among 2,201 U.S. adults. Maroon 5, the pop rock band featuring Adam Levine that was already known by most people, scored a 5-point uptick.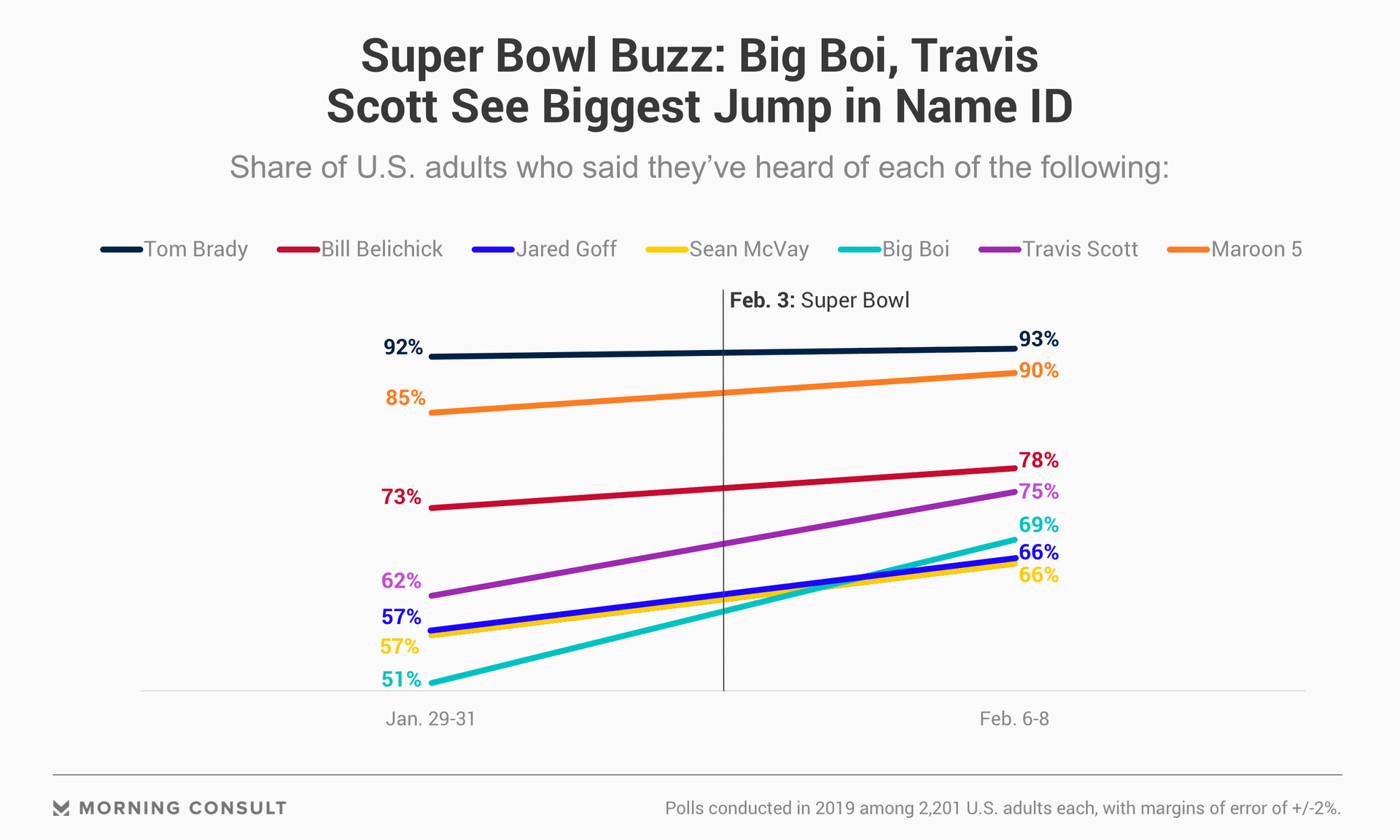 Patrick Walsh, an associate professor of sport management at Syracuse University, said both rappers didn't receive much pre-game publicity heading into the Super Bowl. Levine was also already a celebrity in his own right, appearing as a "coach" on NBC's "The Voice," and he was the featured performer for the game.
"Big Boi or Travis Scott have a smaller market that they're pulling from in terms of brand awareness," added Walsh, saying that the former's entrance to the stage in an antique Cadillac convertible while donning a big fur coat could've contributed, in part, to the higher recognition.
"It may have been -- not shock value -- but when they come out, it's a piece of conversation," he said.
While respondents identified the halftime participants at a higher percentage over the course of the game's weeks-long news cycle, those involved in the game itself saw a greater positive ID, too.
Among starting quarterbacks and head coaches, Los Angeles Rams quarterback Jared Goff and head coach Sean McVay each had a 9-point rise in name recognition between the first survey testing the public's awareness of him and the post-Super Bowl survey. Conversely, Goff's counterpart, the New England Patriots' Tom Brady -- who already had high name recognition -- saw a miniscule bump (1 point) while head coach Bill Belichick experienced a 5-point increase in positive ID.
Walsh explained that some respondents might've heard Goff's name for the first time as he finished his third NFL season, whereas the 19-year veteran Brady has appeared in nine Super Bowls and whose wife and Brazilian model, Gisele Bündchen, has a global reach, as well.
There's a "natural bump" in name recognition from the Super Bowl, Walsh said, but the storylines heading into the game received heightened attention from the media, arguably benefitting Goff and McVay more, considering their lesser-known stature.
According to Walsh, Goff's positive ID will enhance his marketability "a little bit," given fans are more familiar with his name and face. Still, even with the Super Bowl appearance, consumers' recognition of him won't linger.
"It's going to regress to the mean a little bit, for lack of a better term, particularly with those who aren't football fans," said Walsh of people's ability to identify Goff. "It's not going to be an instant name recognition."
"Because when you think about it, with brands, you need constant exposure to them to really influence long-term brand awareness," he said. "For those non-football fans who aren't watching Jared Goff and aren't seeing Sean McVay, eventually that's just not going to be stored in memory."
Mark J. Burns is a sports analyst on the Industry Intelligence team, where he conducts research, authors analyst notes and advises leaders in the sports industry on how to apply insights to make better business decisions. Before joining Morning Consult, he served as a beat reporter at Sports Business Journal, covering the business of hockey and soccer. Mark graduated from the University of Michigan with a bachelor's degree in history and holds a Juris Doctor from Belmont University. For speaking opportunities and booking requests, please email [email protected].
We want to hear from you. Reach out to this author or your Morning Consult team with any questions or comments.
Contact Us