Bloomberg Loses Ground Following Debate Debut in Las Vegas
Former New York City mayor loses first-choice support, and popularity wanes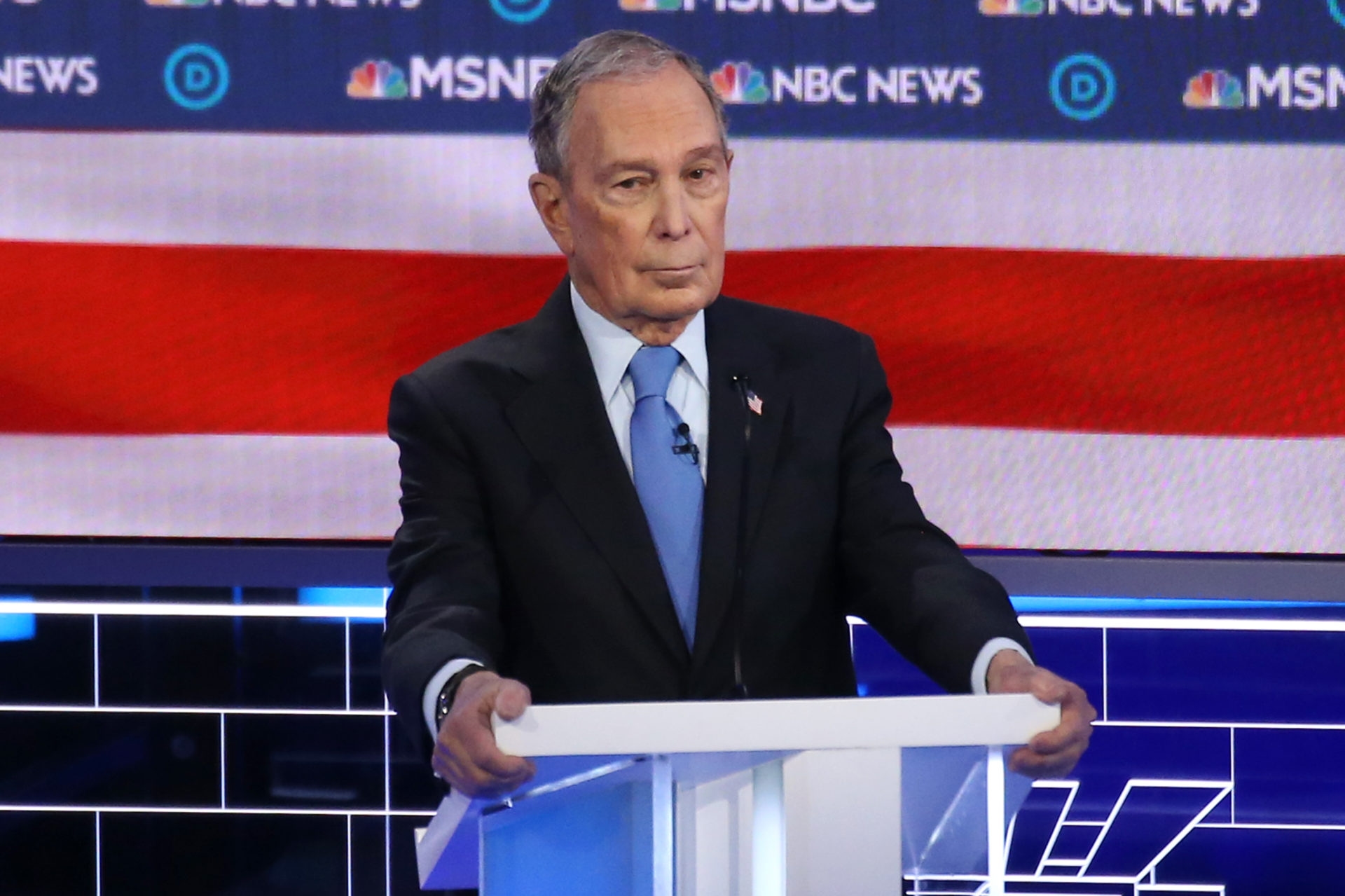 Key Takeaways
17% of Democratic primary voters said Michael Bloomberg was their first choice, down 3 points from before the Las Vegas debate.

The billionaire's net favorability fell 20 points, suffering the most attrition among moderates.
A series of sustained attacks on former New York City Mayor Michael Bloomberg during Wednesday's presidential debate in Las Vegas has dented his standing with Democratic primary voters, blunting the billionaire's momentum and dropping him below former Vice President Joe Biden in nationwide polling.
A Morning Consult poll conducted on Thursday found the share of voters who said Bloomberg was their first choice for the Democratic presidential nomination fell 3 percentage points since before the debate, to 17 percent, while none of the other candidates in the race saw gains or declines outside of the survey's 2-point margin of error. It marks the first statistically significant decline in Bloomberg's first-choice support since he entered the race in November.
The survey was conducted among 2,609 voters who indicated they may vote in the Democratic primary or caucus in their state.
The downward movement included 4-point drops among liberals (to 13 percent) and white voters (16 percent), while his support among black voters (21 percent) went statistically unchanged from the pre-debate survey, which was conducted Feb. 12-17.
With 30 percent of support among Democratic primary voters, Sen. Bernie Sanders (I-Vt.) still leads the race nationwide heading into Nevada's caucuses on Saturday, followed by Biden, at 19 percent. 
Bloomberg was the target of some of the most stinging blows at Wednesday's debate -- the party's most-watched in history and significantly more combative than prior debates this cycle.  He faced heat for his large personal wealth and questions about his treatment of women in the workplace, his police department's treatment of minorities as mayor and his history as a Republican. 
Sen. Elizabeth Warren (D-Mass.) was his most forceful critic. But after a highly lauded performance in a debate that had 19.7 million viewers -- more than this year's Golden Globes -- she saw no statistical increase in her first-choice support. 
Though Warren managed to halt Bloomberg's upward trajectory, the immediate fallout for the former mayor does not seem as severe in comparison with another high-profile clash from the 2020 primary, when Sen. Kamala Harris (D-Calif.) attacked Biden for his position on federal involvement in busing to address racially integrating schools. At the time, Biden's support fell 5 points, while Harris got a 6-point boost. The change is more reminiscent of Harris' stumbles following the next round, when she took a 3-point hit.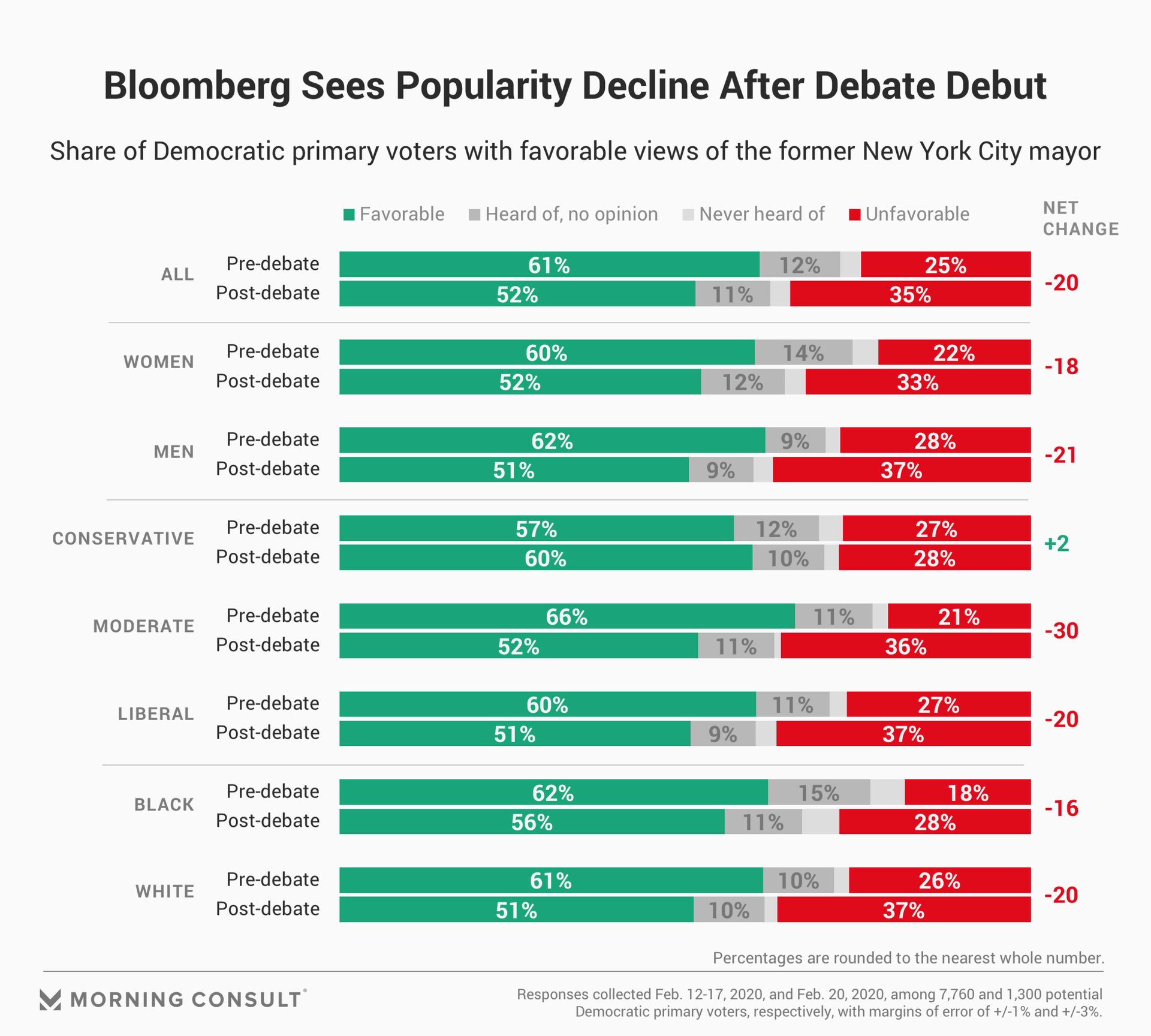 Though Bloomberg didn't suffer great damage from the Sin City barrage in terms of support, Democratic voters are more likely to view him with skepticism.
His popularity with the Democratic electorate had been on the rise as he poured hundreds of millions of dollars into advertising across the country ahead of his first showing on a ballot on Super Tuesday, March 3. But all of the gains he'd made since the beginning of the year have been erased.
Among all Democratic primary voters, his net favorability -- the share with favorable views minus those with unfavorable views -- fell 20 points since the pre-debate poll. The drop was driven by men and women, and black and white voters, nearly equally, while his net favorability fell 30 points among self-described moderates -- a group that has helped fuel his rise as he has presented himself as a more mainstream alternative to Sanders, a self-described democratic socialist. 
No other candidate saw notable change in net favorability, including Sen. Amy Klobuchar (D-Minn.) and former South Bend Mayor Pete Buttigieg of Indiana, whose back-and-forth was the other headline of the night.
Eli Yokley is Morning Consult's U.S. politics analyst. Prior to his current role, Eli was Morning Consult's senior reporter covering U.S. politics. Eli joined Morning Consult in 2016 from Roll Call, where he reported on House and Senate campaigns after five years of covering state-level politics in the Show Me State while studying at the University of Missouri in Columbia, including contributions to The New York Times, Politico and The Daily Beast. Follow him on Twitter @eyokley. Interested in connecting with Eli to discuss his analysis or for a media engagement or speaking opportunity? Email [email protected].
We want to hear from you. Reach out to this author or your Morning Consult team with any questions or comments.
Contact Us