Public Opinion Favors Bucks' Decision to Sit Out Playoff Game in Protest of Jacob Blake Shooting
Avid sports fans are more likely than the average U.S. adult to believe police violence against Black people is a widespread issue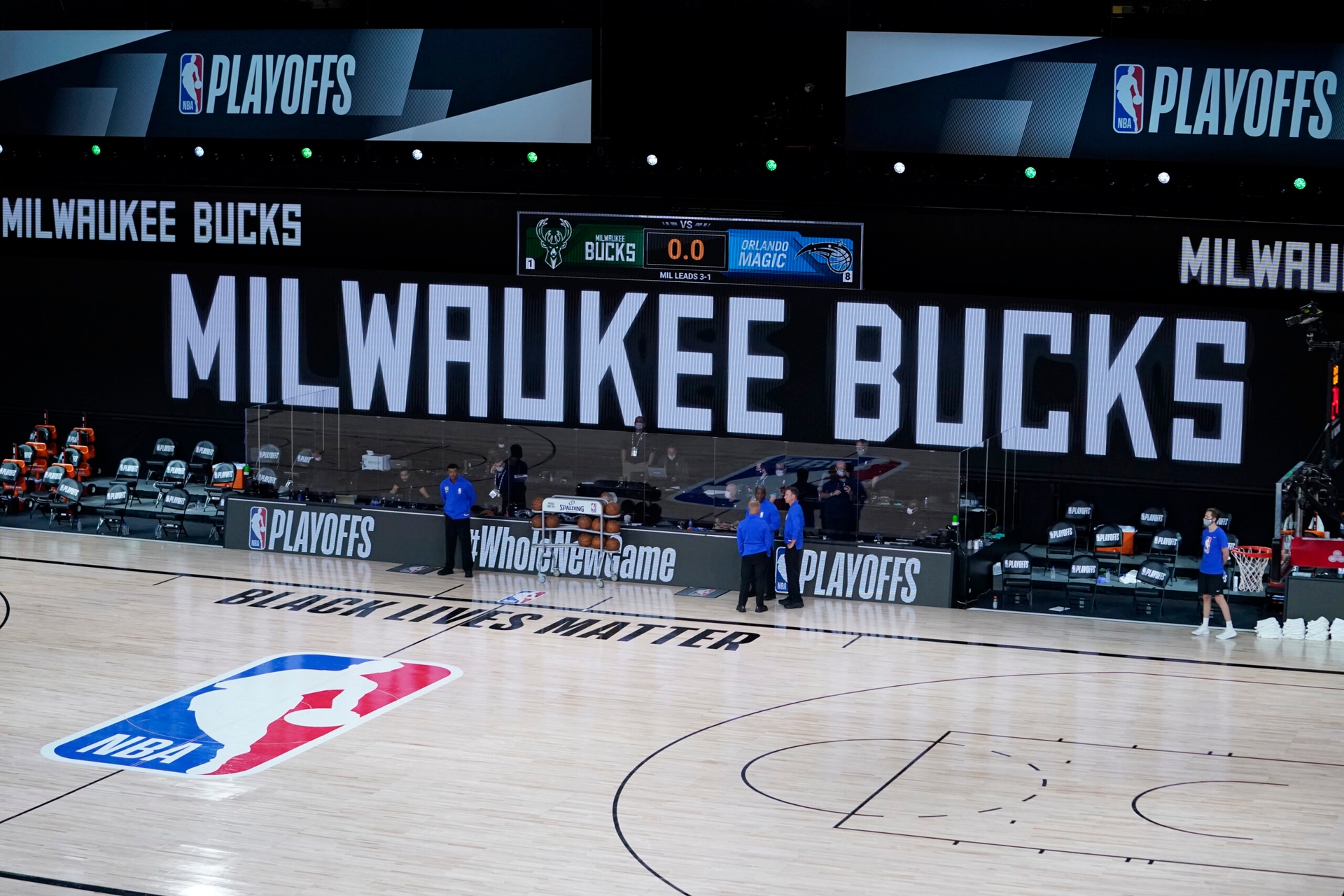 Key Takeaways
54% of sports fans and 62% of NBA fans backed the Bucks' refusal to take the court following the police shooting of Jacob Blake.

74% of Democrats supported the Bucks' protest, compared with 22% of Republicans.

68% of avid sports fans saw video of the police shooting in Kenosha, Wis., compared with 48% of non-sports fans.
The Milwaukee Bucks' unprecedented refusal to take the court for their Aug. 26 playoff game against the Orlando Magic set off a chain reaction that brought much of the American sports calendar to a halt. Subsequent postponements impacted fans of the NBA, WNBA, MLB, MLS, NHL and tennis, many of whom were left without their preferred escape from real-world issues like police violence and the pandemic.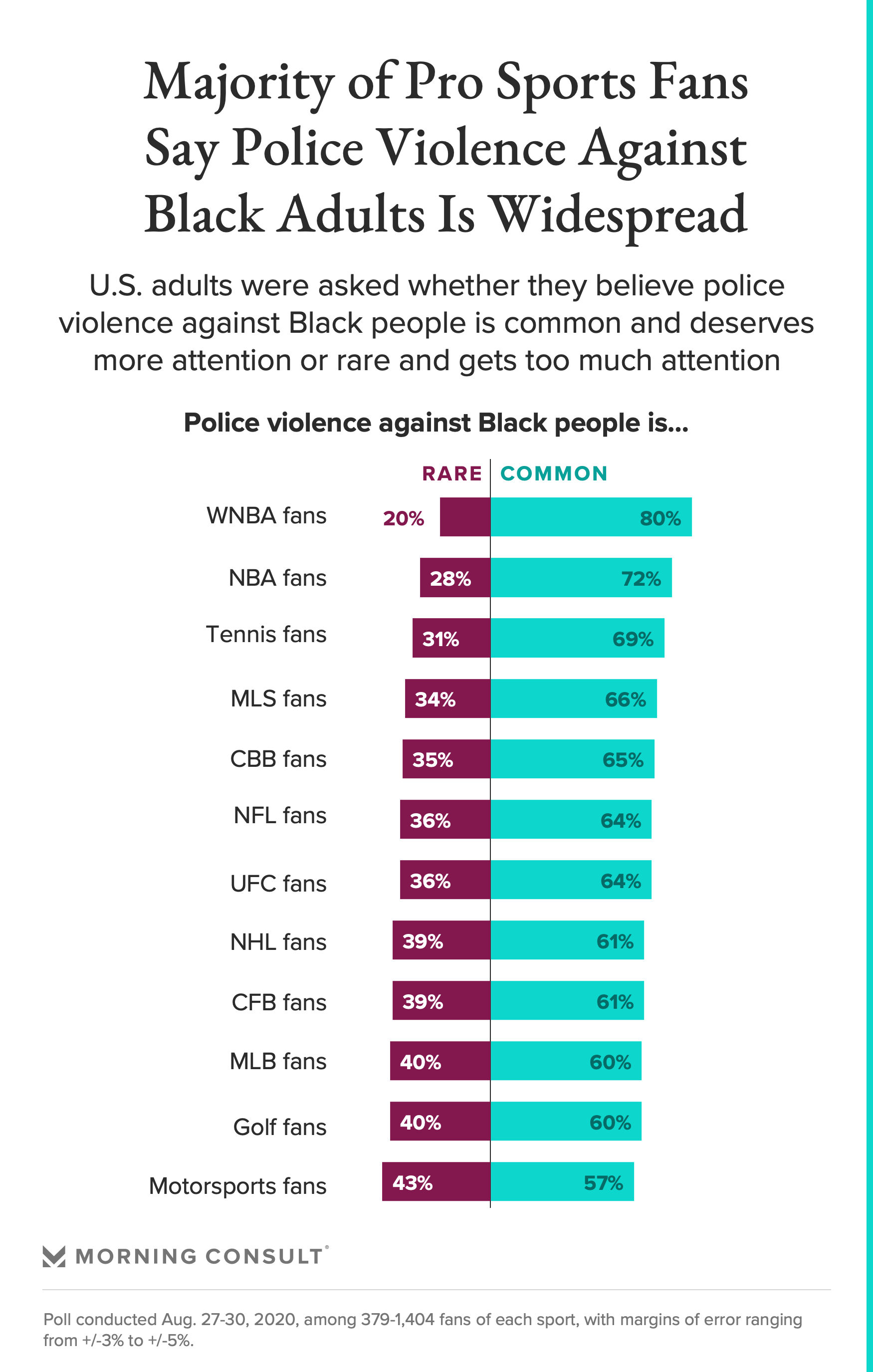 Even so, a Morning Consult poll conducted in the aftermath of the Bucks' strike found that 54 percent of self-identified sports fans supported the team's protest of the highly publicized police shooting of Jacob Blake in Kenosha, Wis., including 34 percent who said they "strongly" backed the Bucks. By comparison, 30 percent of sports fans opposed the one-game strike.
The most engaged sports fans were even more gung-ho in their support of the Bucks' refusal to take the court, with 65 percent of self-identified avid fans approving of the gesture. Avid sports fans were also more likely than the average U.S. adult to consider police violence against Black people to be a widespread issue and to view the officers' conduct in the Blake shooting as unjustified.
A majority of non-white respondents expressed support for the Bucks' decision not to play, including 76 percent of Black adults and 53 percent of Hispanic adults, while a plurality of white respondents were in favor of the protest at 43 percent. Nearly 3 in 4 Democrats communicated a positive opinion of the Bucks' gesture, compared to 47 percent of independents and 22 percent of Republicans.
Among fans of all major U.S. sports, WNBA and NBA fans at 80 percent and 72 percent, respectively, were the most likely to agree that police violence against Black people is widespread and that bias in policing warrants more attention. Among all U.S. adults, 61 percent of respondents said police often victimize Black people, while the remaining 39 percent said such incidents are rare and receive too much attention.
With regard to the Blake case in particular, half of U.S. adults said the police officers' conduct was unjustified, compared to just 17 percent who said it was justified. Among Americans who saw at least some video of the shooting, the number who said the police's behavior was unjustified increased to 61 percent.
Sports fans were significantly more likely to have seen video of the Blake shooting than non-sports fans, by a margin of 62 percent to 48 percent. Sixty-eight percent of avid sports fans had seen video of the incident.
The survey was conducted Aug. 27-30 among 2,200 U.S. adults and carries a margin of error of 2 percentage points. The subsamples of 1,421 sports fans and 496 avid sports fans have 3- and 4-point margins of error, respectively.
Alex Silverman previously worked at Morning Consult as a reporter covering the business of sports.
We want to hear from you. Reach out to this author or your Morning Consult team with any questions or comments.
Contact Us