NFTs From MLB's Defunct 'Champions' Project See Secondary Market Resurgence as League Plots Next Crypto Move
MLB confirmed it has discontinued its partnership with Lucid Sight, developer of its groundbreaking digital collectibles and game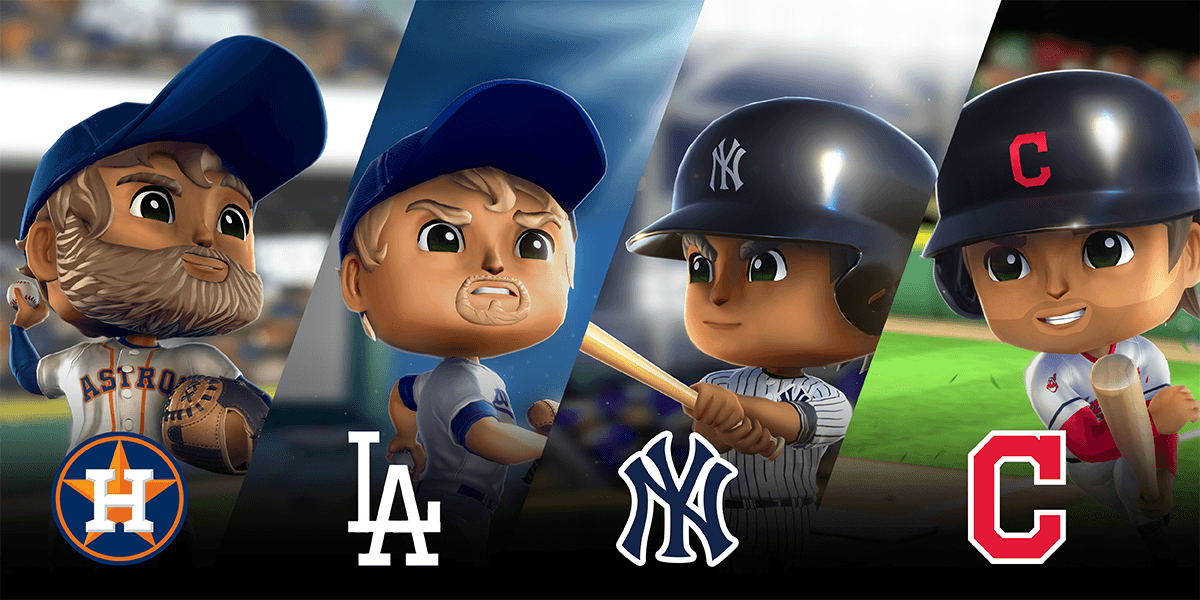 MLB confirmed it has ended its licensing partnership with Los Angeles-based game developer Lucid Sight Inc., the company behind the first known collection of licensed sports non-fungible tokens, MLB Champions, and the accompanying mobile game. But trading of the Champions NFTs among collectors has picked up in recent weeks, with some believing their value is poised to surge with production abandoned and baseball season around the corner. 
"We're not doing that anymore," MLB Chief Operations and Strategy Officer Chris Marinak said of Champions on a pre-season media call Wednesday. "That was a partnership with a third party that ended up being discontinued."
Amid the recent spike in popularity of blockchain-backed digital collectibles like NBA Top Shot, Marinak said the baseball league is nearing an announcement of a new initiative in the NFT space, which could come in the next few weeks or months. Front Office Sports recently reported the league is in conversations with Top Shot developer Dapper Labs.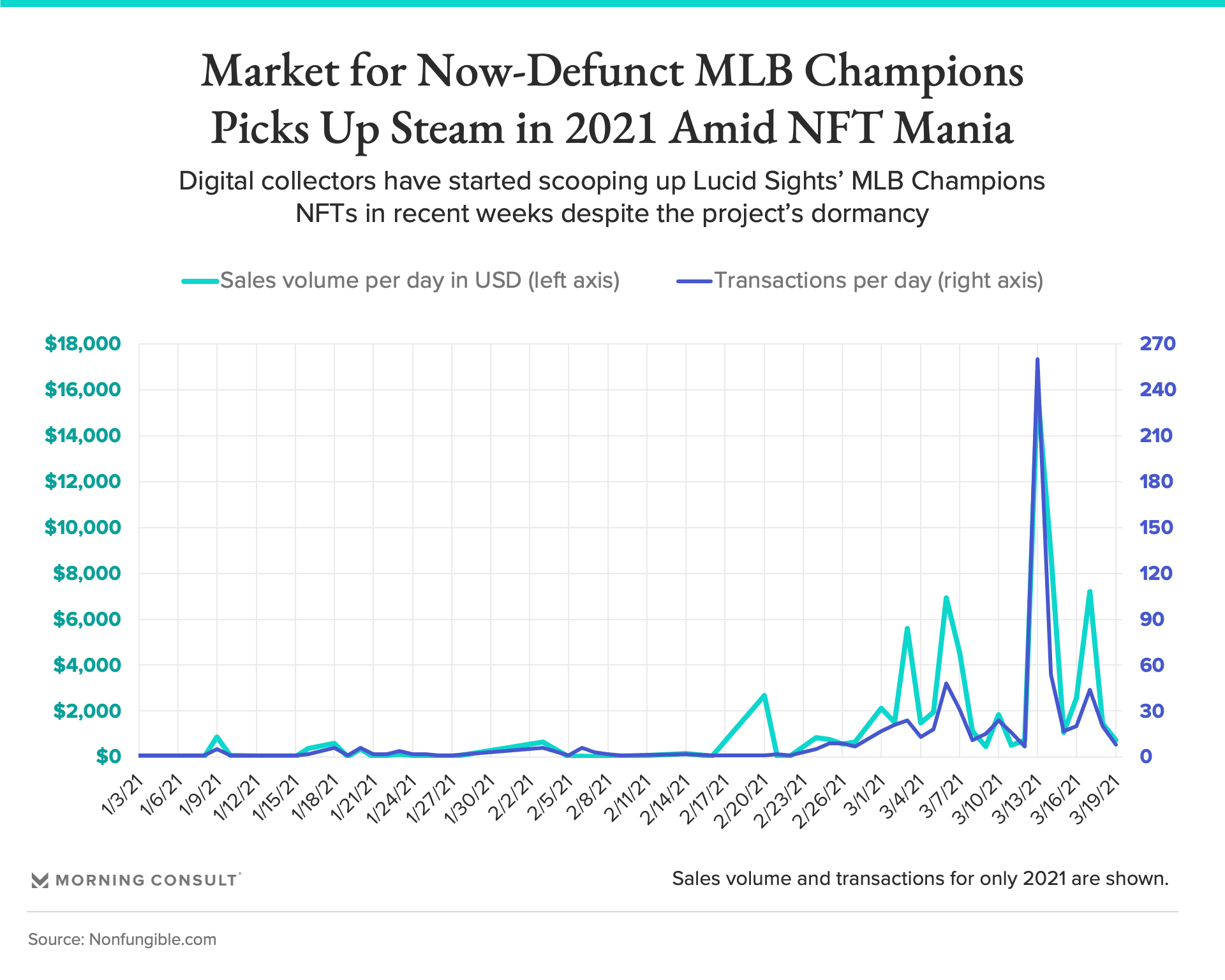 While the market for the Champions NFTs was virtually dead throughout 2020, a handful of digital collectors are now scooping up NFTs from the series, which Lucid Sight launched on the Ethereum blockchain in 2018 as MLB Crypto Baseball.
According to Etherscan.io, a website that catalogs Ethereum blockchain transactions, more than 1,800 users currently own MLB Champions NFTs, and there have been more than 477,000 transactions involving the digital baseball collectibles since their launch in 2018. 
On OpenSea, the leading marketplace for NFTs, MLB Champions has accounted for more than 2,780 ether, the name of Ethereum's native cryptocurrency, worth of transactions, which currently amounts to more than $5 million. Champions ranks third all time among sports NFT collections by sales volume on OpenSea (which does not include Top Shot) behind fantasy soccer game Sorare and F1's licensed Delta Time game, and 33rd among all NFTs on the site.
In just the past 14 days, there has been about 30 ether worth of sales, or nearly $55,000, about half of total sales over the past year. In the past week, volume has increased more than 100 percent from the prior week, totaling 20 ether, or nearly $37,000.
Patrick Toner, a software developer and avid collector, theorized that Champions' status as the first-ever NFT program licensed by a major U.S. sports property could make them appealing to the growing digital collectibles marketplace.
"These are permanent relics of a failed project in the same way of the Honus Wagner card," Toner said, comparing the NFTs to the holy grail of traditional baseball cards, the T206 Honus Wagner card produced by the American Tobacco Company in 1909.
Production of new digital collectibles and promotion of the game went dormant early in the 2020 season without any formal explanation from either Lucid Sight or MLB.
MLB declined to comment on why they are moving on from MLB Champions, while Lucid Sight did not respond to several requests for comment. While Dapper Labs and the NBA reportedly receive a cut of peer-to-peer sales of Top Shot moments, it is unclear whether Lucid Sight or MLB will continue to profit from transactions involving MLB Champions NFTs on sites like OpenSea and CryptoSlam.
After releasing full collections in 2018 and 2019, Lucid Sight minted only a few MLB Champions figures in 2020 before going silent without explanation. The company had been keeping users up to date on new developments via a Discord server but hasn't made any announcements since June. As recently as this week, loyal fans of the game and collectibles have sought out the developer on social media to ask what the future holds for MLB Champions.
Allen Hena, a software engineer in the health care space who moonlights as a blockchain technology consultant and was an early MLB Champions collector, said the project gained traction with a community of collectors despite mismanagement by Lucid Sight, which failed to roll out new features on time and to align its NFT releases with the MLB calendar.
"They were involved in too many other projects," Hena said. "They just didn't understand baseball, they didn't understand NFTs, they didn't understand fantasy baseball."
Toner said there was considerable "community buy-in," and that users offered Lucid Sight numerous suggestions on how they could produce a better game and grow the Champions community.
Both Hena and Toner, however, praised Lucid Sight for designing MLB Champions NFTs to function within the broader NFT ecosystem. MLB Champions NFTs exist on the decentralized Ethereum blockchain, meaning collectors can buy, sell and trade the figures outside of the project's now-defunct native marketplace and store them within their own cryptocurrency wallets alongside other NFTs.
This setup offers users much more freedom than Top Shot, which is built on Dapper Labs' Flow blockchain and doesn't allow collectors to trade their "moments" on outside marketplaces or view them outside of the Top Shot ecosystem.
It also means that MLB Champions NFTs will live on long after the program's demise.
"The beautiful part about this, in a way, is the company going out of business becomes social proof that these things can survive," Toner said.
Alex Silverman previously worked at Morning Consult as a reporter covering the business of sports.
We want to hear from you. Reach out to this author or your Morning Consult team with any questions or comments.
Contact Us