More Consumers Care About a Car's Reviews, Safety Than Its Gas Mileage
Plurality of 39% oppose Trump administration plan to freeze fuel efficiency standards
Key Takeaways
When asked what would dissuade them from a purchase, 60% picked poor reviews, 58% chose inferior safety, 44% selected miles per gallon.

50% of Republicans think cars have a minor impact on air quality; 60% of Democrats see a major impact.
A plurality of U.S. adults oppose the Trump administration's proposal to change federal standards for certain vehicles' fuel efficiency and emissions, according to a new poll. But when it comes to buying cars, more respondents are concerned about the reviews and safety of the vehicle than how many miles to the gallon it gets.
A Morning Consult survey from Aug. 10-12 of a national sample of 2,202 adults shows that though fuel economy is important to U.S. adults, a greater proportion of respondents indicated that the reviews and safety of the car, along with its spaciousness, were important to their selection of a new automobile. When asked what factors would steer them away from a particular car, 60 percent were concerned about poor reviews, while 44 percent selected"lower miles to the gallon than competitors."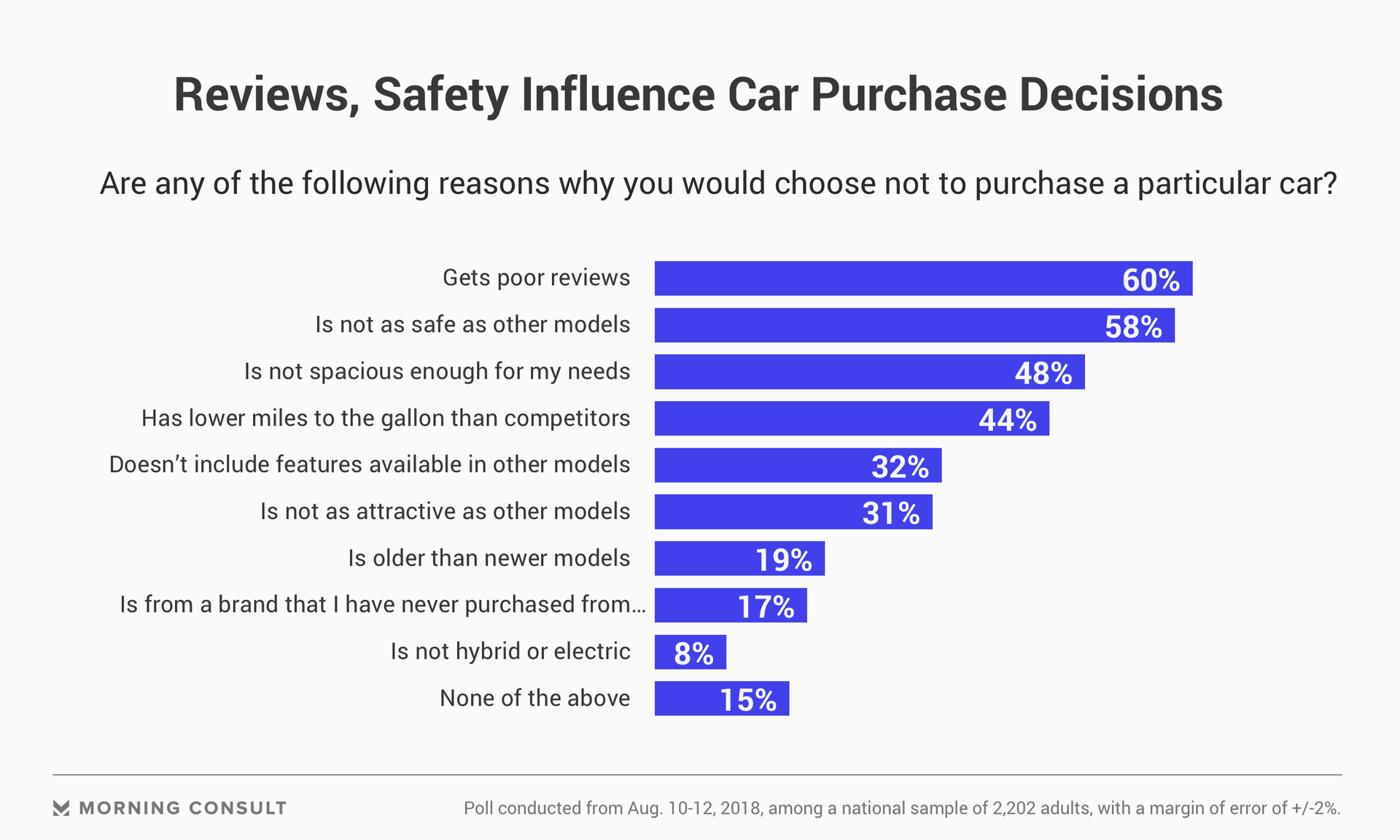 Safety concerns were picked by 58 percent, with this factor increasingly important with age. The Trump administration estimates that its proposal to freeze the fuel efficiency standards for certain cars and trucks produced between 2021-26 would reduce highway deaths as automakers are less incentivized to make cars lighter and as lower car costs would allow consumers to buy newer, safer cars and trucks. However, Environmental Protection Agency officials have questioned the Transportation Department's calculations.
The survey, which provided a brief overview of the administration's arguments for the proposed changes and opponents' arguments against it, showed 39 percent of adults opposed the administration's proposal, with 33 percent supporting it. Twenty-nine percent did not register an opinion.
Support fell along party lines, with 59 percent of Republicans somewhat or strongly supporting the process to modify the vehicle standards, while 61 percent of Democrats somewhat or strongly oppose the effort.
"If you look 20, 30 years ago, you didn't see this kind of split on environmental issues," said Harvard University environmental law professor Jody Freeman by phone Tuesday. Freeman served as counselor for energy and climate change in the White House from 2009-10, where she worked on the agreement with automakers that led to the current regulations.
Forty-two percent of adults said they opposed the Trump administration's additional proposal to remove California's authority under current law to request a waiver to set emission standards for new motor vehicles that are stronger than federal ones. Sixteen percent of Democrats supported the move, compared to 48 percent of Republicans.
Part of the disparity in opinion between Republicans and Democrats might be related to the impact that respondents think cars actually have on air quality. Fifty percent of Republicans said they thought the cars have a minor impact, while 60 percent of Democrats said the vehicles have a major effect.
Thomas Pyle, president of the Institute for Energy Research, who also led President Donald Trump's transition team at the Energy Department, supports eliminating the fuel economy mandate altogether. "We all want great fuel economy," he said by phone Tuesday. But placing fuel efficiency above other considerations, he said, impacts who is able to afford a car and which cars are made available.
Though fuel economy ranked below reviews and safety as purchase considerations, people still appear to care about a car's mpg, however. An analysis from the Consumer Federation of America on Wednesday showed that certain car types with at least a 15 percent increase in mpg from 2011-17 saw a boost in sales of 70 percent, while those with a smaller mpg gain over that period had sales increase by 50 percent.
U.S. gas prices have also fallen from a peak in 2012, and Gloria Bergquist, vice president of public affairs with the Alliance of Automobile Manufacturers, said by phone Tuesday that automakers sold many of their most fuel-efficient vehicles when prices were approaching $4 per gallon. But as consumers got used to higher gas prices and as prices lowered up until this summer, "people started making other decisions about what they wanted to buy."
Nic Lutsey, who directs electric vehicle and fuels work with the International Council on Clean Transportation, said by phone Wednesday that research has shown that consumers do not pencil out their potential fuel savings when buying a car. He pointed to a study from researchers at the University of California, Davis, which suggests people tend to pay little attention to the costs of gas over time, so that when they buy a car, they lack the information to make economically rational choices.
"That is a primary reason for having policy," said Lutsey. "We know in reality there are benefits that outweigh the costs," and consumers' lack of understanding of gas savings means that regulation in this area provides a societal benefit, he said.
Jacqueline Toth previously worked at Morning Consult as a reporter covering energy and climate change.
We want to hear from you. Reach out to this author or your Morning Consult team with any questions or comments.
Contact Us