More Than Twice as Many GOP Voters as Democrats Back Changes to NAFTA
Poll comes as negotiators from U.S., Mexico and Canada seek to wrap up NAFTA renegotiation talks before July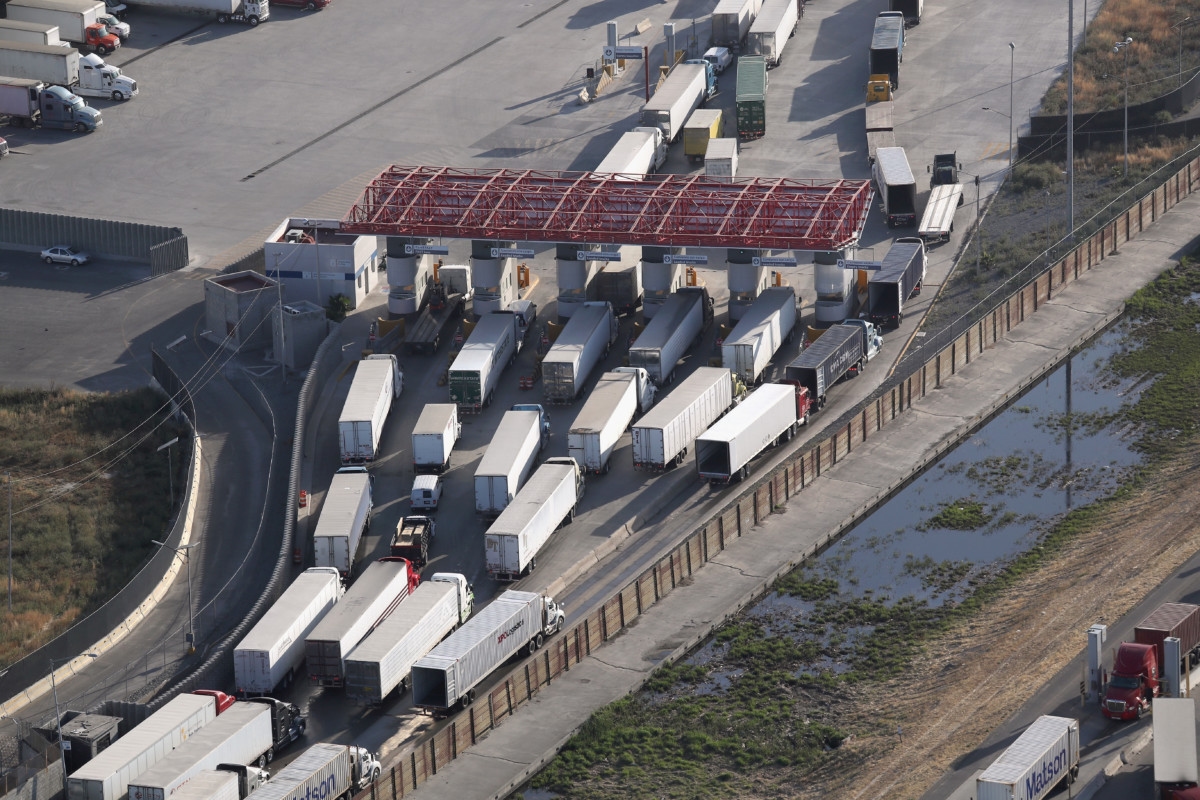 Key Takeaways
48% of registered voters say they support President Donald Trump's efforts to renegotiate the trade deal with Canada and Mexico, with 23% opposed.

Among voters who disapprove of Trump's performance as president, 32% support renegotiation.

72% of Republicans support renegotiation, compared with 35% of Democrats
Republican support for renegotiating the North American Free Trade Agreement -- a campaign pledge of President Donald Trump -- eclipses that of Democrats by a more than 2-to-1 ratio, according to a new poll.
Overall, a 48 percent plurality of registered voters in a Morning Consult/Politico poll conducted May 3-5 said they back renegotiating NAFTA, compared to 23 percent who said they're opposed and 29 percent who did not know or didn't have an opinion. Broken down by party, 72 percent of GOP voters said they strongly or somewhat support the renegotiation efforts, with 35 percent of Democrats saying the same.
The nationwide online survey of 1,992 registered voters has a margin of error of plus or minus 2 percentage points.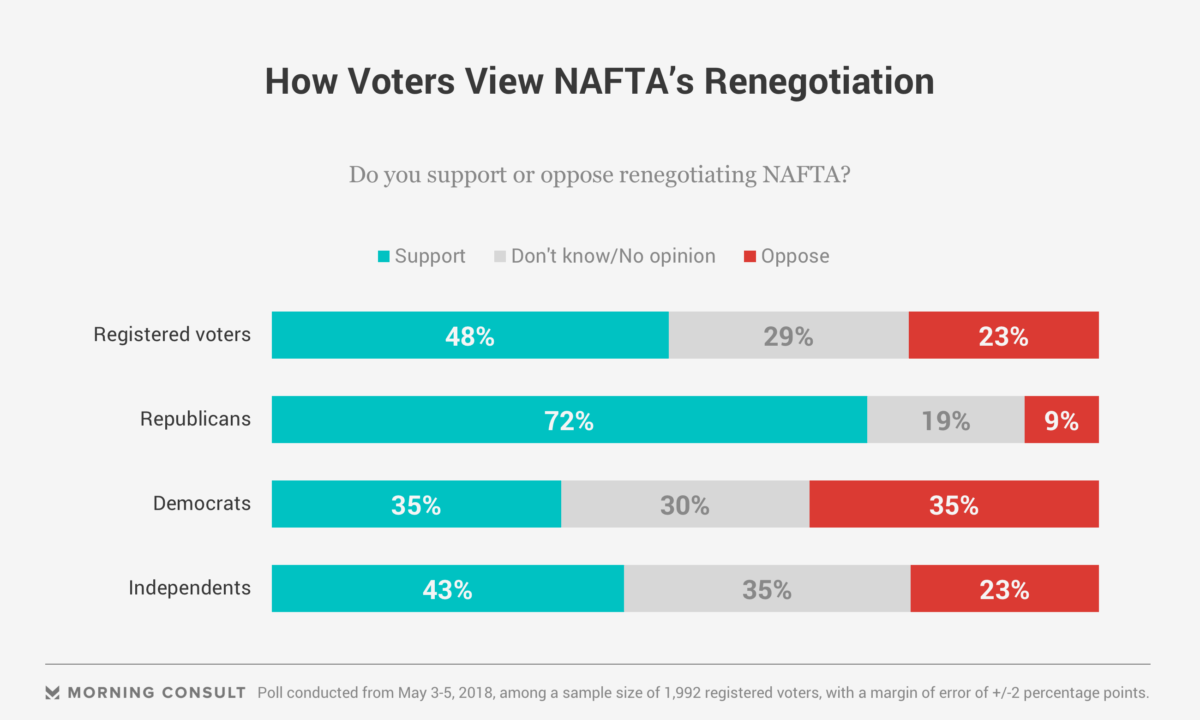 The results come as negotiators from Canada, Mexico and the United States aim to wrap up talks before Mexico holds its presidential elections on July 1. Finishing talks by then would also avoid pushing consideration of the deal in the U.S. Congress too close to the Nov. 6 midterm elections -- a concern that stems from a law that allows Congress an up-or-down vote on the final deal, as well as from the possibility that a future Congress might be less keen on approving a deal negotiated by the Trump administration.
NAFTA was negotiated principally by the George H.W. Bush administration and signed by former President Bill Clinton after some adjustments, but the trade pact has grown in controversy since its implementation in 1994. Critics of the deal, such as Trump, say the agreement and its policies are partly to blame for eroding employment in the U.S. manufacturing sector, while NAFTA's proponents argue the accord has boosted economic growth and created jobs overall in the United States.
A 32 percent plurality of voters this month said they think NAFTA has a mostly positive impact on the United States, compared to 35 percent who said the same in a June 15-19 survey. In last year's poll, 28 percent of respondents said the deal has a mostly negative impact, compared to 24 percent who said the same in this month's survey.
Edward Alden, a senior fellow at the Council on Foreign Relations, said in a Monday phone interview that the Trump administration is "trying to walk a kind of delicate line, which is to be seen as being tough and different on trade." That political principle could inform the NAFTA endgame, he said.
Among Republican voters, backing for NAFTA's renegotiation is strongest in urban and suburban areas, where 80 percent and 72 percent, respectively, support the efforts. In rural areas, where views on NAFTA have come under the microscope because of the significance of Canada's and Mexico's export markets to the agricultural industry, 68 percent of Republicans support renegotiation, with opposition from 5 percent and 27 percent saying they don't know or have no opinion.
A plurality of independent voters also back renegotiation efforts, with 18 percent strongly supporting the talks and 25 percent somewhat supporting them. Democrats are split: Thirty-five percent support the talks and 35 percent oppose them.
Not all voters who oppose Trump's performance as president are necessarily against renegotiating NAFTA. Thirty-two percent of voters who disapprove of Trump's job in office back his efforts to revise the trade pact, with 37 percent in that group opposed to renegotiation.
Christopher Sands, a senior research professor at Johns Hopkins University's School of Advanced International Studies, said the current political economy "all favors a deal" in the near term, with possible hazards for U.S. negotiators on issues such as auto production rules and agriculture.  But members of the U.S. negotiating team are unlikely to take the possible effects on the midterm elections into account as talks come to a close, Sands said in a Monday interview..
"I don't think they care that much" about the political impact, he said, "partly because they don't know how this is going to play."
Ryan Rainey previously worked at Morning Consult as a reporter covering finance.
We want to hear from you. Reach out to this author or your Morning Consult team with any questions or comments.
Contact Us