More Voters Blame Trump for COVID-19 Spread, but Perceptions of His Handling of the Virus Are Steady
33% of voters mostly blame Trump for the spread of the coronavirus; 35% blame the Chinese government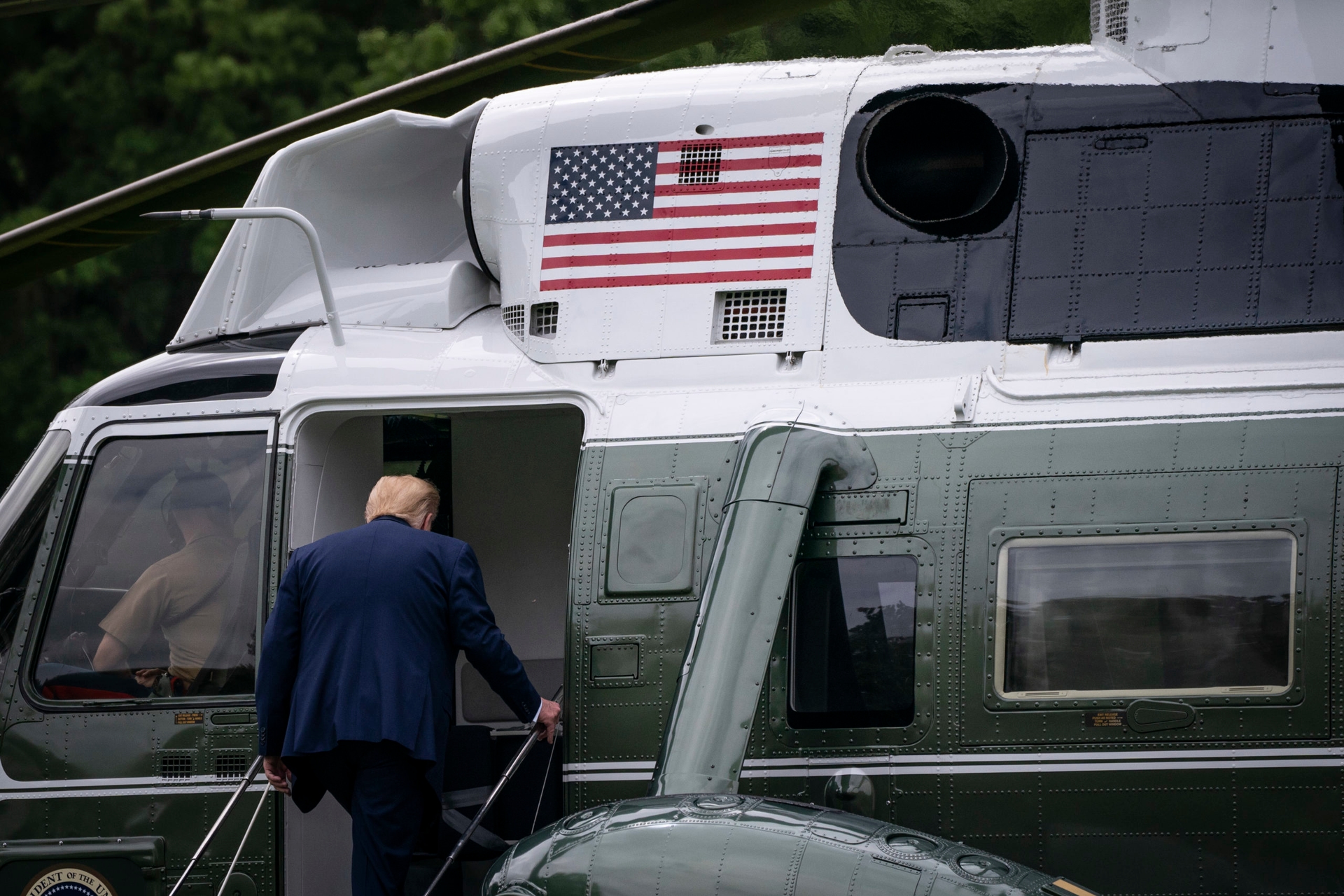 Voters have become less likely to blame China for the spread of coronavirus in the United States and more likely to blame President Donald Trump in recent weeks, but it isn't hurting the president's approval rating on the subject.
The latest Morning Consult poll tracking public opinion about the pandemic found Trump posted his best numbers on the subject since mid-April, with 44 percent approving of his handling of coronavirus and 50 percent disapproving. 
The May 21-25 poll, which surveyed 1,992 registered voters, has a margin of error of 2 percentage points. 
Amid efforts in many states and localities to jump-start economic activity stifled by the deadly introduction of the virus into the United States, the survey also found more voters are blaming Trump for COVID-19's spread. 
Compared with a Morning Consult poll conducted April 17-19, after Trump increased his attacks on China and the World Health Organization, the share of voters who blame Trump for the spread of coronavirus increased 3 points, to 33 percent, while the share who blame Beijing fell 3 points, to 35 percent.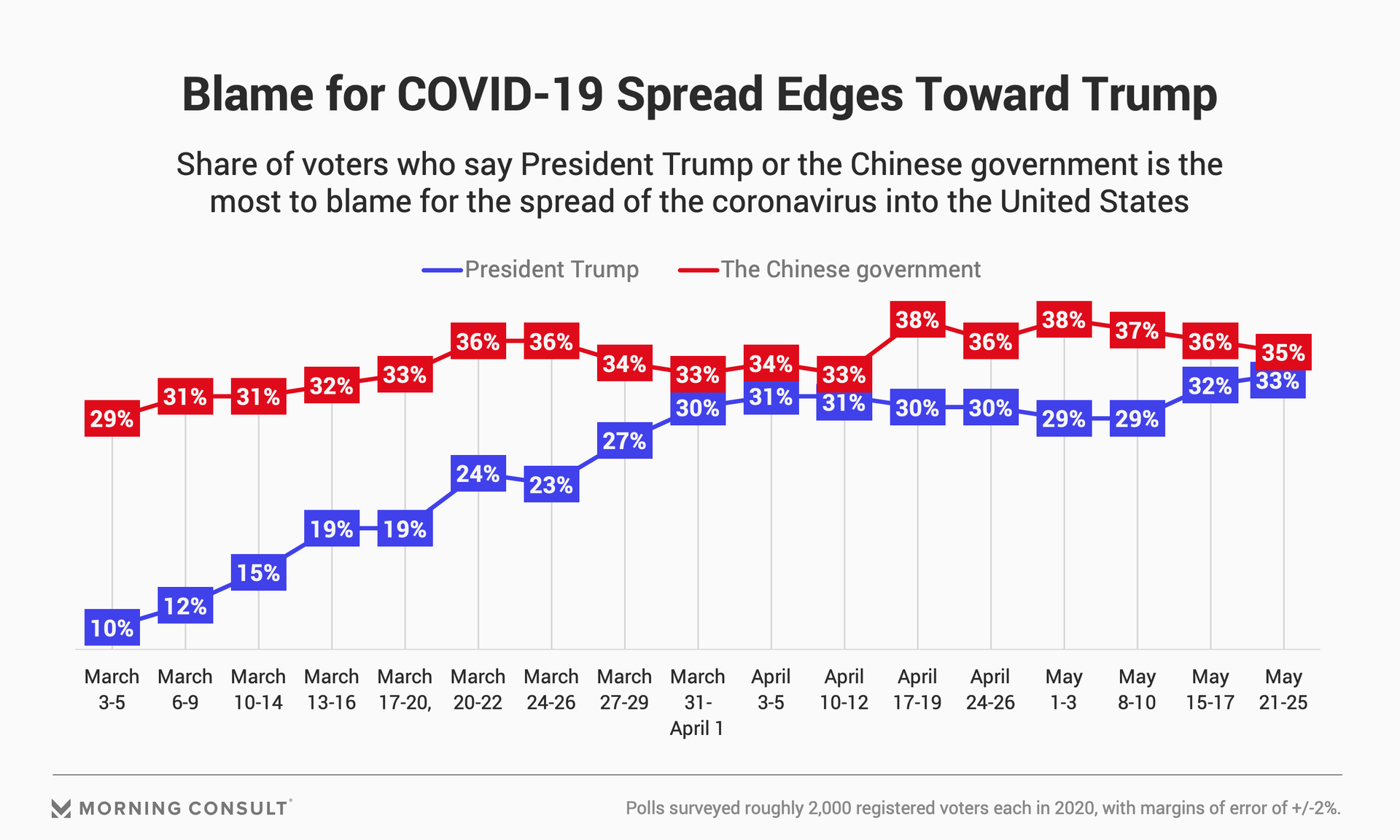 The 2-point gap is the closest between the president and Beijing since an April 10-12 survey conducted before Trump's attacks on China and the World Health Organization began to trickle down to the public.
The recent trend was driven by a larger share of independents blaming Trump for the coronavirus in the United States -- up 6 points, to 30 percent, since the April 17-19 poll. They have soured a bit when it comes to views on Trump's handling of the pandemic: Thirty-nine percent of independents approve (down 4 points) and 51 percent disapprove (up 6 points).
Democrats, 61 percent of whom blame Trump for the spread of coronavirus, have hardened their negative views of the president, with 85 percent disapproving of his handling of COVID-19, up 4 points since mid-April, while the share who approve fell 7 points, to 10 percent.
At the same time, views among Republican voters have gone unchanged. Roughly 3 in 5 blame China for the coronavirus spreading in the United States and 6 percent blame Trump, unchanged since mid-March, while 82 percent approve of his handling of the pandemic.
Eli Yokley is Morning Consult's U.S. politics analyst. Prior to his current role, Eli was Morning Consult's senior reporter covering U.S. politics. Eli joined Morning Consult in 2016 from Roll Call, where he reported on House and Senate campaigns after five years of covering state-level politics in the Show Me State while studying at the University of Missouri in Columbia, including contributions to The New York Times, Politico and The Daily Beast. Follow him on Twitter @eyokley. Interested in connecting with Eli to discuss his analysis or for a media engagement or speaking opportunity? Email [email protected].
We want to hear from you. Reach out to this author or your Morning Consult team with any questions or comments.
Contact Us