More Voters Call Woodward's Book Credible Compared to Other Trump Insider Accounts
41% plurality see longtime Washington Post reporter's book as trustworthy; 23% do not
Key Takeaways
Woodward's new book more likely to be seen as credible than Omarosa's "Unhinged," Wolff's "Fire and Fury."  

The share of voters who say Trump's administration is running chaotically is up 6 points since July.
Longtime Washington Post journalist Bob Woodward's new book, "Fear: Trump in the White House," is trusted by more voters than two previous headline-grabbing accounts of Donald Trump's presidency: Michael Wolff's "Fire and Fury: Inside the Trump White House" and Omarosa Manigault Newman's "Unhinged: An Insider's Account of the Trump White House."
A new Morning Consult/Politico poll found that a 41 percent plurality of registered voters view the new Woodward book as credible, compared to 23 percent who do not. The Sept. 6-9 survey of 1,988 voters, conducted in the days after excerpts of Woodward's new tome were published but before it was officially released on Tuesday – found 35 percent of all voters said they had not heard of the book, didn't know or had no opinion.
Woodward and his 448-page account of the inner workings of the Trump White House have drawn the ire of the president in recent days, despite Trump's past statements of respect for the journalist of Watergate reporting fame. In recent tweets, Trump called Woodward "a liar who is like a Dem operative prior to the Midterms" and said his latest work was "a scam."
Woodward said in an interview published Tuesday by The New York Times that when he was reporting on the Watergate scandal during the Nixon administration, he used to joke that all they needed was "a White House denial now to give this credibility." Asked if Trump's tweets were the modern-day equivalent of that, Woodward – who said he wasn't granted a Trump interview for the book – responded: "I feel really comfortable with the picture I've presented and the evidence."  
The release of stinging book excerpts, including quotes attributed to former White House economic adviser Gary Cohn saying he stole a document from the president's desk "to protect the country," was just part of a bad news week for Trump. An anonymous senior administration official published an op-ed in The New York Times claiming to be part of "the resistance" and raising similar themes to those in Woodward's account of a White House in disarray.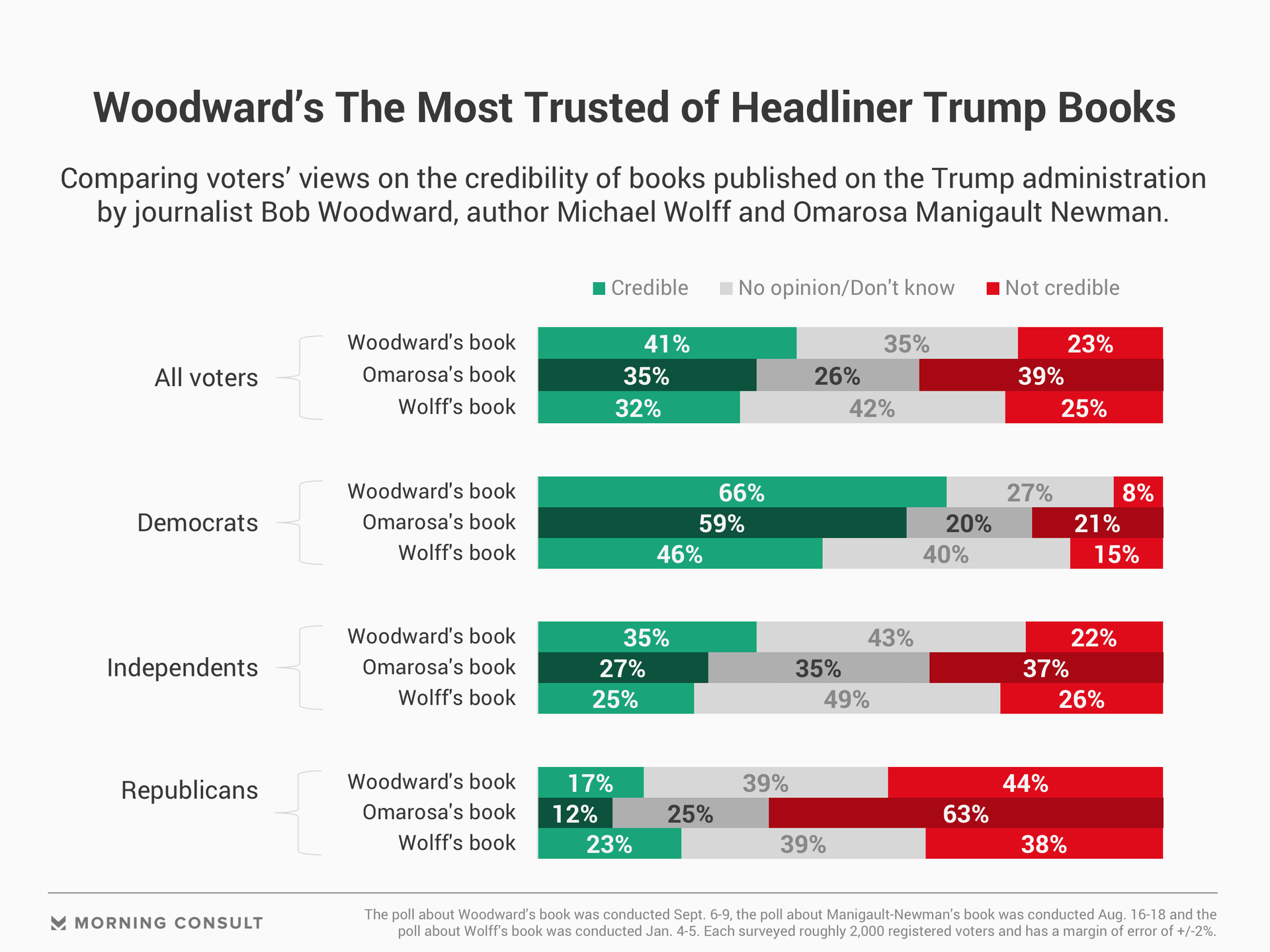 Trump's approval in the latest poll is 15 percentage points underwater – the worst it's been in Morning Consult/Politico tracking since late August 2017, though it is within the plus or minus 2 point margin of error of other polls conducted last month. According to the latest poll, 41 percent of voters approve of the president and 56 percent disapprove.  
The share of voters who say the Trump administration is running chaotically is 61 percent, up 6 points from July 6-9. That includes a 9-point rise among Republican voters, from 20 percent to 29 percent -- though 66 percent of them say it is running well.
When it comes to "Fear," a greater share of voters across all political learnings -- Democrats, independents and Republicans -- viewed Woodward's book as credible than those who viewed Manigault Newman's own account of her time as a Trump administration official as credible.
The same is true among Democrats and independents when comparing their views of Wolff's chronicles of the beginning of the Trump administration – but Republicans were the exception. Among this group, the share who said Woodward's book was credible was 6 points lower than the share who said the same about Wolff's, while the share who said Woodward's book wasn't credible was 6 points higher.
The latest survey found 17 percent of Republicans view Woodward's book as credible, compared to 44 percent of Republican voters votes who don't. Thirty-nine percent of Republicans did not have an opinion about or had not heard of the book, according to the survey.
Eli Yokley is Morning Consult's U.S. politics analyst. Eli joined Morning Consult in 2016 from Roll Call, where he reported on House and Senate campaigns after five years of covering state-level politics in the Show Me State while studying at the University of Missouri in Columbia, including contributions to The New York Times, Politico and The Daily Beast. Follow him on Twitter @eyokley. Interested in connecting with Eli to discuss his analysis or for a media engagement or speaking opportunity? Email [email protected].
We want to hear from you. Reach out to this author or your Morning Consult team with any questions or comments.
Contact Us