General
What's on Tap for Morning Consult Pro in Q4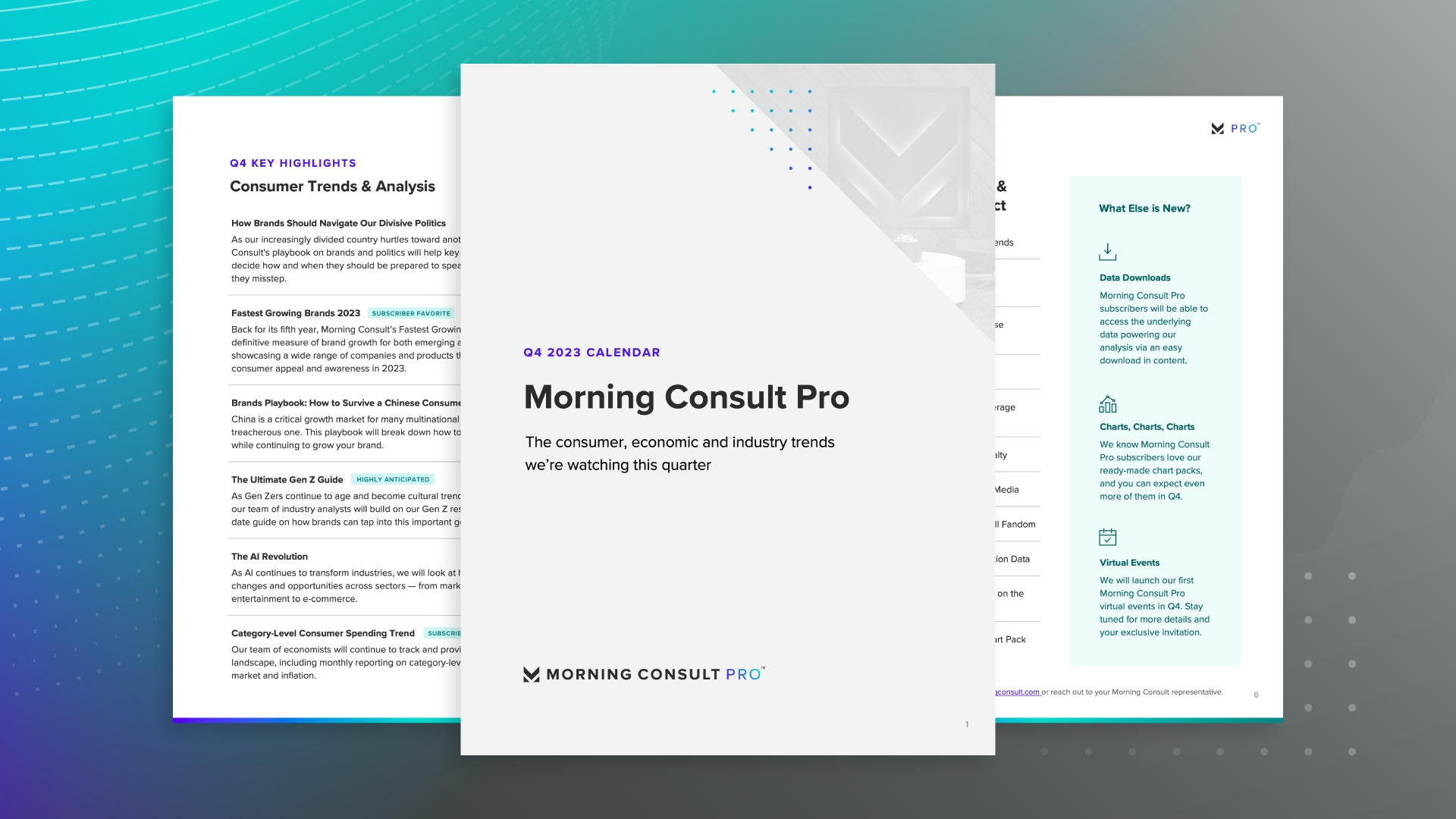 We launched Morning Consult Pro with the mission to make our subscribers the smartest people in the room, arming them with the data they need to tackle the issues of today and the in-depth analysis to capture opportunity tomorrow.
As we enter the final quarter of another challenging year, our mission remains the same. The AI revolution, evolving work expectations, the intersection of brands and politics, volatile consumer spending and China's growing influence will continue to dominate headlines and upend industries.
We're covering all of that and more for our MC Pro subscribers — by pairing our high-frequency survey research with the expertise of our whip-smart industry, economic and political analysts. Read on for a sneak peek at what's in store this quarter for Morning Consult Pro subscribers.
Not a Morning Consult Pro subscriber? Start your free trial today.
Morning Consult Pro: Q4 2023 Highlights
Consumer Trends & Analysis
How Brands Should Navigate Our Divisive Politics
As our increasingly divided country hurtles toward another divisive election, Morning Consult's playbook on brands and politics will help key corporate decision-makers decide how and when they should be prepared to speak their values — and what to do if they misstep.
Fastest Growing Brands 2023
Back for its fifth year, Morning Consult's Fastest Growing Brands® is the definitive measure of brand growth for both emerging and established brands, showcasing a wide range of companies and products that have accelerated their consumer appeal and awareness in 2023.
Brands Playbook: How to Survive a Chinese Consumer Boycott
China is a critical growth market for many multinational companies — and, at times, a treacherous one. This playbook will break down how to navigate a boycott in China while continuing to grow your brand.
The Ultimate Gen Z Guide
As Gen Zers continue to age and become cultural trendsetters and financially powerful, our team of industry analysts will build on our Gen Z research to provide the most up-todate guide on how brands can tap into this important generation.
The AI Revolution
As AI continues to transform industries, we will look at how consumers are reacting to changes and opportunities across sectors — from marketing and advertising to entertainment to e-commerce.
Category-Level Consumer Spending Trends
Our team of economists will continue to track and provide insights into the economic landscape, including monthly reporting on category-level spending, the jobs & labor market and inflation.
Political Trends & Analysis
2024 Election Watch Report
A monthly look at the state of the 2024 election, breaking down how American voters feel about front-runner candidates, key issues, President Joe Biden and senators and governors who are up for re-election.
Approval Ratings for Every U.S. Senator & Governor
A comprehensive look at approval ratings in all 50 states — and covering every U.S. senator and governor — available in a downloadable report with easy access to charts and the latest analysis.
The State of U.S.-China Relations
Our yearly report analyzing the risks and opportunities facing multinationals, investors, asset managers and policymakers amid the persistently strained U.S.-China relationship, covering top-line issues in bilateral relations, business concerns at the intersection of tech and national security and where relations are headed over the next five years.
Topical Outlook: Global Views on Societal Polarization & Nationalism
Our report for subscribers who are concerned about domestic political polarization and societal unrest that could result in political and/or policy instability that materially affects their operations.
Topical Outlook: Global Views on the Trade & Investment Policy Climate
Snapshots of global views on trade and tariffs, foreign manufacturing, domestic manufacturing, purchasing considerations and more, along with a streamlined six-month forecast of where things are headed.
Global Leader Approval & Country Trajectory Outlooks
A brand-new memo series providing a monthly read on global political leaders' approval ratings and country trajectories, covering APAC, EMEA, and the Americas. The series is firmly oriented toward subscribers who are keeping an eye on political risk and electoral dynamics and want a data-driven read on political stability instead of punditry.
Economic Trends & Analysis
Consumer Spending Analysis & Chart Pack
A look at consumer spending across demographics and categories, released ahead of the U.S. Bureau of Economic Analysis' monthly Personal Consumption Expenditures Price Index.
Inflation & Price Pressures Analysis
A look at inflation expectations and how prices are impacting spending habits, released ahead of the U.S. Bureau of Labor Statistics' monthly Consumer Price Index.
Jobs & Labor Analysis & Chart Pack
Monthly updates on key employment and labor trends in the United States, released ahead of the Bureau of Labor Statistics' Employment Situation report.
Global Consumer Confidence Analysis & Chart Pack
Monthly updates on consumer confidence around the globe, highlighting key trends in dozens of countries.
Small- and Medium-Sized Businesses' Economic Conditions & Expectations
Quarterly update on small- and medium-sized business owners and decision-makers' experiences and expectations on a range of economic, financial and business conditions.
Bloomberg/Morning Consult: SHEED Survey
Quarterly update on Survey of Household Emergency Expenses and Decisionmaking (SHEED) in collaboration with Bloomberg News, highlighting households' capacity to absorb emergency expenses and related economic decisions.
Axios/Morning Consult: Income Inequality Index
Monthly update on Morning Consult/Axios Income Inequality Index on a wide variety of economic and financial topics, allowing us to precisely gauge how economic inequality is shifting in response to policy developments, business conditions and current events.
Additional Analysis & Data to Expect:
Holiday Shopping & Spending Trends
Dupe Culture & Its Impact on Consumer Expectations
What's Shaping Corporate Purpose in 2024
The Rise of Creator Brands
Inflation's Impact on Food & Beverage Spending
Retail Subscriptions & Brand Loyalty
The State of Shopping on Social Media
A Deep Dive Into College Football Fandom
Weekly Primary and General Election Data
Expected Impact of Swing Voters on the 2024 Elections
U.S. Foreign Policy Tracker & Chart Pack
What Else is New?
Data Downloads – Morning Consult Pro subscribers will be able to access the underlying data powering our analysis via an easy download feature in content.
Charts, Charts, Charts – We know Morning Consult Pro subscribers love our ready-made chart packs, and you can expect even more of them in Q4.
Virtual Events – We will launch our first Morning Consult Pro virtual events in Q4. Stay tuned for more details and your exclusive invitation.
Have feedback or ideas? Email us at [email protected].
Jeff Cartwright is the chief growth officer at Morning Consult. @JeffSCartwright
We want to hear from you. Reach out to this author or your Morning Consult team with any questions or comments.
Contact Us