Most Americans Plan to Spend Thanksgiving With Their Families, and Plan to Leave Politics Out of It
Only 18% of Biden supporters and 16% of Trump supporters say they plan to bring up politics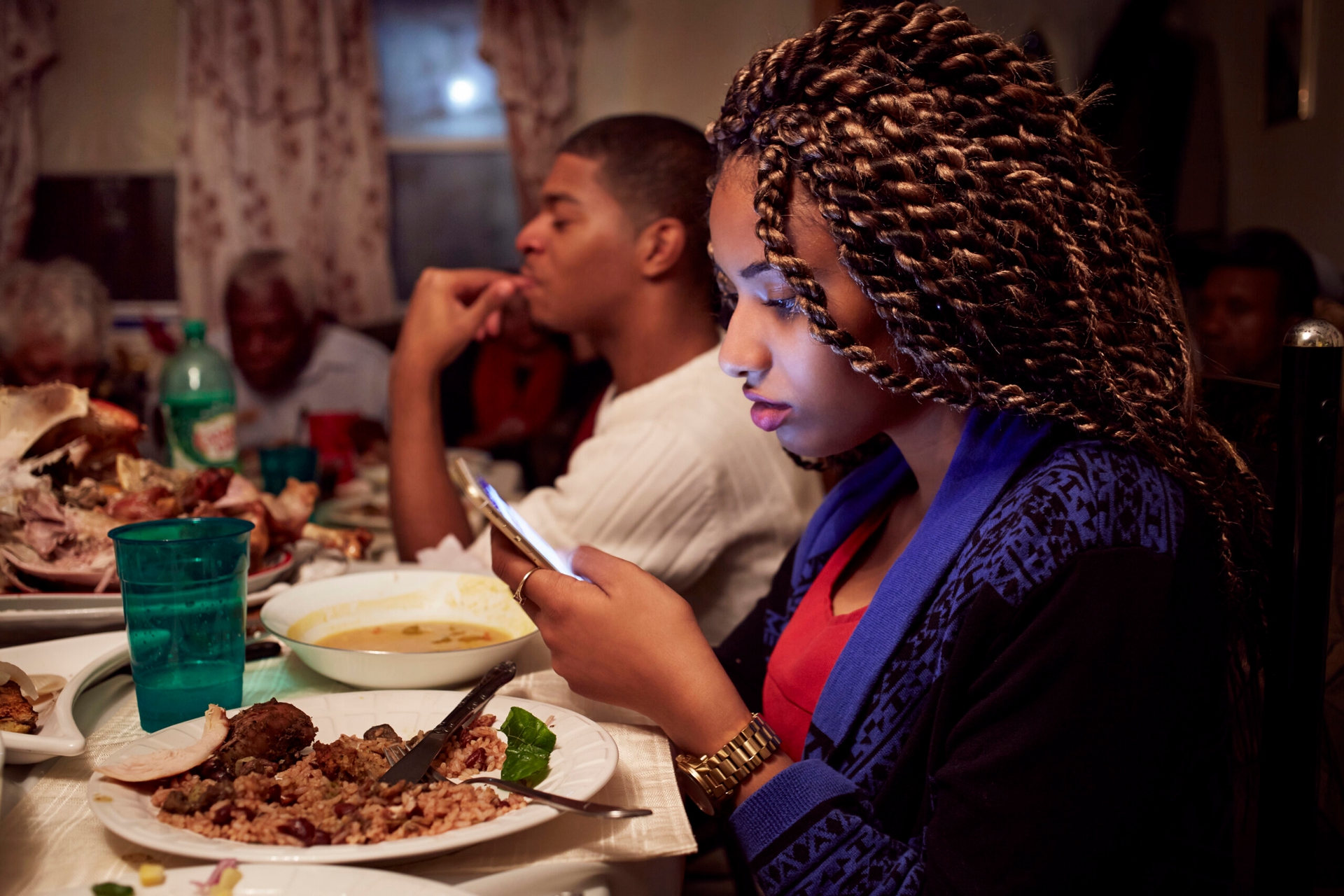 President Donald Trump's refusal to concede his loss to President-elect Joe Biden has dragged talk of the 2020 election into Thanksgiving week, when a majority of Americans plan to spend time with their families despite mounting COVID-19 cases.
According to Morning Consult polling conducted Nov. 10-13, the bulk of Americans, regardless of whom they supported earlier this month, don't want to discuss politics, even as they appear more cognizant of which horse their family members backed in the Nov. 3 contest.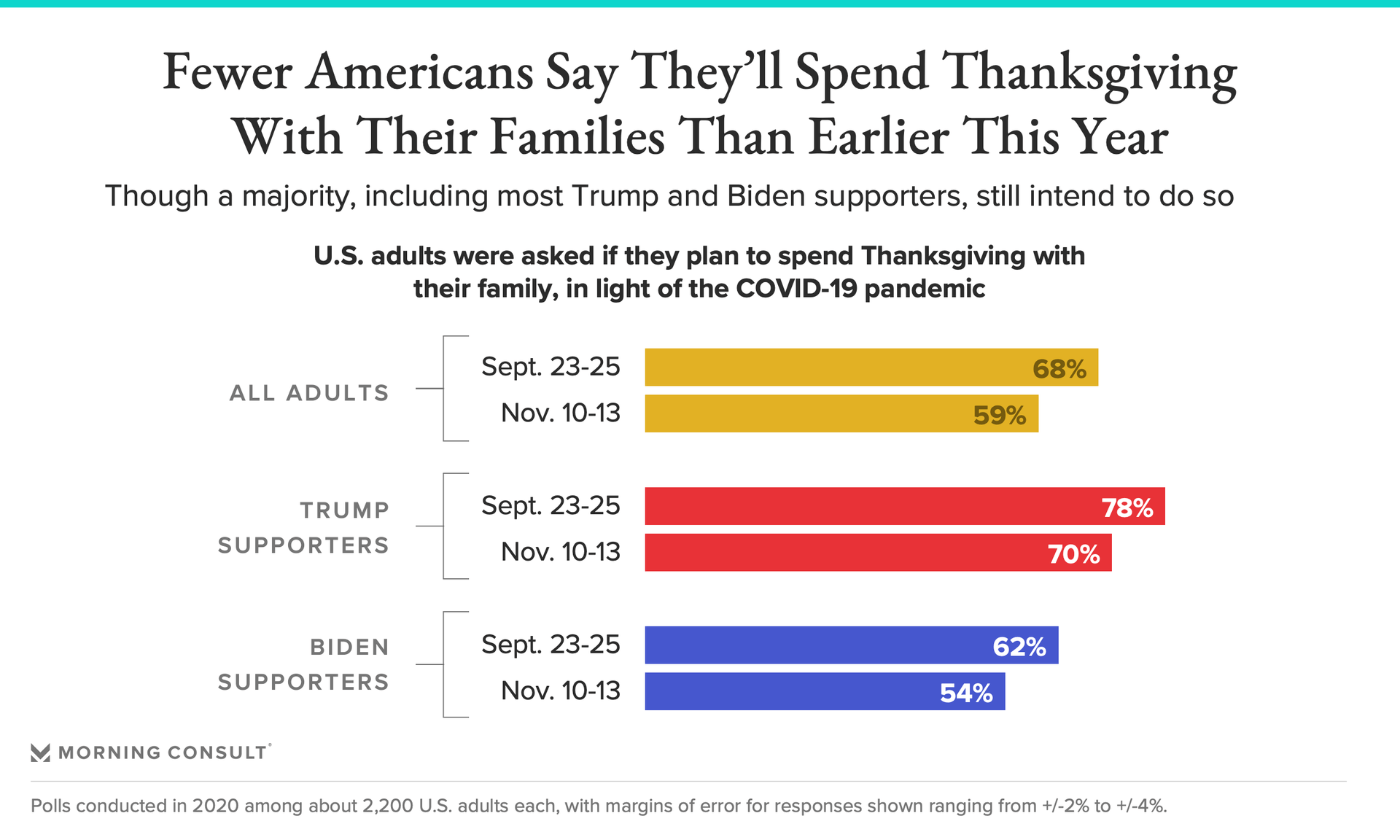 Compared to a Sept. 23-25 survey, U.S. adults are 9 percentage points less likely to say they plan to spend Thanksgiving with their families, though a solid majority (59 percent) are still set to gather. Trump supporters are more likely than Biden supporters (70 percent to 54 percent) to say they'll attend, but the share among both candidates' backers fell over the past two months. 
If they do celebrate with families, 2 in 5 Americans -- including similar shares of Biden and Trump supporters -- said they will not talk politics at all during Thanksgiving this year, and roughly a third said they would only talk about it if someone else brings it up.
Just 15 percent of adults indicated they would be proactive about discussing politics over the holiday. The figures were virtually unchanged between the two polls, which were conducted among more than 2,000 U.S. adults, with 2-point margins of error. 
The numbers among Trump supporters were roughly in line with respondents who said they voted for the president-elect. And despite Trump's loss and Biden's victory, views among their supporters went virtually unchanged since before the election. 
The apparent fatigue over political chatter aligns with a finding from Morning Consult exit polling, which found, among a variety of feelings, the overriding view toward the election among Americans was that they "just want it to be over." That's not to suggest that there hasn't been any family discussion of the presidential contest: Americans do appear to have recently learned, or at least have acknowledged, that someone in their household supported the candidate that they themselves opposed. 
Nearly 2 in 5 Trump supporters (38 percent) said they have a family member who backed Biden, up 17 points since before the election. Over the same time period, the share of Biden supporters who said they have a family member who supports Trump increased 6 points, to 36 percent.
But even if the entire family doesn't agree, both Biden and Trump supporters are more likely than not to find at least one political ally in their midst. As of the second survey, 90 percent of each group said they have at least one other family member who favored the same candidate they did.
All in all, Americans of similar political persuasions tend to comprise the family unit: Most people, regardless of whom they supported in the election, said most or all of their family members supported the same candidate they did. Half of all adults agreed with that statement on average between both surveys, including an average of 57 percent of Trump supporters and an average of 55 percent of Biden supporters.
Though Americans are eager to avoid talk of politics over Thanksgiving dinner, some family members are viewed as more likely than others to broach the topic anyway, with opinions differing mostly along generational, rather than partisan, lines.
Younger adults — millennials and Generation Z — seem to buy into the idea that their "crazy uncle," as Savannah Guthrie referred to Trump at his NBC town hall in October, will bring up politics during the family gathering. Both groups also suggested that their parents are likely suspects.
Baby boomers and Generation X, on the other hand, were most likely to believe that politics won't come up at all: 33 percent of baby boomers and 22 percent of Gen X said they don't think anyone will mention the topic. 
Eli Yokley is Morning Consult's U.S. politics analyst. Prior to his current role, Eli was Morning Consult's senior reporter covering U.S. politics. Eli joined Morning Consult in 2016 from Roll Call, where he reported on House and Senate campaigns after five years of covering state-level politics in the Show Me State while studying at the University of Missouri in Columbia, including contributions to The New York Times, Politico and The Daily Beast. Follow him on Twitter @eyokley. Interested in connecting with Eli to discuss his analysis or for a media engagement or speaking opportunity? Email [email protected].
Alyssa Meyers previously worked at Morning Consult as a reporter covering brands and marketing.
We want to hear from you. Reach out to this author or your Morning Consult team with any questions or comments.
Contact Us