Most People Don't Like Giving Big Tech More Power, but They Rely on Its Services
For example, poll results show 77% of these consumers said they have an Amazon.com account
Key Takeaways
65% say the benefits of tech companies aren't worth the industry's becoming more powerful at the expense of smaller companies, while 35% said the benefits are worth it.

The share of people who say the benefits are not worth it and hold an Amazon account is similar to the share of Amazon account holders who are OK with the trade-offs.

52% of adults say the tech industry has "a lot" of power, ranking it only behind politics and finance.
In the past year, calls to either break up large technology companies or investigate them for anticompetitive behavior have found a strong and persistent voice among Democratic presidential candidates, a group of bipartisan lawmakers and both federal and state regulators. Discussions about online privacy and breaking up Big Tech are even on the agenda for the CES conference, which starts Tuesday.
But a new Morning Consult survey finds that even those consumers who find the sector's growing power an unacceptable exchange for the benefits it provides are also heavily reliant on those benefits, suggesting that that any regulatory action that takes them away could create a disruption that is likely to inconvenience these very consumers in a big way. 
In the survey, conducted Dec. 11-14, 2,200 U.S. adults across the nation were first asked if they believed that the benefits that some large tech companies provide to customers constitute an acceptable trade-off for giving more power to the industry and taking business away from smaller competitors. Sixty-five percent, or 1,429 people, said it wasn't an acceptable trade-off, while 35 percent, or 771 people, said it was. 
Respondents were then asked if they agreed with a set of nine statements gauging both their opinion and dependence on online services provided by large tech companies of interest to regulators investigating Amazon.com Inc., Facebook Inc., Alphabet Inc. and Apple Inc.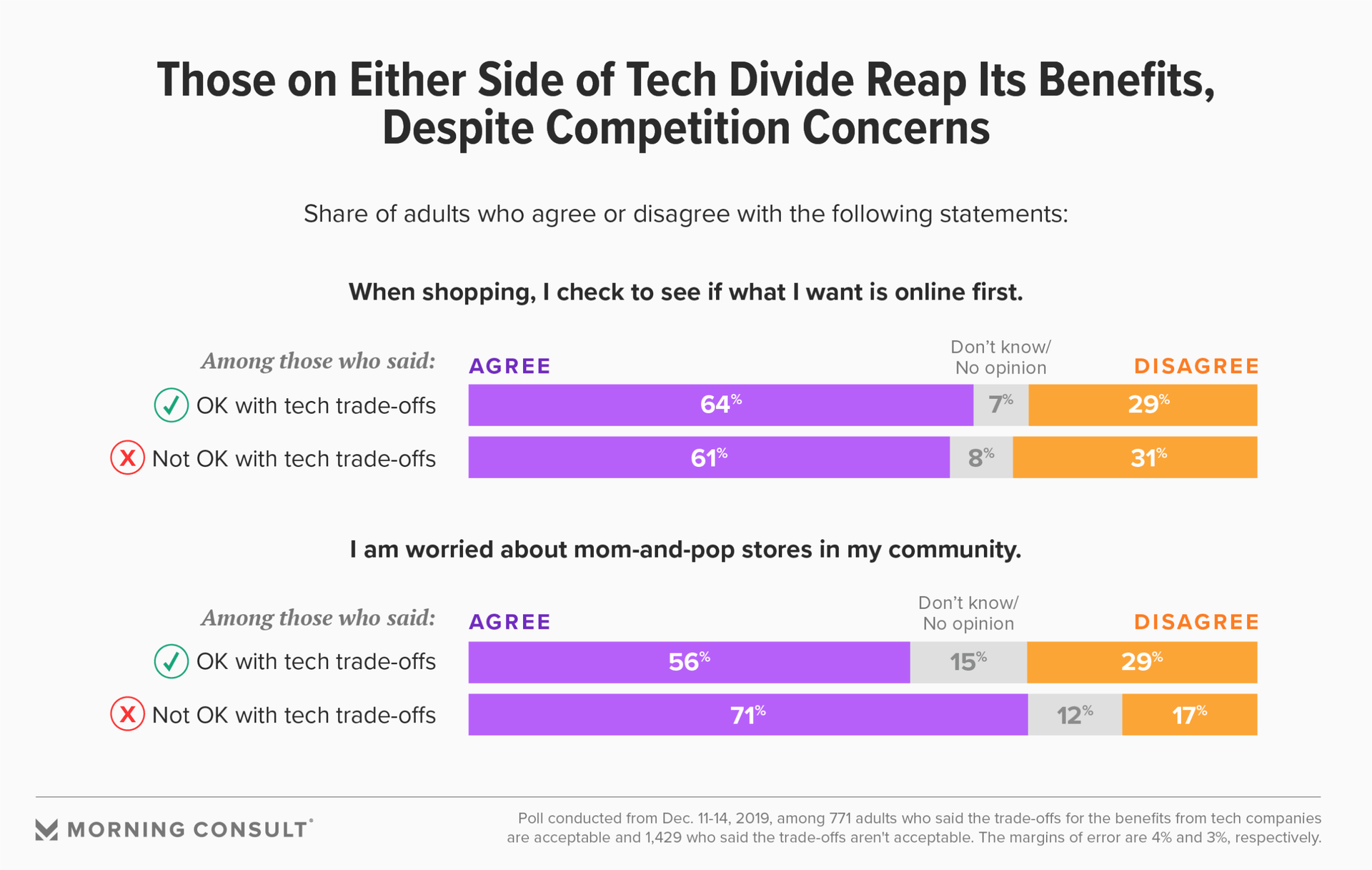 On most of the questions, majorities said they agreed with the statements, no matter whether they believed that the benefits of technology companies were worth the trade-off. For instance, 61 percent of those who said trade-offs for tech services were unacceptable said they first check online for the item they want when shopping, as did 64 percent of adults who are OK with the trade-offs. 
And both groups had similar numbers when it came to using various social media and online services. For example, 77 percent of those who said they believed the trade-offs weren't worth it said they had an Amazon account, compared to 78 percent of those who said the benefits were acceptable. 
Despite the widespread use of these services, about half of those who were OK with the trade-offs said they didn't trust social media sites or online search engine companies, while 58 percent of the other group said the same. 
While much of the consumer distrust of Big Tech lies in the collection of personal data and the tracking of user behavior, companies such as Google say such practices are necessary to deliver search engine results and services that are relevant to users. And polling shows 81 percent of both groups said they found search engines and other internet tools useful for finding what they need.
The overall survey has a margin of error of 2 percentage points. The margin of error was 4 points for the subsample of people who said the trade-offs were acceptable and 3 points for the ones who had the opposite opinion.
Caleb Watney, technology and innovation resident fellow at a free-market think tank, R Street Institute in Washington, said the two groups' responses are similar because many of those who say they are against the trade-offs are likely to find that they value Big Tech's benefits when those benefits are threatened. For people who are wary of Big Tech's power, he said, breaking up the large companies sounds good until they realize that it could affect them personally by disrupting the services they currently enjoy.
Spending is a better indicator of consumer views, he said, suggesting that those who shop on Amazon are typically more inclined to be supportive of the company and its trade-offs.   
"It doesn't have to be this 'I either want the digital economy or I want nothing of it,' " Watney said. "There's lots of shades in the middle."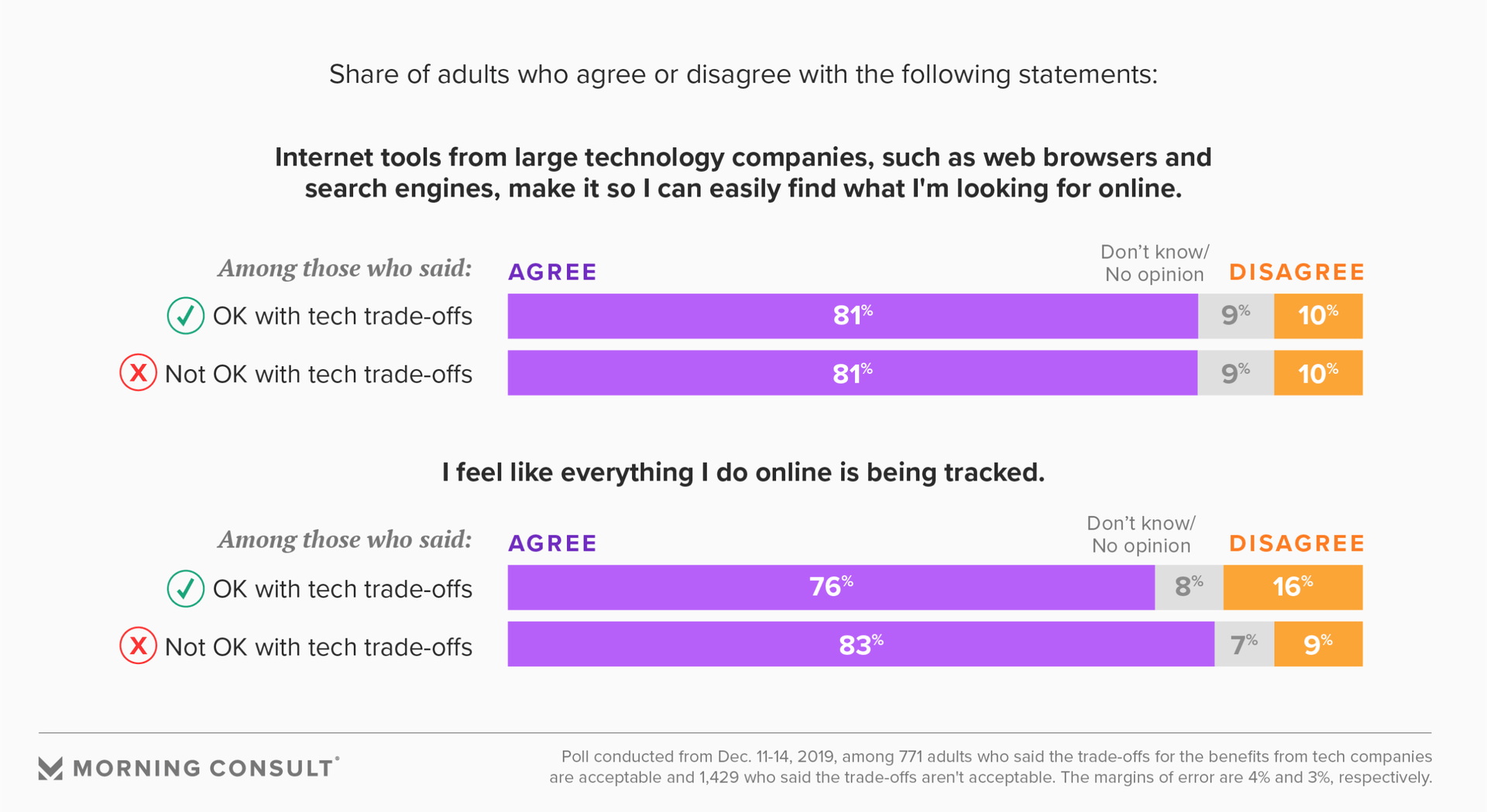 Sarah Miller, deputy director of Open Markets Institute in Washington, which opposes monopolies, took a different view, saying that the lack of big differences in consumer behavior between the two groups is evident of the monopolistic power of the biggest tech companies -- consumers just don't have a choice but to turn to Big Tech for online searches and shopping. 
While a growing number of Washington officials are calling for more antitrust action, consumers are less certain about the need for regulation. One-third of all adults in the survey were not sure if tech companies needed more, less or the same amount of regulation that they currently have. Twenty-nine percent said they needed to be regulated more, and 24 percent said they were regulated the right amount. 
Yet people also consider the tech industry among the most powerful in the United States, with survey respondents ranking it No. 3, at 52 percent, of the sectors that have "a lot" of power. Only the government (67 percent) and Wall Street (58 percent) outranked Silicon Valley, out of the 12 sectors listed in the survey
Watney said the growing calls to break up large tech companies are tied to the growing concerns that the American economy as a whole isn't as innovative as it could be.
 "The winners and the losers of the digital sector are of so much interest because that's the main innovative space in the U.S. economy right now," Watney said. "But if we were seeing similar advancements of innovation in transportation and in health care and in construction and in manufacturing or whatnot, I think we would be a lot less preoccupied with who are the winners and losers of this particular industry."
But Miller says the conversation around regulating and breaking up big tech companies isn't going away anytime soon. Consumers – let alone government officials and political candidates -- are just now beginning to understand the problem at hand, she said: "There's a lot of learning going on."
Sam Sabin previously worked at Morning Consult as a reporter covering tech.
We want to hear from you. Reach out to this author or your Morning Consult team with any questions or comments.
Contact Us