Most People Haven't Stopped Listening to Michael Jackson's Music After Documentary
Plurality of adults don't believe they should boycott 'King of Pop' over allegations
Key Takeaways
55% of adults said they had an unfavorable opinion of Michael Jackson after the "Leaving Neverland" documentary.

61% of avid music fans have not stopped listening to Jackson's music in the wake of allegations, and 54% don't think they should.
In recent weeks, the music industry has been dealing with a series of public allegations of sexual abuse and misconduct -- some including minors -- against artists such as R. Kelly, Ryan Adams and the late Michael Jackson. New polling finds that the public is more likely to feel it should not stop listening to the respective artist's music rather than boycott it in the wake of these allegations.
The Morning Consult/The Hollywood Reporter survey of 1,952 U.S. adults split the sample so that one group was shown pictures of several artists who have faced allegations of some form of sexual misconduct, and one group was shown only the artists' names. When given just the artist's name, 46 percent of respondents had a favorable opinion of Michael Jackson, compared to 43 percent who found him unfavorable, while 13 percent had a favorable opinion of Kelly and 63 percent had an unfavorable opinion. Eleven percent had a favorable opinion of Ryan Adams, while 76 did not know or had no opinion of the Grammy-nominated artist.
The overall poll's margin of error is 2 percentage points, while the margin of error for each sample was roughly 3 points.
Twenty-four percent of adults said that after the release of the HBO documentary "Leaving Neverland," they had a favorable opinion of Jackson, compared to 55 percent who said they had an unfavorable view of him. The documentary detailed allegations that Jackson sexually abused two men, Wade Robson and James Safechuck, when they were minors.
Ahead of the release of the documentary, attorney Howard Weitzman, who represents Jackson's estate, said in a letter to HBO Chief Executive Richard Plepler that the estate was never contacted and that "any halfway skilled filmmaker could make a 'documentary' telling any outrageous story about a dead man if they can just find two people willing to tell that story and then not challenge those two at all."
The March 6-8 poll also found that after watching a video of Kelly's interview with Gayle King on CBS following Kelly's indictment on 10 counts of aggravated criminal sexual abuse involving four alleged victims -- three of whom were reportedly minors at the time -- 14 percent had a favorable opinion of Kelly.
Kelly, who has pleaded not guilty to the charges, denied the allegations that he sexually and physically abused women, saying in the interview that he had "absolutely not" broken any laws regarding women and telling King: "I didn't do this stuff. This is not me."
Representatives for R. Kelly and the Jackson estate did not immediately respond to requests for comment.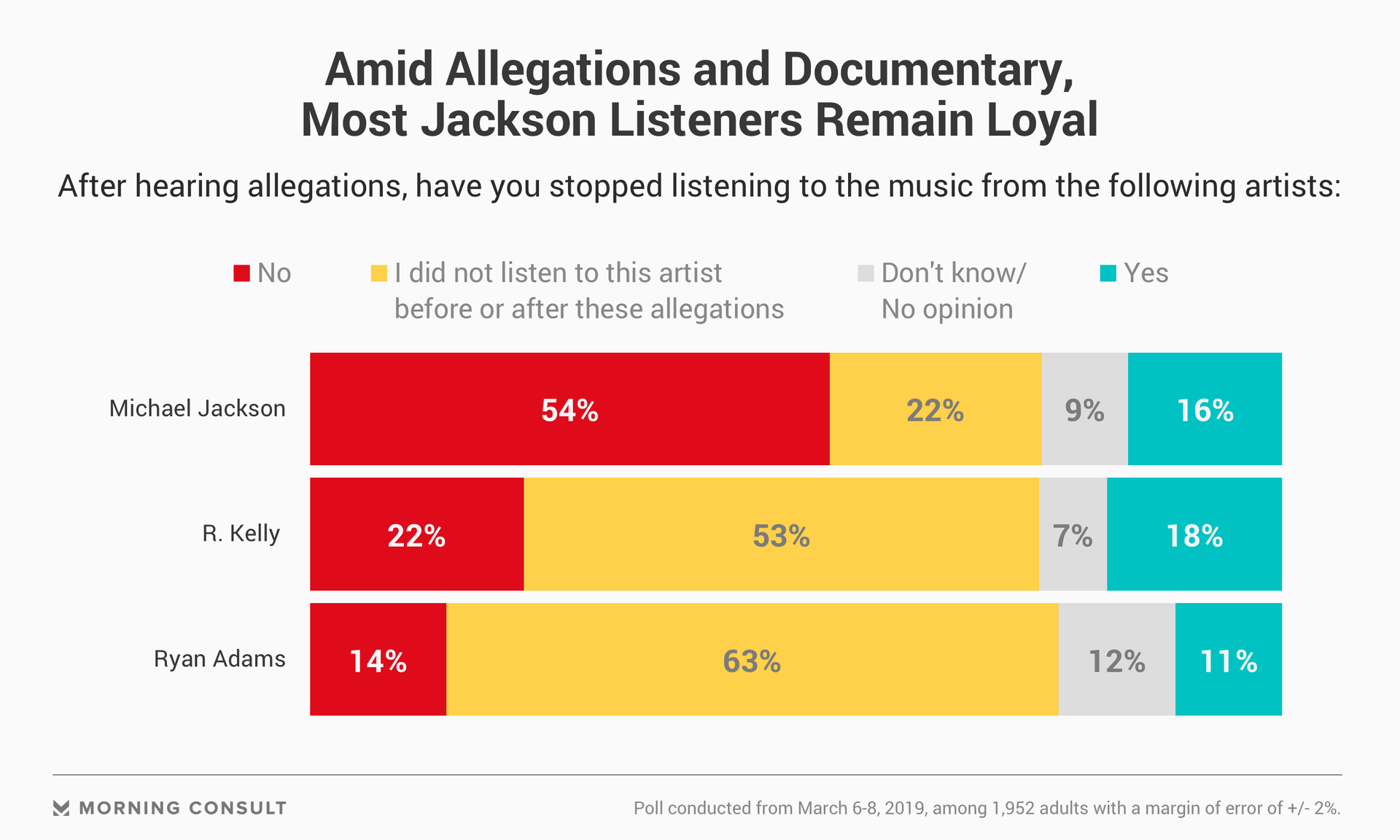 Despite the allegations surrounding these artists, a majority (54 percent) of respondents have not stopped listening to Jackson's music -- and a 48 percent plurality don't think they should stop listening as a result of the allegations. Among avid music fans, 61 percent said they have not stopped listening to Jackson's music, and 54 percent said they don't think they should stop listening. For Adams and Kelly, respondents were slightly more likely to say they didn't think they should stop listening to the artist's music than boycott it, but majorities said they did not listen to Adams or Kelly before or after the allegations.
Adams was the subject of a New York Times article last month alleging that the singer offered career opportunities while pursuing several artists for sex and engaged in sexually explicit communications with a minor. Adams denied the allegations, tweeting that "I would never have inappropriate interactions with someone I thought was underage" and calling the picture painted by the article "upsettingly inaccurate."
A representative for Adams did not immediately respond to a request for comment.
Sarah Shevenock previously worked at Morning Consult as a reporter covering the business of entertainment.
We want to hear from you. Reach out to this author or your Morning Consult team with any questions or comments.
Contact Us