Most Voters Back Airstrikes Against Syria, Despite Low Confidence in Strategy
Majority of voters say airstrikes unlikely to deter Syria from future attacks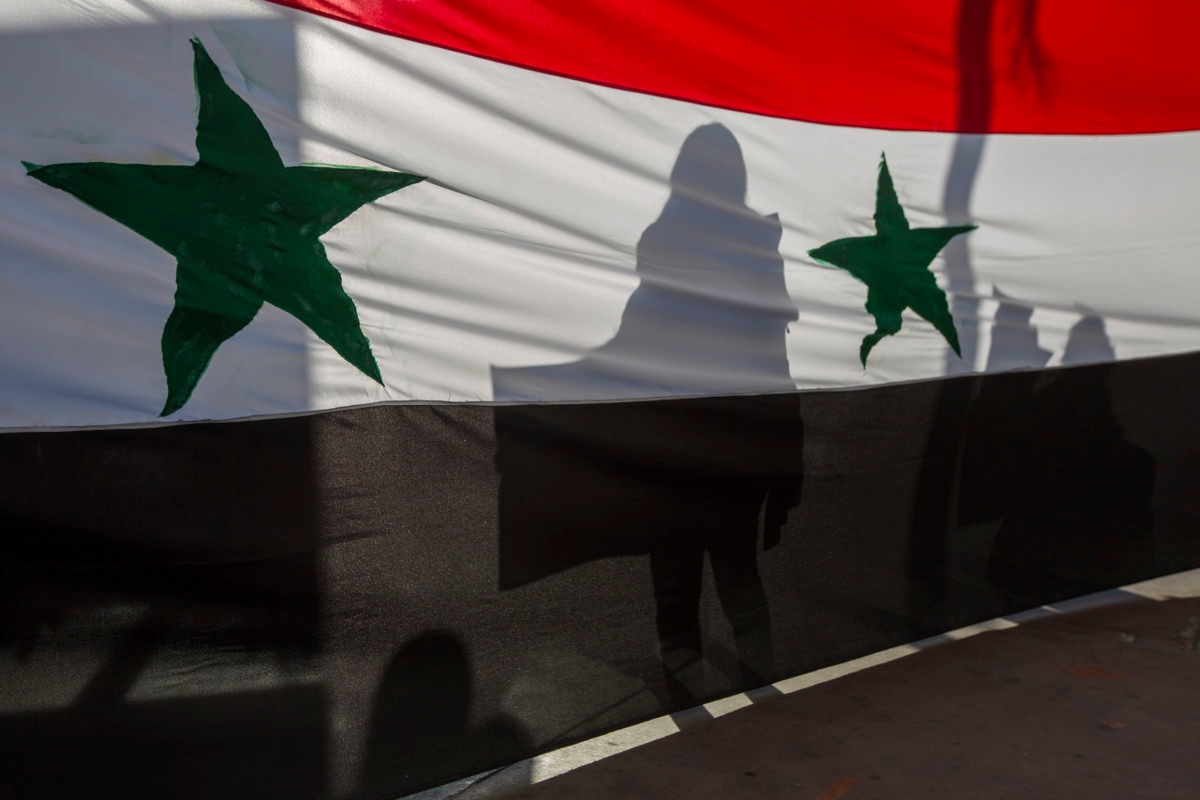 Key Takeaways
66% of registered voters were supportive of the strikes.

57% said they weren't confident the strikes would stop future chemical or biological attacks.

Voters were more likely to say Assad's alleged attacks on civilians were the international community's responsibility than the United States'.
Most voters support the recent airstrikes launched by the United States and its allies against Syrian President Bashar al-Assad's government following its alleged use of chemical weapons on civilians during the ongoing civil war, according to a new poll -- but they don't expect the military action to deter similar attacks going forward.
A Morning Consult/Politico survey -- conducted after President Donald Trump announced the missile strikes on Friday night -- found that 66 percent of registered voters backed the strikes launched by the United States, the United Kingdom and France in response to alleged chemical weapons attacks on Syrian citizens April 7, while 19 percent opposed them.
The nationwide, online poll of 1,995 registered voters was conducted April 13-16 and has a margin of error of plus or minus 2 percentage points.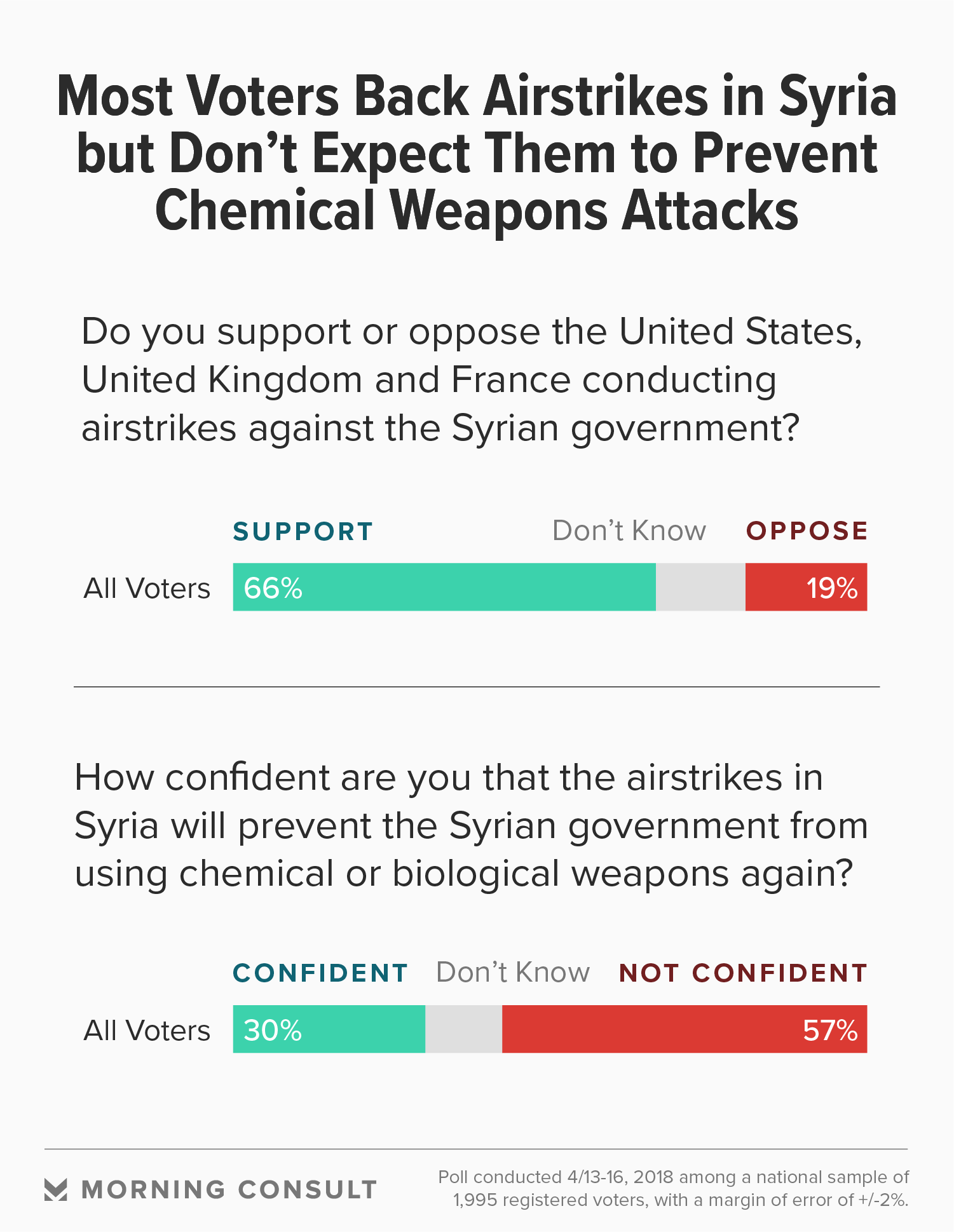 News coverage of the airstrikes filtered down to Americans at a high rate: Seventy-eight percent of respondents said they'd read, seen or heard a lot or some about the allied action. That compares with 72 percent who said in an April 12-17 Morning Consult/Politico poll that they'd read, seen or heard a lot or some about the Federal Bureau of Investigation's raid on the office and hotel room of Trump's personal lawyer, and 71 percent who'd heard a lot or some about House Speaker Paul Ryan (R-Wis.) saying he'll retire at the end of this congressional term.
That poll surveyed 1,917 registered voters and has a margin of error of plus or minus 2 percentage points.
At a press briefing Saturday, Defense Department officials said the allied airstrikes targeted the main components of the Syrian government's chemical weapons infrastructure in a bid to curb its efforts to poison its own people going forward.
Pentagon spokeswoman Dana White said during the briefing that the successful strikes were launched "to limit Syria's ability to use chemical weapons in the future."
Voters are skeptical. Fifty-seven percent of respondents surveyed from April 13-16 said they were either not too confident or not confident at all that the strikes would prevent the Syrian government from using chemical or biological weapons again. Thirty percent said they were very or somewhat confident that the airstrikes would be an effective deterrent.
The United States and its allies have accused the Assad regime of using chemical weapons on the Syrian people dozens of times since the civil war began in 2011. While the Obama administration in 2013 negotiated with Assad to have him turn over all of the Syrian government's chemical weapons, he continued to use them, investigators with the United Nations said in August 2016.
The Trump administration first launched strikes against the Assad regime in April 2017 following another alleged use of the chemical weapons. On March 29, Trump said he wanted U.S. forces out of Syria "very soon."
The April 13-16 survey found that a 42 percent plurality of voters said it's the responsibility of the United States to protect Syrians from biological and chemical weapons attacks, with 30 percent disagreeing. Sixty-eight percent said it's the international community's responsibility.
Cameron Easley is Morning Consult's lead analyst for U.S. politics. Prior to moving into his current role, he led Morning Consult's editorial coverage of U.S. politics and elections from 2016 through 2022. Cameron joined Morning Consult from Roll Call, where he was managing editor. He graduated from the University of North Carolina at Chapel Hill. Follow him on Twitter @cameron_easley. Interested in connecting with Cameron to discuss his analysis or for a media engagement or speaking opportunity? Email [email protected].
We want to hear from you. Reach out to this author or your Morning Consult team with any questions or comments.
Contact Us