Most Voters Condemn Trump's Comments About Jewish 'Loyalty'
But remarks had no impact on Jewish voters' views of the president's job performance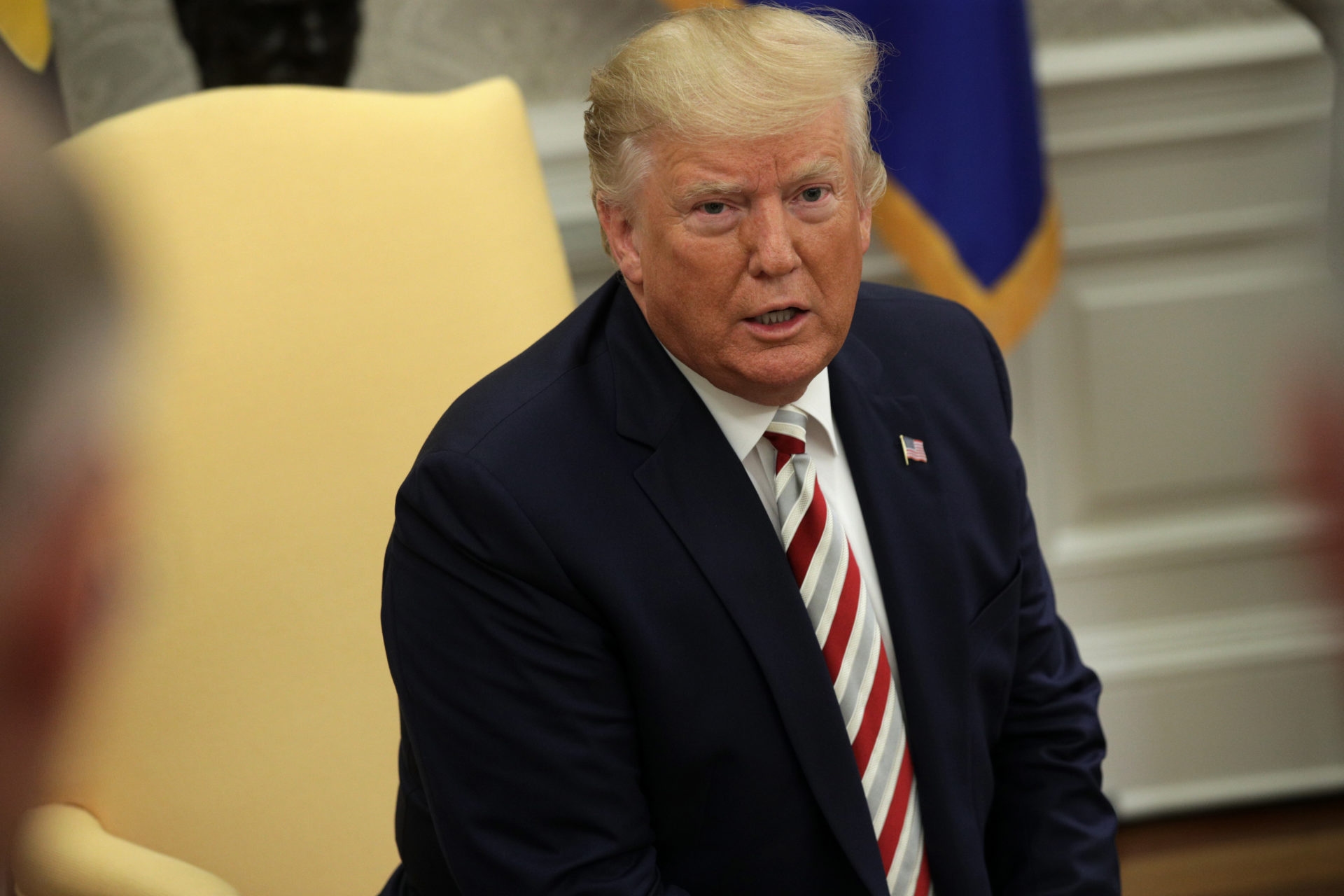 Key Takeaways
59% of voters disapproved of Trump's remarks, including 86% of Democrats, 56% of independents and 25% of Republicans.

Last week, 72% of Jewish voters disapproved of Trump's job performance, statistically unchanged from July.

62% of Jewish voters "strongly" disapprove of Trump, while 79% of Jewish Republicans approve.
Most voters denounce President Donald Trump's assertion last week that Jewish Americans who vote for Democrats are ignorant or disloyal, according to a new Morning Consult/Politico poll, but it hasn't dented views of his job performance among members of a religious group that has largely abhorred the president since before he took office.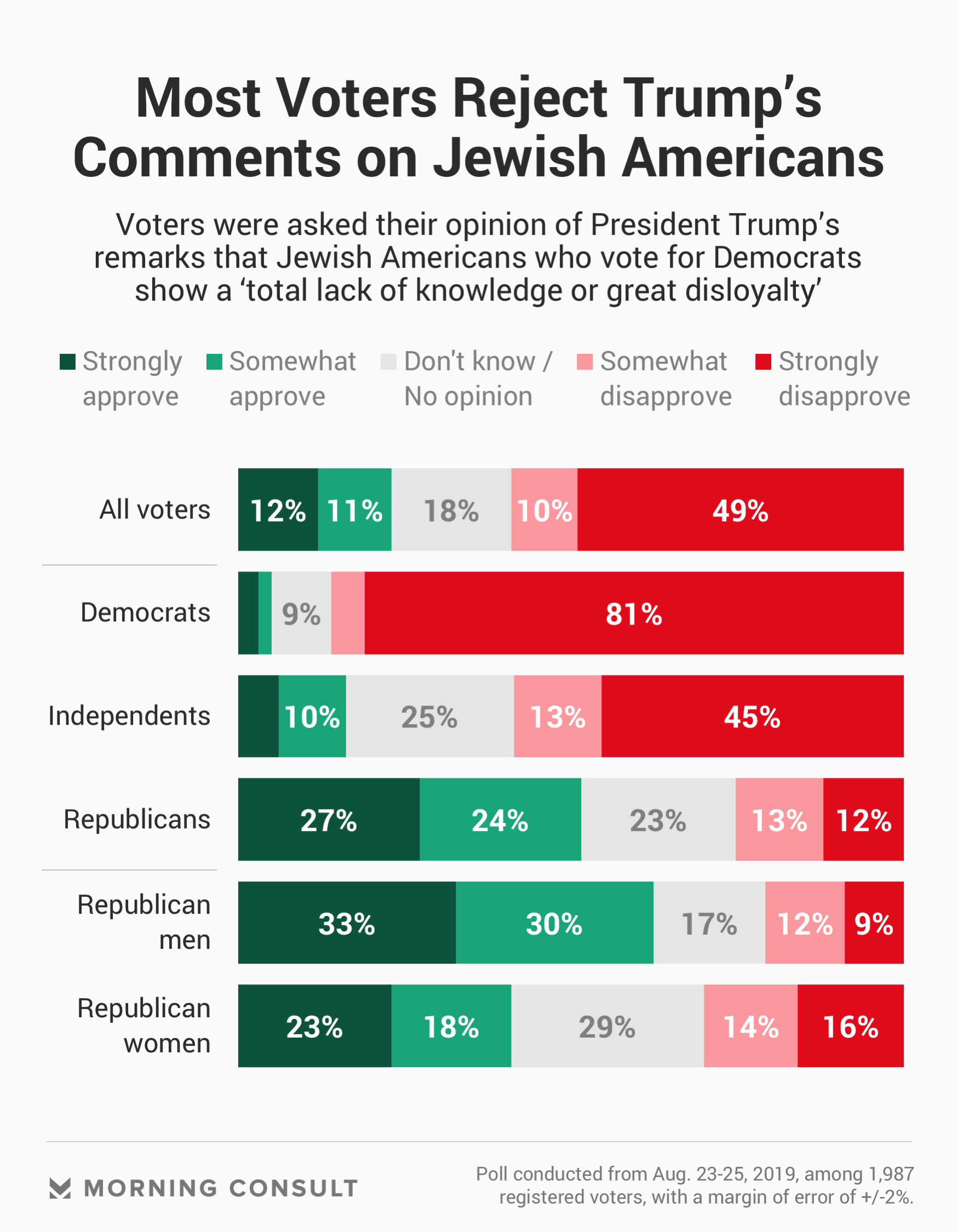 "I think any Jewish people that vote for a Democrat — it shows either a total lack of knowledge or great disloyalty," Trump told reporters last week, in response to a question about an Aug. 19 news conference in which Reps. Rashida Tlaib (D-Mich.) and Ilhan Omar (D-Minn.) criticized the Israeli government's decision to bar them from entering the country in their capacity as members of Congress.
The Aug. 23-25 poll found 59 percent of registered voters disapprove of Trump's comments, including 86 percent of Democrats and 58 percent of independents. Republicans approved of his remarks by a 2-to-1 margin, 51 percent versus 25 percent. 
"What he said was reckless and dangerous," said Rabbi Jonah Pesner, director of the nonpartisan Religious Action Center, part of the Union for Reform Judaism, who added that the president's comments fuel America's longstanding plague of anti-Semitism.
Anti-Semitic incidents -- including physical assaults, vandalism and harassment -- rose by nearly 60 percent in 2017, according to the Anti-Defamation League. It was the largest single-year increase and the second highest number reported since the international Jewish non-governmental organization began tracking such incidents in 1979.
That came on the back of a 2016 campaign that saw Trump elevate anti-Semitic messages and memes, which often originated in white nationalist circles, amid pressure to disavow the support of prominent white supremacists such as former KKK leader David Duke. 
The deadliest attack on Jews in U.S. history occurred in October 2018, when a white supremacist murdered 11 Jewish worshippers and injured two at the Tree of Life Synagogue in Pittsburgh. The 2017 white nationalist rally in Charlottesville, Va., also served as a flashpoint, resulting in the death of one counterprotester. Trump said there were "very fine people on both sides" involved in the latter conflict, drawing widespread condemnation from religious and political leaders.
"It's textbook anti-Semitism," said Ginna Green, chief strategy officer at the Jewish progressive activist group Bend the Arc: Jewish Action, of the president's "loyalty" comments. "This rhetoric is perfectly calculated to stir up his white nationalism base."
Rabbi Pesner said any circumstance where an elected official tells "any religious minority who they ought to vote for to show loyalty -- is a threat to democracy."
The White House did not respond to a request for comment.
The poll, which gauged attitudes among 1,987 registered voters and has a margin of error of 2 percentage points, also shows a gender divide within the GOP on Trump's comments: Republican men were 25 points more likely to approve of Trump's rhetoric than their female counterparts. 
Trump has spent the past few months criticizing Tlaib and Omar over their views on Israel, branding them as anti-Semites and tweeting that they "hate Israel & all Jewish people."
While Trump's recent remarks were poorly received by most of the voting public, Morning Consult data indicates it had no effect on his support from the Jewish American community, which was already extremely bearish on his job performance after overwhelmingly supporting Democrat Hillary Clinton during the 2016 presidential election.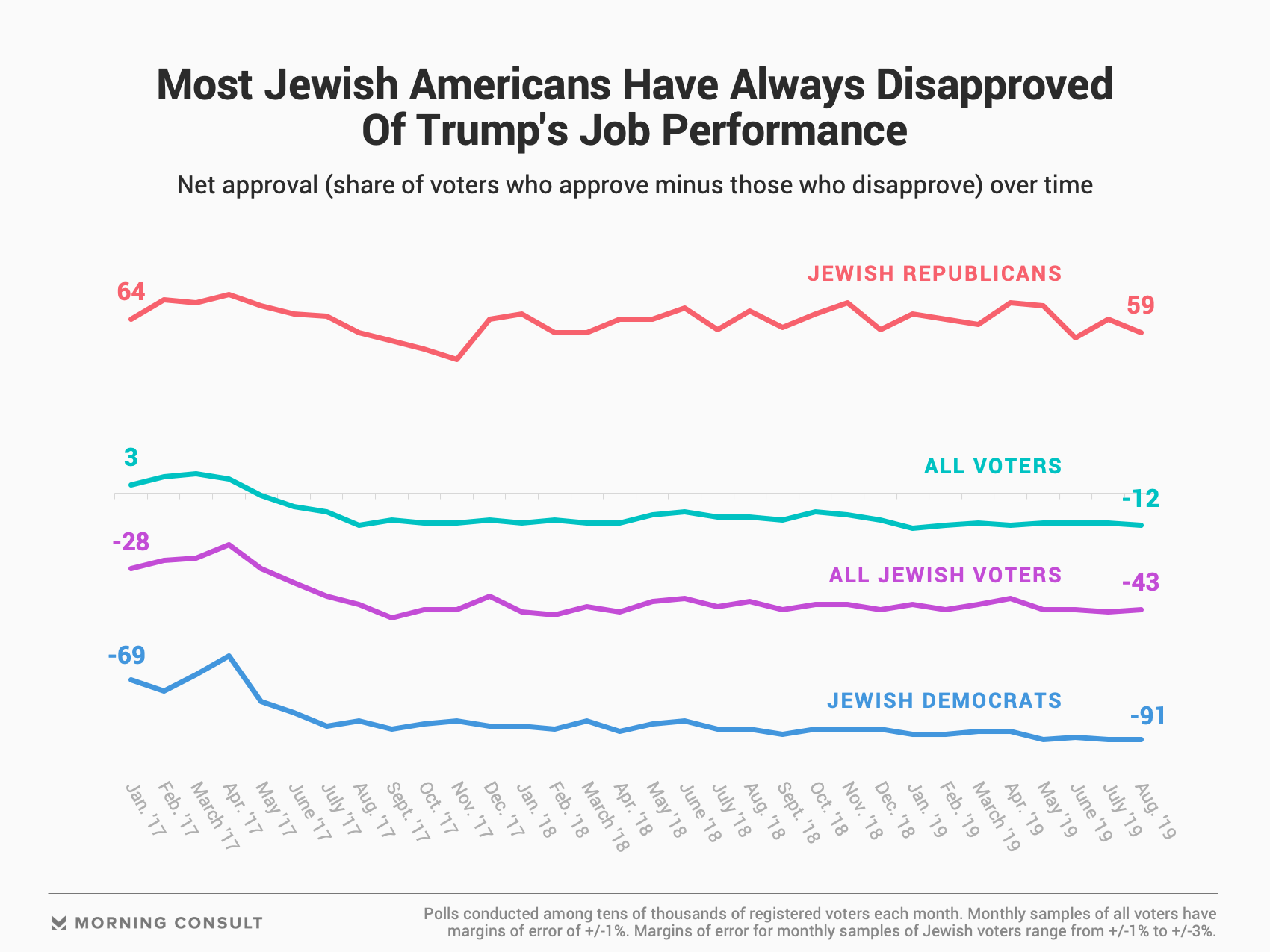 Responses collected Aug. 19-25 among 1,070 registered voters who identify as Jewish found 71 percent disapproved of Trump — including 62 percent who strongly disapproved — statistically unchanged from his July standing with the bloc. Jewish Americans are more than twice as likely to be Democrats (47 percent) than they are to be Republicans (20 percent), according to 2016 data from the research firm PRRI. Jewish adults made up 1.8 percent of the country in 2018, also per PRRI. Democrats have won the majority of the Jewish vote for the past 24 presidential cycles.
Most Jewish voters disapprove of the president's job performance, but those ratings vary drastically by political identity: Republican Jewish voters are 59 points more likely to approve of Trump than they are to disapprove, roughly matching the views of Republican voters overall. Jewish Democrats, on the other hand, disapprove of Trump's job performance by a 91-point margin -- the worst showing for the president among any major religious group, including the non-religious unaffiliated.
"I think the whole country is more divided along partisan lines," said Matthew Brooks, executive director for the political lobbying group Republican Jewish Coalition, when asked about the political polarization of American Jews. "I don't think the Jewish community is any different than the rest of America right now."
The Republican Jewish Coalition tweeted out their support for the president's comments last week. Brooks said that while Trump's comments may be blunt and without "diplomatic niceties," he believes the president is ultimately speaking the truth: that the Democratic Party is moving further and further away from the pro-Israel agenda.
"He's without question the most pro-Israel president," he said. 
As for what can be done to heal the fracture between most of the American Jewish community and the Trump administration, many community leaders doubt that Trump can facilitate any real change.
"I can't imagine a scenario where he can begin to undo the three years of damage that he has done to targeted communities in this country and the people he has endangered," Green said.
Joanna Piacenza leads Industry Analysis at Morning Consult. Prior to joining Morning Consult, she was an editor at the Public Religion Research Institute, conducting research at the intersection of religion, culture and public policy. Joanna graduated from the University of Wisconsin-Madison with a bachelor's degree in journalism and mass communications and holds a master's degree in religious studies from the University of Colorado Boulder. For speaking opportunities and booking requests, please email [email protected].
We want to hear from you. Reach out to this author or your Morning Consult team with any questions or comments.
Contact Us