Most Voters Frown on Trump's Character, Are More Closely Split on His Leadership
Republican and independent voters drive improvements in share who say Trump is a strong leader
Key Takeaways
45% said Trump's a strong leader, up 4 points from a year ago.

Among voters, 50% or more say Trump is reckless, sexist, thin-skinned or racist.

Large shares said it is important for Trump to discuss health care and the economy in his third State of the Union, more than impeachment or the election.
As President Donald Trump prepares to make his opening arguments for his re-election campaign in his third State of the Union Address, voters' views about his character are negative and enduring. But on issues more fundamental to his job performance, such as whether he's knowledgeable, a strong leader or keeps his promises, voters are more evenly divided, according to a new Morning Consult/Politico poll.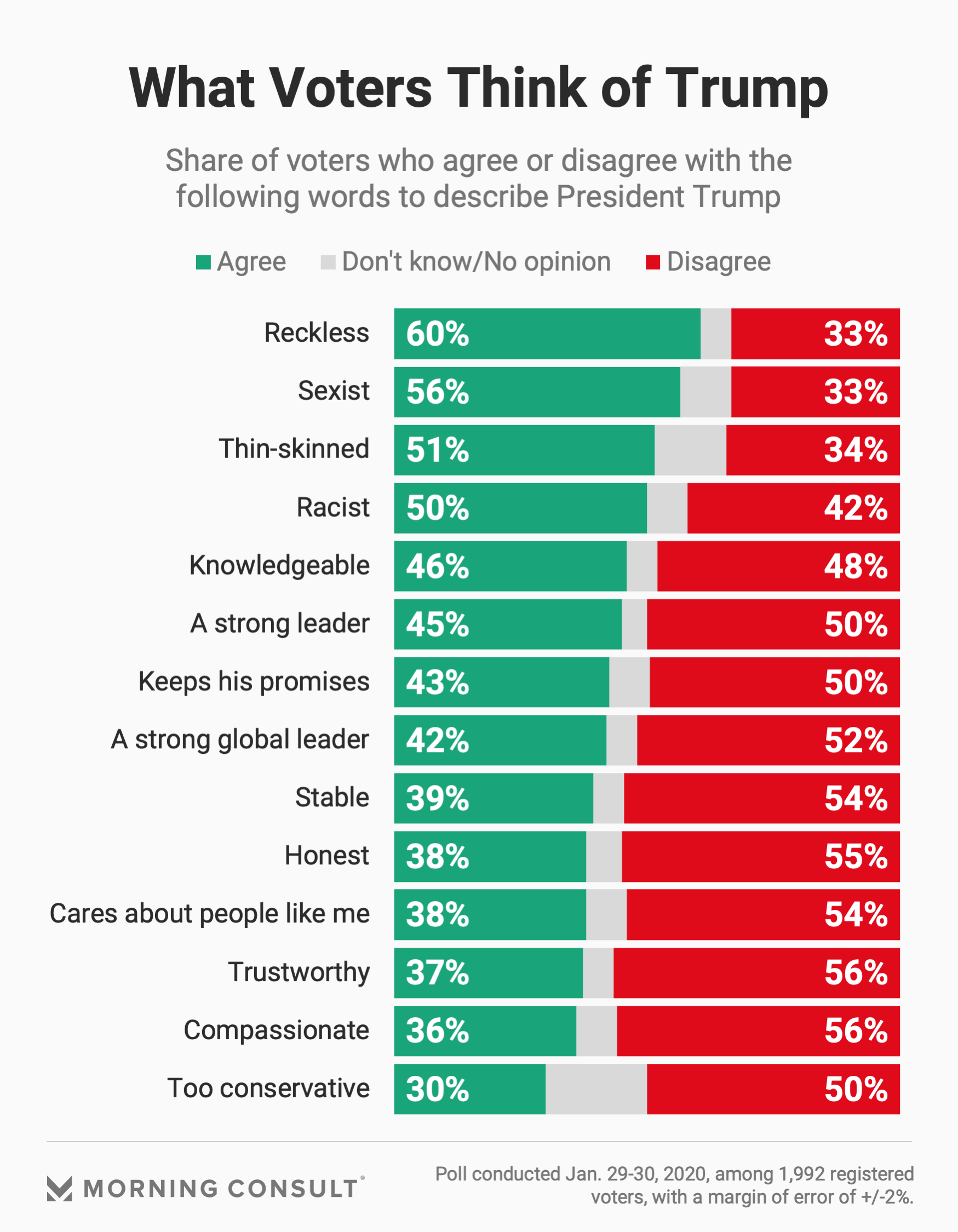 Forty-six percent of voters said Trump is knowledgeable, up 3 percentage points since a poll conducted Feb. 1-2, 2019 ahead of last year's State of the Union address, while 48 percent disagreed, down 3 points. Forty-five percent said Trump is a strong leader, up 4 points, while the share who disagreed fell 3 points, to 50 percent. And 43 percent said Trump keeps his promises, compared with 50 percent who disagreed -- both unchanged outside the 2-point margins of error in both polls.
The improvement on the strong leader question was driven by a 6-point increase in independents who agreed with the sentiment (36 percent to 42 percent) and a 5-point improvement among Republicans (81 percent to 86 percent). On that question and others in the poll, Democrats' views did not move outside the margin of error.
As his re-election hinges on firing up his party's base, Trump saw other improvements among Republican voters in the Jan. 29-30 survey. On the question of recklessness, the share who agreed the descriptor fit Trump fell 9 points, to 27 percent. Roughly 8 in 10 Republicans said he both "cares about people like me" (up 7 points since last year) and is stable (up 6 points). 
The share who agreed with negative statements about the president, such as whether he's a racist or a sexist, went unchanged over the course of the year and aligned closely with voters' views ahead of his successful 2016 election. It's another example of how voters' perceptions of Trump are largely baked in -- like his job approval throughout most of his presidency -- as he prepares to deliver what's traditionally viewed as a president's biggest speech of the year, which 3 in 10 voters said they are "very likely" to watch.
When Trump takes the lectern, large shares of voters said it is important for him to discuss improving the health care system, improving the economy and creating jobs, and lowering prescription drug costs. 
Voters were much less likely to want to hear about Trump's proposed U.S.-Mexico border wall and his impeachment trial, which is set to conclude Wednesday. 
And when it comes to speaking to his party's base, more than 9 in 10 Republicans said it was important for Trump to discuss reducing illegal immigration, improving the economy and creating jobs, providing direction and leadership and fighting terrorism. Democratic priorities for his State of the Union address more closely aligned with that of the overall population.
Eli Yokley is Morning Consult's U.S. politics analyst. Eli joined Morning Consult in 2016 from Roll Call, where he reported on House and Senate campaigns after five years of covering state-level politics in the Show Me State while studying at the University of Missouri in Columbia, including contributions to The New York Times, Politico and The Daily Beast. Follow him on Twitter @eyokley. Interested in connecting with Eli to discuss his analysis or for a media engagement or speaking opportunity? Email [email protected].
We want to hear from you. Reach out to this author or your Morning Consult team with any questions or comments.
Contact Us