Most Voters Want More Impeachment Witnesses as Senate Prepares for Trial
John Bolton says he'll appear in Trump's trial if subpoenaed
Key Takeaways
71% of Democrats, 56% of independents and 40% of Republicans say Senate should call additional witnesses to testify.

49% of voters say House should send articles of impeachment to Senate, while 35% said House Speaker Nancy Pelosi should wait for more information.

51% say Senate should remove Trump from office.
Senate Republicans are preparing to move to the first phase of President Donald Trump's impeachment trial without committing to hearing from additional witnesses, potentially putting them at odds with public opinion.
A new Morning Consult/Politico poll found that 57 percent of registered voters -- including most Democrats and independents -- think the Senate should call additional witnesses to testify in Trump's trial, compared to 24 percent who think it should not. Republican voters were split on the question.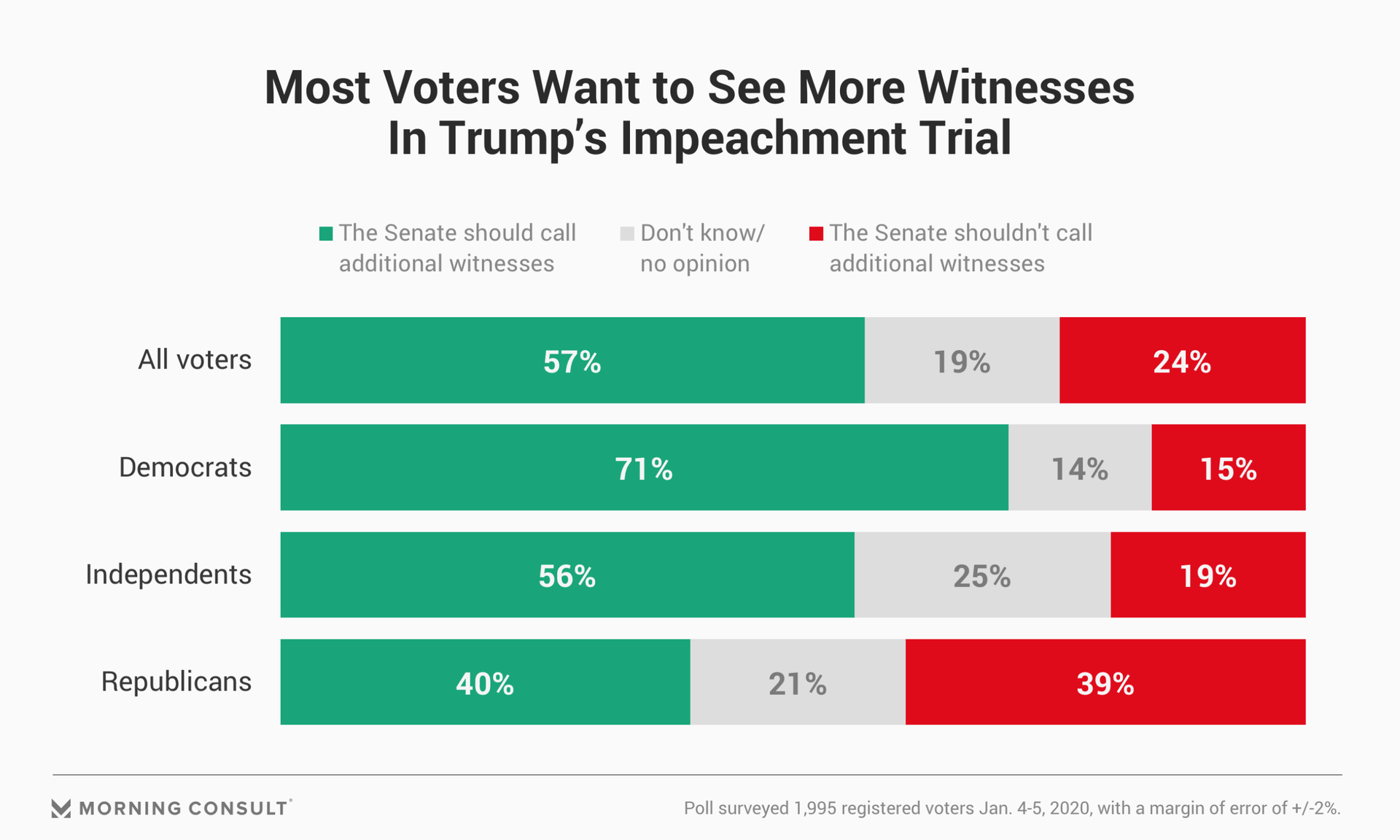 Former national security adviser John Bolton was among the witnesses who did not testify during the House's impeachment investigation, citing concerns over the separation of powers as the White House sought to block his testimony. In a Monday statement, Bolton said he concluded that his constitutional qualms would not be resolved in time for the Senate trial and that he would appear if subpoenaed.
Senate Majority Leader Mitch McConnell (R-Ky.) has resisted calls by Senate Minority Leader Chuck Schumer (D-N.Y.) to agree to allow for additional testimony ahead of the Senate's trial. On Tuesday, he said that he has the necessary votes to start the adjudication process without support from Democrats and said that the Senate will have the opportunity to consider hearing from witnesses after the proceedings begin. 
"All we're doing here is saying we're going to get started in exactly the same way that 100 senators agreed to 20 years ago," he told reporters, referring to President Bill Clinton's impeachment trial. "There will be, I'm sure, intense discussion once you get past phase one about the whole witness issue."
It is not clear how many Republicans would vote to compel Bolton's testimony in the next phase of the process, a move that would require a simple majority. Sen. Mitt Romney (R-Utah) said he wants to hear from Bolton, who worked in the White House amid Trump's alleged campaign to pressure Ukraine into investigating former Vice President Joe Biden, while Sen. Susan Collins (R-Maine) has said she was open to witnesses. No Republican senator has committed to signing onto a subpoena, however. 
Though the House impeached Trump before Christmas, House Speaker Nancy Pelosi (D-Calif.) has yet to transmit the two articles to the Senate, introducing a procedural roadblock as Democrats call for Republicans to open up the process for the trial.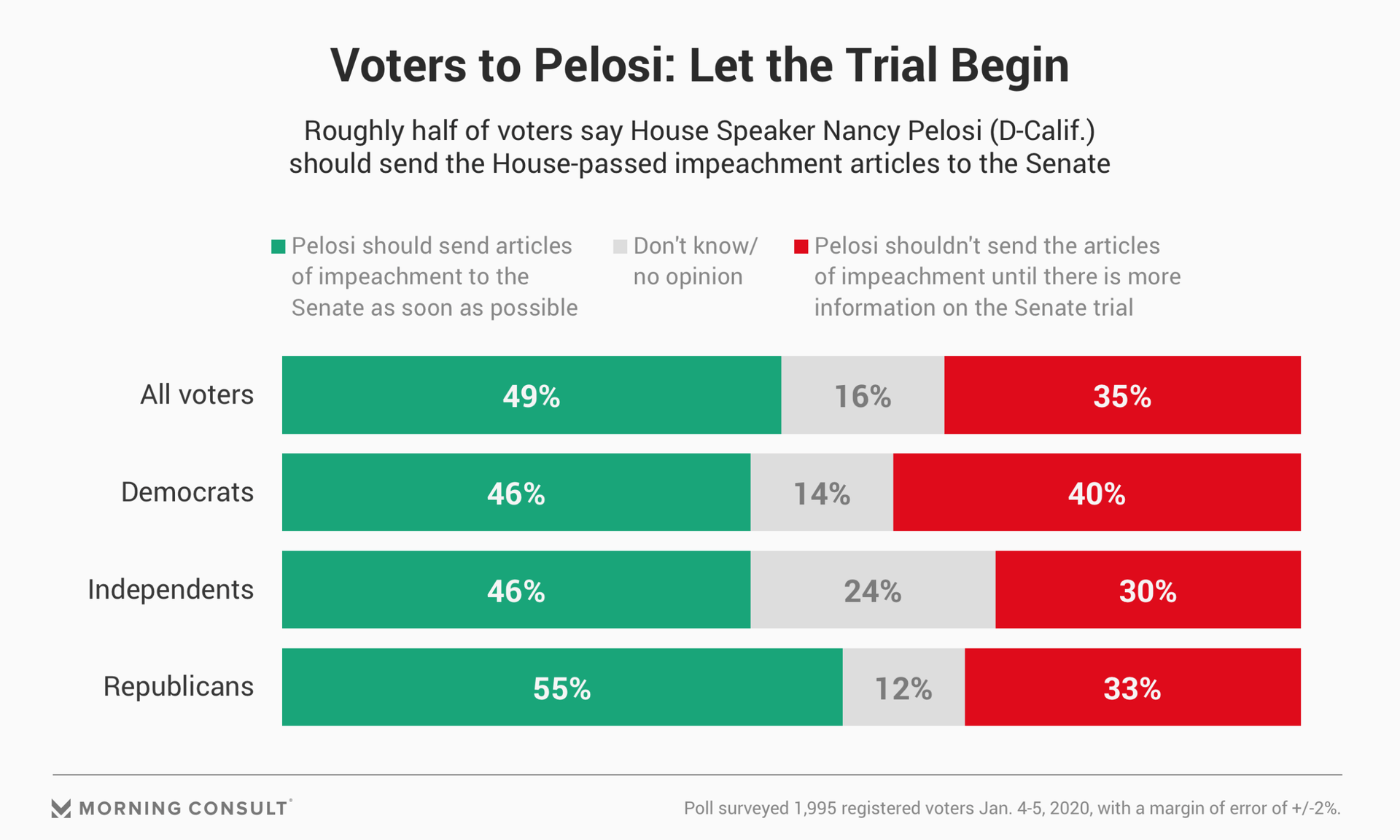 While 52 percent of voters approve of Trump's impeachment and 51 percent support his removal by the Senate, the lion's share is not on board with the delay.  
Forty-nine percent said Pelosi should send the articles of impeachment to the Senate as soon as possible to move forward with a vote on whether to remove Trump from office, compared to 35 percent who said she should wait until there is more information on how the impeachment trial will be conducted. 
Along with a majority of Republicans, a plurality of Democrats and independents (46 percent each) support getting on with the Senate trial, while 40 percent of Democrats and 30 percent of independents support a continued delay. 
Eli Yokley is Morning Consult's U.S. politics analyst. Prior to his current role, Eli was Morning Consult's senior reporter covering U.S. politics. Eli joined Morning Consult in 2016 from Roll Call, where he reported on House and Senate campaigns after five years of covering state-level politics in the Show Me State while studying at the University of Missouri in Columbia, including contributions to The New York Times, Politico and The Daily Beast. Follow him on Twitter @eyokley. Interested in connecting with Eli to discuss his analysis or for a media engagement or speaking opportunity? Email [email protected].
We want to hear from you. Reach out to this author or your Morning Consult team with any questions or comments.
Contact Us