Trump Posts Best Net Approval of 2019 in Month He Was Impeached
50-state polling finds little movement in states important to president's re-election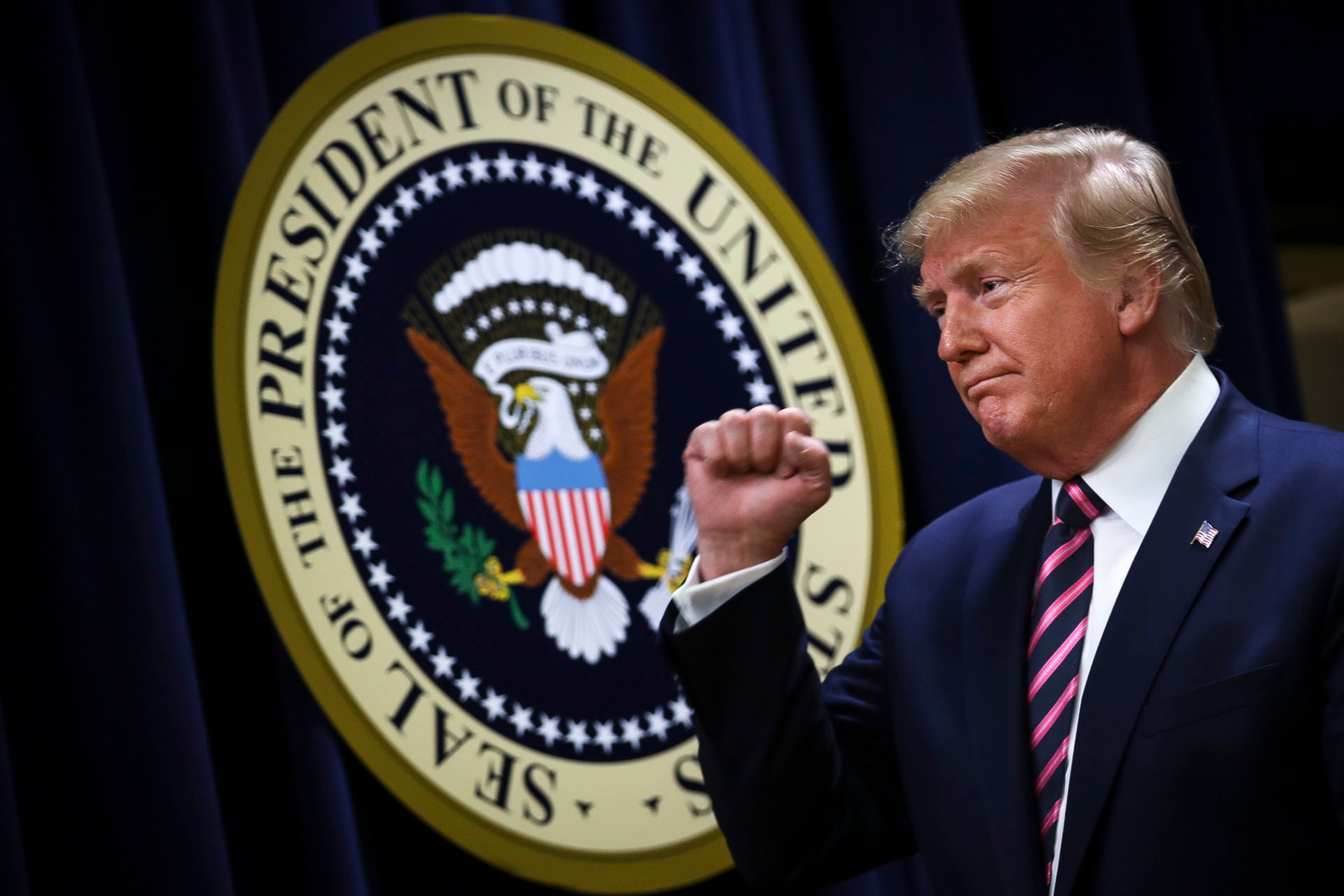 Key Takeaways
Trump's December job approval is statistically underwater in 26 states, while he received positive marks in 15 states.

Among battleground states, Trump's worst showing was in New Hampshire, where 39% approve and 58% disapprove.

43% of voters nationwide approve of the president's job performance and 53% disapprove, with a record 58% of GOP voters strongly approving.
As impeachment proceedings against President Donald Trump head to the other side of the Capitol with the Senate's upcoming trial, Morning Consult polling shows that it is still not harming perceptions of his job performance.
A new Morning Consult 50-state survey tracking Trump's approval ratings in all 50 states and the District of Columbia found the share of registered voters who approve of him nationwide (43 percent) did not change from November, while the share of voters who disapprove of him (53 percent) fell by 1 percentage point in the month that brought his historic impeachment. 
The findings, taken from surveys conducted Dec. 1-31 among 161,591 registered voters, marked Trump's best net approval rating in 2019, driven by a modest improvement among independent voters since impeachment efforts launched in September, and his best showing among Republican voters since the first four months of his presidency.
Impeachment has helped fill the Trump campaign's coffers in recent months, and the latest data speaks to some of that enthusiasm: For the second month in a row, a record number of GOP voters (58 percent) strongly approved of the president's job performance, up 2 points from November and 5 points from September.
Across the country, Trump's net approval is underwater outside of the margin of error in 26 states -- including Michigan, Pennsylvania and Wisconsin, which are viewed as key to his re-election prospects.
While state-level margins of error vary by state, the national data has a 1-point margin of error.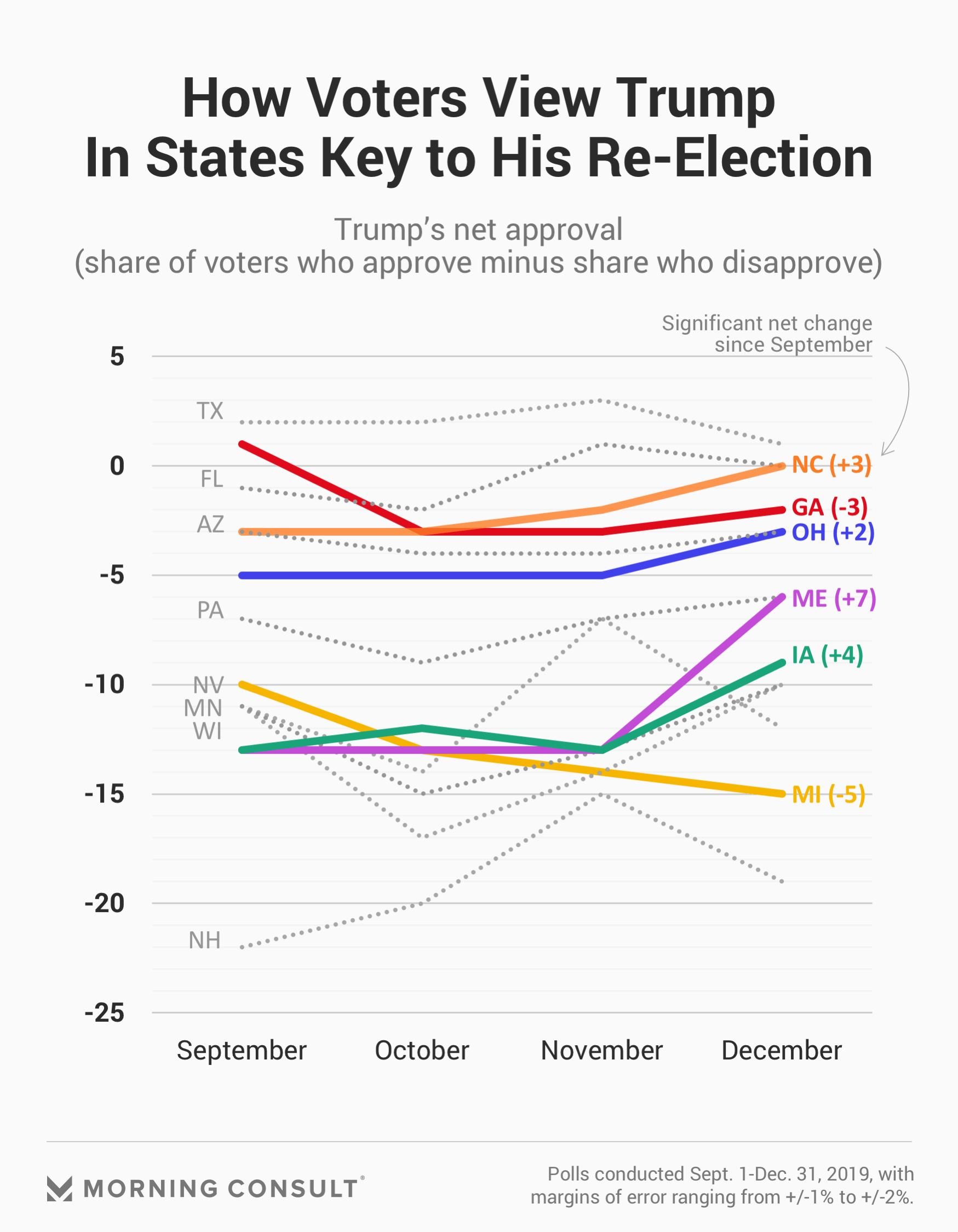 Among states being watched closely ahead of this fall's election, Trump saw the best month-to-month improvement in his approval in Maine, which splits its Electoral College votes and is home to GOP Sen. Susan Collins, among the most vulnerable senators up for re-election this year. Forty-six percent of Maine voters approve of Trump and 52 percent disapprove.
As has been the case in recent months, Trump's worst showing in battleground states was in New Hampshire, where 39 percent approve of his job performance and 58 percent disapprove. That 19-point deficit is followed closely by his approval in Michigan, where 40 percent approve and 55 percent disapprove and his net approval has dropped 5 points since September.
Trump received positive ratings from voters in 15 states, with his best marks coming in Wyoming, Alabama and West Virginia. Notably, he's treading water in Texas and Georgia -- two places that have been friendly to the GOP in the past but where Democrats sense opportunity. 
In Florida, Trump's newly declared homestate, which he won in 2016 by just over 1 point, 48 percent of voters approve of him and 49 percent disapprove. 
Eli Yokley is Morning Consult's U.S. politics analyst. Prior to his current role, Eli was Morning Consult's senior reporter covering U.S. politics. Eli joined Morning Consult in 2016 from Roll Call, where he reported on House and Senate campaigns after five years of covering state-level politics in the Show Me State while studying at the University of Missouri in Columbia, including contributions to The New York Times, Politico and The Daily Beast. Follow him on Twitter @eyokley. Interested in connecting with Eli to discuss his analysis or for a media engagement or speaking opportunity? Email [email protected].
We want to hear from you. Reach out to this author or your Morning Consult team with any questions or comments.
Contact Us