Summer Blockbusters Were Slated for This Weekend. Most People Aren't Ready to Go Back to the Movies
Roughly two-thirds to three-quarters of people in each state say they're uncomfortable returning to cinemas
Key Takeaways
75% and 74% of California and New York residents, respectively, said they are not comfortable returning to a movie theater.

Wyoming and Wisconsin were the states where most people -- 27% -- felt comfortable heading back to the movies.

Los Angeles and New York City are the two largest markets for movie theaters, but a respective 77% and 76% of respondents in those metro areas said they still feel uncomfortable going to the movies.
If you are to believe Hollywood, despite repeated delays of big releases, audiences will be back at the box office next month, tickets in hand to see blockbusters such as "Tenet" and "Mulan" in the final days of summer.
But studios may want to hold off on releasing those big films, as new polling finds that roughly between two-thirds and three-quarters of adults in every state are not currently comfortable returning to movie theaters -- figures that experts say won't move anytime soon.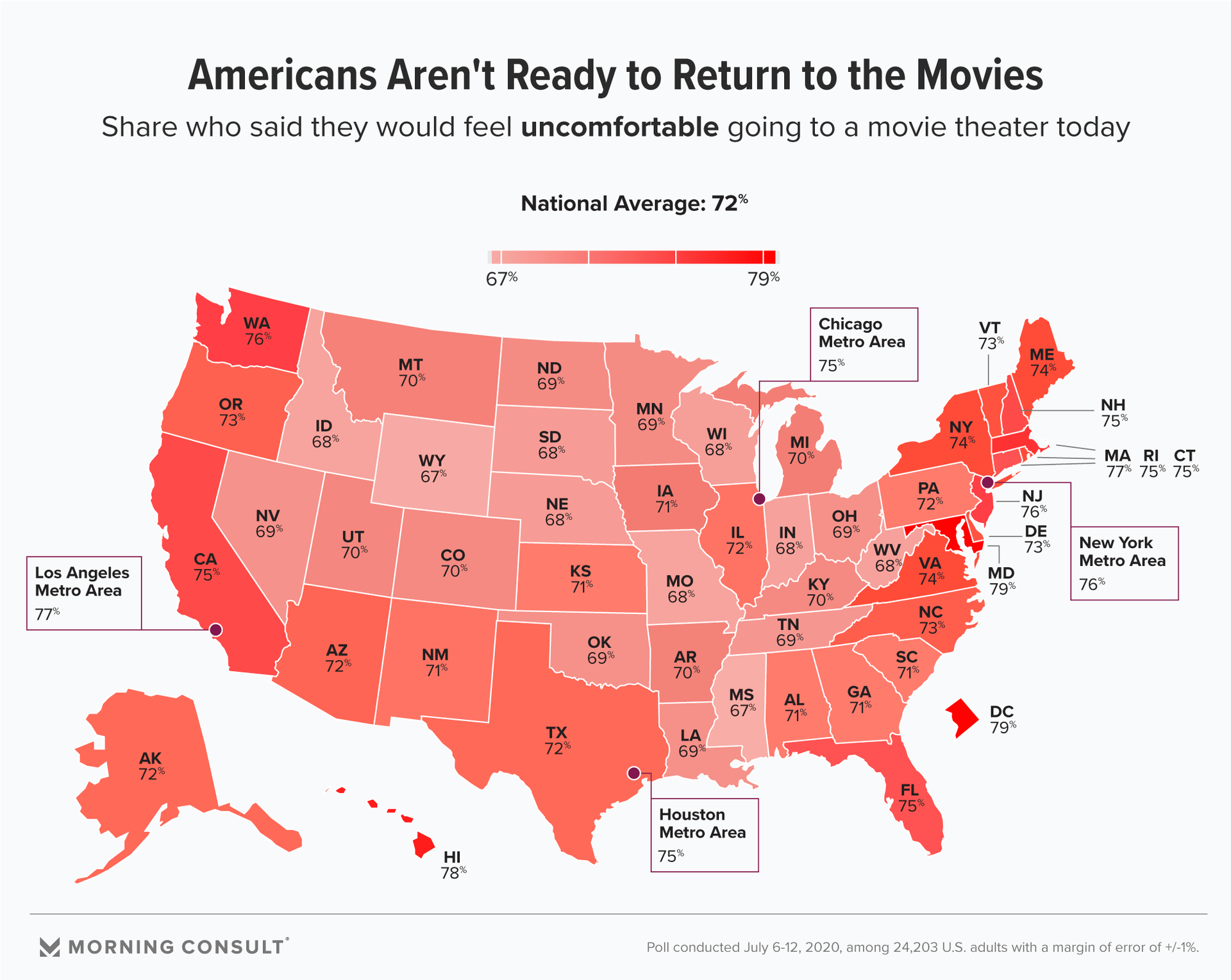 "Opening theaters before the general populace is ready would be the worst case scenario," Jeff Bock, senior box office analyst with Exhibitor Relations Co., said in an email. "Theaters can't afford to staff up, open and then shutter."
The July 6-12 survey asked 24,203 U.S. adults if they would be comfortable returning to a movie theater.
Three out of 4 California residents said they didn't feel safe going to the movies, as did 74 percent of New York state residents. Residents in Los Angeles and New York City, the industry's two largest markets, are not ready to return, either: 77 percent and 76 percent, respectively, said they don't feel comfortable returning, including a respective 60 percent and 59 percent who said they feel "very" uncomfortable.
Adults in the Midwest and Western parts of the country were most comfortable returning, although large majorities still reported feeling unsafe going back to theaters. The National Association of Theatre Owners says there are 5,798 cinema sites and 40,998 screens nationwide as of March 2020, the most recent month available.
The survey has a margin of error of 1 percentage point. 
With so much fear over public health, Amanda Castel, a professor of epidemiology at George Washington University and a physician specializing in infectious disease, said that it would be prudent for both health officials and theater operators to pay attention to infection rates when developing plans for reopening.
"If you're living in one of those areas" that have seen an increase in cases, Castel said, "then you should reconsider, if you're a movie theater operator, whether or not it's safe to reopen — and if you're a potential patron, whether or not that's a risk that you'd want to expose yourself to."
Texas, Florida and California are among the states that have seen dramatic increases in COVID-19 cases in recent weeks, as theater chains such as AMC Entertainment Holdings Inc., Cineworld Group PLC and Cinemark Holdings Inc. prepare to begin phased reopenings later this month.
A Cinemark representative said the company, which operates 345 theaters across the country, is instituting enhanced health and safety measures and will "continue to pay close attention to the status of the virus, local mandates and availability of new content" as it plans to reopen. AMC and Cineworld did not respond to requests for comment.
But expanded safety measures such as increased cleanings and lower capacity will deepen operating costs and lower profits, Bock said, resulting in a "razor-thin profit margin for theaters," which are already struggling after months of closures.
AMC is the most at risk, he said, after it posted a net loss of $2.18 billion for the first quarter, although the chain recently reached a deal to secure $300 million of new money from investors, according to The Wall Street Journal. Wedbush analyst Michael Pachter estimated that this year's box office would fall more than 47 percent from 2019's $11.3 billion. In April, he estimated the 2020 box office would total around $6 billion.  
A staggered reopening across states would add another hurdle, according to Bruce Nash, founder and owner of The Numbers, a movie industry data website.
"Studios aren't going to want to release any big films into theaters when the return is so low," he said. "It might make sense for the theaters a little bit to be open, but that doesn't make sense for Warner Brothers to release a movie like 'Tenet' or Disney to release a film like 'Mulan' because they're never going to make money back on that film."
Even when a vaccine becomes widely available, Bock said there will likely be a warming period where audiences have to once again get comfortable going to the movies, which creates some uncertainty in how films will perform when they are eventually released.
"It's possible these movies that have been pushed back will end up grossing just as much as they would have pre-COVID," he said. "It just depends on finding the right time to drop these films into a healthy marketplace."
Nash said, "There are three partners in this dance: There's the state government and what they're allowing to happen; there's the studios and what they're willing to release; and there's the moviegoers that actually need to come and buy the tickets. And right now, it's clear that none of us are willing to get on the dance floor." 
Updated on July 20: This piece has been updated with more recent NATO data.
Sarah Shevenock previously worked at Morning Consult as a reporter covering the business of entertainment.
We want to hear from you. Reach out to this author or your Morning Consult team with any questions or comments.
Contact Us