Lion's Share of NASCAR Fans Disagree With Confederate Flag Ban, but Younger Fans Are More Likely to Approve
44% of NASCAR fans primarily see the Stars and Bars as a symbol of Southern pride rather than racism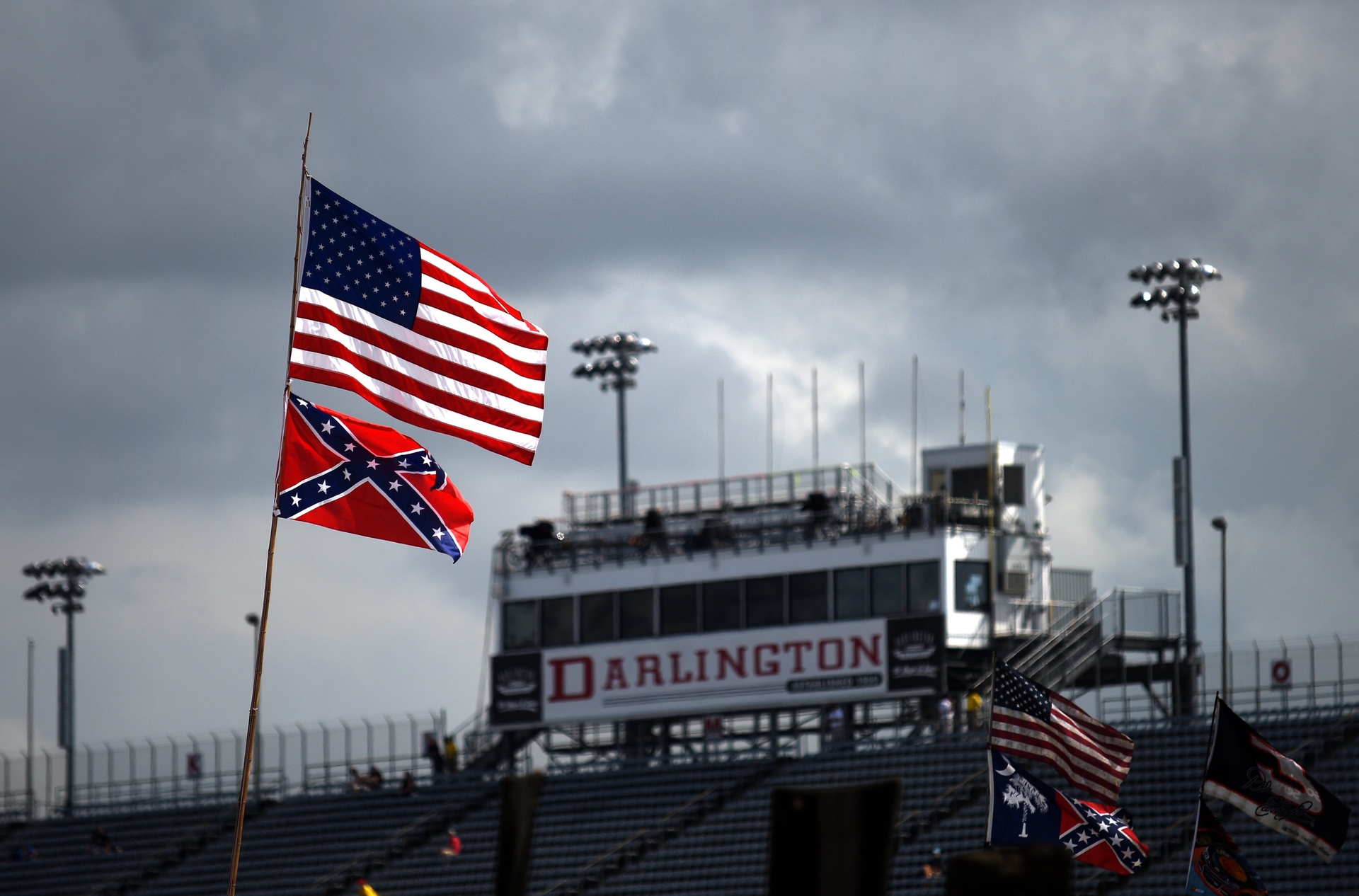 Key Takeaways
NASCAR fans ages 45 and up oppose the ban by a margin of 50% to 23%.

NASCAR fans ages 44 and under are in a statistical tie.

Avid NASCAR fans are more Republican, Southern and white than general sports fans.
NASCAR announced on Wednesday that fans would be prohibited from displaying the Confederate flag at all of the sanctioning body's events and venues, a decision made as the country revisits moral questions surrounding symbols related to the slaveholding Confederate States of America. The ban won't sit well with a significant portion of the sport's fan base, according to Morning Consult polling, particularly among the old guard.
The survey, conducted Tuesday into Thursday, found that a plurality of the sport's fans disagree with the ban. Forty-four percent of self-identified NASCAR fans said race attendees should be allowed to express themselves however they want, including by displaying the Confederate flag. By comparison, 30 percent of fans supported a move to prohibit the flag at the track and 27 percent either didn't know or had no opinion on the matter.
There is a significant generational divide. Adults ages 45 and older who identified as NASCAR supporters were roughly twice as likely to oppose a flag ban (50 percent) than to support one (23 percent). Fans ages 44 and under, on the other hand, were tied within the 8-percentage-point margin of error for the group, with 39 percent supporting a ban and 34 percent opposing one.
The Confederate battle flag had been a common sight at races for more than 70 years. Following the 2015 massacre of nine worshippers at a historically black church in Charleston, S.C., the sport responded to criticism about the presence of the flag by offering fans the opportunity to trade in their Stars and Bars for an American flag at all of its events. Few fans made the swap, according to a news account.
The ban, effective immediately for all events and properties, came days after Bubba Wallace, the Cup Series' only black driver, called on NASCAR to get rid of the flag in the wake of George Floyd's alleged murder by a Minneapolis police officer.
NASCAR fans are more likely to view the Confederate flag as a symbol of Southern pride than as one that embodies racism, by a margin of 46 percent to 28 percent. The broader population of U.S. adults is split almost evenly on this issue, with 37 percent viewing the flag as a symbol of Southern pride and 35 percent as a racist symbol. The figures among sports fans do not differ significantly from those of non-sports fans.
A closer look at the demographic makeup of NASCAR's most loyal fans helps explain some of the differences in opinion on issues of race and self-expression between racing fans and the broader population. A previously unreleased February survey of motorsports fans that included 624 self-identified avid NASCAR fans found that stock car racing loyalists are more likely than the general sports fan to be Republican, from the South and white.
In this week's poll, Republicans, Southerners and whites were all more likely to view the Confederate flag as a symbol of Southern pride and to oppose the ban than the broader adult population.
Fortunately for NASCAR, fans' disapproval of the ban isn't likely to deter fans from attending races going forward. Most (59 percent) supporters said the ban wouldn't impact their patronage, while 22 percent said they would be more likely to attend a race, and 19 percent said they would be less likely to go to the track.
The June 9-11 survey of 1,501 U.S. adults carries a 3-point margin of error, and responses among the 484 self-identified NASCAR fans carry a 5-point margin of error.
Alex Silverman previously worked at Morning Consult as a reporter covering the business of sports.
We want to hear from you. Reach out to this author or your Morning Consult team with any questions or comments.
Contact Us