Considering COVID-19 Makes People Less Inclined to Seek Community Help, Shelter During a Natural Disaster
When prompted to factor in the pandemic, a smaller share of adults say they would use public resources
Key Takeaways
59% of adults say they would seek public resources, like shelters, if their community was hit by a natural disaster.

That figure dropped 19 percentage points when respondents were asked to consider the coronavirus pandemic in their decision-making.
The Atlantic coast's predicted "above-normal" hurricane season started on June 1. California's wildfire season typically starts in early fall, though the state expects above-normal large fire potential in parts of the state through the summer. And several tornadoes have already ripped through states like Georgia, South Carolina and Tennessee, causing a total of 74 deaths this year, as of June 12. 
Meanwhile, coronavirus infection rates continue to rise steadily in places like Arizona, Arkansas, South Carolina and Texas, even as more states begin to reopen.
While one might ordinarily head to community centers to access food, water, electricity or even shelter in the case of a natural disaster, the continued need for social distancing and fear of community coronavirus spikes has complicated things in 2020. According to new Morning Consult data, the public would be significantly less likely to take advantage of these services amid a pandemic than in a regular year. 
In a poll conducted June 4-7, 59 percent of adults said they would be either "very" or "somewhat" likely to access community resources such as shelters if their community were impacted by a natural disaster, while 26 percent said they would be "very" or "somewhat" unlikely to do so. The poll surveyed 2,201 U.S. adults and has a margin of error of 2 percentage points. 
However, when respondents were prompted to consider the context of the coronavirus before answering, they were more reluctant to seek help: 40 percent said they would be likely to access community resources amid a pandemic, while 45 percent would not.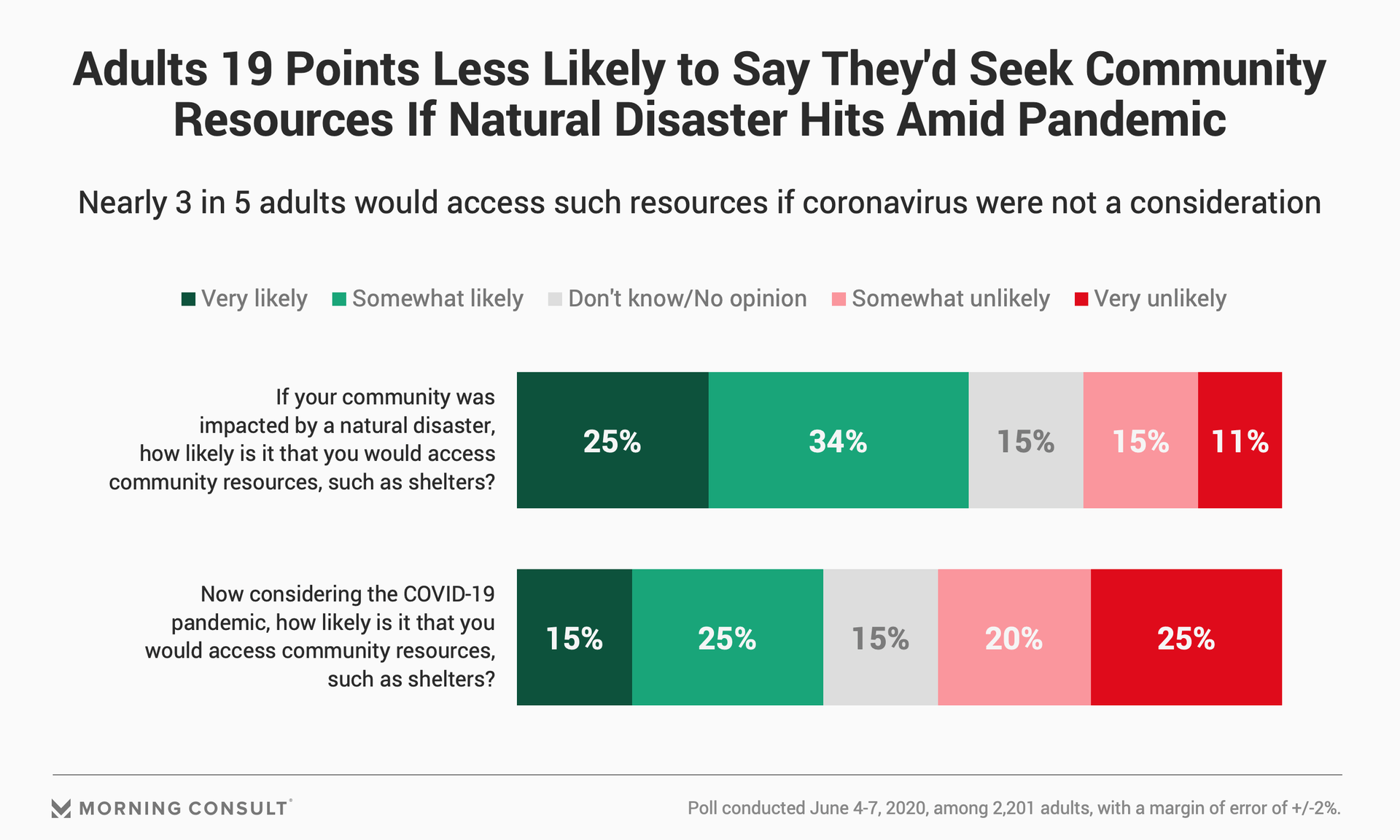 This roughly 20-point drop was consistent across demographic groups. Sixty-seven percent of Democrats initially said they would use the resources on offer in the case of a natural disaster, and that number fell to 49 percent when presented with the pandemic caveat. Meanwhile, the 54 percent of Republicans who first answered in the affirmative dropped to 37 percent. 
Though 2020 will require individuals to weigh the acute risks of natural disasters against the potential risks of coronavirus exposure, the American Meteorological Society's tornado guidelines are firm: "Do not let the virus prevent you from seeking refuge from a tornado." The group advises the public to observe the Centers for Disease Control and Prevention's own guidelines on coping with the pandemic in the context of a public-disaster shelter. 
However, very few pre-existing state or local plans designed to cover individual events like a hurricane or wildfire deal with the overlap between two crises.
Mark Abkowitz, a civil engineering professor at Vanderbilt University specializing in risk management, noted in an April 30 essay for The Conversation that responding and recovering from a disaster mid-pandemic raises "new and unsettling questions," such as who is available to respond, where to house evacuees and what medical assistance is accessible. The confluence  requires major planning at the local, state and federal levels, planning that largely had not been considered until 2020.
The importance of planning for the worst was underscored in a recent study conducted by researchers from the University of Melbourne, whose preliminary data analysis indicated that in the days after a magnitude 5.3 earthquake hit Zagreb, Croatia, in late March, there was an apparent increase in COVID-19 infections despite newly introduced lockdown measures.  
About half of the general public agrees with these researchers' concerns, the Morning Consult survey found. Asked if they believe that the coronavirus pandemic will worsen the impact of natural disasters in 2020, 49 percent of adults agreed that it definitely or probably would and 34 percent said it would not. 
Lisa Martine Jenkins previously worked at Morning Consult as a senior reporter covering energy and climate change.
We want to hear from you. Reach out to this author or your Morning Consult team with any questions or comments.
Contact Us