Networks Beware: Viewers May Punish Botched Handling of #MeToo Allegations
43% approve of how NBC handled accusations against Matt Lauer
Key Takeaways
By a 2-to-1 margin, U.S. adults approve of how NBC has handled allegations of sexual harassment and assault.

Among those who disapprove of how networks handled allegations of sexual harassment or assault, 18% said they've already stopped watching programming on those channels and another 44% said they might stop tuning in.
Excerpts from Ronan Farrow's book "Catch and Kill" provided new details into the complaint that resulted in the firing of former "Today" anchor Matt Lauer, spurring NBC News to defend its handling of the situation from nearly two years ago. New polling finds that a majority of those who disapprove of network responses' to allegations of sexual harassment or assault may be ready to turn away from those channels, or already have.
An Oct. 10-13 Morning Consult/The Hollywood Reporter poll asked 2,200 U.S. adults if they approved of how various television networks handled allegations of sexual harassment or assault. Thirty-four percent said they approved of how NBC has handled such allegations, compared to the 17 percent that disapproved -- similar to the evaluations for ABC and CBS, and superior to Fox News' rating.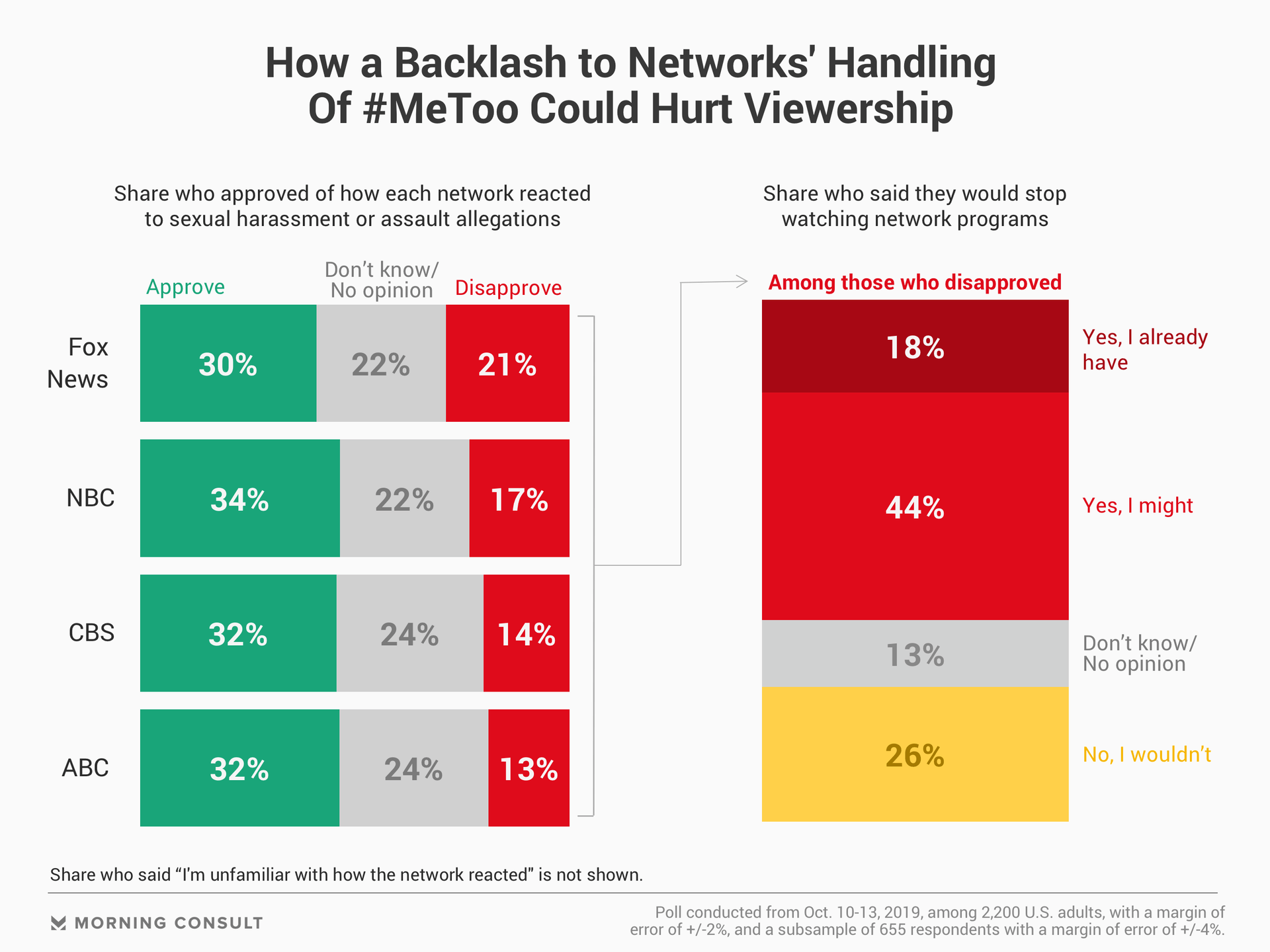 Among the 655 U.S. adults respondents who said they disapproved of how NBC, ABC, CBS or Fox  handled allegations of sexual harassment or assault, 18 percent said they have already stopped watching programs on a network because they thought it had reacted inappropriately to the allegations. An additional 44 percent said they might stop watching network programming. 
According to passages obtained by Variety, Farrow's book identifies Brooke Nevils as the former NBC News employee who lodged the complaint that led to Lauer's dismissal from the network. Nevils told Farrow that Lauer raped her in his hotel room during the 2014 Olympics, an encounter she described as "nonconsensual in the sense that I was too drunk to consent."
The survey -- which had a margin of error of 2 percentage points -- found that 14 percent of respondents saw, read or heard "a lot" about Nevils' allegations, while 36 percent had heard "some" about the story. 
Lauer responded in an open letter that acknowledged an extramarital affair with Nevils, but maintained that she made "outrageous and false accusations," and said that their encounter during the Olympics was consensual. 
NBC News initially did not disclose the specific details regarding Nevils' complaint when it was filed in 2017, firing Lauer within 24 hours, according to a statement from the network. 
Lauer's lawyer, Libby Locke, said in a statement that in "25 years at NBC, Matt Lauer did not have a single complaint brought to his attention until November 28, 2017. NBC has already stated this for the record after an internal investigation." NBC News did not respond to requests for comment. 
When given details about how NBC handled Nevils' complaint in 2017, firing Lauer but keeping the particulars of the complaint private, 43 percent said they approved of the network's actions. 
NBC is not the first television network to employ someone facing these types of allegations. MSNBC contributor Mark Halperin left his role with the network after five women accused him of sexual harassment during his time at ABC, and PBS and CBS journalist Charlie Rose was fired from CBS after eight women accused him of making unwanted sexual advances, per The Washington Post. And in 2016, former Fox News host Gretchen Carlson filed a complaint against then-Fox News CEO Roger Ailes alleging that he sexually harassed her and that she was fired after complaining that Steve Doocy, a "Fox and Friends" co-host, also allegedly harassed her. 
Before respondents were given details of the allegations against Lauer, 58 percent had a favorable opinion of NBC, while 42 percent thought favorably of "Today." Thirteen percent had a favorable opinion of Lauer. After the allegations were detailed, 12 percent had a favorable opinion of him, while the shares who felt favorably toward NBC and "Today" fell to 47 percent and 38 percent, respectively. 
The article has been updated to clarify the source of the details of the complaint filed by Brooke Nevils against Matt Lauer with NBC, as reported in Ronan Farrow's book.
Sarah Shevenock previously worked at Morning Consult as a reporter covering the business of entertainment.
We want to hear from you. Reach out to this author or your Morning Consult team with any questions or comments.
Contact Us