Despite Casting Controversy, Choice of Mike Richards as New 'Jeopardy!' Host Has Little Impact on Viewer Interest
Just 3% of the game show's viewers said Richards was their preferred replacement for Alex Trebek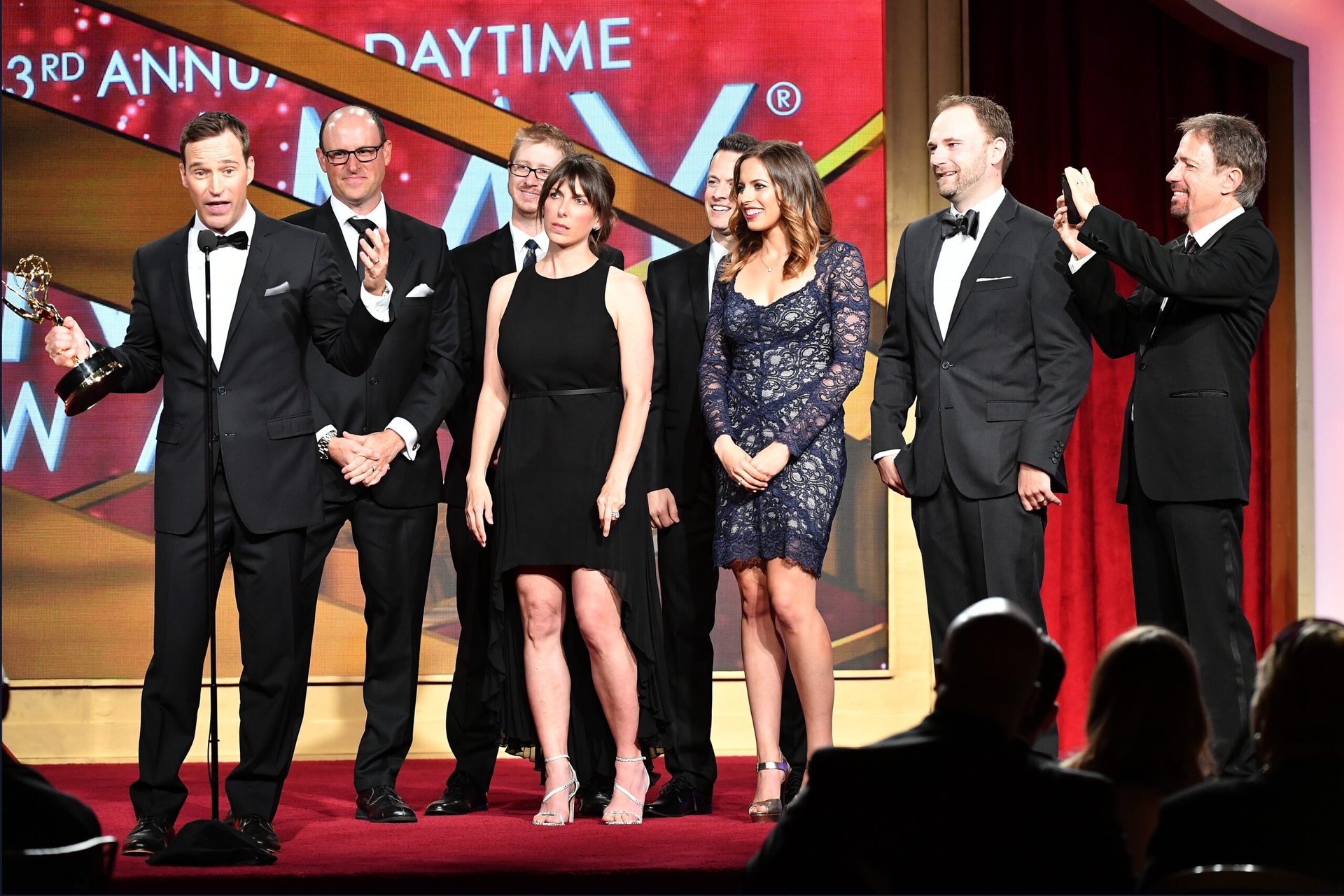 Key Takeaways
47% of "Jeopardy!" viewers said they approve of the selection of "Jeopardy!" executive producer Mike Richards as host, while 70% said the same of actress and neuroscientist Mayim Bialik.

54% of "Jeopardy!" viewers said the hosting change made no difference to their interest in watching the program.

LeVar Burton was the guest host most favored by viewers, followed closely by Bialik and Ken Jennings.
After months of auditions to replace the late Alex Trebek, Sony Pictures Television answered the biggest question in the quiz show world last week when it announced that Mike Richards would take over as daily host of "Jeopardy!" and actress Mayim Bialik would host prime-time and spinoff series. 
New polling, however, shows the casting of Richards and Bialik is unlikely to impact viewers' desire to watch the classic trivia game show.
More than half of "Jeopardy!" viewers (54 percent) said the new hosts made them neither more nor less interested in watching the game show, according to a Morning Consult survey conducted Aug. 13-16. About 1 in 3 viewers (32 percent) said they were more interested in tuning in, while 14 percent said the casting choices made them less interested. The poll of 2,200 adults included 1,465 respondents who watch "Jeopardy!", with a margin of error of 2 percentage points for adults overall and 3 points for "Jeopardy!" viewers in particular.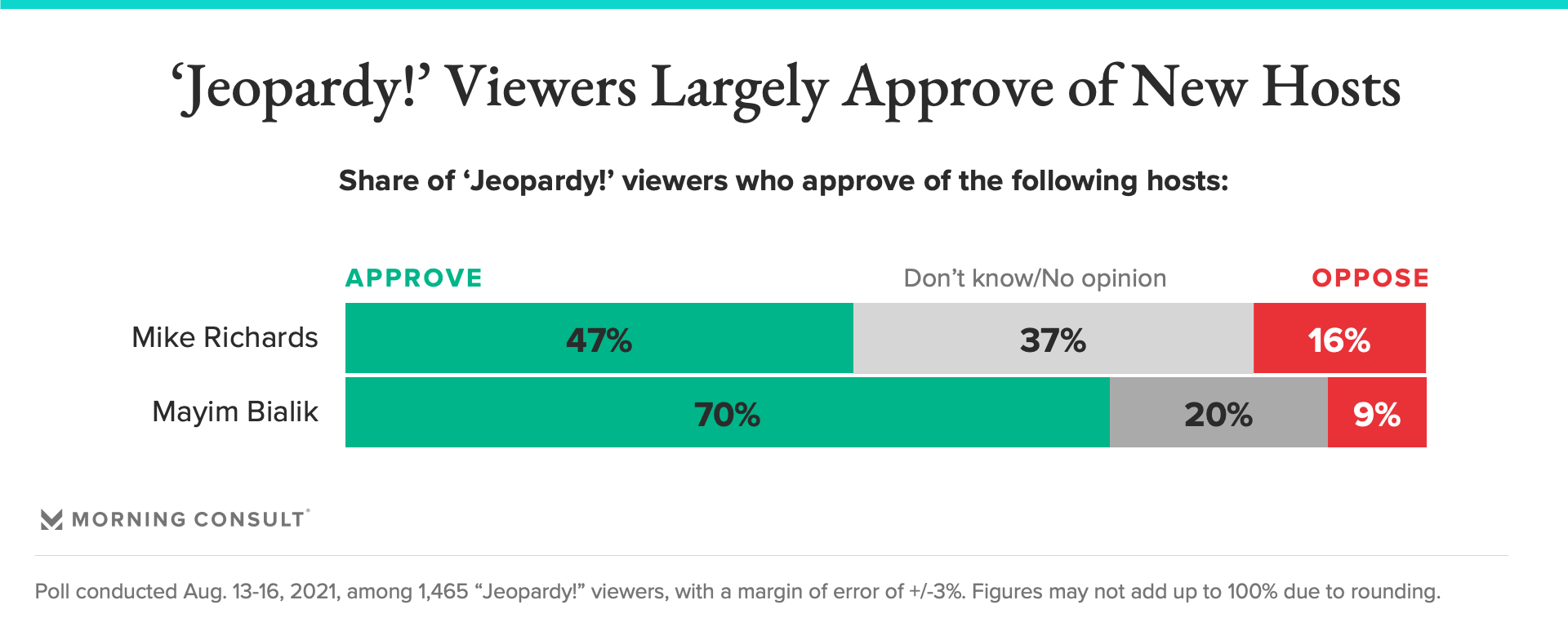 Only 16 percent of "Jeopardy!" viewers said they opposed naming Richards, the show's executive producer since 2020, as the permanent host, while 47 percent approved the decision and 37 percent were unsure or had no opinion. 
The hiring of Richards caused a stir in the "Jeopardy!" community after reports surfaced that he was named in two lawsuits by former models on "The Price Is Right," where Richards previously worked. One woman said she was harassed and discriminated against by producers after she announced her pregnancy in 2008, while another woman alleged sexual harassment related to abusive speech. Richards was dismissed as a defendant in the latter case. 
Some in "Jeopardy!" fan circles also criticized the move due to Richards' being in charge of the host search, though The New York Times reported that the executive producer was not part of the selection process once he emerged as a candidate. 
Sam Stapleton, a two-time "Jeopardy!" champion who filmed episodes with both Richards and Ken Jennings, said he felt "conflicted" after hearing the news of Richards' hiring. 
"It was presented as: 'There's all these guest hosts who are going to have a good chance at this,'" Stapleton said. But as media reports circulated that Richards was the top candidate, it appeared "more like this was sort of decided a long time ago. Why should we go through this whole process and create the sense of an open audition if that's not really what it was?"
Bialik's hiring also led to some criticism: The "Big Bang Theory" actress had written in a 2012 parenting book that she chose not to vaccinate her children, but has since clarified that she and her two sons would be receiving both flu shots and COVID-19 vaccines this year. Only 9 percent of "Jeopardy!" viewers opposed hiring Bialik, who will host the upcoming "Jeopardy! National College Championship, while 70 percent supported the decision.
Representatives for Richards, Bialik and Sony did not respond to requests for comment.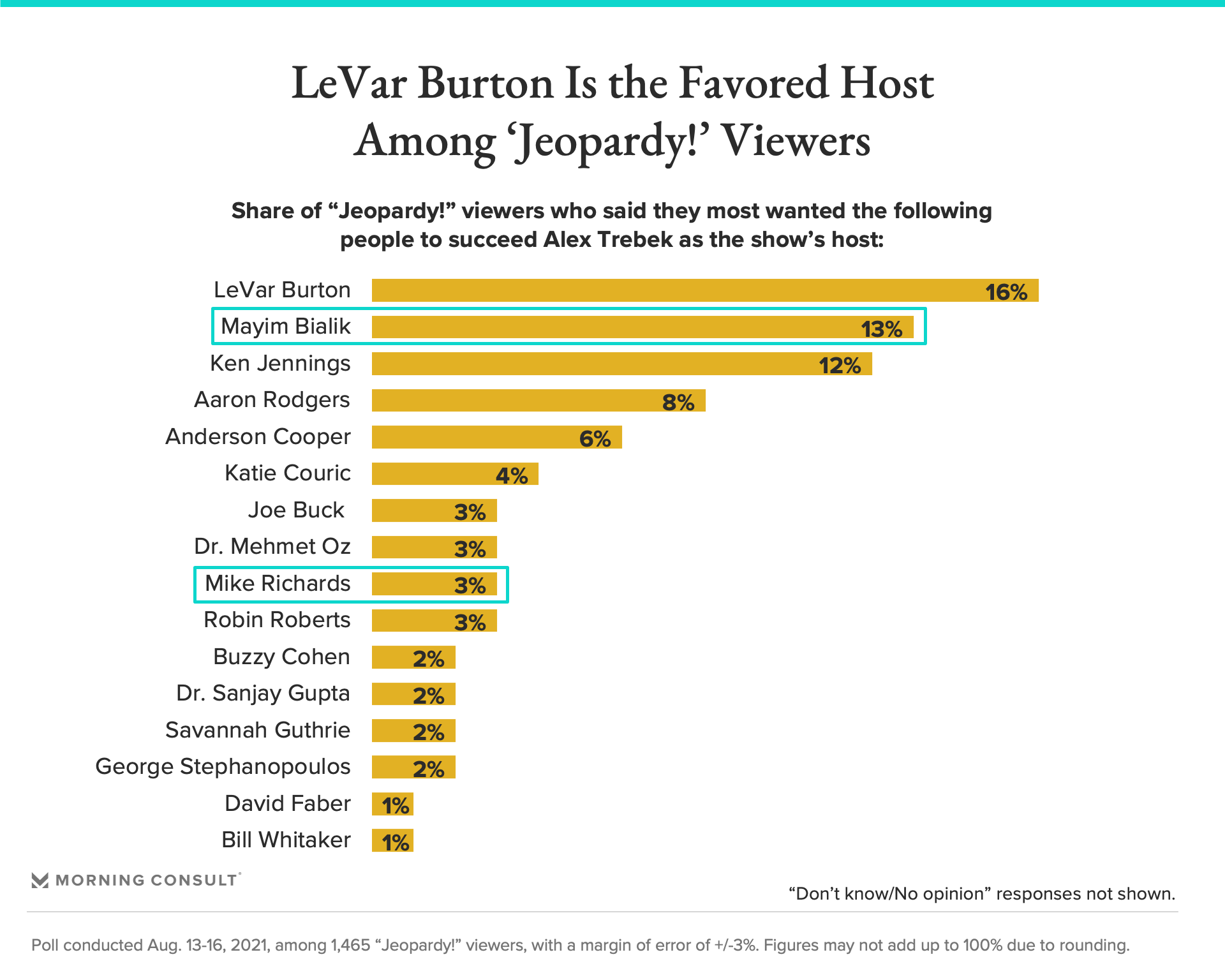 However, neither Richards nor Bialik was the top choice in the eyes of viewers. 
Actor and "Reading Rainbow" host, LeVar Burton, who garnered support even before he reported for duty as a guest host when more than 267,000 people signed a Change.org petition calling for him to succeed Trebek, was also the No. 1 choice in the Morning Consult survey, with 16 percent of "Jeopardy!" viewers saying he would have been their pick for host (download PDF file here). 
Bialik came in second at 13 percent, while Jennings, who holds the record for the longest winning streak in the show's history with 74 games, was close behind with 12 percent. Just 3 percent said the same of Richards.
Sarah Shevenock previously worked at Morning Consult as a reporter covering the business of entertainment.
We want to hear from you. Reach out to this author or your Morning Consult team with any questions or comments.
Contact Us