NFL's PSA on Police Shootings Garners Positive Reactions From Democrats, GOP
Almost 3 in 4 Democrats, nearly half of Republicans had positive reactions to ad featuring Anquan Boldin
Key Takeaways
53% reacted positively to Bloomberg's gun control-focused Super Bowl ad, 8 points higher than Trump's spot touting accomplishments.

Bloomberg's spot scored 11 points higher than Trump's among independents.
More than three years since Colin Kaepernick last took the field, the NFL took the uncharacteristic step of releasing two public service announcements ahead of Super Bowl LIV highlighting instances of police officers gunning down unarmed black men. While neither spot mentions the quarterback-turned-activist, who ignited a media firestorm by kneeling as the national anthem played before games during the 2016 season, the league intends to raise awareness of the very issue that inspired Kaepernick's polarizing protests.
The first spot, which aired during Sunday's big game and featured retired NFL receiver Anquan Boldin discussing the death of his cousin, Corey Jones, has drawn largely positive reactions from the public. According to a new poll from Morning Consult, 60 percent of U.S. adults have reacted positively to the PSA.
Though Kaepernick's act of protest -- and President Donald Trump's reaction to it -- caused a cultural rift along political lines, Democrats, independents and Republicans were all more likely to respond positively to the spot than negatively, perhaps indicating that the signal-caller's method was more controversial than his message. Seventy-four percent of Democrats approved of the league's "Inspire Change" ad, compared to 57 percent of independents and 47 percent of Republicans.
Race and ethnicity had a significant impact on reactions to the commercial. Among African-American viewers, 76 percent indicated a positive response to the video message, compared with 58 percent of white viewers and 67 percent of Hispanic viewers. 
Beyond the NFL's foray into social justice messaging, two presidential candidates spent millions to advertise on Fox during Super Bowl LIV. Former New York City Mayor Michael Bloomberg, who has surged in recent Morning Consult polling ahead of Monday's Iowa caucuses, also focused on gun violence in his 60-second spot, titled "George," which he reportedly paid more than $10 million to run. 
On the other side of the aisle, Trump's campaign aired two 30-second spots Sunday night -- one during the first quarter and one immediately following the game. The latter, titled "Stronger, Safer, More Prosperous," made its debut online earlier in the week.
Morning Consult's poll showed the public responding more favorably to the Bloomberg campaign's ad than Trump's ad, which divided viewers along party lines. Fifty-three percent of adults approved of Bloomberg's message, compared to 45 percent for Trump.
Trump's spot was received well by 86 percent of Republican viewers, compared to 39 percent of independents and 17 percent of Democrats. Bloomberg's message evoked positive reactions from 73 percent of Democrats, 50 percent of independents and 32 percent of Republicans.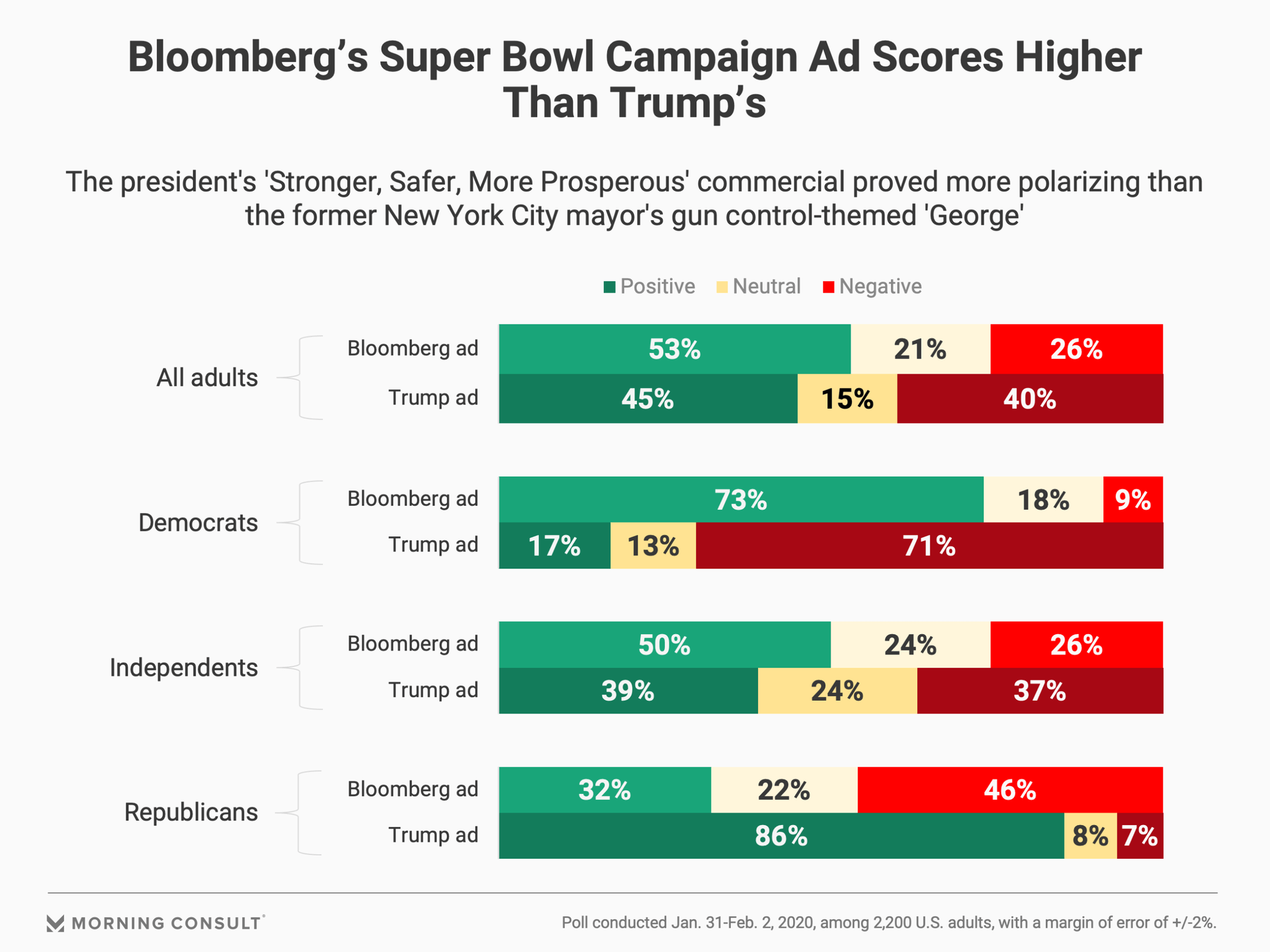 Bloomberg's spot, which features a black mother mourning the loss of her son in a shooting, resonated particularly well with African-American viewers, a pivotal voting bloc in the Democratic electorate. Seventy-two percent of black viewers liked his message, compared to 65 percent of Hispanic viewers and 49 percent of white viewers. By comparison, Trump's message struck a chord with 50 percent of whites, 27 percent of Hispanics and 24 percent of African-Americans.
Trump's ad evoked fervent reactions from both supporters and critics. Viewers were more than twice as likely to characterize their reaction as "very positive" than "somewhat positive" and more than three times as likely to have a "very negative" reaction compared to a "somewhat negative" reaction. By contrast, Bloomberg's spot only generated slightly more "very" responses than "somewhat" responses at both ends of the spectrum.
Alex Silverman previously worked at Morning Consult as a reporter covering the business of sports.
We want to hear from you. Reach out to this author or your Morning Consult team with any questions or comments.
Contact Us