No, 'Die Hard' Isn't a Christmas Movie, Most People Say
One-quarter in poll say the Bruce Willis flick is a holiday film; 62% say it isn't
Key Takeaways
25% of U.S. adults say "Die Hard" is a Christmas movie, including 32% of men and 20% of women.

At 37%, those ages 30-44 were most likely to label the film as a holiday movie compared to other age groups.
Welcome to the party, poll! Yes, it's that time of year, when the American public weighs in on one of popular culture's most heated disputes: Is "Die Hard" a Christmas movie?
A Morning Consult/Hollywood Reporter survey found one-quarter of the population said the film, which was released in July 1988 but is set during the holiday season, is a Christmas movie; 62 percent disagreed.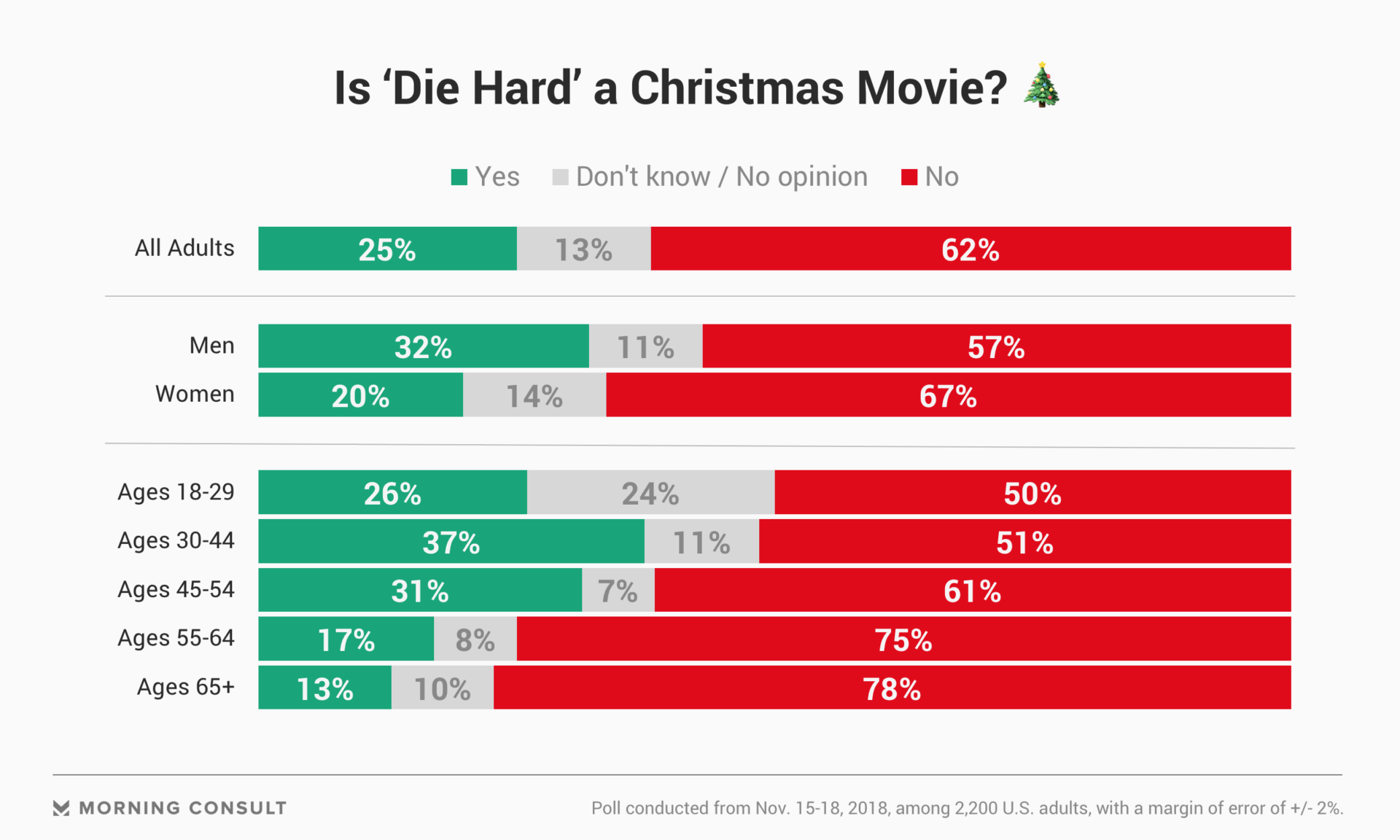 Men were slightly more likely than women to call "Die Hard" a Christmas film (32 percent vs. 20 percent), and those in the 30-44 age group, many of whom came of age when the movie premiered or during the "Die Hard" series' popularity in the 1990s, were the most likely to say it was a holiday movie.
The survey was conducted among 2,200 U.S. adults Nov. 15-18, 2018, with a margin of error of 2 percentage points.
The five movies in the "Die Hard" franchise have grossed more than $500 million overall (unadjusted for inflation), according to Box Office Mojo. The original film earned $83.5 million domestically in its lifetime and was the seventh-most successful movie of 1988 in the United States.
The Christmas debate has percolated for years. In 2016, The British film magazine Empire crowned "Die Hard" the best Christmas film ever, beating out holiday classics such as "It's A Wonderful Life" (second), "Home Alone" (12th) and "Miracle On 34th Street" (17th). In its film categorization, Box Office Mojo lists the film's genre as "Christmas - Setting Only," along with "Hostage."
Even those directly involved in the film have engaged in the debate. One of the movie's screenwriters, Steven E. de Souza, tweeted last year that the film is indeed a Christmas flick. And earlier this year, the star of the series himself, Bruce Willis, weighed in when speaking at a Comedy Central roast of himself.
"'Die Hard' is not a Christmas movie!" he said. "It is a goddamn Bruce Willis movie."
Joanna Piacenza leads Industry Analysis at Morning Consult. Prior to joining Morning Consult, she was an editor at the Public Religion Research Institute, conducting research at the intersection of religion, culture and public policy. Joanna graduated from the University of Wisconsin-Madison with a bachelor's degree in journalism and mass communications and holds a master's degree in religious studies from the University of Colorado Boulder. For speaking opportunities and booking requests, please email [email protected].
We want to hear from you. Reach out to this author or your Morning Consult team with any questions or comments.
Contact Us