Parents Aren't Ready to Return to Theme Parks Just Yet, Signaling More Bad News for the Industry
18% said they'd be interested in going to a theme park this summer, compared to 47% who said next summer
Key Takeaways
Interest in going to a theme park this summer ticks up to 26% and 24% respectively among parents for Disney World or Disneyland.

Limiting the number of guests in a theme park was the safety feature that inspired confidence among the most parents, with 45% saying it would make them more likely to go.
Theme parks around the country are once again welcoming guests and trying to salvage what's left of the vacation season that was cut short by the COVID-19 pandemic. But new data finds that parents are hesitant to return to the parks, with proposed safety measures doing little to change their minds.
Eighteen percent of the 962 parents surveyed in the Morning Consult/The Hollywood Reporter July 23-26 poll said they were interested in visiting a theme park this summer, but the majority (78 percent) said they weren't interested in taking that step. Sixty-one percent said they're "not interested at all."
Summer 2021 looks more promising for the theme park industry, with more than twice as many (47 percent) saying they'd consider going to an amusement park then.
Walt Disney Co. reopened its Disney World theme park earlier this month, even as COVID-19 cases in Florida skyrocketed. The company was also set on reopening Disneyland in California in July, but has delayed those plans after California postponed the announcement of guidelines for reopening theme parks.
Twenty-six percent of parents said they were interested in going to Disney World this summer, while 24 percent said the same of Disneyland. Disney said the coronavirus cost the company $1.4 billion in revenue losses in its second quarter, with its Parks, Experiences and Products segment contributing to $1 billion of that loss.
The survey, which was conducted among 2,200 U.S. adults, has an overall margin of error of 2 percentage points, while the parent subsample has a 3-point margin of error.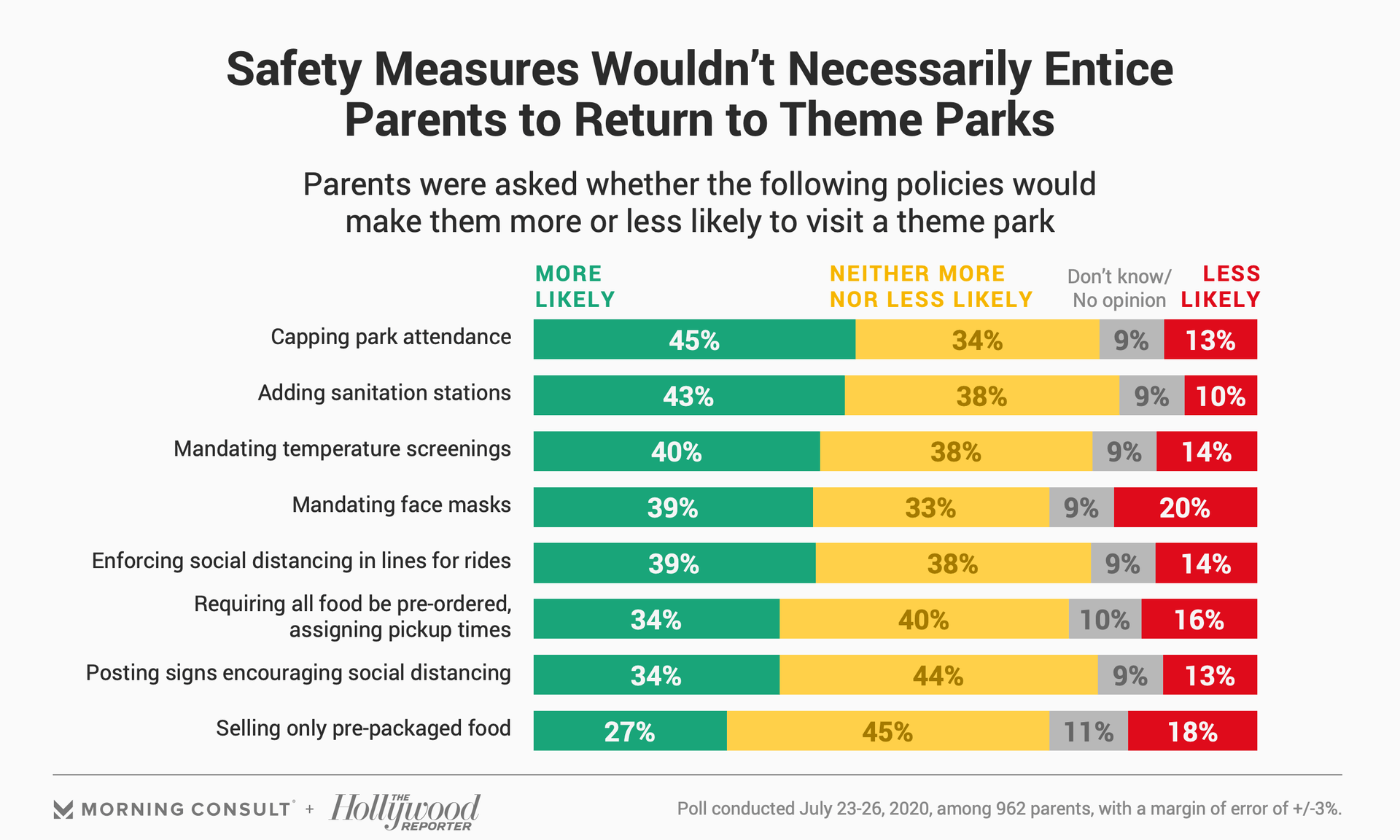 And while Disney resorts have adapted to the COVID-19 era of business through the implementation of a number of safety measures — highlighted in a marketing video that prompted so much online ridicule over its allegedly dystopian tone that Disney pulled the clip — relatively few parents said the measures would entice them to return.
Forty-five percent said limiting the number of patrons in the park would make them more likely to go, while 39 percent said the same of requiring masks and enforcing social distancing in lines. However, roughly one-third of parents said reducing park capacity or requiring masks would make them neither more nor less likely to go back to a theme park. 
Sarah Shevenock previously worked at Morning Consult as a reporter covering the business of entertainment.
We want to hear from you. Reach out to this author or your Morning Consult team with any questions or comments.
Contact Us