Pelosi Retakes Speaker's Gavel With Popularity on the Upswing
California Democrat's net favorability up 16 points since August low point
House Democratic Leader Nancy Pelosi took back the speaker's gavel Thursday at the start of the 116th Congress as polling showed her star rising among the general electorate.
In the last Morning Consult/Politico survey of the 115th Congress -- conducted Dec. 14-16 -- 31 percent of registered voters viewed her favorably, compared with 44 percent who did not. While those figures put her 13 percentage points underwater, that marks her best net favorability of 2018 and the best rating since a November 2017 survey showed her 9 points underwater.
The California Democrat earned 220 votes on the House floor Thursday, becoming the first member to return to the speakership since Rep. Sam Rayburn (D-Texas) in 1955. She has faced a litany of attacks from Republicans since Democrats controlled both chambers of Congress and the presidency in 2009 and 2010, messaging that impacted many voters' views of her.
In August, at the height of her unpopularity since Morning Consult/Politico began tracking her favorability, she was 29 points underwater, with 53 percent of all voters viewing her unfavorably.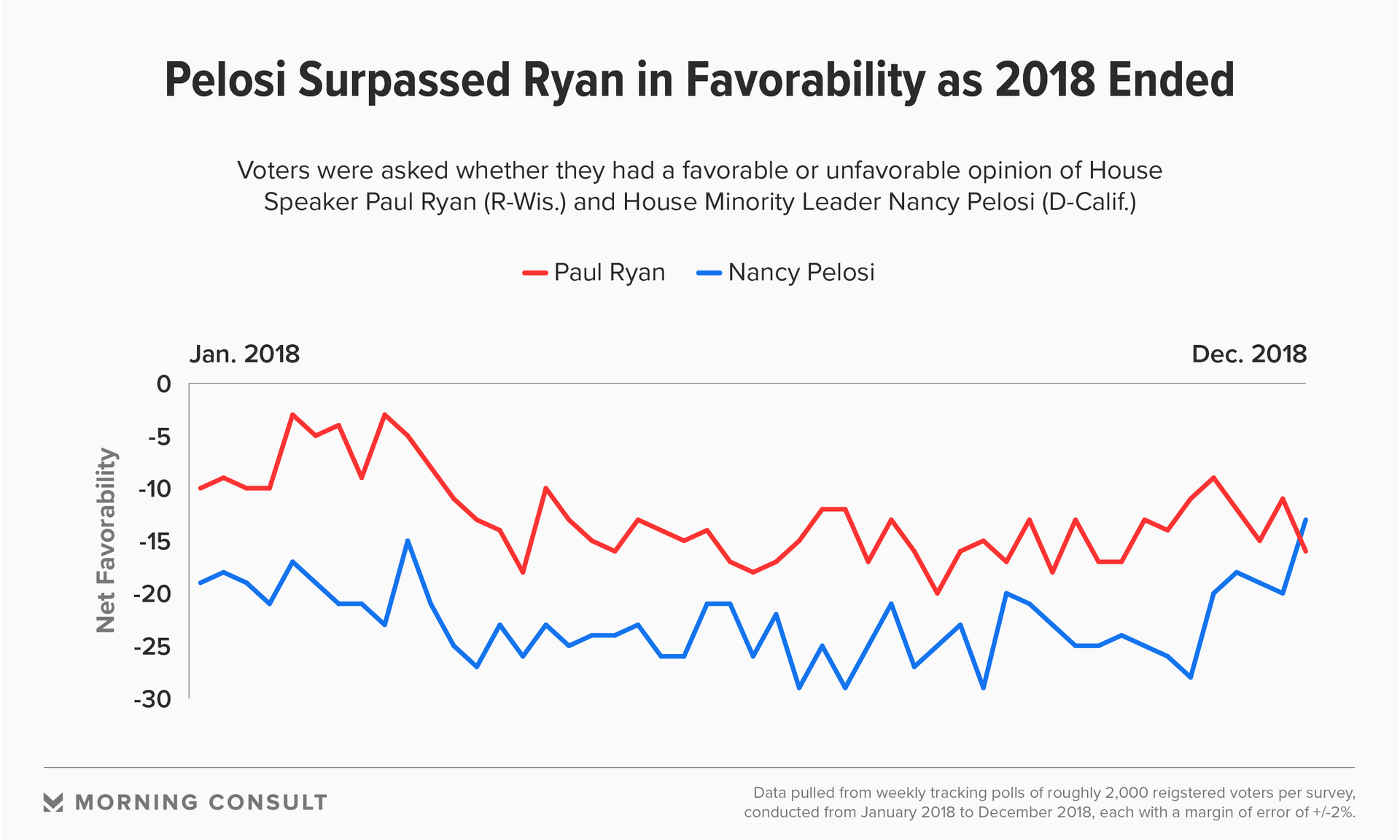 But since House Democrats took back control of the chamber with a 40-seat gain in the November midterm elections, views among Democrats and independents have improved. The latest survey showed 59 percent of Democrats viewing her favorably, up 13 points since August, and her popularity among independents was up 8 points, to 22 percent.
The improvement was enough to put her ahead of retiring House Speaker Paul Ryan (R-Wis.), who finished his tenure in Capitol Hill's top job 16 points underwater, with 28 percent of all voters -- including 51 percent of Republicans -- viewing him positively and 44 percent negatively.
Her rising fortunes among voters came as Pelosi quelled a brewing rebellion among some House Democratic Caucus members who opposed her speakership. At the end of Thursday's vote, 15 Democrats chose not to vote for her, including 10 representatives-elect who had vowed on the campaign trail not to support her: Anthony Brindisi and Max Rose of New York, Jason Crow of Colorado, Joe Cunningham of South Carolina, Jared Golden of Maine, Ben McAdams of Utah, Mikie Sherrill and Jeff Van Drew of New Jersey, Elissa Slotkin of Michigan and Abigail Spanberger of Virginia.
Democratic Reps. Jim Cooper of Tennessee, Ron Kind of Wisconsin, Conor Lamb of Pennsylvania, Kathleen Rice of New York and Kurt Schrader of Oregon also opted against support for Pelosi in the floor vote.
Each of the polls mentioned surveyed approximately 2,000 registered voters and had a margin of error of 2 points.
Cameron Easley is Morning Consult's lead analyst for U.S. politics. Prior to moving into his current role, he led Morning Consult's editorial coverage of U.S. politics and elections from 2016 through 2022. Cameron joined Morning Consult from Roll Call, where he was managing editor. He graduated from the University of North Carolina at Chapel Hill. Follow him on Twitter @cameron_easley. Interested in connecting with Cameron to discuss his analysis or for a media engagement or speaking opportunity? Email [email protected].
We want to hear from you. Reach out to this author or your Morning Consult team with any questions or comments.
Contact Us