Plurality of Democrats Would Abolish ICE, but Issue Could Be Flashpoint for GOP
Overall electorate twice as likely to support keeping ICE than getting rid of it
Key Takeaways
43% of Democratic voters said the federal government should get rid of Immigration and Customs Enforcement.

Issue could be a rallying point for Republicans: 52% say they're much less likely to support a candidate for Congress if the candidate supports getting rid of ICE.
A plurality of Democrats support calls to abolish the U.S. Immigration and Customs Enforcement, according to a new survey conducted amid the activist fury on the left over President Donald Trump's immigration policies.
But calls to get rid of the agency are unlikely to prove a winning position for candidates in this year's midterm elections, and could actually hurt them with independents and Republicans, according to the July 6-10 Morning Consult/Politico poll of 1,999 registered voters.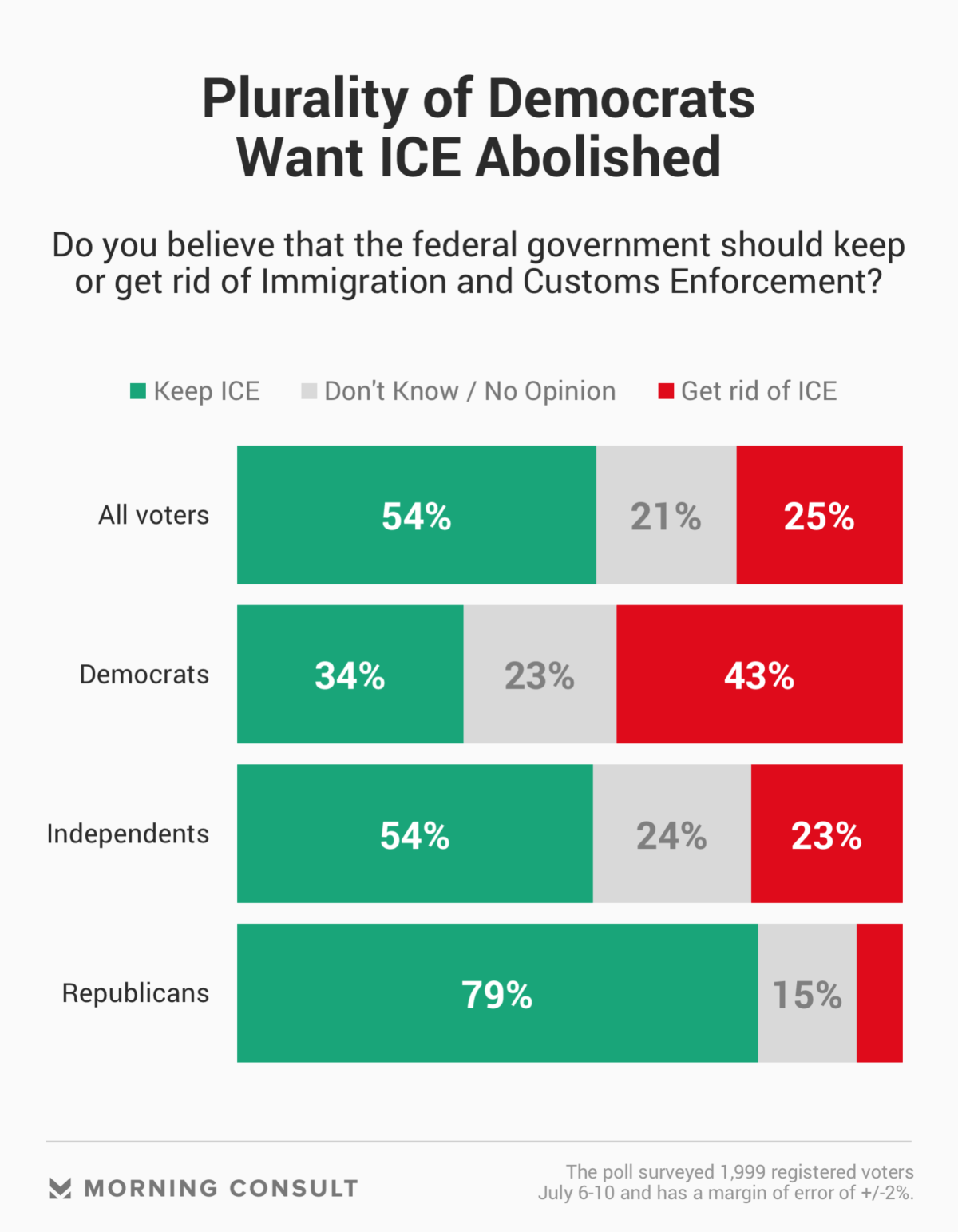 Mark Rom, associate professor of government and public policy at Georgetown University, said Tuesday that the issue of abolishing ICE is about something bigger: a "rallying cry for those who oppose Trump's immigration policies," as the agency was involved in the arrests that led to the separation of families under the administration's zero-tolerance immigration policy.
Forty-three percent of Democratic respondents said the federal government should get rid of ICE, versus 34 percent who said ICE should remain.
In contrast, among the electorate as a whole, 54 percent support keeping ICE, more than double the quarter who think the agency should be abolished. Those shares are almost the same among independent voters, while support for keeping ICE is strongest among Republican voters, at 79 percent.
But when it comes to voter behavior, calling for ICE's dissolution could prove damaging to candidates: While 40 percent of Democrats said they'd be more likely to vote for a candidate pushing for ICE abolition, the position could be a political liability among independents and Republicans, who are three and six times more likely, respectively, to strongly oppose candidates with that position than support them.
Fifty-two percent of Republican voters and 32 percent of independents are "much less likely" to vote for a candidate that supports scrapping ICE, versus 8 percent and 11 percent, respectively, who say they're "much more likely" to vote for such a candidate.
"Democrats are already energized because Donald Trump is in the Oval Office and I'm not sure how many more degrees above the current level of energy there is for the party to tap into," said Nathan Gonzales, a nonpartisan political analyst and editor of Inside Elections, in a Tuesday interview. "Democrats who believe in abolishing ICE were probably already going to vote and already plan to oppose Republicans as a message to President Trump."
Overall, 40 percent of voters said a candidate's support for abolishing ICE made them less likely to support that candidate for Congress, while 26 percent said it made them more likely. Seventeen percent said it made no difference.  
Rep. Mark Pocan, a Democrat who hails from a safely blue district in Wisconsin, is among the lawmakers calling for ICE to be abolished and have its functions moved to other parts of the government. In an interview Tuesday, he said the agency's brand is broken and its mission has deviated from the security tasks it was charged with in the aftermath of the Sept. 11, 2001, terrorist attacks.
Despite support among a plurality of Democratic voters, bills that would abolish ICE -- such as Pocan's legislation -- have not garnered the support of the party's leaders in Congress, who are fighting for Democrats to win majorities in both chambers this November.
Trump on Tuesday also highlighted the potential liability the issue could pose for Democrats.
"The people that are fighting ICE, it's a disgrace," he told reporters at the White House before leaving for his Europe trip. "Democrats want open borders, and they don't mind crime."
Pocan said Trump has been able to use the issue of abolishing ICE against Democrats because "most people don't know what ICE does."
"It is important for us to say we're not for open borders," he noted, adding that Democrats needed to more vocally define their position.
Liz Johnson, a spokeswoman for ICE, described calls to abolish the agency as "dangerously misguided" in an email Tuesday and said they "overlook the vital work that ICE officers and special agents perform each day to keep communities safe."
"Instead of being insulted with politically-motivated attacks, the men and women of ICE should be praised for risking life and limb every day in the name of national security and public safety," she said.
Eli Yokley is Morning Consult's U.S. politics analyst. Prior to his current role, Eli was Morning Consult's senior reporter covering U.S. politics. Eli joined Morning Consult in 2016 from Roll Call, where he reported on House and Senate campaigns after five years of covering state-level politics in the Show Me State while studying at the University of Missouri in Columbia, including contributions to The New York Times, Politico and The Daily Beast. Follow him on Twitter @eyokley. Interested in connecting with Eli to discuss his analysis or for a media engagement or speaking opportunity? Email [email protected].
We want to hear from you. Reach out to this author or your Morning Consult team with any questions or comments.
Contact Us