Voters Split on Views of Law Enforcement Agencies Caught in Controversy
Republicans more likely to trust CBP and ICE, while Democrats more favorable toward FBI
Key Takeaways
Democrats were 21 points more likely to say they trust the FBI.

GOP voters were 31 points more likely to say they trust ICE, and 27 points more likely to trust CBP.

Among all voters, majorities hold positive views of the agencies.
Democrats and Republicans are polarized in their views about three law enforcement agencies in the thick of Washington's hottest controversies, a signal that widespread partisanship about the president's policies has filtered into the bureaucracy.
According to a new Morning Consult/Politico poll, the share of Democrats who trust the Federal Bureau of Investigation is 21 points higher than the share of GOP voters who trust the agency, which is investigating Russia's interference in the 2016 presidential election and possible ties to President Donald Trump's successful campaign.
In contrast, Immigration and Customs Enforcement and Customs and Border Protection – two agencies central to Trump's zero-tolerance immigration policy – get high marks among Republicans: Seventy percent and 72 percent of GOP voters say they trust each respective agency, 31 points and 27 points higher than the respective views of Democrats.
"What's happening here is agencies are getting caught up in the political debates," said David Lewis, chair of the political science department at Vanderbilt University, in an interview Thursday. "Because immigration is the most important political issue – along with the Russia investigation – those agencies then get assigned views in people's minds based on what's happening in current politics."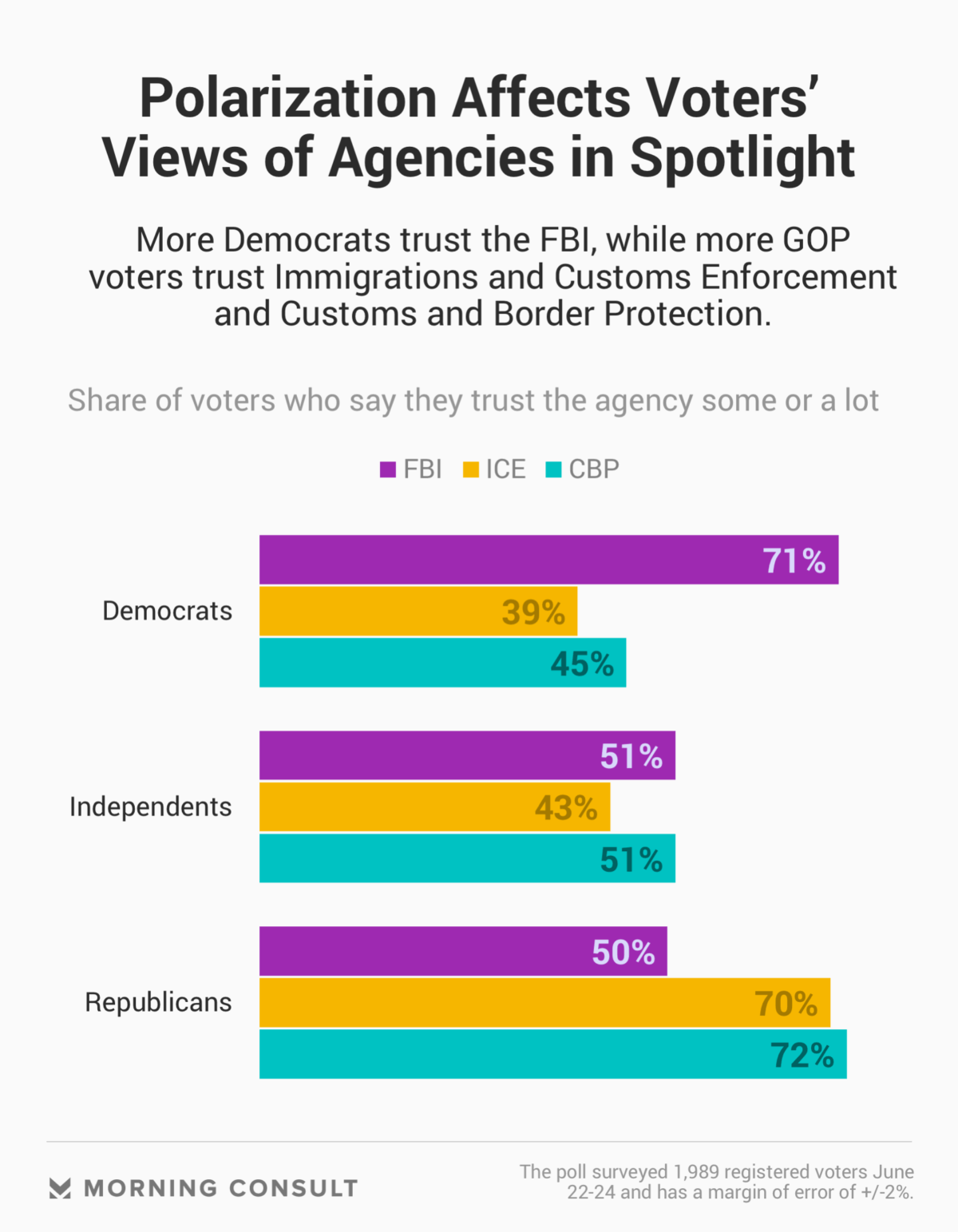 The poll of 1,989 voters was conducted June 22-24, amid the public eruption over Trump's zero-tolerance border policy, which demanded the prosecution of all immigrants who illegally cross Mexico's border into the United States and led to the separation of migrant children from their parents. ICE and CBP were the two agencies involved in implementing the policy of family separation, which Trump ended last week after days of negative press attention.
The poll found seven in 10 Republicans trust ICE "some" or "a lot," and 72 percent said the same about CBP. Democrats were split, 45 percent to 44 percent, when asked about the border agency, while their views of ICE were more skeptical: Half said they trust the agency "not much" or "not at all," while 39 percent said they trust ICE.
Among Democrats, 71 percent said they trust the FBI – 21 points higher than the share of Republicans who said the same. Forty-four percent of Republicans said they do not trust the FBI, double the percentage of Democrats who said the same. 
The Department of Justice, which houses the FBI, has mostly avoided the public polarization, despite criticism of the department on Capitol Hill, including Thursday's House passage of a resolution calling on the DOJ to turn over documents related to the FBI's handling of investigations during the 2016 presidential election.
Fifty-five percent of Republican voters trust the DOJ, 4 points less than the share of Democrats who said the same – while 38 percent said they don't trust it. The poll has a margin of error of plus or minus 2 points.
During testimony to the House Judiciary Committee Thursday, Deputy Attorney General Rod Rosenstein defended federal law enforcement officials, but warned they should "be prepared to face criticism."
"That is part of the job," he said. "But ignore the tyranny of the news cycle. Stick to the rule of law, and make honest decisions that will withstand fair and objective review."
Partisanship could make agencies' jobs more difficult in the future, according to Lewis, who has studied the presidency and executive branch.
"Trust in government makes a big difference in terms of the success of public policies," he said. Voters use signals from partisan leaders to determine their beliefs about agencies they may not know much about, which in the future could also make it harder for agencies to recruit good people, he said.
Among the electorate as a whole, views of the agencies are positive. Fifty-eight percent trust the FBI, 51 percent trust ICE and 56 percent trust CBP. Other agencies involved in intelligence and national security, such as the Central Intelligence Agency and the National Security Agency, are trusted by over half of registered voters as well as majorities in both parties.
Eli Yokley is Morning Consult's U.S. politics analyst. Eli joined Morning Consult in 2016 from Roll Call, where he reported on House and Senate campaigns after five years of covering state-level politics in the Show Me State while studying at the University of Missouri in Columbia, including contributions to The New York Times, Politico and The Daily Beast. Follow him on Twitter @eyokley. Interested in connecting with Eli to discuss his analysis or for a media engagement or speaking opportunity? Email [email protected].
We want to hear from you. Reach out to this author or your Morning Consult team with any questions or comments.
Contact Us