Plurality of Poll Respondents OK With Amazon Handling Mail-Order Drugs
But fewer people express trust in voice-activated technology for handling other aspect of health care
Key Takeaways
48% of respondents said they would be comfortable using Amazon for prescription drug delivery; 38% said they would be uncomfortable.

52% said they would be uncomfortable with voice assistants storing their medical records; 36% would be comfortable
If Amazon.com Inc. enters the health care business, as some analysts expect, recent polling suggests consumers are more comfortable with the idea of using Amazon as a pharmacy than they are with the possibility of using its voice-activated technology to handle other aspects of their health care.  
In a Morning Consult poll of 2,204 U.S. adults conducted Jan. 18-20, 48 percent of respondents said they would be comfortable using Amazon.com for their prescription drug orders, while 38 percent said they would not be comfortable. The poll has a margin of error of plus or minus 2 percentage points.
A 47-percent plurality of those surveyed were comfortable with the idea of allowing voice assistants to make medical appointments for them, while 39 percent said they would not be comfortable and 14 percent said they do not know or have no opinion.
But 52 percent said they are uncomfortable with voice assistants storing their personal health information or medical records. That's compared to 36 percent of respondents who said they would be comfortable having voice assistants store their personal data, and 13 percent who said they do not know or have no opinion.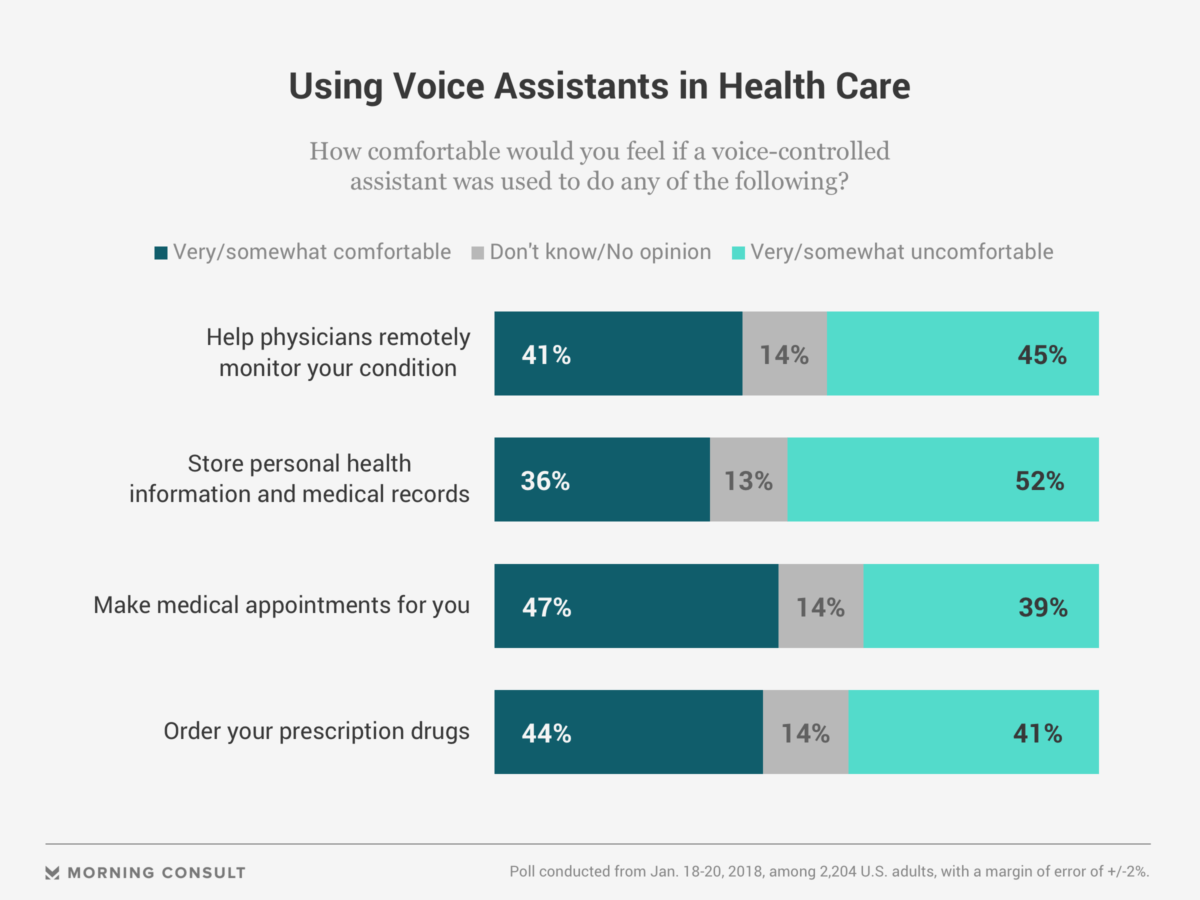 At this point, the tech giant has not publicly stated any intentions to move into the health care business. But health care analysts who are monitoring the company's moves say Amazon's e-commerce platform and its voice-assistant technology have enormous potential to make the delivery of health care products and services more convenient for patients and medical professionals.
"It isn't a question of if Amazon gets into health care," Steve Brozak, president of investment bank and medical research firm WBB Securities, said in a phone interview Tuesday. "It's simply a matter of when, where and how."
If Amazon gets its voice-activated technology Alexa certified under the Health Insurance Portability and Accountability Act, which guards confidential patient records, doctors could use the device to record meetings with patients, as a virtual aide during medical procedures and for other clinical purposes.
Amazon could also turn into an online pharmacy, delivering mail-order prescription drugs for Prime members, who currently pay $99 a year or $10.99 a month for benefits such as free shipping. Amazon does not disclose membership figures, but Consumer Intelligence Research Partners estimated in an October report that Prime had 90 million U.S. members as of Sept. 30.
With Alexa not HIPAA-compliant, the technology's uses are currently limited in a medical setting, Brian Kalis, a managing director of digital health and innovation at consulting firm Accenture, said in a phone interview Thursday.
But Amazon is looking for a HIPAA expert who "will own and operate the security and compliance elements of a new initiative," according to a listing posted on its jobs page.
Some hospitals have already sought to incorporate Amazon's voice-activated technology for purposes that do not conflict with privacy laws. Boston Children's Hospital, for instance, has an Alexa-powered app called KidsMD that parents can use to get advice for simple health conditions, such as a common cold.
Amazon isn't the only tech giant eyeing the health care market. On Wednesday, Apple Inc. announced a new health app feature that would allow users to transfer some of their health records from their providers to their iPhones.  
Microsoft Corp. has been offering its HealthVault service since 2007 to help users store their health information in one centralized location, while a similar service introduced in 2008 called Google Health shuttered in 2011.
Any tech company looking to enter the health care space now is facing a landscape that has "changed significantly since Google and Microsoft first delved into this area" in 2007 and 2008, Kalis said.
More health systems now have digitized health records, and smartphones are not only ubiquitous -- consumers are used to turning to them to access services and information, he noted.
"Earlier attempts, such as those by Google and Microsoft, functioned like a filing cabinet since they didn't have the benefit of today's advancements under their belt," Kalis added.
If Amazon does get into the health care industry, it has a potential edge over Apple: Sixty-three percent of U.S. adults in a Jan. 4-5 Morning Consult poll said they trust Amazon with their data compared to 53 percent for Apple.
Amazon did not respond to a request for comment.
Jon Reid is a research editor for domestic and world politics at Morning Consult. Prior to his current role, he was a politics editor with Morning Consult's editorial division. Jon joined Morning Consult from Bloomberg Industry Group, where he reported on telecommunications policy and edited newsletters. He graduated from Arizona State University. Follow him on Twitter at @JonTReid.
We want to hear from you. Reach out to this author or your Morning Consult team with any questions or comments.
Contact Us