Polling Illustrates Senate Republicans' Border Wall Bind
Trump's base-first strategy brings political peril for some GOP members
Key Takeaways
70% of GOP voters are more likely to back their member of Congress who supports the president's decision to declare a national emergency at the border.

60% of voters who don't identify as Republicans say they'd be less likely to back their lawmakers if they support Trump's invocation of emergency powers.

78% of all voters said support or opposition for Trump's move would factor into their voting preference, compared with less than two-thirds who said the same of the GOP tax bill and its failed Obamacare overhaul.
President Donald Trump's decision to invoke emergency powers in a bid to divert resources to the country's southern border has put Senate Republicans in a bind as they consider whether to back his unilateral action on the Senate floor Thursday.
The latest Morning Consult/Politico poll underscores the political difficulty of the situation: Either break with Trump and suffer the wrath of the GOP base, or support the president and alienate the broader electorate.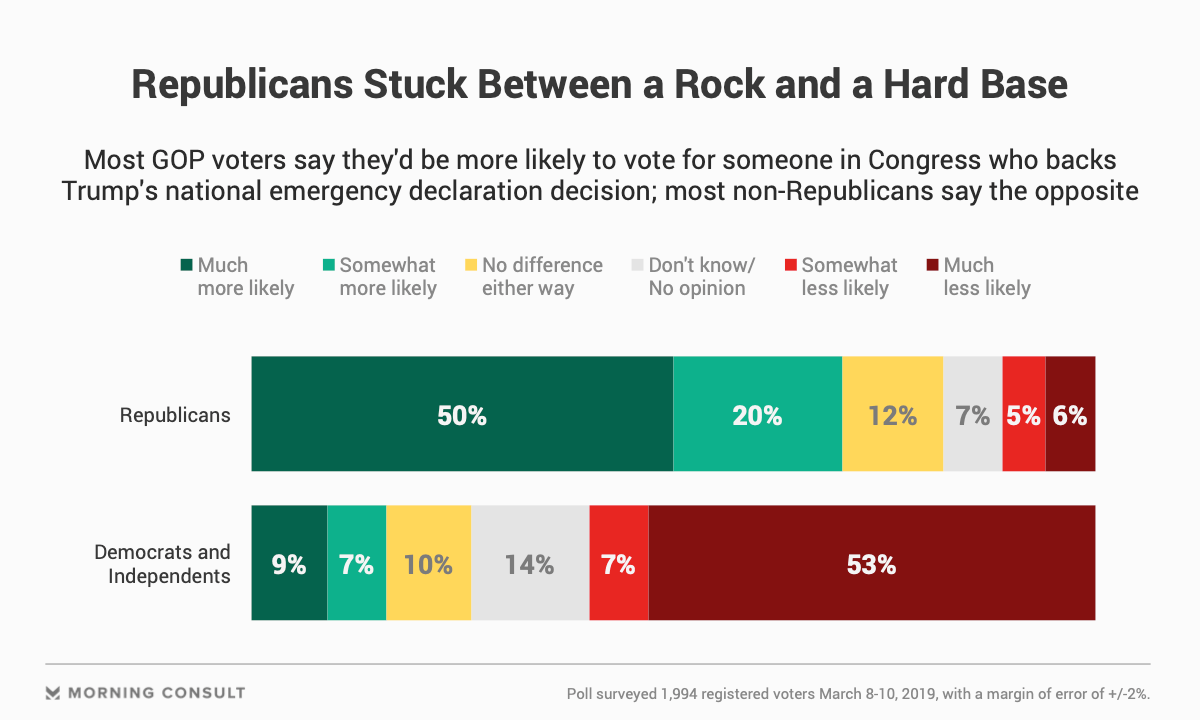 Seven in 10 Republican voters said they would be more likely to vote for senators or representatives who support Trump's decision, according to the March 8-10 survey, while 3 in 5 non-Republicans – self-identified Democrats and independents – said they would be less likely to back the lawmaker in 2020.
The issue of Trump's emergency declaration has become a de facto debate over Trump's chief campaign promise of a U.S.-Mexico border wall, and has divided the Republican Party on Capitol Hill despite its popularity among Republican voters.
Thirteen House Republicans joined the Democratic majority to send a resolution disapproving of the president's move to the Senate last month. Four Republican senators – Susan Collins of Maine, Lisa Murkowski of Alaska, Rand Paul of Kentucky and Thom Tillis of North Carolina – have said they'll support the measure, likely ensuring its passage.
According to Politico, roughly a dozen other Republican senators are considering voting with their four colleagues, though neither chamber is expected to have enough votes to override a threatened presidential veto of the disapproval resolution.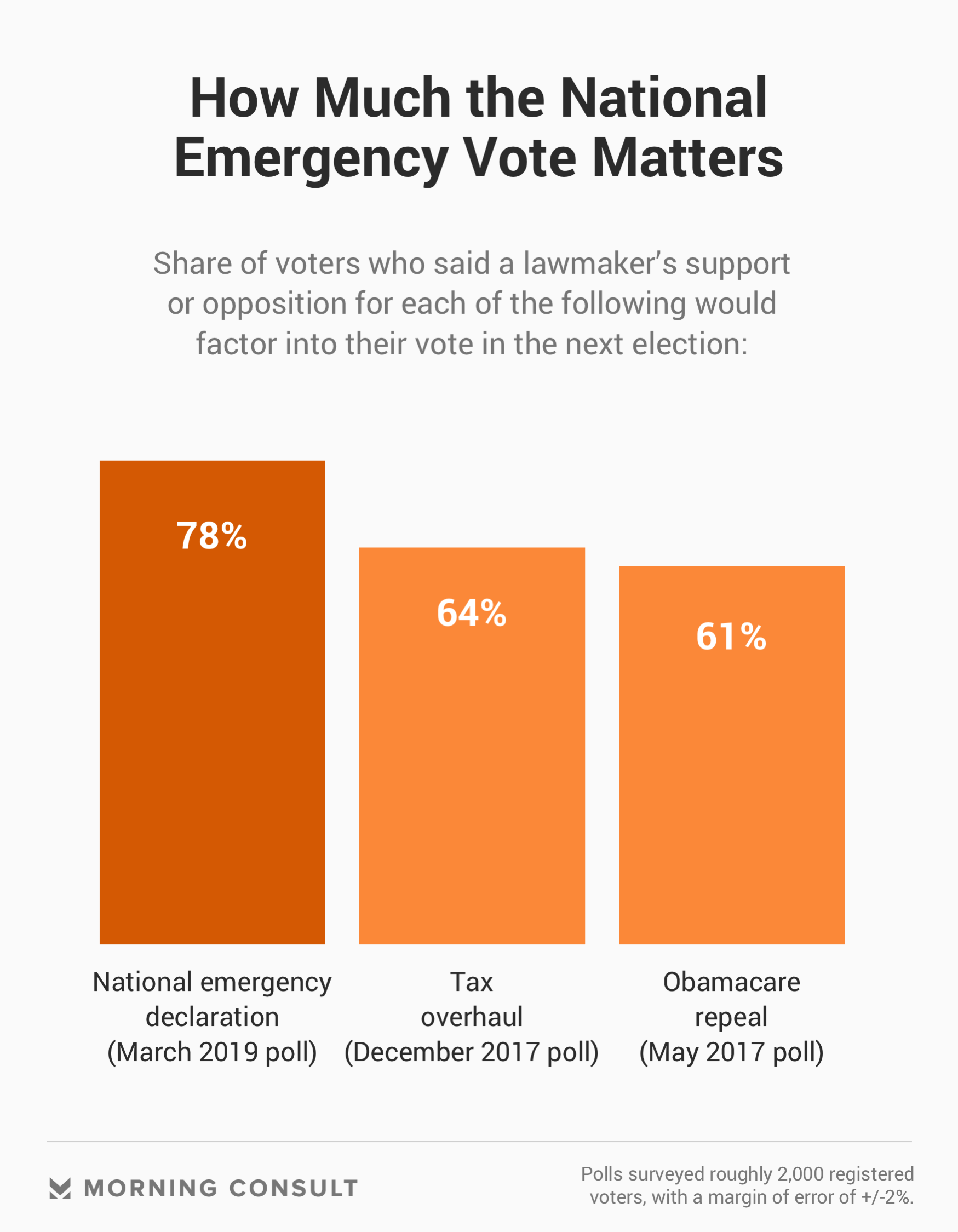 Morning Consult data shows the vote could be a big one for the legislators on the ballot next year. Seventy-eight percent of the electorate said support or opposition for Trump's national emergency declaration would sway their vote one way or another, higher than the 61 percent who said the same for the GOP's plan to repeal and replace the Affordable Care Act in May 2017 and the 64 percent who said the same of the Republican tax bill in December 2017.
Trump's tack of speaking almost exclusively to his own base caught up with congressional Republicans in 2018, as they shed 40 House seats and underperformed early forecasts for Senate gains despite picking up two seats.
Collins and Tillis are among the Senate Republicans expected to face tough re-election campaigns in 2020. In a Washington Post op-ed, Tillis cast his planned vote in favor of the resolution not as a vote against Trump's border wall, but as a defense against executive overreach, particularly against a liberal Democratic president.
The careful explanation comes in the face of strong support from the Republican base for Trump's tactics: Eighty percent of GOP voters in the recent poll support Trump's declaration of a national emergency on the southern border, compared with 20 percent of non-Republicans. The rest of the electorate is similarly opposed to the president's decision: Seven in 10 voters who identify as Democrats or independents said they were against Trump's invocation of emergency powers.
The poll, which surveyed 1,994 registered voters, has a margin of error of 2 percentage points.
Eli Yokley is Morning Consult's U.S. politics analyst. Prior to his current role, Eli was Morning Consult's senior reporter covering U.S. politics. Eli joined Morning Consult in 2016 from Roll Call, where he reported on House and Senate campaigns after five years of covering state-level politics in the Show Me State while studying at the University of Missouri in Columbia, including contributions to The New York Times, Politico and The Daily Beast. Follow him on Twitter @eyokley. Interested in connecting with Eli to discuss his analysis or for a media engagement or speaking opportunity? Email [email protected].
We want to hear from you. Reach out to this author or your Morning Consult team with any questions or comments.
Contact Us