Post-Olympics Insights: Suni Lee's Rise, Peacock's Performance and a Look to Beijing's Winter Games
Lee became one of Team USA's most popular athletes, according to a new poll, following her performance in Tokyo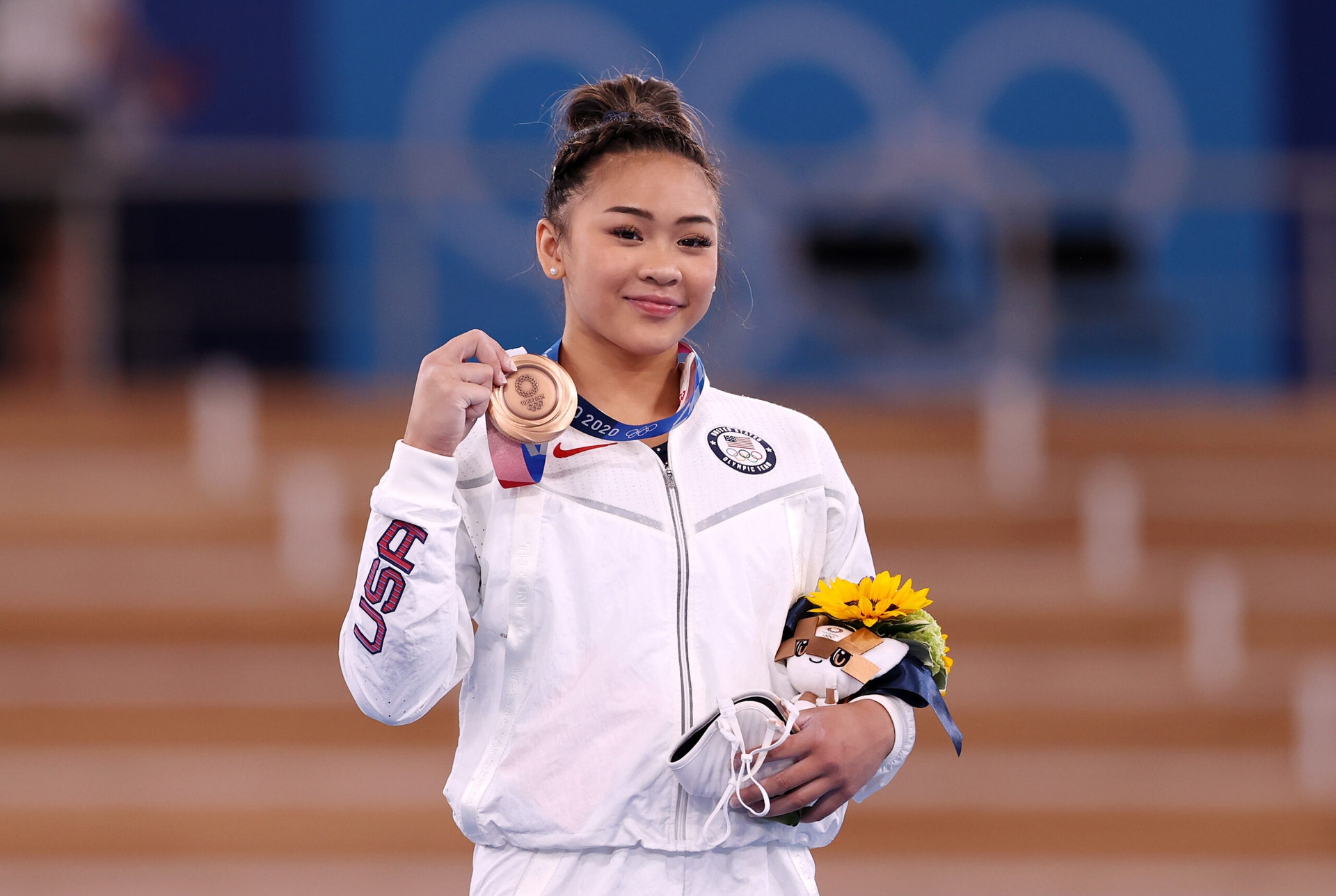 Key Takeaways
61% of Americans said they watched "not much" or "none" of the Olympics, a much larger share than anticipated based on pre-games polling.

The share of U.S. adults familiar with Peacock increased from 49% before the Tokyo Games to 54% in post-games polling.

Just 21% of respondents identified Beijing as the host city of the next Olympics, which are six months away.
Given the amount of money spent and ink spilled on the postponement and buildup to the Summer Olympics, stakeholders from broadcasters to brands are taking stock on what went right and what went wrong during the 17-day whirlwind that was Tokyo 2020. 
In that spirit, Morning Consult conducted a post-games survey on a variety of topics, including the public's opinion of American athletes, how fans experienced the games back home and which sports garnered the most interest. 
Below are the key takeaways, including which American Olympians stole the show, whether NBC's Peacock push paid off and whether stakeholders should be concerned about early awareness, or lack thereof, for the 2022 Winter Games.
Biles' withdrawal opens the door for Suni Lee's breakout performance
Simone Biles' withdrawal from the majority of her events didn't hurt her standing with Americans, a testament to the public's respect for the mental health of elite athletes. Her net favorability rating after the Tokyo Olympics -- the share of U.S. adults with a favorable opinion of her minus the share with an unfavorable opinion of her -- was unchanged from before the games at plus 47, the highest of any U.S. Olympian included in the surveys.
Biles' absence from competition, however, opened the door for her teammate, 18-year-old Sunisa "Suni" Lee, to have a coming out party of her own in Tokyo. In addition to winning gold in the individual women's all-around competition, in which Biles was favored before she withdrew, Lee earned a silver in the team competition and a bronze on the uneven bars.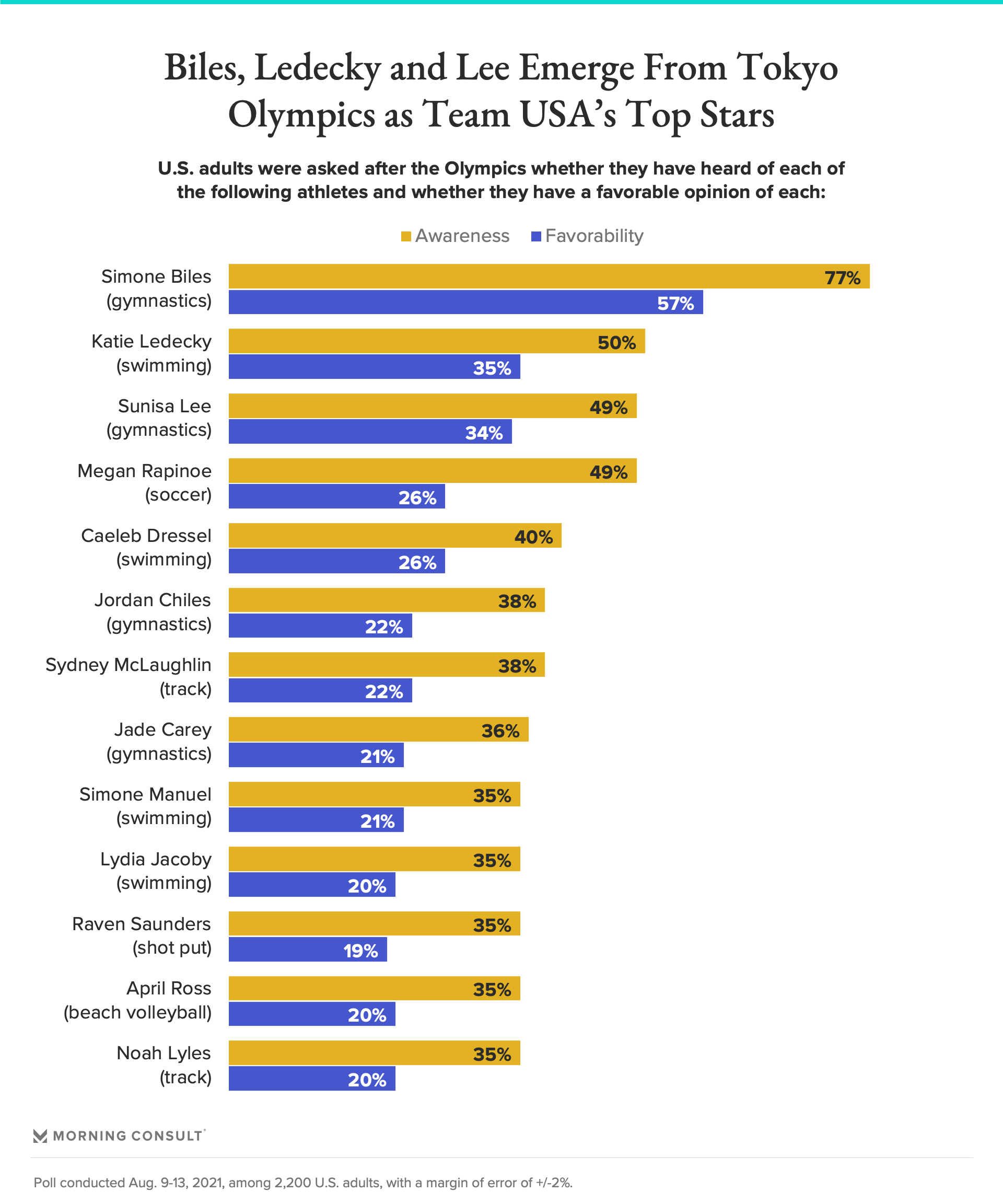 In the post-Olympics survey conducted Aug. 9-13 among 2,200 U.S. adults, 49 percent of respondents said they had heard of Lee, making her the third most-recognized American Olympian included in the survey. 
She was behind Biles (77 percent) and swimmer Katie Ledecky (50 percent), who won her first Olympic gold medal at the 2012 London Games before racking up another six golds and three silvers between Rio de Janeiro​​ in 2016 and Tokyo this summer. 
More than a third of Americans said they had a favorable opinion of Lee (34 percent), putting her total favorability rating still well behind Biles (57 percent), but again virtually on par with Ledecky (35 percent).
While Lee wasn't included in any of Morning Consult's pre-Olympics polling given the unpredictable nature of her breakout, she likely would have seen the largest increase in both metrics of any U.S. Olympian. 
Among those included in both the July 9-13 and Aug. 9-13 surveys, swimmer Caeleb Dressel experienced the biggest bumps in awareness (up 17 percentage points to 40 percent) and favorability (up 15 points to 26 percent), followed closely by Ledecky on both fronts.
Americans watched far less than they had projected
The Tokyo Games averaged 15.6 million viewers a night in prime time across NBC's linear networks and digital platforms, according to the network, making it the least-watched Summer or Winter Olympics since NBC started airing the Summer Games in 1988. 
While a drop in viewership was expected, the declines from Rio's 2016 Summer Games were steeper than most industry observers had anticipated.
In addition, Americans watched far less of this summer's games than they predicted in early July.
In the post-Olympics survey, 39 percent of Americans said they watched "a lot" or "some" of the Summer Games, falling well short of the 51 percent who said in the July 9-13 survey that they planned to watch that amount of the games. 
On the other side of the spectrum, the 61 percent who said they watched "not very much" or "none" of the action from Tokyo far exceeded the 38 percent who said in the July survey they didn't expect to watch much or any of the games.
As expected, swimming and gymnastics were the most-watched sports, according to the August survey, with 48 percent and 44 percent of U.S. adults, respectively, saying they watched "a lot" or "some" of each. 
Track and field (37 percent), diving (35 percent), basketball (34 percent), beach volleyball (34 percent) and indoor volleyball (33 percent) were the only other sports of which at least 1 in 3 Americans said they watched a significant amount.
Baseball/softball (22 percent), tennis (19 percent) and boxing (20 percent) all significantly underperformed in self-reported viewership relative to interest in the July survey.
Peacock delivers mixed results despite NBC's streaming records
Driving awareness and usage of its year-old streaming service, Peacock, was a core priority for NBC in its programming of the Tokyo Olympics. In addition to making live gymnastics, track and most men's basketball games available exclusively on its streaming platforms (which also includes NBCOlympics.com and the NBC Sports app), NBC launched six digital channels on Peacock, such as Tokyo Now and Meet the Olympians, featuring exclusive daily studio shows and original content.
The network said Peacock registered its best two weeks of usage during the Olympics as part of more than 5.6 billion minutes' worth of streaming across all of NBC's digital platforms. Peacock mobile downloads also reportedly doubled month-over-month in July on the back of the Tokyo Games.
According to Morning Consult's survey results, however, gains in awareness and adoption among U.S. adults were fairly modest. In July, 49 percent of U.S. adults said they were "very" or "somewhat" familiar with Peacock, a figure that increased to 54 percent in post-games polling. The share of Americans who said they or someone in their household subscribes to the service grew from 21 percent before the Tokyo Games to 25 percent after its conclusion.
The emphasis on digital platforms, combined with the spreading of events across its array of broadcast and cable networks, seemingly had a negative impact for some consumers who had trouble locating where to watch some events. 
Twenty percent of adults who said they watched "a lot" or "some" of the games said it was difficult to find what they were looking for, a number that increased to 25 percent when including those who said they watched "not very much" of the Olympics.
Awareness of 2022 Winter Games is surprisingly low
Due to the postponement of the Tokyo Games by a year, the countdown to the next Olympic Games is already on. According to the results of the August survey, however, awareness of when and where those games are scheduled to take place is surprisingly low. 
Just 32 percent of U.S. adults identified Winter 2022 as the date of the next Olympics from a series of options, while even fewer -- 21 percent -- correctly selected Beijing as the host city. Both figures are considerably lower than awareness of the Tokyo Games was in January, about the same length of time prior to the lighting of the torch. Joe Brown, a former NBC researcher, said he would have expected awareness to be higher at this point given that the Summer Olympics just finished. 
That just roughly 1 in 5 Americans correctly chose Beijing as the host city is also notable given the political debate surrounding a potential boycott of the Winter Games in protest of human rights violations committed by the Chinese government. 
Asked about a potential boycott in the post-Tokyo survey, 29 percent of respondents said the United States should boycott the Beijing Games, while 33 percent opposed a boycott. Republicans (33 percent) were slightly more likely than Democrats (29 percent) and independents (25 percent) to favor a boycott. 
Alex Silverman previously worked at Morning Consult as a reporter covering the business of sports.
We want to hear from you. Reach out to this author or your Morning Consult team with any questions or comments.
Contact Us