Pro Bowl Tops MLB, NBA All-Star Games as Sports Fans' Favorite Talent Showcase
Self-identified avid sports followers favor MLB's 'Midsummer Classic'
Key Takeaways
65% of basketball fans enjoy watching the NBA All-Star Game, compared to 58% of football fans who like watching the Pro Bowls.

Sports fans are split on the NFL, MLB and NBA skills competitions, but avid fans prefer the Home Run Derby.
The Pro Bowl is a popular target for the ire of sportswriters and pundits when the game comes around each year, with criticism generally focused on a lack of physicality and competitiveness. A new poll from Morning Consult, however, shows that more sports fans enjoy the NFL's showcase than any other All-Star event in U.S. professional team sports.
Fifty-one percent of sports fans, a group that includes adults who described their interest in sports as either avid or casual, say they enjoy watching the Pro Bowl, compared with 47 percent who said the same of the MLB All-Star Game and 45 percent who enjoy watching the NBA All-Star Game. The NHL, MLS and WNBA are considerably less popular among sports fans.
Asked to choose, 29 percent of sports fans say the Pro Bowl is their favorite of the All-Star events. The MLB All-Star Game is the favorite of 22 percent of fans, followed by the NBA All-Star Game at 20 percent, the NHL All-Star Game at 6 percent, the MLS All-Star Game at 2 percent and the WNBA All-Star Game at 1 percent.
Overall, more than 2 in 3 sports fans say they like watching All-Star competitions in sports that they generally enjoy.
The survey was conducted Jan. 28-29, before the NBA announced a new format for this year's event in Chicago on Feb. 16 that breaks the game into four "mini-games," three that will last 12 minutes each and one final segment that will end once either team reaches a certain score. 
The NHL made a similar move when it reimagined its own All-Star Game as a four-team, three-on-three tournament beginning in 2016. The hockey league is reportedly considering additional format changes for the 2021 event in Florida. 
MLS is also tweaking its All-Star format this summer, as the league's best players will compete against a team of top talent from Mexico's Liga MX on July 29. Previously, the MLS All-Stars would take on a European club team.
Though the Pro Bowl is the most-enjoyed All-Star event among all sports fans, avid sports fans slightly prefer the MLB All-Star Game. Sixty-seven percent of self-identified avid sports fans said they enjoy watching baseball's talent showcase, compared to 63 percent for both the NBA All-Star Game and Pro Bowl. The NHL All-Star Game is enjoyable for 38 percent of avid sports fans.
When asked to pick a favorite, avid sports fans are split almost evenly between the top three choices, as 28 percent favor the MLB All-Star Game, compared to 27 percent for both the NBA All-Star Game and Pro Bowl.
The survey also sought to test how popular each all-star event was among adults who were interested in that specific sport. It found that the NBA set the bar among this group: Sixty-five percent of people who identify as very or somewhat interested in basketball say they enjoy watching the NBA All-Star Game, compared with 58 percent of football fans who like watching the Pro Bowl.
People interested in baseball also enjoy their sport's All-Star Game (64 percent) more than football fans enjoy the Pro Bowl. Just over half of people interested in hockey say they like watching the NHL All-Star Game.
Each of the leagues also holds a night of skill-based competitions in the days leading up to their showcase games. The survey results show that an almost-equal number of sports fans enjoy the NBA Skills Competition, MLB's Home Run Derby and the NFL's Pro Bowl Skills Showdown, each of which resonates with about 2 in 5 respondents. Among avid fans, however, the Home Run Derby is the most-liked, with 67 percent saying they enjoy watching it.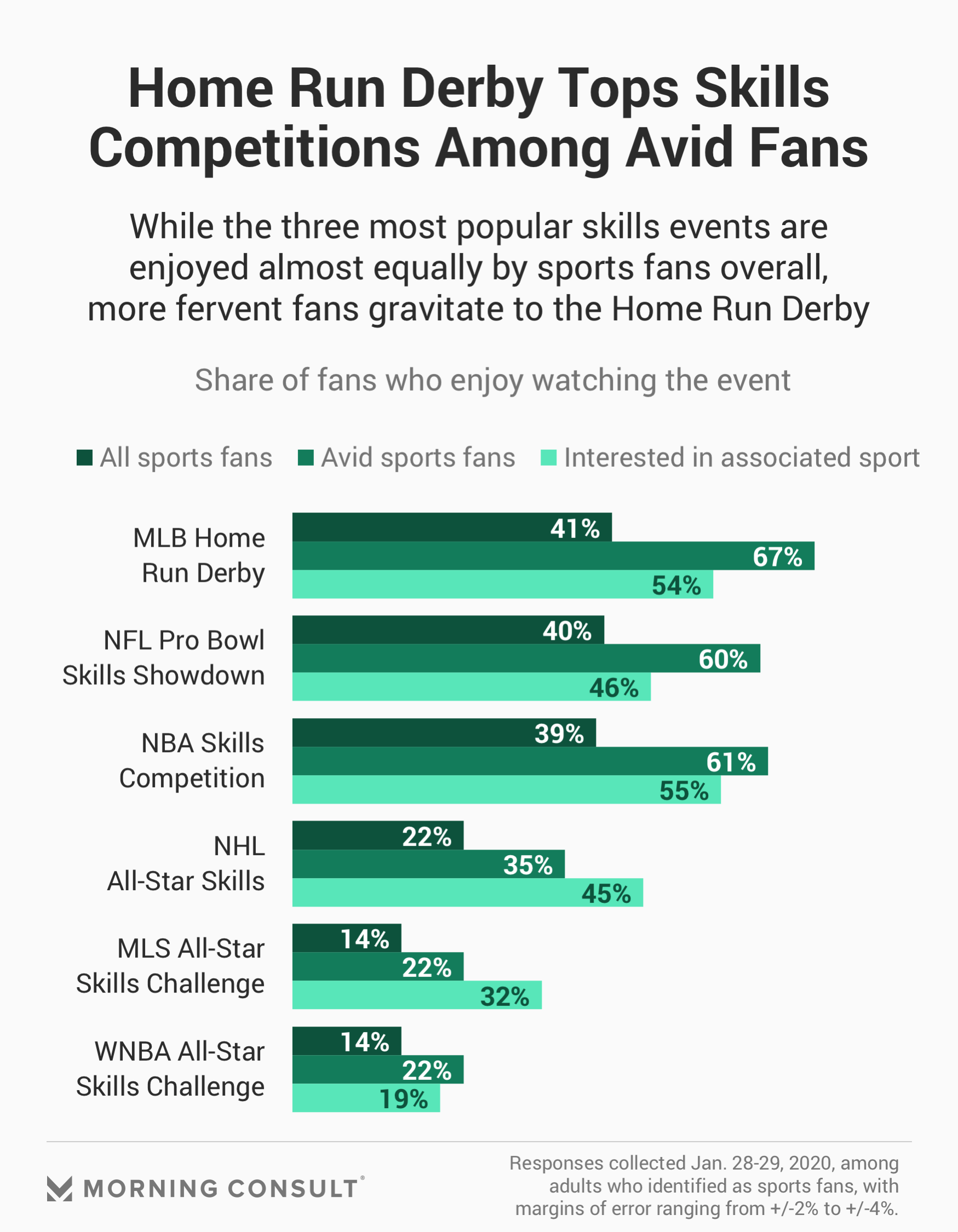 The NBA announced on Tuesday a significant change to one of its signature skills events, the Three-Point Contest, adding two deep shots from six feet beyond the three-point arc and increasing each shooter's allotted time by 10 seconds, from 60 seconds to 70 seconds. 
The NHL added two new events for the All-Star weekend in St. Louis last month: the "Shooting Stars" competition that had players shooting from an elevated platform in the stands at targets on the ice, and a three-on-three game between members of the American and Canadian women's national teams.
The NFL also developed a new challenge for its 2020 event last month in Orlando called "Thread the Needle," in which defensive backs seek to prevent quarterbacks from completing passes through designated targets. 
The margin of error among the 1,583 self-identified sports fans surveyed is 2 percentage points. The responses from 558 avid sports fans have a 4-point margin of error, while groups of adults who expressed interest in individual sports have margins of error ranging from 3 to 4 points.
Alex Silverman previously worked at Morning Consult as a reporter covering the business of sports.
We want to hear from you. Reach out to this author or your Morning Consult team with any questions or comments.
Contact Us