Public's Attitudes Toward Health Care During Pandemic Signal Long-Term Shift in Care Delivery
Most adults would see their primary doctor, but less than half would go to ER or specialist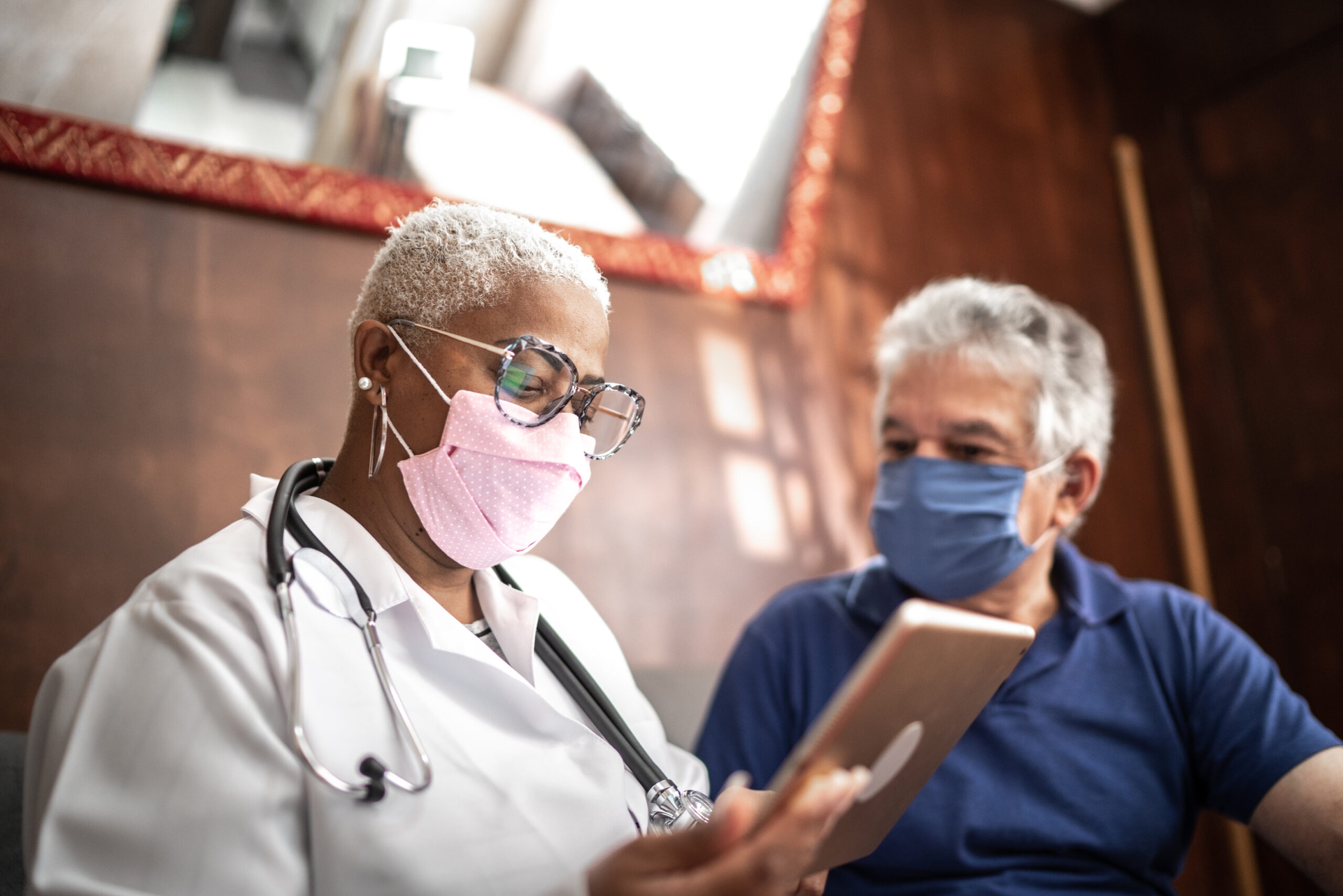 Key Takeaways
68% of adults said they would likely see their primary doctor in light of COVID-19, up from 65% in July and 39% in April.

Adults were least likely to say they'd see a mental health specialist, at 37%.

Adults said they would put off health care because they don't need to see a doctor, are afraid of being infected with the coronavirus or are delaying all non-urgent care until the pandemic is under control.
Americans are headed back to the doctor's office as health care visits rebound from a sharp decline this spring, when non-urgent care ground to a halt as clinics and hospitals prepared to fight a wave of COVID-19 infections.
Yet a new Morning Consult poll indicates that while most of the public would be comfortable seeing their primary doctor for care unrelated to COVID-19, many are hesitant to go to the emergency room or see other types of providers, including mental health specialists, with little change since a July survey on the matter. The findings are another "canary in the coal mine" that the health care landscape has been altered for the foreseeable future — perhaps permanently — and that the industry should rethink its approach to health care access during the pandemic and beyond, public health advocates and medical professionals said.
"I remember when you could go to the gate at an airport to meet your family coming off a flight. After 9/11, that never went back to normal," said Dr. Brian Castrucci, president and chief executive of the de Beaumont Foundation, a public health nonprofit. "There's going to be a necessity to define a new normal, and I think these data suggest that medical providers need to think through, what's the role of technology and telehealth?"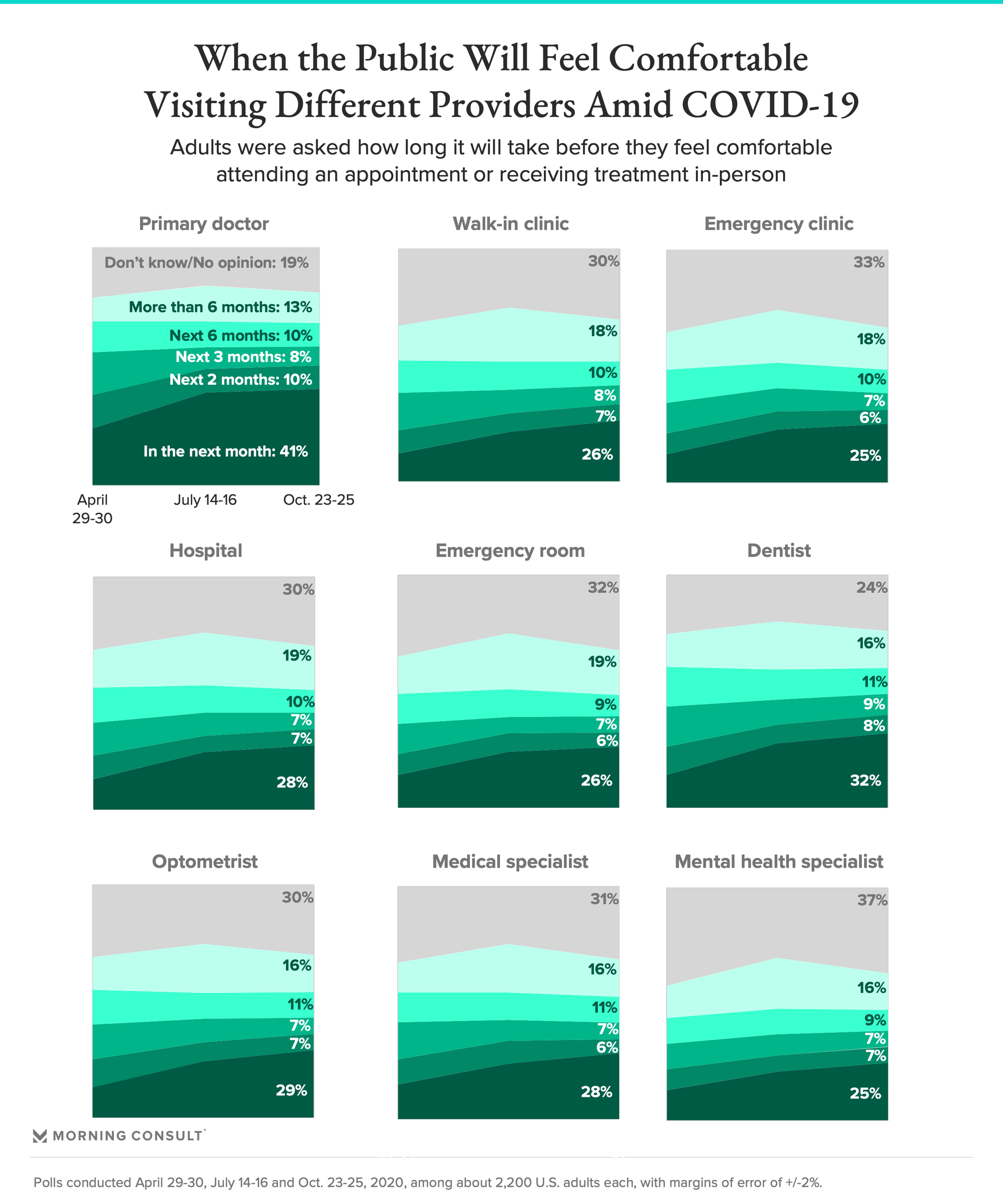 In the Oct. 23-25 poll, 68 percent of adults said they are very or somewhat likely to see their primary doctor in light of the pandemic, a higher likelihood than any of the other types of providers mentioned in the survey, which included hospitals, emergency rooms, walk-in clinics, emergency clinics, dentists, optometrists, specialists like dermatologists or oncologists and mental health providers. Among parents, 43 percent said they are likely to see a pediatrician.
The most recent survey was conducted among 2,199 adults and has a margin of error of 2 percentage points.
All provider categories have seen an uptick of 16 to 26 percentage points since April, when 39 percent of adults said they'd seek primary care and 19 percent said they'd see a specialist. But comfort levels in seeing some providers have not changed as drastically since July.
"It really concerned me that there were still so many people that wouldn't go see a primary care physician," Dr. Susan Bailey, president of the American Medical Association, said of the findings. Delayed screenings for cancer and other conditions, for example, could "result in diagnoses that are made later than they should have been, and cases that are going to be more difficult to treat because we waited so long."
Some adults are actively delaying going to the doctor, the poll shows, with 13 to 19 percent of adults saying it will be six months or longer before they seek various types of health care. The top reasons people said they wouldn't seek care is that they don't anticipate needing to see a doctor, are afraid of being infected with the coronavirus or are delaying all non-urgent care until the pandemic is under control.
That's not the case everywhere. Dr. Gail Guerrero Tucker, a family physician in Safford, Ariz., said her patient volume has mostly returned to normal since July, seemingly due to people feeling more comfortable coming in and her medical center's new telehealth offerings, which were nonexistent before the pandemic.
"We've advanced technology probably a good 10 years in six months, as we were forced to do," said Tucker, adding that her practice will "definitely" continue with telehealth after the pandemic.
Bailey also said post-pandemic health care delivery will rely more heavily on telehealth, though the extent that providers will be able to offer it will depend on whether regulations that were eased this spring remain in place after the public health emergency, as well as how much insurers will pay for telehealth visits. Some payers, including UnitedHealth Group Inc. and Anthem Inc., have begun rolling back coverage for virtual care.
"I think everybody now realizes how incredibly important it is and how much it improves access to medical care, but physicians can't do it if they don't get reimbursed for it," Bailey said.
Offering telehealth services isn't a silver bullet solution, though. Through August, physicians' average revenue had fallen 32 percent, the AMA said this week, and the increase in telehealth visits early on in the pandemic did not offset the drop in in-person patient visits. And in the survey, people were more likely to cite the fact that their doctor is only doing telehealth than not having access to telehealth as a reason they would choose not to seek health care.
"There are some barriers that even reimbursement and policy can't address perfectly with telehealth," said Polly Anderson, vice president of strategy and financing for the Colorado Community Health Network, which represents the state's community health centers.
The coming surge in demand for mental health treatment also will strain the U.S. health care system, Castrucci said, given the country is facing a looming shortage of mental health providers and mental health treatment is already often inaccessible to people without health insurance. Among all types of providers, adults were least likely to say they'd see a mental health specialist in the October survey, at 37 percent, which Castrucci said is reflective of the stigma around mental health issues and could prompt a shift toward more community-based mental health support, rather than a "somewhat outmoded" patient-provider model.
"Mental health, in a lot of ways, has become another luxury item in our nation," Castrucci said. "Those who have been most impacted by this pandemic may be the ones who have the least access to mental health services."
Gaby Galvin previously worked at Morning Consult as a reporter covering health.
We want to hear from you. Reach out to this author or your Morning Consult team with any questions or comments.
Contact Us