Why the Public Overlooks and Undervalues Tech's Power
Some experts say the tech industry is rapidly nearing a day of reckoning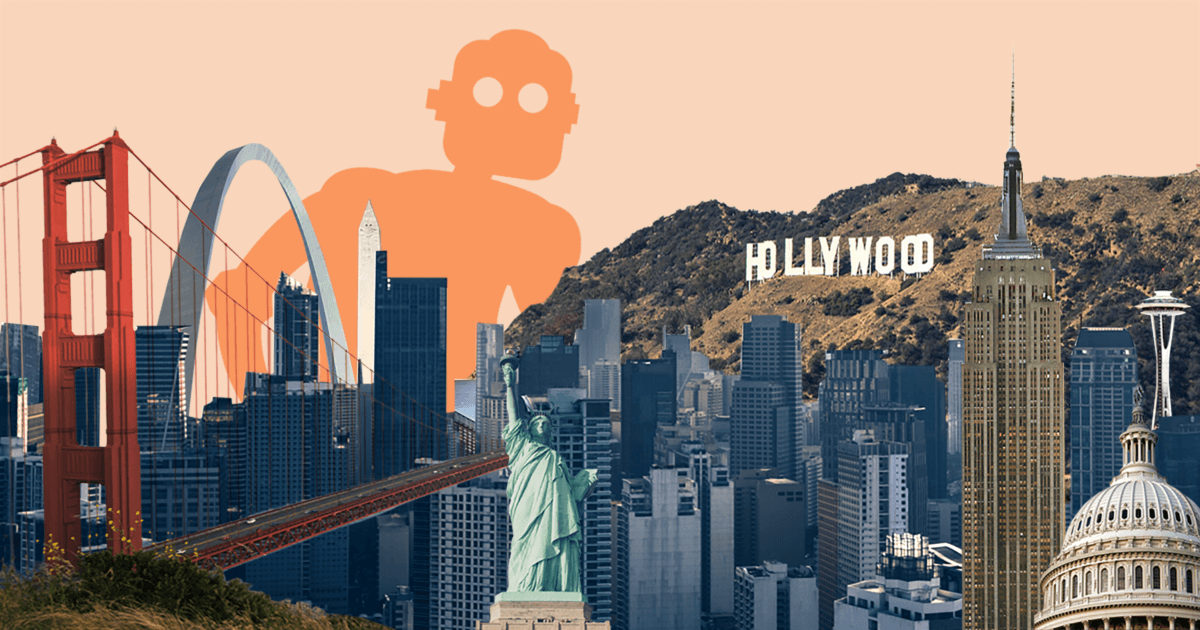 Key Takeaways
5% picked tech when asked which industry had the most power and influence, well behind the U.S. government, Wall Street and Hollywood.

Respondents were much more likely to say sexual harassment was a major issue in Hollywood (49%) and government (35%) than in Silicon Valley (17%).
It is difficult for Americans to escape the technology industry's influence in everyday life. Facebook Inc. reports that more than 184 million people in the United States log on to the social network daily, or roughly 56 percent of the population. According to the Pew Research Center, nearly three-quarters (73 percent) of all Americans and 94 percent of Americans ages 18-24 use YouTube. Amazon.com Inc.'s market value is now nearly three times that of Walmart Inc.
But when asked which geographic center holds the most power and influence in America, respondents in a recent Morning Consult survey ranked the tech industry in Silicon Valley far behind politics and government in Washington, finance on Wall Street and the entertainment industry in Hollywood.
Only 5 percent chose tech, compared to 38 percent for the government, 21 percent for Wall Street and 16 percent for Hollywood. The survey was conducted among 2,201 U.S. adults between Feb. 22-26, with a margin of error of 2 percentage points.
The disparity surprised many experts, including Timothy Karr, senior director of strategy and communications at the media and technology advocacy group Free Press.
"Silicon Valley is certainly more influential than Hollywood" in terms of impacting U.S. policy, Karr said during interviews in early March.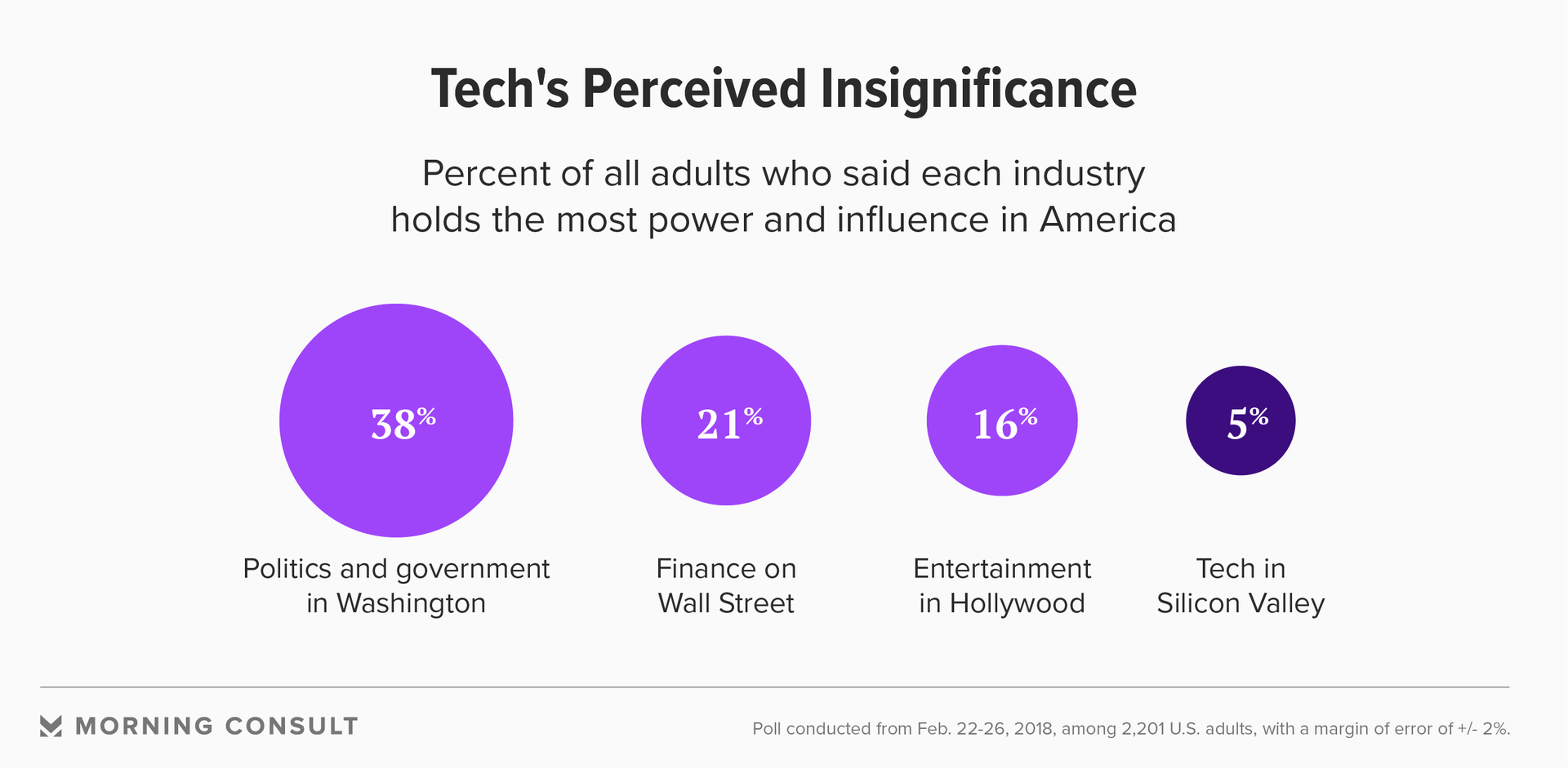 Close observers of the tech industry say the public's underrating of the tech industry has allowed the sector to operate relatively free of the scrutiny that the other power centers experience.
Indeed, these findings come after three tech giants -- Facebook, Google LLC and Twitter Inc. -- dominated headlines in fall 2017 when representatives from each company explained to congressional intelligence committees how Russian actors used their sites to spread misinformation during the 2016 presidential election.
But some experts say the tech industry is rapidly nearing a day of reckoning as big companies such as Facebook and Google come under increasing criticism for their ability to influence spaces outside of tech, with scrutiny growing over the industry's role in the 2016 U.S. presidential election and in smartphone addiction among youths.
Although the tech industry has been growing in Silicon Valley for at least 50 years, its pervasiveness is relatively new, said Margaret O'Mara, a professor of history specializing in tech at the University of Washington, in a March 1 phone interview.
The products that emerged from the Bill Gates era of consumer electronics were revolutionary at the time but didn't contain the disruptive nature of the platforms being built in the current Mark Zuckerberg era, O'Mara said, referring to the Microsoft Corp. and Facebook founders, respectively.
These industry changes occurred slowly, and that's why it is difficult for many consumers to accurately gauge the scope of the tech industry's influence, one expert said.
"When power is accumulated in ways that are not so obvious, it's fairly hard for people to stand up and say, 'Hey, we want you to do something different,'" said Blake Reid, a professor at the University of Colorado Law School who specializes in law, policy and technology, in a March 2 interview, contrasting this with Americans' outrage over something their legislator did or a new Hollywood film.
In fact, consumers will often turn to the platforms that tech built to voice outrage over said legislator or Hollywood film. In this way, tech has "a very soft sort of power" that is difficult for many consumers to grasp, Reid said.
The public overall sees the tech industry as less affected by major problems compared to other sectors, which experts credited to the industry's relatively low visibility as a power center.
Seventeen percent of U.S. adults in the Morning Consult poll said sexual harassment was a major issue in Silicon Valley, for example. That contrasts with the 49 percent who said the same of Hollywood.
While 94 percent of Hollywood women say they have experienced sexual harassment or assault, according to a USA Today survey published in February, the problem is also widespread in tech: 78 percent of female founders of tech startups said they have been or know someone who has been sexually harassed, per venture capital firm First Round's State of Startups 2017 report.
In fact, much fewer respondents in the Morning Consult poll said corruption, racism, white-collar crime and nepotism were a "major problem" in the tech industry than in the other three power centers.
"It is a little surprising to me that the numbers on sexual harassment and racism are so low," Reid said.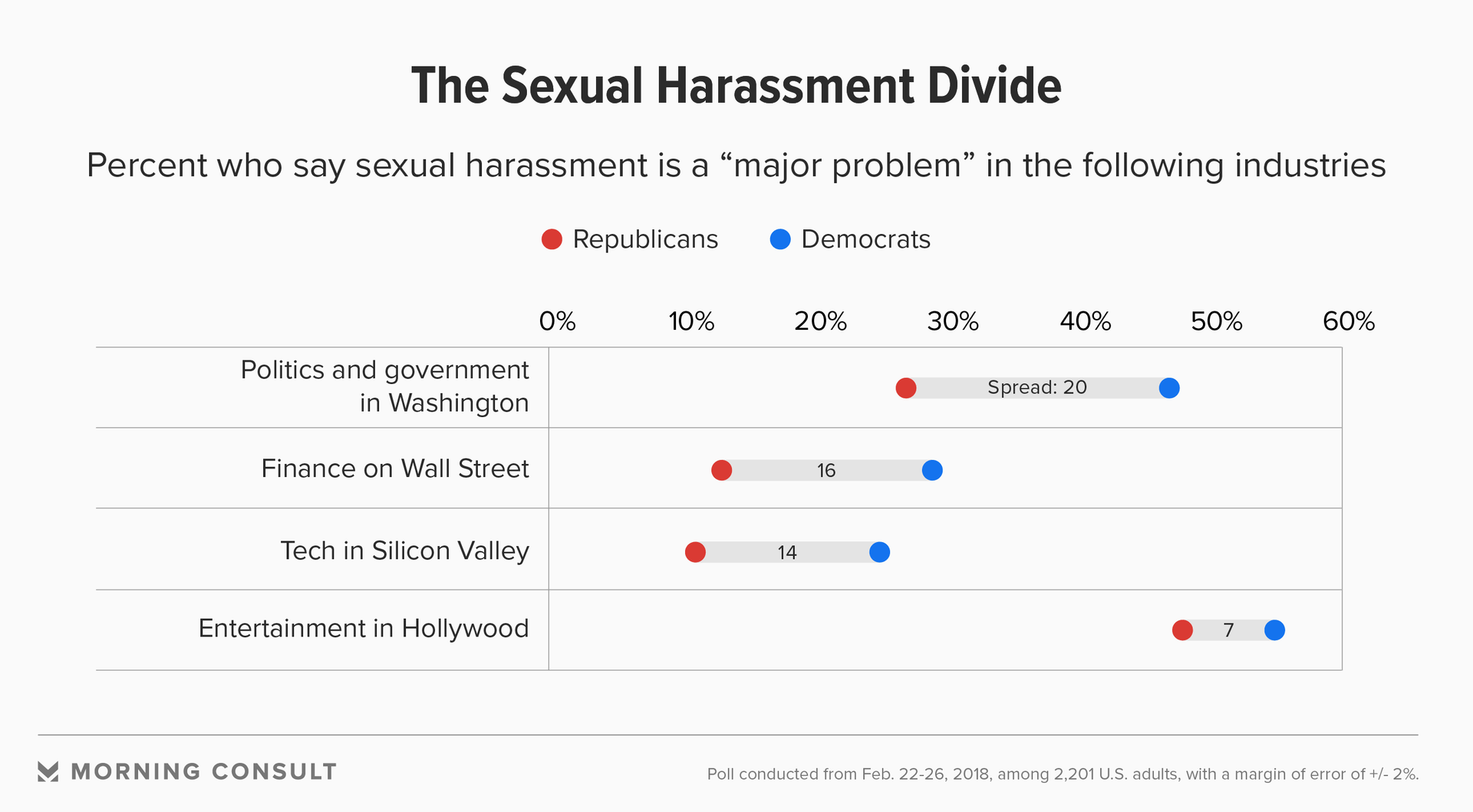 The Internet Association, which represents big tech firms including Google and Facebook, declined to comment for this story.
O'Mara said the Morning Consult poll reflects a "general 'golden child' image that the tech industry has managed to maintain for a really long time."
Five of the top tech companies enjoy high consumer favorability, according to Morning Consult Brand Intelligence: Google (87 percent), Amazon.com Inc. (86 percent), Microsoft Corp. (81 percent), Facebook Inc. (69 percent) and Apple Inc. (68 percent).
Americans have bought into the idea that tech is a neutral presence that ultimately helps them, but that view is starting to change, said Mark Muro, a senior fellow at the Brookings Institution's Metropolitan Policy Program who is an expert on technology ecosystems and economic development.
"What we're realizing now -- post-Russia tampering, post-online echo effect, post-recognition of fake news -- is that tech has subtly been influencing and shaping America for decades," Muro said in an interview earlier in March.
The government especially has been increasing awareness of the tech industry's power.
"There are a lot of eyes in D.C. on the tech companies," said Reid, especially after U.S. intelligence agencies concluded that Russian actors used Google, Facebook and Twitter to spread false news stories in an attempt to influence the 2016 U.S. presidential election.
"You have this weird bipartisan convergence, where the Republicans have long been suspicious of Silicon Valley having a lot of influence in D.C., and then you have the Democrats who are suddenly fairly angry at the companies for enabling this influence over the election," he said.
Representatives of each company testified in front of House and Senate Intelligence committees last fall that their companies have made internal changes to prevent a repeat of meddling and "fake news" — but no substantial legislation has emerged.
The American tech industry has been pushing back against a more interventionist stance adopted by European officials. For example, the European Commission issued new guidelines for quickly removing terrorist and other illegal content after it has been flagged by law enforcement.
If U.S. lawmakers follow in European regulators' footsteps, paradoxically, tech's "real power could actually decline, while the public perception of their power might actually increase,"  said Karr of Free Press.
The public's attitudes on tech regulation are changing quickly. Fifty-five percent said they are concerned that the government will not go far enough to regulate tech companies, according to an Axios-SurveyMonkey poll conducted Feb. 21-23, a 15-point jump since November 2017.
Any wider shift in how the public sees tech will heavily depend on how the media chooses to tell stories about Silicon Valley, Robert Asen, a professor of rhetoric, politics and culture at the University of Wisconsin-Madison, said in a March 5 interview.
"Are these stories of key actors in technology industries seeking advantage in the same way that culturally resonates for Americans to hear stories about Washington 'insiders' and Wall Street 'fat cats'?" he said. "Or, are these stories told in a way that still presents technology as this outside force and assigns blame elsewhere?"
Joanna Piacenza leads Industry Analysis at Morning Consult. Prior to joining Morning Consult, she was an editor at the Public Religion Research Institute, conducting research at the intersection of religion, culture and public policy. Joanna graduated from the University of Wisconsin-Madison with a bachelor's degree in journalism and mass communications and holds a master's degree in religious studies from the University of Colorado Boulder. For speaking opportunities and booking requests, please email [email protected].
We want to hear from you. Reach out to this author or your Morning Consult team with any questions or comments.
Contact Us