Arizona Stands Out From a Mostly Static Presidential Race in Battleground States
State-level polling trends reveal little recent change in 2020 contest, but Biden now leads by 10 in Arizona
Key Takeaways
Amid unrest in Kenosha, Wis., Biden leads Trump by 9 points, 52% to 43%.

Nationally, President Trump trails Joe Biden by 8 points among likely voters -- identical to a poll conducted before the Democratic National Convention earlier this month.

Biden saw his favorability improve to 51% after conventions concluded, while 55% continue to view Trump unfavorably.
Despite two weeks of party conventions and amid civil unrest prompted by the police shooting of Jacob Blake in Kenosha, Wis., the state of the race between President Donald Trump and Democratic presidential nominee Joe Biden stands largely unchanged from its pre-convention numbers in some of the country's most-contested states -- with the notable exception of Arizona.
While Biden was trailing the president in the Southwestern battleground by 2 percentage points in an Aug. 7-16 Morning Consult poll conducted before the Aug. 17 start of the Democratic National Convention, the former vice president has improved his margin over Trump by 12 points. 
According to the Aug. 21-30 survey of 943 likely Arizona voters, which has a 3-point margin of error, Biden leads Trump, 52 percent to 42 percent, driven by a 10-point increase in support among Arizona men, statistically tying him with Trump (49 percent to 45 percent), and a 7-point increase in support with suburban Arizonans, who now favor Biden by 9 points, 51 percent to 42 percent. He also leads among women (55 percent to 40 percent) and independents (51 percent to 37 percent) in the state.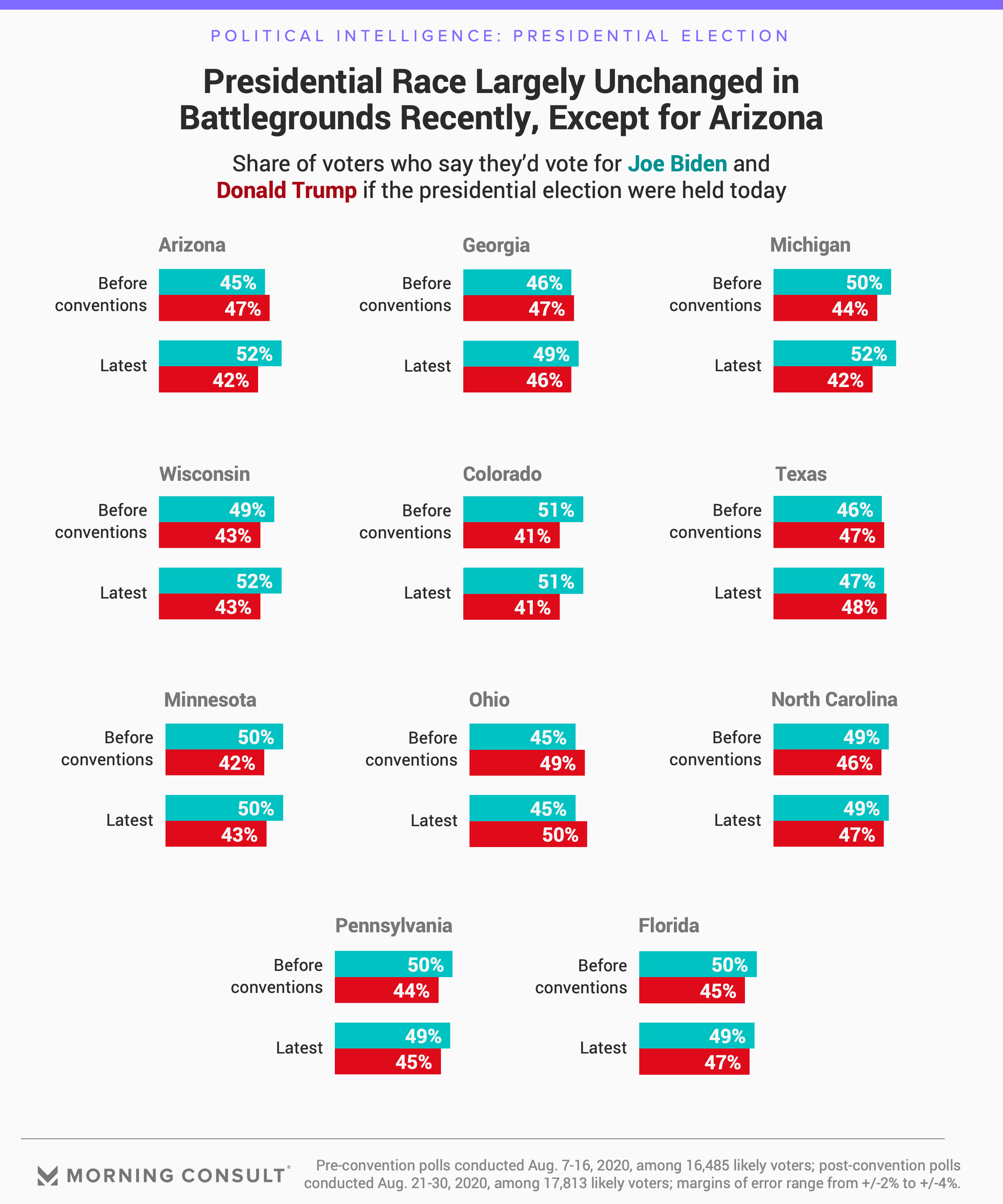 Biden's campaign has already spent millions in an effort to flip Arizona for the Democrats at the presidential level for the first time since 1996, and in the wake of the party's national convention, the Delawarean received a high-profile endorsement on Aug. 24 from former Arizona Sen. Jeff Flake, an anti-Trump Republican who retired in 2018. 
Biden's marked increase in support in the Grand Canyon State has not been matched in other battlegrounds compared to Morning Consult polling conducted before his party's confab. In Florida, Georgia, Minnesota, North Carolina and Pennsylvania, Biden's lead over Trump falls within the surveys' margins of error -- statistically unchanged since before the conventions -- while Trump holds a narrow lead (50 percent to 45 percent) in Ohio.
Biden continues to hold a sizable lead over Trump in Michigan (52 percent to 42 percent) and Colorado (51 percent to 41 percent).
And while Trump has sought to leverage to his electoral advantage the images of civil unrest that arose from the Aug. 23 Blake shooting, Biden leads Trump in Wisconsin by 9 points, 52 percent to 43 percent, in the latest polling, up 3 points since before the conventions but inside the two surveys' margins of error. As he does in Arizona, Biden holds an advantage over Trump among Wisconsin independents (52 percent to 32 percent), women (54 percent to 40 percent) and suburbanites (54 percent to 40 percent).
Additionally, trend data shows Biden's standing with white voters in the Badger State -- which Trump won by less than 1 point in 2016 --  is virtually unchanged since before the conventions and the unrest in Kenosha, regardless of the level of educational attainment: 44 percent of white voters without a college degree prefer Biden compared with 49 percent who said they'd vote for Trump, and Biden continues to hold a large lead over Trump among college-educated whites (59 percent to 38 percent).
Nationally, Biden continues to be on more solid polling ground than Democratic presidential nominee Hillary Clinton was four years ago, when she led Trump by 3 points following the conclusion of the national conventions.
The latest survey, conducted Aug. 28-30 among 12,966 likely voters, found Biden 8 points ahead of Trump, 51 percent to 43 percent. That includes a 12-point lead among women (53 percent to 41 percent), an 11-point lead among independent voters (48 percent to 37 percent) and an 11-point lead among voters in the suburbs (52 percent to 41 percent).
The figures, which are nearly identical to polling conducted Aug. 14-16, come after daily tracking of the head-to-head contest showed a narrow improvement in Trump's standing against Biden on Friday. That post-convention bump proved to be fleeting, with daily tracking on Saturday showing Trump trailing Biden 43 percent to 51 percent and Sunday's responses putting Biden back to a 9-point lead and 52 percent of the vote. The Saturday and Sunday polling came with respective 2- and 1-point margins of error. 
Similarly, movement away from Biden and toward Trump that was detected on Friday among white voters and suburbanites was short-lived, with the three-day survey showing no significant national shifts among those groups.
Compared to 2016, voters are 11 points less likely to be undecided (6 percent now vs. 17 percent then) heading out of the conventions, with just 2 percent of voters saying they'd choose "someone else" over either Biden or Trump.
A slim majority of voters in the latest survey (51 percent) have positive views of Biden, up 3 points since before the two conventions, with 46 percent viewing him unfavorably, down 2 points during the same time. Voter sentiment about Trump is statistically unchanged: A majority (55 percent) have negative views, while 43 percent have positive views.
Eli Yokley is Morning Consult's U.S. politics analyst. Prior to his current role, Eli was Morning Consult's senior reporter covering U.S. politics. Eli joined Morning Consult in 2016 from Roll Call, where he reported on House and Senate campaigns after five years of covering state-level politics in the Show Me State while studying at the University of Missouri in Columbia, including contributions to The New York Times, Politico and The Daily Beast. Follow him on Twitter @eyokley. Interested in connecting with Eli to discuss his analysis or for a media engagement or speaking opportunity? Email [email protected].
We want to hear from you. Reach out to this author or your Morning Consult team with any questions or comments.
Contact Us