Reality Is America's Least Favorite TV Genre -- Yet People Are Still Watching
Women had negative views of shows typically marketed to them
Key Takeaways
45% of adults said they have a favorable view of reality television, while 48% say they have an unfavorable view.

63% of women said there is "too much" reality television programming.

"Keeping Up with the Kardashians" has the lowest net favorability rating among women for all reality shows listed in a poll (minus 54 points).
Reality television has had a place on our small screens since the genre first appeared in Nielsen's top 10 rankings in 2000, when "Survivor" and "Temptation Island" dominated the airwaves.
But a new Morning Consult/The Hollywood Reporter survey shows that while U.S. adults continue to watch reality programming, their feelings on the genre are souring, with women in particular having unfavorable views of certain shows explicitly marketed to them. A 48 percent plurality of the poll's 2,200 respondents said they have an unfavorable view of reality television, the most among all the genres listed in the survey. 
Reality television also has the lowest net favorability compared to all genres (minus 3 points) -- the only category to garner a negative net favorability. Comedy (81 points), action/adventure (78 points), thriller/mystery (69 points) and drama (68 points) were the genres with the highest net favorability in the Nov. 15-18 survey.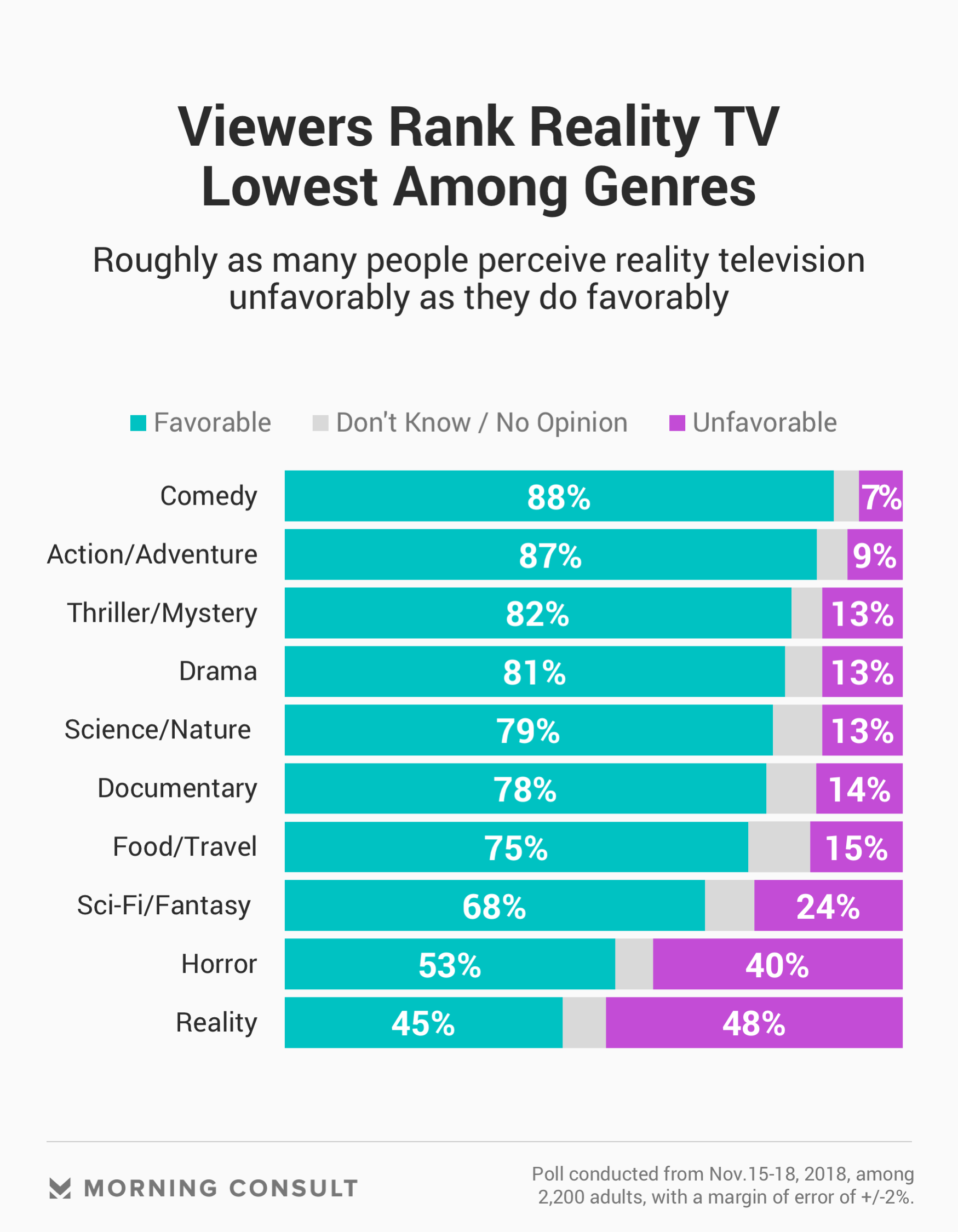 But people are still watching reality TV: Data from Oct. 28 to Nov. 18 shows that "Keeping Up with the Kardashians," various "Real Housewives" programs and "90 Day Fiancé" consistently ranked in the top 10 most-viewed cable shows among adults ages 18-49 on Sunday nights, according to TV By the Numbers, citing Nielsen figures.
The Morning Consult/The Hollywood Reporter poll, which has a margin of error of 2 percentage points, found that women were slightly more positive about reality television, with a 48 percent plurality saying their view of reality television was very favorable or somewhat favorable, compared to a 43 percent minority of men.
However, many shows that are typically marketed to women had negative net favorability among that demographic, including "Dance Moms" (minus 37 points), "The Bachelor" (minus 39 points), "The Bachelorette" (minus 43 points), "The Real Housewives" franchise (minus 43 points) and "Keeping Up with the Kardashians" (minus 54 points).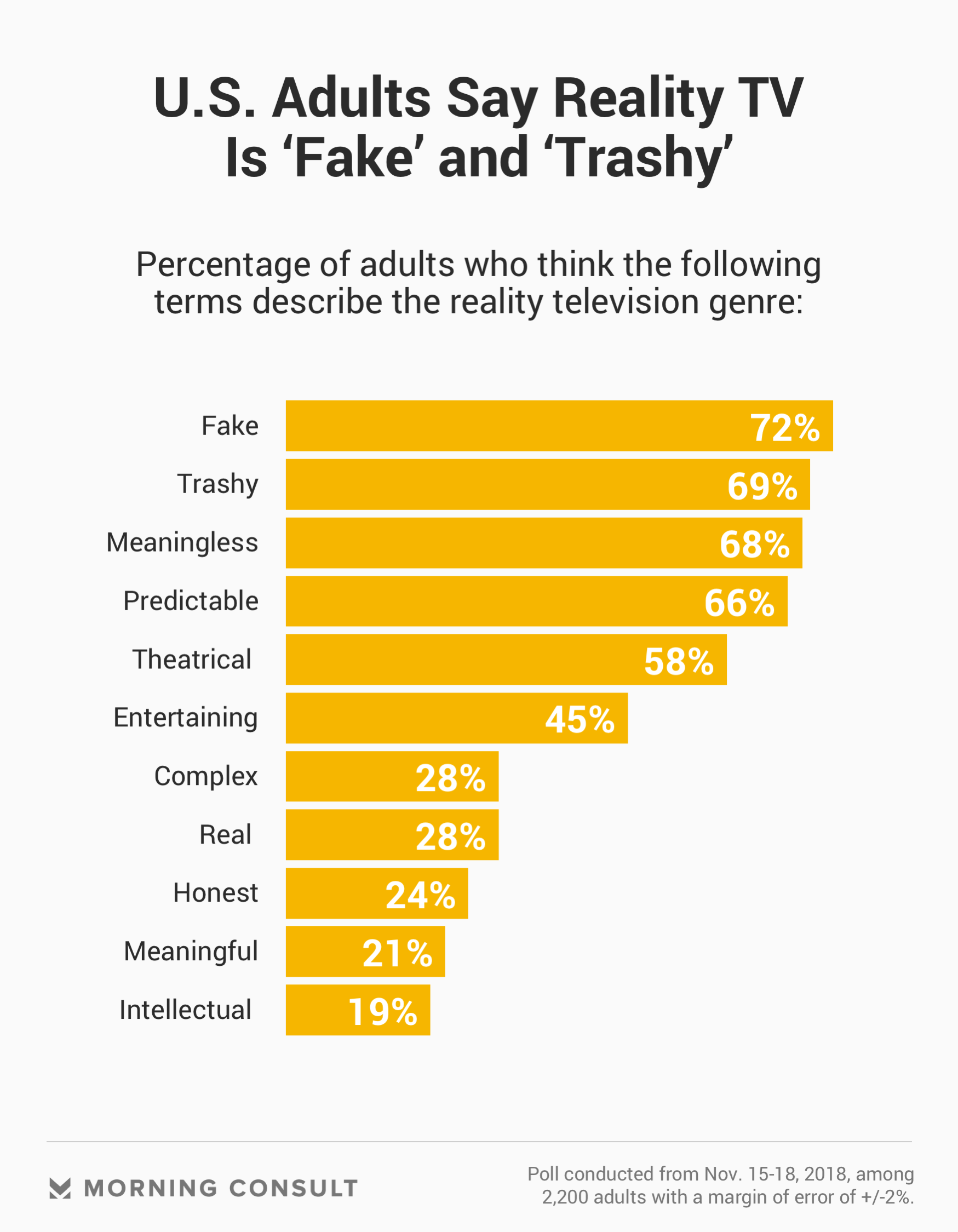 Women were also more likely to say there's "too much" reality TV -- 63 percent compared to 59 percent of men and 61 percent of all respondents. Women were also more likely (56 percent) to say that reality TV programming has gotten worse over the past three years compared to men (48 percent) and overall respondents (52 percent).
And yet NBCUniversal's Bravo, known for reality franchises like "The Real Housewives" and "Below Deck," has a loyal female fan base, saying in 2017 that it was the No. 1-rated cable network in prime time among women ages 18-49.
"Women sometimes watch reality shows even when they don't have favorable opinions of the genre partly because the pleasure of reality TV for some actually derives from scrutinizing the shows to determine how real they perceive them to be," said Zoë Druick, a professor of media studies at Simon Fraser University in Vancouver, by email Monday. "In other words, the pleasure may come from laughing at or criticizing the show and its participants, rather than from actually accepting and enjoying the content at face value. And sometimes the pleasure might come from an ambivalent mixture of them both."
Seventy-two percent of adults said that "fake" was an apt description of reality television, and 66 percent said the shows do not represent American society well.
However, "reality might not be as important as entertainment," said Wendy Patrick, a behavioral expert and Psychology Today columnist, in an email. "Even with a healthy appreciation that sensationalism sells, reality TV provides a method of escape that can provide a much-needed break from a hectic schedule."
The survey suggests the negative views of reality television may be limited only to certain subcategories of the genre. Views of competition shows were highly positive, with "America's Got Talent" (58 points), "The Voice" (46 points) and "Dancing with the Stars" (39 points) in particular having high net favorability among women. In 2017, the Tuesday evening show of "America's Got Talent" ranked higher in average number of viewers for a regularly scheduled program than scripted series "The Walking Dead," according to Nielsen.
Sarah Shevenock previously worked at Morning Consult as a reporter covering the business of entertainment.
We want to hear from you. Reach out to this author or your Morning Consult team with any questions or comments.
Contact Us