Rebuilding the Levi's Brand
Nothing comes between America and its Levi's, despite the company's struggles with its identity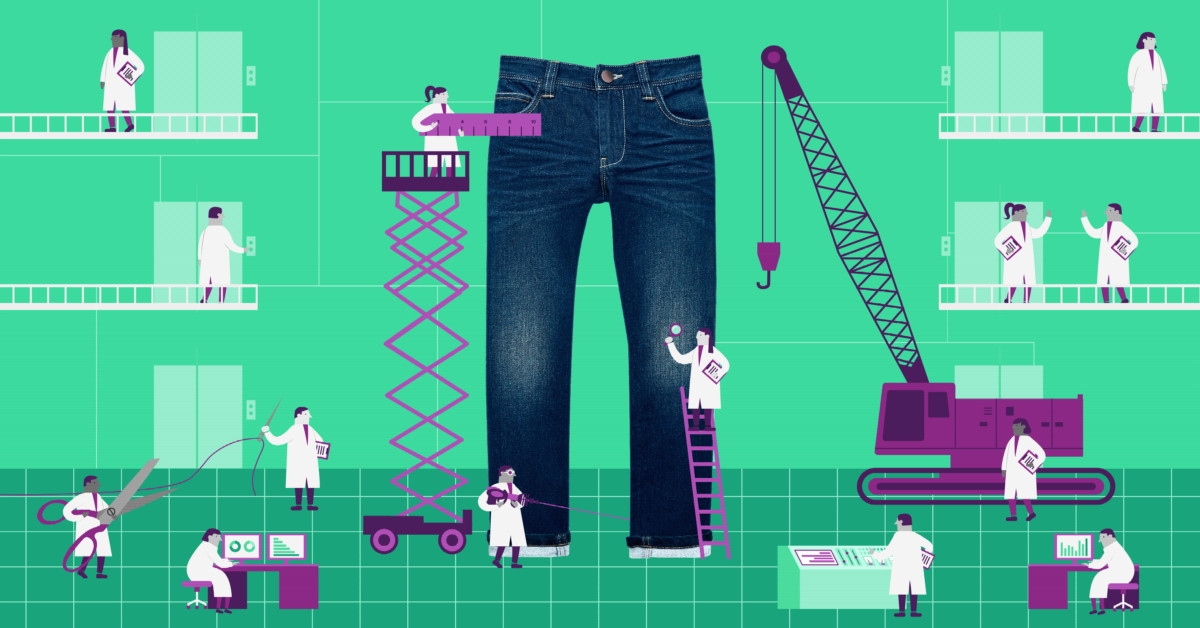 Key Takeaways
Levi's net favorability comes in at 72, 20 percent higher than its closest denim competitors.

53 percent of men said they're "absolutely certain" or "very likely" to buy from Levi's, but that drops to 45 percent among women.

More than half (52 percent) of the country wears jeans four or more days a week, including 22 percent who wear jeans every day.
Public opinion on one of the country's most iconic denim brands isn't fading, but the company is still working on patching up some tears in its brand identity.
Levi Strauss & Co., one of the oldest companies Morning Consult tracks in its Most Loved Brands list, leads all U.S. denim brands with a net favorability ranking of 72.
That's at least 20 percent higher than the net favorability of VF Corp.'s Lee and Wrangler brands and nearly double the average of Levi's top seven tracked competitors.
Americans' purchasing consideration for the nearly 165-year-old company is also quite high. Morning Consult Brand Intelligence data, which includes poll responses from more than 250,000 consumers, shows that nearly half say they're absolutely certain (24 percent) or very likely (25 percent) to purchase something from Levi's. Only one-quarter said the same of Gap Inc. products.
"The value of just being Levi's is enormous," said Christian D. Bruun, writer and director of "Blue Gold: American Jeans," which chronicles the history of dungarees, in an interview on April 5. But he and others said the company can't rely on just being a nostalgic brand.
Levi's has had a rocky financial decade, thanks to bets that are too safe, stagnant styles and the rise of athletic fashion, and experts say the brand has struggled to figure out its identity.
"For some reason, they've had a hard time finding their own identity," Bruun said. "They were caught between a legacy and deciding to be fresh and cool."
New reports, however, say the denim industry, including Levi's, is poised for a comeback, though the brand will need to constantly innovate moving forward and navigate being both trendy and nostalgic.
The Levi's Appeal
Blue jeans had been around for decades when tailor Jacob Davis and business partner Levi Strauss were granted a patent for their version of the blue jean in 1873, which added one important detail that would shape the future of denim. They reinforced jeans, known as "waist overalls" at the time, with copper rivets, making their jeans sturdier for the miners and other workmen who were wearing denim at the time.
"We all fell in love with mining pants," said Bruun with a laugh, crediting Hollywood figures like Marlon Brando, James Dean and John Wayne for elevating denim from work pants to its current iconic status.
After Davis and Strauss' patent expired in 1890, the denim market expanded, and Levi's faced competition it had never had before.
As a result, Bruun said, Levi's embarked on one of the first massive branding efforts in America, distinguishing itself from its competition by sewing on tan leather patches and red tags with the Levi's logo on the back of its jeans.
Today, more than half (52 percent) of the U.S. adult population wears jeans four or more days a week, including 22 percent who wear jeans every day, per a Morning Consult survey.
But they aren't necessarily wearing Levi's.
Levi's net revenue over the past decade has been fairly unstable, swinging to an annual rise of 8 percent and to an annual decline of 8 percent in that period. Levi's did not respond to requests for comment for this story.
During this period, Levi's was playing it safe by relying on its brand equity and not necessarily prioritizing innovation, said Adheer Bahulkar, lead partner of U.S. retail for the consultant firm A.T. Kearney Inc., in an interview on April 10.
The one upside to being risk averse, however: "Because they haven't taken big risks, they haven't had big mistakes," he said.
Therein lies one of Levi's biggest dilemmas, Bahulkar said, one that's applicable to many enterprise companies: Should Levi's bank on its high-brand affinity and loyal base, knowing customers aren't buying its products as much as they used to, or should the company take more innovative risks to grow its market in the United States, knowing that failures could dilute the Levi's brand?
Frozen trends, hot athleisure
The denim industry overall has been suffering over the past decade.
"The denim sector in the U.S. right now is very much running fast to stay in the same place," Bahulkar said.
But he added that this is not necessarily a bad thing, considering the growth of athleisure, or athletic wear for leisure, which has one of the biggest challenges denim has faced in recent years.
The trend, which began around 2010 according to a September 2017 Wells Fargo & Co. research note, recently hit a major milestone in its battle against denim: U.S. imports of elastic knit pants, or stretchy leggings, outpaced those of blue jeans in 2017 for the first time, according to a March 2018 Quartz report of U.S. Census data.
Morning Consult polling shows how much ground athleisure has covered in the short period of time it has been popular. More than three in 10 (31 percent) said they can be found wearing athleisure on the weekends, 20 percentage points behind those who say they're in denim on the weekends (51 percent).
The denim industry has also suffered from an absence of new trends, said Deborah Weinswig, founder and CEO of the retail think tank Coresight Research.
"Skinny jeans are the trend that refuses to die, even if the fashion press intermittently forecasts their coming demise," she said in an email on April 9. "For brands and retailers, the longevity of this trend has stifled trend-driven growth in the market and has made the market more driven by replacement purchases than when jeans styles were changing at a faster pace."
But denim is starting to recover.
Levi's reported an 8 percent year-over-year increase in net revenue in the 2017 fiscal year, which ended Nov. 26, and the company increased its full-year 2018 revenue growth forecast to the 6-8 percent range in its first-quarter earnings report on April 10.
Market research company The NPD Group Inc. issued a June 2017 report that valued the U.S. women's and men's jeans market at $13.5 billion in 2016, representing a 4 percent increase in sales.
Brands in low-end and high-end markets are revitalizing their denim lineup: Target Corp. announced a new denim-focused line called Universal Thread earlier this year, and high-end retailer Alice + Olivia LLC rolled out a denim line called AO.LA in late 2017.
Manny Chirico, the chairman and chief executive of apparel giant PVH Corp., which owns brands like Tommy Hilfiger U.S.A. Inc. and Calvin Klein Inc., said during an earnings call in March that the company was benefiting from a surge in denim's popularity.
Understanding the Levi's Identity
Crucial to Levi's forward momentum is the company understanding its customer and its identity, experts said -- more specifically, that Levi's should continue to refocus its attention on women, further embrace its position as an authentic, established brand while continuing to innovate.
The jeans company relaunched its women's denim collection in 2015, focusing on fit and adding stretch, both elements that experts said other denim brands were beating Levi's at in terms of female-driven merchandise.
"If you lose women, the whole category tends to suffer," A. T. Kearney's Bahulkar said.
And Levi's has room to grow here, according to Morning Consult Brand Intelligence: While 53 percent of men said they're "absolutely certain" or "very likely" to buy from Levi's, that number drops to 45 percent among women.
The company also launched its Authorized Vintage line in November 2017, a collection of 65,000 exclusive, decades-old denim pieces, available in New York and San Francisco locations.
Levi's announced in February it was replacing manual finishing of its denim with lasers to achieve that vintage, worn-in look found in vintage Levi's for those who can't afford the real thing.
While leaning into such brand nostalgia is important, Bahulkar said heritage brands like Levi's, and the larger industry overall, need to continuously innovate to stay relevant, or denim runs the risk of becoming just a replenishment item.
"What's fascinating about jeans is that they have to reinvent the same thing over and over and over again," said Bruun, and that's no easy task, especially for a company that's been around as long as Levi's.
Joanna Piacenza leads Industry Analysis at Morning Consult. Prior to joining Morning Consult, she was an editor at the Public Religion Research Institute, conducting research at the intersection of religion, culture and public policy. Joanna graduated from the University of Wisconsin-Madison with a bachelor's degree in journalism and mass communications and holds a master's degree in religious studies from the University of Colorado Boulder. For speaking opportunities and booking requests, please email [email protected].
We want to hear from you. Reach out to this author or your Morning Consult team with any questions or comments.
Contact Us