Republicans Drive Biggest Decline in Voter Optimism Since Trump Took Office
Record drop isn't matched by a similar decrease in president's approval rating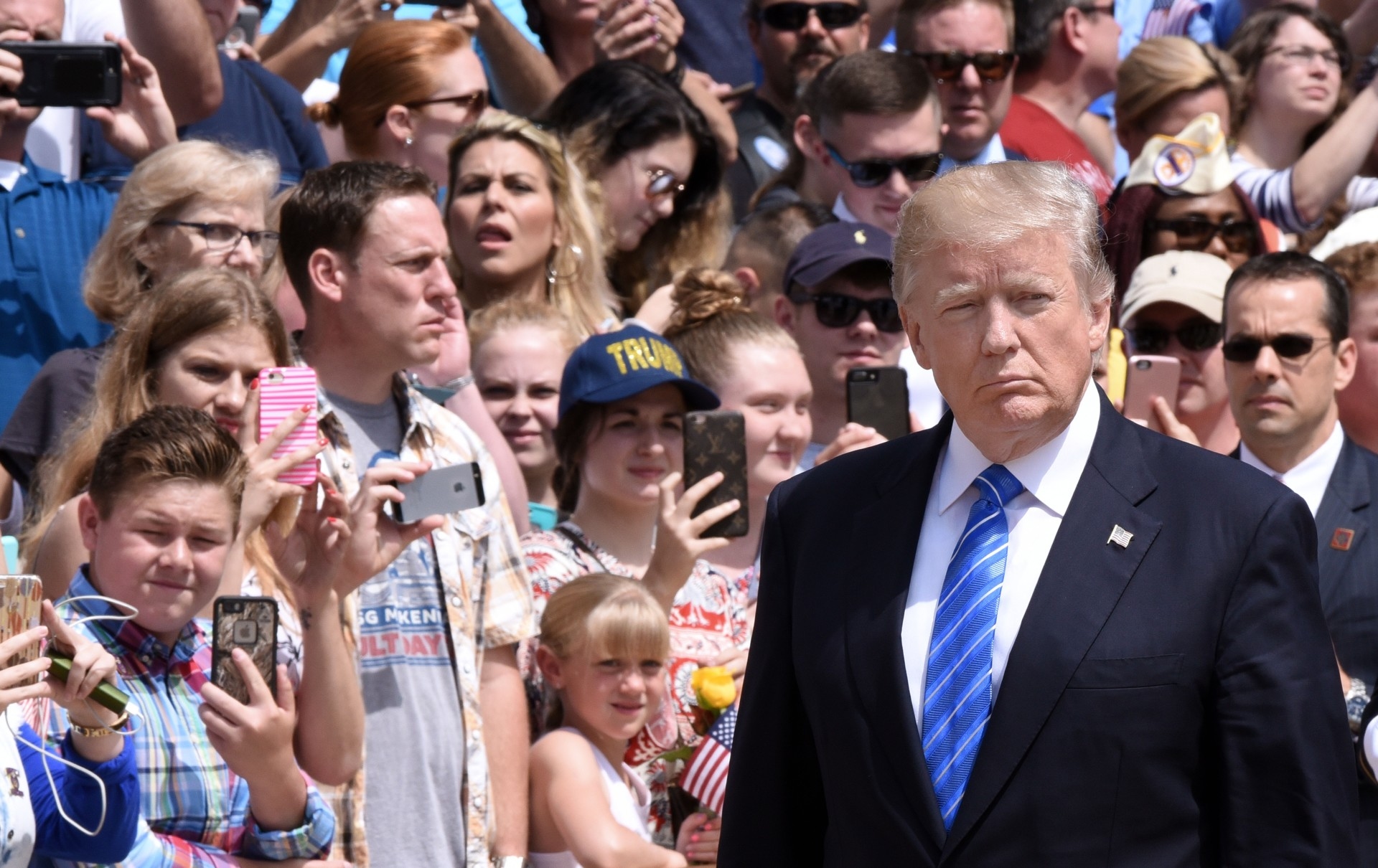 Key Takeaways
66% of voters this week had a negative view of where the country is headed, while 34% said things are moving in the right direction.

Among Democrats, approval in the latest poll slid a negative net 8 points, compared with a 14 point drop for independents.

The record decline was accompanied by a negative 4 point swing in Trump's job performance.
Voter optimism about the direction of the country just saw its biggest one-week decline of Donald Trump's presidency.
The disparity between registered voters who said things are moving in the right direction and those who said the country is on the wrong track plunged 16 net points, according to Morning Consult/Politico polling, exceeding the previous record that was set after the deadly protests in Charlottesville, Va., and Trump's controversial response.
The most recent poll, conducted March 26-27 among a national sample of 1,997 registered voters, found that 66 percent of respondents had a negative view of where the country is headed, while 34 percent said things are moving in the right direction. In a March 15-19 poll, those figures were 58 percent negative and 42 percent positive.
The record decline was accompanied by a negative 4 point swing in Trump's job performance, with his approval rating dropping 2 points, to 42 percent, and his disapproval climbing by the same amount, to 53 percent. The margin of error for the two most recent surveys is plus or minus 2 percentage points.
But while Trump's overall rating was little changed among GOP voters -- falling 1 percentage point to 80 percent on the approval front and increasing the same amount, to 17 percent, in disapproval -- there was a 22 point negative swing on the right direction/wrong track question, with 64 percent of Republicans saying the country is moving in the right direction and 36 percent taking the opposing view. In the March 15-19 survey, 75 percent of GOP voters were optimistic and 25 percent were pessimistic.
Among Democrats, net approval in the latest poll slid 8 points, while independents had a 14 point decline.
The previous record decline -- a negative 14 point swing in net voter optimism in an Aug. 17-19 poll -- was accompanied by a 9 point drop in Trump's net approval, including a 16 point drop among Republicans. GOP voter negativity back then was due in part to Trump "saying inflammatory things that make him look unpresidential," said David Azerrad, director of the Heritage Foundation's B. Kenneth Simon Center for Principles and Politics.
This time around, though, public opinion and political experts interviewed on Thursday struggled to reach consensus on why voter optimism declined so significantly.
Henry Olsen, senior fellow at the conservative Ethics & Public Policy Center, said the drop could be attributed to volatility in the stock market or recent developments regarding a potential conflict with North Korea.
The Dow Jones Industrial Average dropped 5.7 percent last week. During the same time period, Trump ousted H.R. McMaster as his national security adviser and replaced him with former U.N. Ambassador John Bolton, a hawkish conservative who has argued for a military strike against North Korea. On Saturday, thousands of people gathered in Washington for the student-led March for Our Lives, which focused on gun control and garnered national media coverage.
Kyle Kondik, managing editor of Sabato's Crystal Ball at the University of Virginia Center for Politics, said the Stormy Daniels controversy -- which was featured prominently in a March 25 interview on CBS' "60 Minutes" -- may be "depressing" voters, even if that's not reflected in Trump's approval numbers.
"I do believe that -- even though it's usually negative -- these right direction/wrong track trends matter, and may give us more of a 2020 sense than a 2018 sense," he said, referencing Trump's re-election bid.
From Azerrad's perspective, the president's supporters might be giving him some slack on the right direction/wrong track question, viewing it as "Trump against the swamp" in Washington.
The White House did not respond to a request for comment.
Cameron Easley contributed.
Eli Yokley is Morning Consult's U.S. politics analyst. Prior to his current role, Eli was Morning Consult's senior reporter covering U.S. politics. Eli joined Morning Consult in 2016 from Roll Call, where he reported on House and Senate campaigns after five years of covering state-level politics in the Show Me State while studying at the University of Missouri in Columbia, including contributions to The New York Times, Politico and The Daily Beast. Follow him on Twitter @eyokley. Interested in connecting with Eli to discuss his analysis or for a media engagement or speaking opportunity? Email [email protected].
We want to hear from you. Reach out to this author or your Morning Consult team with any questions or comments.
Contact Us