Sanders Supporters Look Less Likely to Defect This Year Than in 2016
But they're not as loyal to Biden as the average Democrat
Key Takeaways
Democratic voters were 8 points more likely than Bernie Sanders backers to say they'd vote for Joe Biden in November.

7% of Sen. Bernie Sanders' supporters say they'll vote for President Trump in November vs. 12% estimated to have done so in 2016.

Biden supporters are only slightly more likely than Sanders supporters to say that they would back the other candidate over Trump.
Sen. Bernie Sanders acknowledged last week that he was losing the Democratic presidential race, but insisted that he will stay in to press his rival, former Vice President Joe Biden, on issues dear to the Vermont independent's supporters, who are the party's youngest and most liberal voters.
The March 11 remarks from Burlington signaled that Sanders aims to pull the front-runner leftward during the remainder of the nominating process, leaving the Biden campaign to decide how far it should go in securing support from Sanders die-hards without alienating the broader pool of general-election voters. A new Morning Consult poll tracking the race finds Sanders supporters are less likely than the average Democrat to say they will back Biden in an increasingly likely matchup against President Donald Trump in November -- but compared to four years ago, there appears to be less danger that they'll defect to the incumbent Republican. 
The survey, conducted March 11-15, found 82 percent of the voters who are supporting Sanders in the Democratic primary said they would vote for Biden if the presidential election were held today, compared to 7 percent who said they would back Trump. 
While the numbers have been relatively stable since the nominating contests began, the gap between Sanders supporters and Democratic voters has widened since polling conducted ahead of the Iowa caucuses.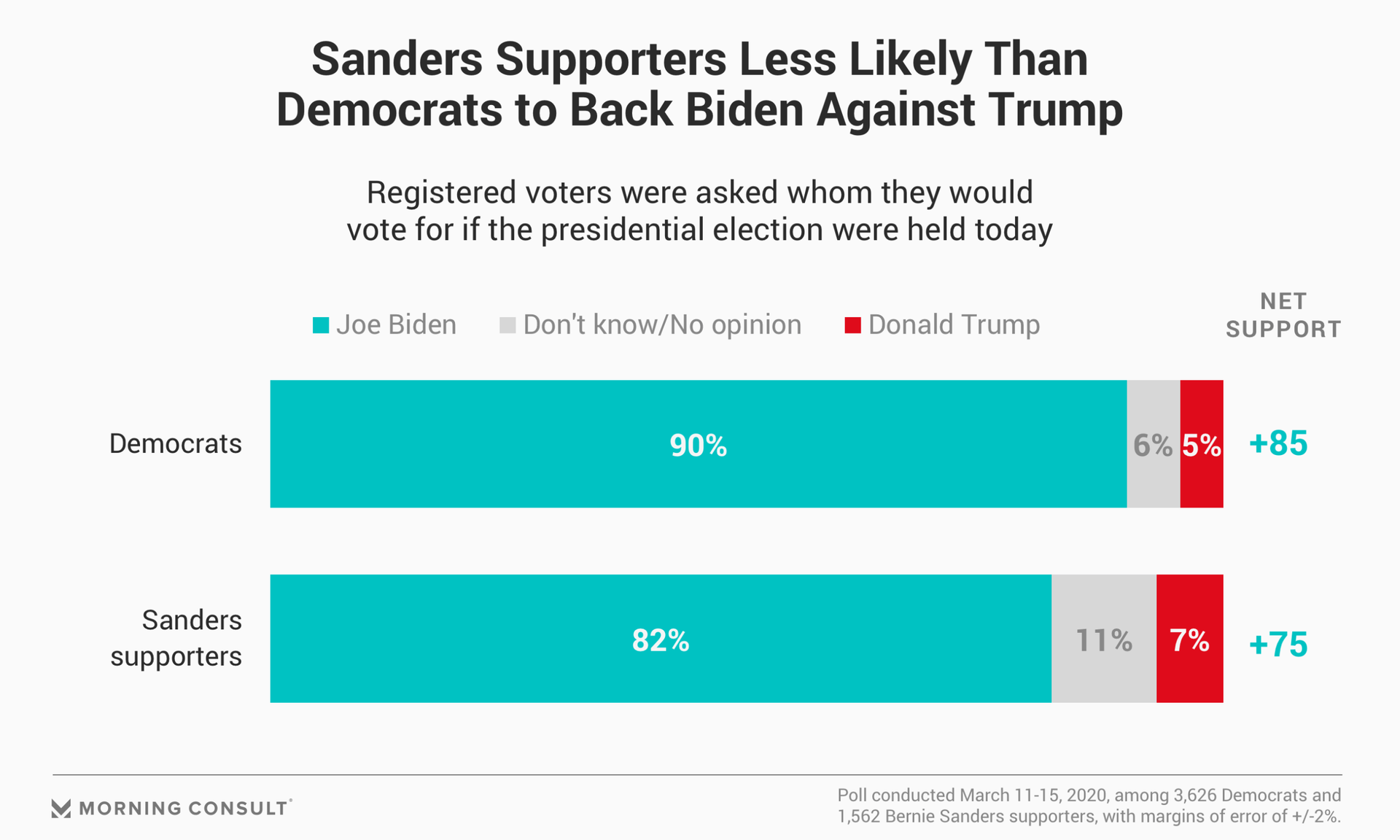 However, that 7 percent of Sanders supporters who say they'd back Trump is significantly smaller than the share estimated to have voted for Trump in 2016. Tufts University political scientist Brian Schaffner and The Democracy Fund Voter Study Group both found that roughly 12 percent of voters who supported Sanders in the 2016 Democratic primary against Hillary Clinton ended up backing Trump at the ballot box in the general election.
Additionally, the polling found Biden supporters are only slightly more likely than Sanders supporters to say that they would back the other candidate over Trump, 85 percent to 5 percent.
The survey collected responses among 3,626 Democratic voters and 1,562 Democratic primary voters who are supporting Sanders, with 2-point margins of error for each of those samples.
Though the numbers suggest some cause for concern in the Biden campaign, it also shows Democrats -- overwhelmingly focused on ousting Trump -- may have an easier time uniting around a standard bearer in 2020. 
Since Sanders' March 11 news conference, Biden has stopped short of signing onto the democratic socialist's signature "Medicare for All" health care proposal. But he did extend an olive branch to the left in the form of Sanders' free college proposal and Massachusetts Sen. Elizabeth Warren's plan to overhaul bankruptcy laws.
Sanders, for his part, has pledged throughout the campaign to support the Democratic nominee, doing so again at Sunday night's debate, where he said he's "prepared to come together to do everything humanly possible to defeat Donald Trump."
Eli Yokley is Morning Consult's U.S. politics analyst. Eli joined Morning Consult in 2016 from Roll Call, where he reported on House and Senate campaigns after five years of covering state-level politics in the Show Me State while studying at the University of Missouri in Columbia, including contributions to The New York Times, Politico and The Daily Beast. Follow him on Twitter @eyokley. Interested in connecting with Eli to discuss his analysis or for a media engagement or speaking opportunity? Email [email protected].
We want to hear from you. Reach out to this author or your Morning Consult team with any questions or comments.
Contact Us