Graham Takes Lead Over Harrison in South Carolina Amid Supreme Court Confirmation Fight
New poll shows Senate Judiciary Committee chairman ahead by 6 points
Key Takeaways
Republican Sens. David Perdue of Georgia, John Cornyn of Texas have also improved their standing since Justice Ruth Bader Ginsburg died on Sept. 18.

Meanwhile, Democrats have expanded their lead in Colorado, and maintain the upper hand in Arizona, Michigan and North Carolina.
South Carolina Sen. Lindsey Graham has opened up a lead over Jaime Harrison following the death of Supreme Court Justice Ruth Bader Ginsburg, becoming one of a handful of Republican incumbents to see his standing improve amid the fight over appointing a new justice to the high court.
New Morning Consult Political Intelligence tracking conducted Oct. 2-11 found Graham leads his Democratic opponent by 6 percentage points, 48 percent to 42 percent, among 903 likely voters in South Carolina -- a notable improvement from his margins over the past few months, when he was either trailing or tied with his well-funded challenger. The latest poll has a margin of error of 3 points.
The polling comes amid a tougher than expected contest for the third-term senator. He was already a national target of liberal outrage for his role in the confirmation fight for Supreme Court Justice Brett Kavanaugh in 2018, but the left's ire grew as the Senate Judiciary Committee chairman prepared to take a starring role in the effort to replace Ginsburg with President Donald Trump's nominee, Judge Amy Coney Barrett.
Democrats have hoped to use the Supreme Court fight to fire up opposition to a number of Republican incumbents. While the issue has been a fundraising boon in the party's effort to take back the Senate majority, polling shows it also appears to be aiding incumbent Republicans in states viewed as a reach for the Democratic Party.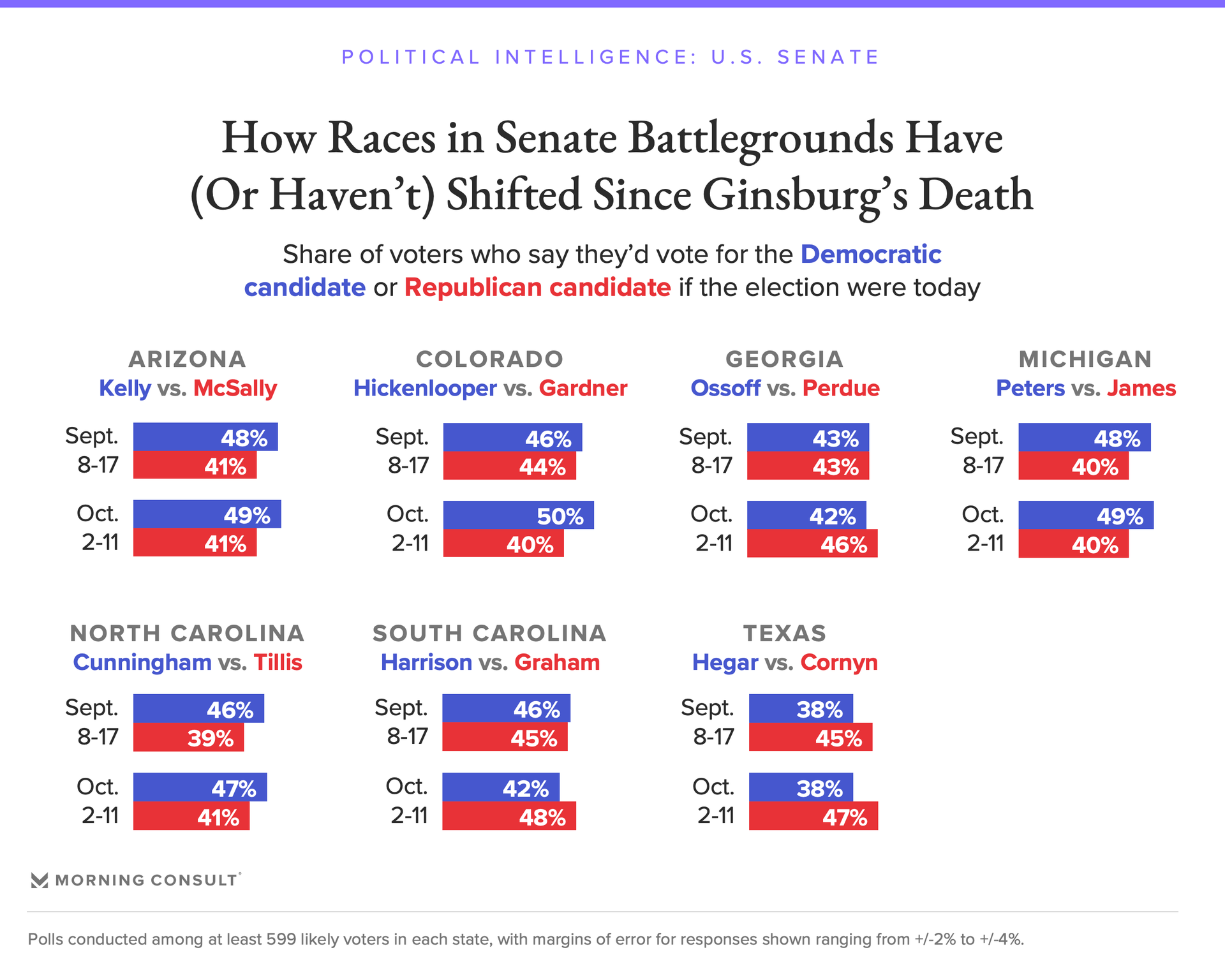 In Georgia, for example, Republican Sen. David Perdue, who previously faced a tied contest against Democrat Jon Ossoff in the days prior to Ginsburg's Sept. 18 death, now leads his opponent, 46 percent to 42 percent. And Texas Sen. John Cornyn, a senior Republican and member of the Judiciary Committee, holds a 9-point lead against his Democratic challenger MJ Hegar, 47 percent to 38 percent, a slight improvement from his 7-point advantage in the September polling.
But those three states are not must-wins for Democrats seeking to secure a Senate majority, and polling continues to show the party on decent footing in more reachable races. 
In Colorado, the latest poll found Sen. Cory Gardner -- the chamber's most vulnerable Republican -- trails former Gov. John Hickenlooper (D) by 10 points, 40 percent to 50 percent, compared to a 2-point deficit last month. 
Democrats also continue to lead in Arizona, Michigan and North Carolina, though they're on the strongest footing in the matchup between Sen. Gary Peters (D-Mich.) and Republican John James. In North Carolina, Democrat Cal Cunningham leads incumbent Sen. Thom Tillis by 6 points in polling conducted amid reverberations from a scandal in which Cunningham admitted to exchanging romantic text messages with a woman other than his wife.
Eli Yokley is Morning Consult's U.S. politics analyst. Prior to his current role, Eli was Morning Consult's senior reporter covering U.S. politics. Eli joined Morning Consult in 2016 from Roll Call, where he reported on House and Senate campaigns after five years of covering state-level politics in the Show Me State while studying at the University of Missouri in Columbia, including contributions to The New York Times, Politico and The Daily Beast. Follow him on Twitter @eyokley. Interested in connecting with Eli to discuss his analysis or for a media engagement or speaking opportunity? Email [email protected].
We want to hear from you. Reach out to this author or your Morning Consult team with any questions or comments.
Contact Us