Graham Is Weak With GOP Voters. Strategists Think Another Supreme Court Fight Will Help
84% of GOP voters in S.C. back the Senate Judiciary chairman, compared with 93% who back Trump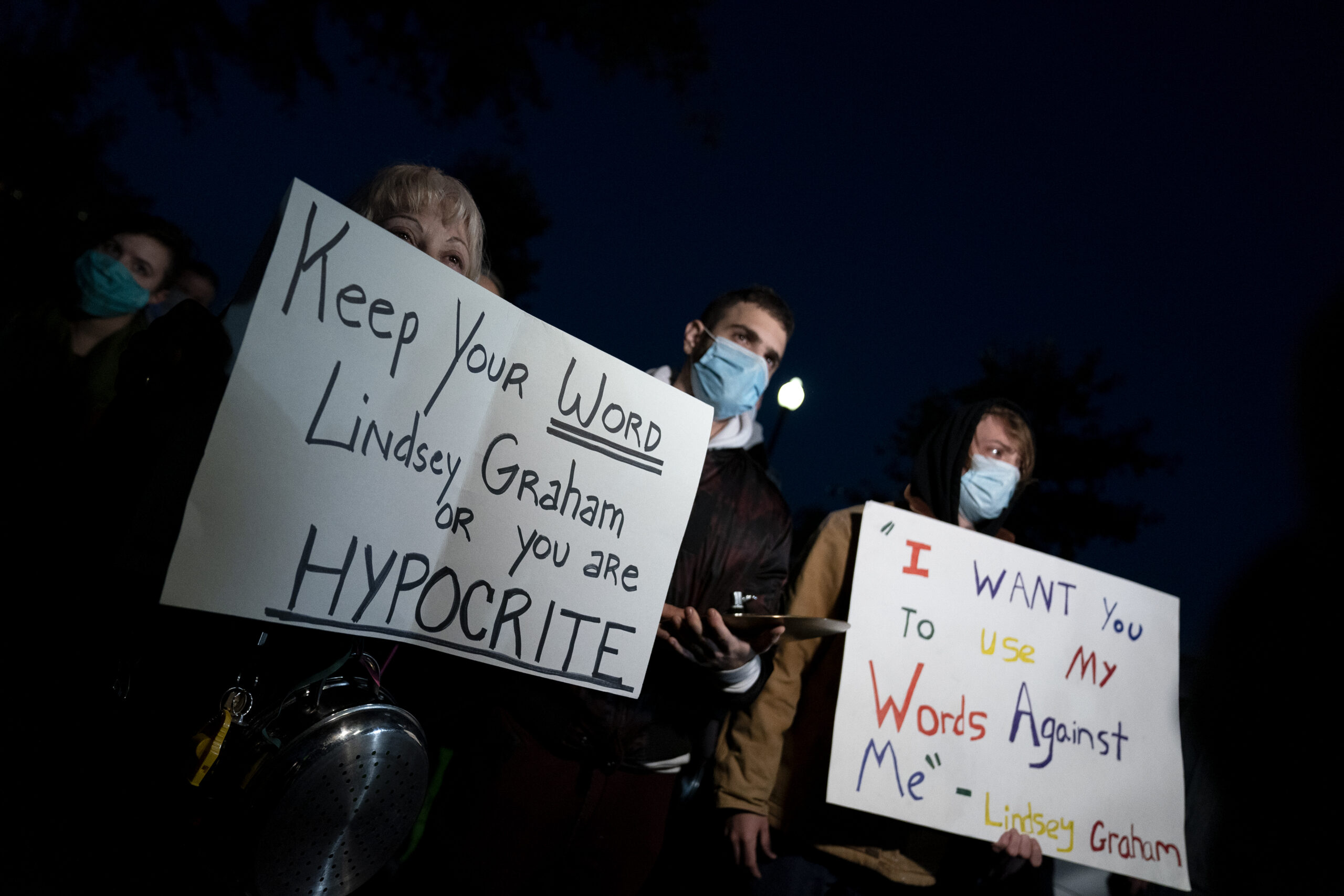 Key Takeaways
Graham is tied with Democratic challenger Jaime Harrison, 46% to 45%, consistent with polling since July.

Graham leads Harrison among white likely voters, 58% to 32%, while Harrison has a 70-point lead among Black voters, 81% to 11%.
This is the sixth in our "Majority Makers" series, a race-by-race look at the contests that will decide control of the Senate in 2021. See our previous dives on Colorado, North Carolina, Kansas, Michigan and Iowa.
Sen. Lindsey Graham (R-S.C.) is facing a tighter-than-expected re-election race this fall, according to Morning Consult polling, driven largely by the reticence of some Republican voters to commit to supporting him.
But strategists in the state on both sides of the aisle expect conservatives will fall in line for the three-term incumbent and Senate Judiciary Committee chairman as he prepares to play a pivotal role in advancing President Donald Trump's nominee to replace the late Supreme Court Justice Ruth Bader Ginsburg.
Graham has been polling neck and neck with his Democratic rival, Jaime Harrison, in a state otherwise viewed as solidly red. In the latest daily Morning Consult Political Intelligence tracking, conducted Sept. 11-20 among 764 likely South Carolina voters, the race was statistically tied, 46 percent to 45 percent, consistent with the state of the contest since daily tracking began in mid-July. Harrison and Democratic presidential nominee Joe Biden both have 95 percent support among Democrats, while independents are split on the two races: Harrison and Graham are even at 39 percent, and Trump's lead over Biden, 44 percent to 40 percent, in the presidential race is also within the sample's margin of error. 
Graham's weakness compared to Trump in South Carolina polling has so far appeared to come mainly from Republican voters: While Trump has support from 93 percent of Republicans, Graham has support from 84 percent in the same poll -- making him one of the worst-performing GOP incumbents up for re-election this cycle among voters from his own party.
Since Republicans make up such a large share of the South Carolina electorate, whether they ultimately coalesce behind the incumbent senator will go a long way in deciding the outcome in November, with a point of improvement among them being worth about twice as much in the state as a point of improvement among independent voters, according to the polling. 
"The Republican base will be mobilized to help Sen. Graham," said Republican strategist Matt Moore, the former chairman of the South Carolina Republican Party. "With Trump's unorthodoxy, the tradeoff has always been on judges. Presidential elections come down to turnout on the edges, and judges motivate the most conservative voters."
South Carolina state Sen. Brad Hutto, the Democrat who ran against Graham in 2014, said the Supreme Court fight may help Graham with the GOP base, but it will also make him out to be a "flip-flopping liar" to those independents and conservatives who are not motivated by social issues, given Graham's statements in 2016 opposing an election-year nomination of a Supreme Court justice. The message has been echoed by Harrison's campaign and its allies in the days since Ginsburg's death.
"That latter group is Jaime's target," Hutto said on Monday. "Jaime was never going to get base Republicans."
Presidential elections come down to turnout on the edges, and judges motivate the most conservative voters
Matt Moore, former South Carolina Republican Party chairman
Both the Graham and Harrison campaigns declined requests to interview the candidates.
On Monday, Sabato's Crystal Ball -- one of the three top elections handicappers -- moved the South Carolina race from "Likely Republican" to "Leans Republican," saying it was more competitive for the Democrats due in part to Graham's weakness among Republican voters. But at the same time, the analysts argued "the court fight could ultimately save Graham" despite the hypocrisy charge as he pushes for Trump to fill the current vacancy.
Even before Ginsburg's death, Republicans close to Graham's campaign expected the party's voters to eventually fall in line, persuaded by forthcoming messaging about foreign policy, the military and law and order aimed at those in the suburbs. Even Democrats who know Harrison and express excitement about his bid see a tough six weeks ahead, based on interviews in recent days.
After Ginsburg's death, one Democratic strategist in South Carolina, speaking privately to discuss strategy, said the Supreme Court nomination fight completely changes the contest, reflecting a view espoused by a source close to Graham's campaign. Both expect Harrison to continue to use Graham's national status as a villain for liberals to raise oodles of money from out of state, but also think the new development will help bring in conservatives who may have sat out the Senate contest.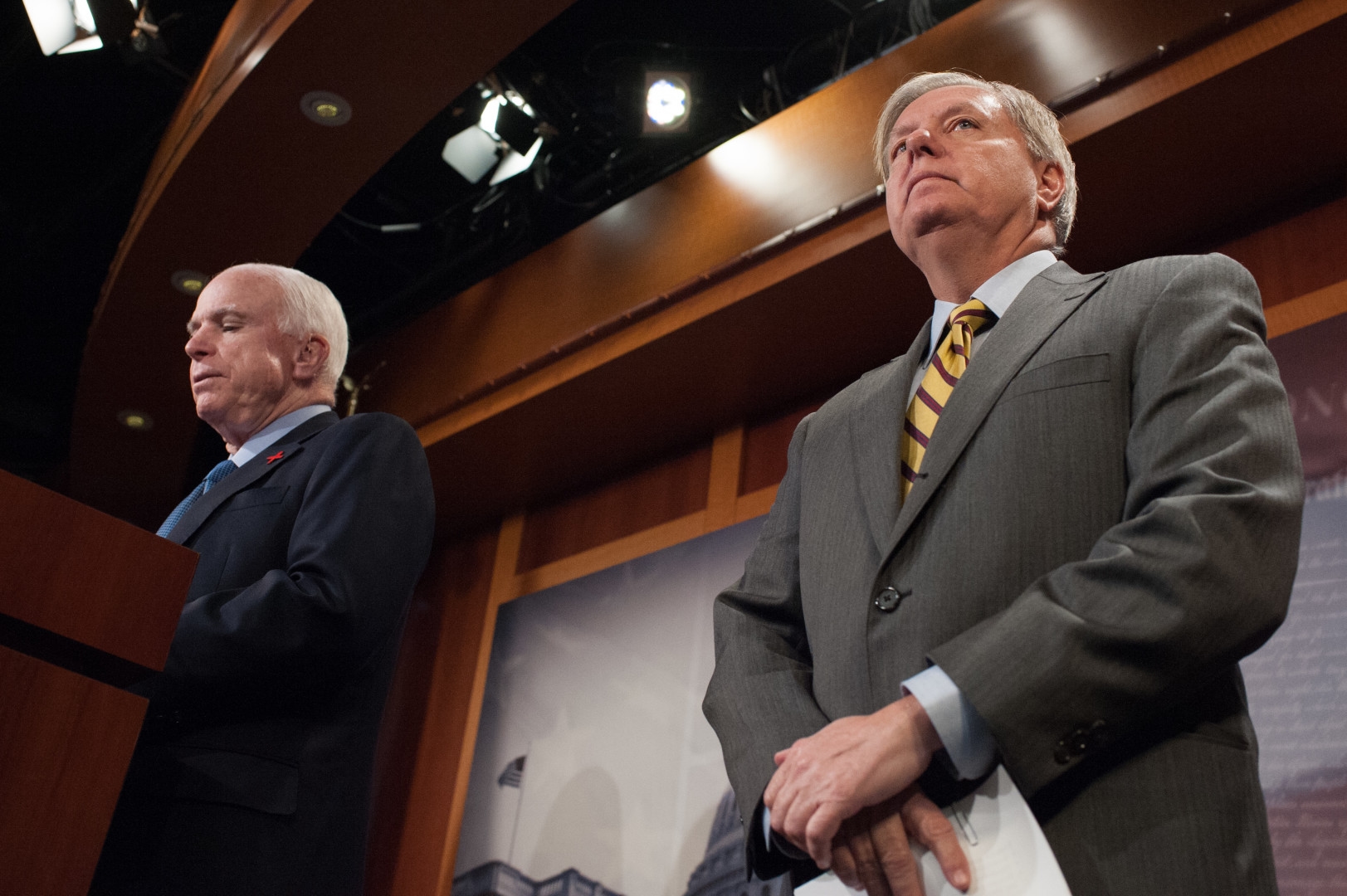 Another Democratic strategist in the state said the timing of the news is tough for the challenger, who has appeared to benefit from wary Republicans looking for a reason to back the incumbent, unsure whether he was the acolyte of Sen. John McCain (R-Ariz.) who criticized Trump in 2016 and who recently pledged not to say "anything bad" about Biden, or the man who's demonstrated his alignment with the president on a number of occasions, from his fierce case at a pivotal moment for Brett Kanavugh's confirmation hearing to his soaring public defense during impeachment.
While Graham avoided a bruising primary election and another round of censure from local Republicans this year, Harrison's campaign has sought to capitalize on that internal division, running a commercial featuring comments of Trump criticizing Graham in 2016. But for Harrison to be successful, strategists say, it's not just about turning out moderates in the suburbs, but also depressing support for Graham among Trump voters, whether they vote for Harrison, sit out the Senate contest or check the third-party box for the little-known Constitution Party candidate, Bill Bledsoe, as several Democrats separately suggested.
The burgeoning high-stakes court fight -- and Graham's central role in it -- is likely to make that a tougher proposition for Democrats. What's more, Republican strategists in the state say Graham has a technical advantage that would discourage such dropoff on Election Day. Tyson Grinstead, the political director of Graham's 2014 re-election campaign who now sits on the state Republican Party's executive committee, said Republican officials have pushed to normalize the straight-ticket voting option on South Carolina ballots.
"South Carolina is still a Republican, conservative state," he said. "If people turn out to vote on Election Day, Sen. Graham's going to win by a decent margin." 
Polling ahead of the 2014 contest showed Graham with about the same level of support among Republican voters that he has now, but Hutto was much weaker among the overall electorate due to less support among Democratic voters and Graham's lead with independents. Graham won that contest by 16 percentage points, including leads in the northern part of the state near its Charlotte, N.C., suburbs and in Charleston -- both places where Democrats believe they have gained ground in recent years. 
Laurin Manning Gandy, a Democratic strategist who worked on the South Carolina presidential campaigns for Barack Obama and Cory Booker, pointed in particular to the Lowcountry, where Democrat Joe Cunningham flipped South Carolina's 1st District two years ago and the party is making a run for four state Senate seats in Charleston. 
"That part of the state has changed so much, so fast, and it is growing," she said, adding that  "there were a bunch of white people" at Booker's events earlier this cycle, which "felt so different from any Democratic political events I've ever been to in South Carolina."
We're not quite Georgia, and Georgia's not quite North Carolina, and North Carolina's not quite Virginia, but we've kind of gone that way.
South Carolina state Sen. Brad Hutto (D)
Graham leads Harrison among white voters by 16 points, 58 percent to 32 percent, including an 18-point advantage among college-educated whites (56 percent to 38 percent) and a 31-point advantage among white voters without college degrees (60 percent to 29 percent). Among Black voters, Harrison leads Graham by 70 points, 81 percent to 11 percent. 
Harrison -- armed with a compelling personal story as a Black man who rose from poverty to attend Yale University and earn a law degree from Georgetown -- is performing at the bottom of the 30 percent to 40 percent threshold one Republican strategist said he'll need with white voters in order to be competitive in November, while his supporters see an enthused vote among Black South Carolinians given his own biography and Biden's presence on the ballot with Sen. Kamala Harris (D-Calif.). 
Along with that, Democratic strategists see an almost-flawless campaign that's set South Carolina fundraising records, much of it from out-of-state donors via online and national cable advertising capitalizing on Graham's relative fame compared to other incumbent senators due to his high-profile defenses of the president. They also set high expectations for Harrison's performance in the three debates, set for October.
Still, it is South Carolina, which hasn't elected a Democratic senator since 1998, and nobody expects Biden to win the state. 
"We're not quite Georgia, and Georgia's not quite North Carolina, and North Carolina's not quite Virginia, but we've kind of gone that way," said Hutto of the shifting political environment, which has paved the way for Democrats to make up ground. "Virginia moved purple then blue, then North Carolina edged that way when Barack Obama was president, and Georgia was always close. We're right behind them."
Grinstead said the leftward movement in the state is not enough, and that the Democratic gains in the suburbs are being matched by growth in the GOP's numbers in small and medium cities. 
"There have been so many times where the Democrats have had the next candidate who's going to win statewide, and it doesn't pan out," he said. "I'm not seeing anything on the ground to say that this year's any different."
Eli Yokley is Morning Consult's U.S. politics analyst. Prior to his current role, Eli was Morning Consult's senior reporter covering U.S. politics. Eli joined Morning Consult in 2016 from Roll Call, where he reported on House and Senate campaigns after five years of covering state-level politics in the Show Me State while studying at the University of Missouri in Columbia, including contributions to The New York Times, Politico and The Daily Beast. Follow him on Twitter @eyokley. Interested in connecting with Eli to discuss his analysis or for a media engagement or speaking opportunity? Email [email protected].
We want to hear from you. Reach out to this author or your Morning Consult team with any questions or comments.
Contact Us