'No One's Accountable': Why Silicon Valley Struggles to Diversify Its Workforce
As protests against police brutality continue, new spotlight falls on tech workplace diversity efforts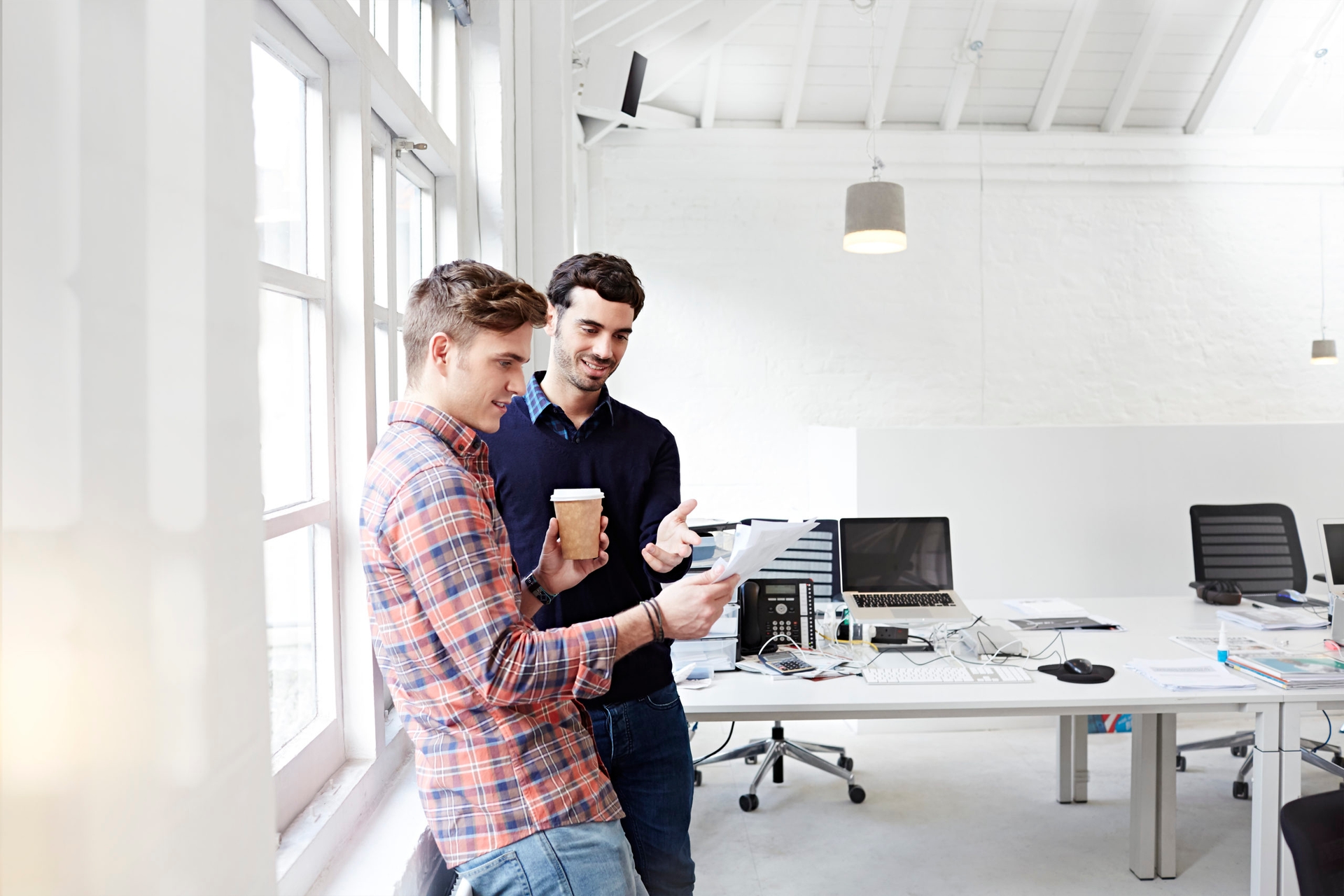 In 2014, as one Silicon Valley stalwart after another pledged to be more proactive in diversifying their workforces after years of mounting pressure, many solemnly underscored the marathon that lay ahead. Facebook Inc. said "we have more work to do – a lot more." Google said the company was "miles from where we want to be." And Twitter Inc. said the platform has "a lot of work to do."
But six years later, annual diversity and inclusion reports from the tech giants paint a picture of an industry moving at a turtle's pace to change their employee demographics and struggling to grapple with how to recruit and retain black and Hispanic workers. 
"You hear that there is an issue of diversity in 'tech,'" said Will McNeil, co-founder and chief executive of Chicago-based Black Tech Jobs, which works with employers to find black tech candidates. "One of the reasons that there hasn't been an advancement is that 'tech' is an inanimate object -- there isn't a person, he or she doesn't have a title, they don't have an office. 
"Therefore, as long as this problem is a 'tech' problem, no one's accountable."
Amid the ongoing protests against police brutality and systemic racism following the alleged murder of George Floyd in Minneapolis police custody, industry stakeholders are leading a renewed effort to hold Silicon Valley's leading companies accountable to the promises made years ago to confront diversity and inclusion problems. 
Since 2014, black employees have made up less than 5 percent of the workforces at Facebook, Twitter, Google and Microsoft Corp., according to a Morning Consult analysis of the companies' annual diversity reports. At Apple Inc., black employees comprise 9 percent of the company as of 2018, the company's latest available data, though that figure also encompasses workers at Apple's retail locations. 
And the same slow growth is also seen among Hispanic employees: Apple increased its share of Hispanic workers by 3 percentage points over four years, from 11 percent in 2014 to 14 percent in 2018, while Microsoft's share of Hispanic workers grew 0.8 points from 2016 to 2019. Twitter Inc.'s Hispanic employees grew from 3 percent of the company's total workforce in 2014 to 3.9 percent in 2019.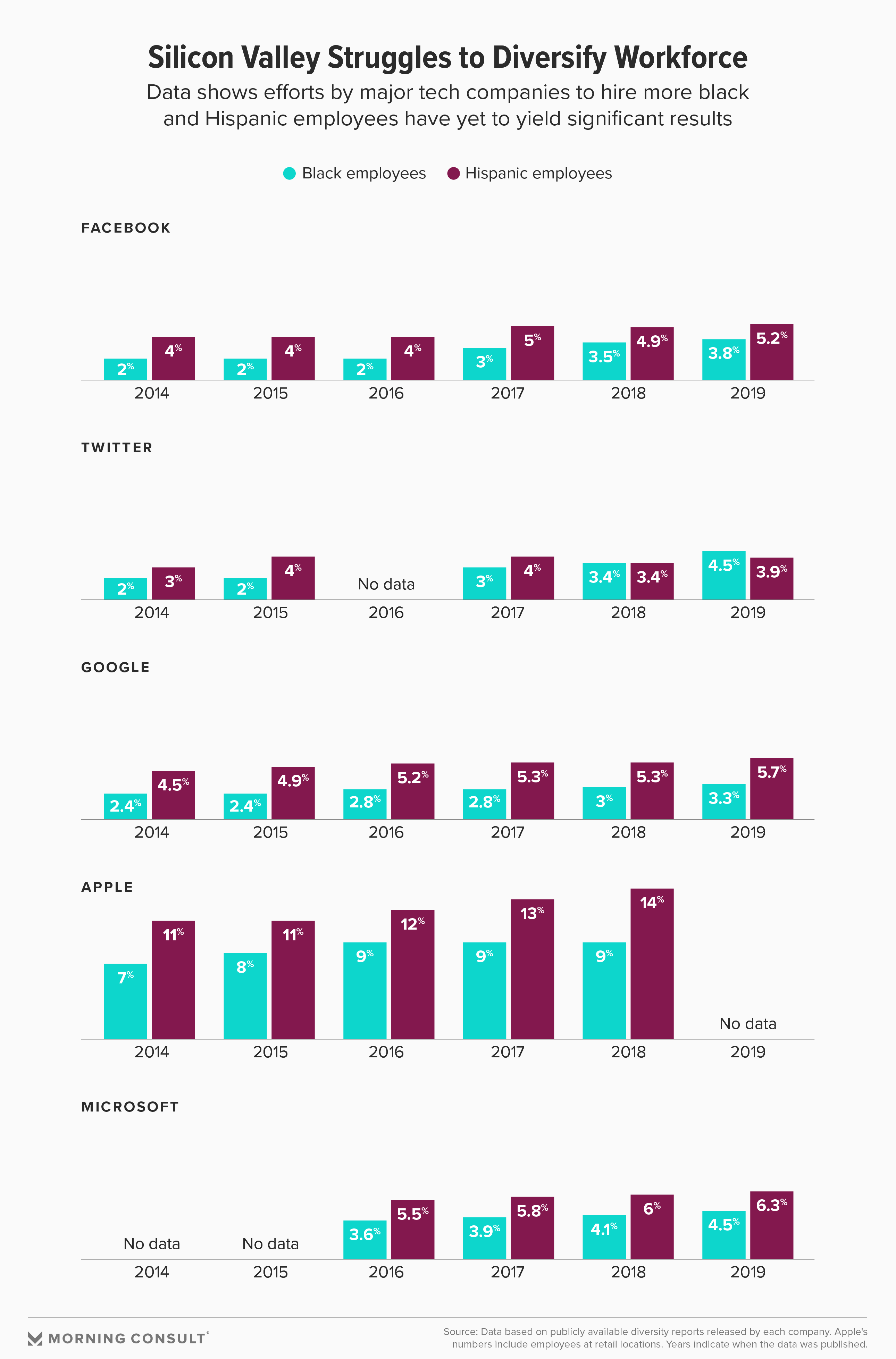 Representatives for Facebook and Google did not respond to requests for comment, while Microsoft declined to comment. A Twitter spokesperson pointed to the company's goal of having at least one in four of its U.S. employees be an underrepresented minority by 2025, among other targets laid out in a March quarterly update. An Apple spokeswoman said in an email that inclusion of underrepresented minorities has continued to increase at the company in the United States, where the "greatest progress is seen within the under-30 and new-hire populations."
In 2013, Tracy Chou, then an engineer at Pinterest Inc., paved the way for Silicon Valley to discuss the lack of diversity within its ranks when she released the gender makeup of the company's engineering team -- marking the first time a tech company had made such a public disclosure following years of pressure. Larger tech companies followed suit, with companies such as Facebook, Twitter, Google, Microsoft, Intel Corp. and Amazon.com Inc. releasing their first reports the following year.
These companies have also implemented various initiatives in their efforts to make progress on diversity issues. For example, Facebook invests in a number of computer science education programs. Apple created the Apple HBCU Scholars Program, a leadership and internship program for students at historically black colleges and universities. Microsoft works with several outside organizations to fix the talent "pipeline" problem and get more underrepresented people interested in tech careers. The list goes on.
But McNeil said part of the reason why this movement hasn't resulted in much change in workforce diversity data is because the industry isn't holding hiring managers accountable.
"The challenge is that universally, they haven't asked their front-line leaders to behave in a different way," McNeil said. "If I go to my team and say, 'Hey, I want to grow revenue,' and then leave the meeting and ask them to do nothing different, how is revenue going to grow?"
The tech industry has been more likely to focus their diversity initiatives on getting more women into their ranks, rather than thinking about the intersection of race in hiring or inclusion practices, McNeil said. Part of the reason for this is because it's easier to hire women in the United States, where they make up 50.8 percent of the population, per 2019 Census Bureau figures.
"Diversity has become a mixed bag of definitions," he said. "It has become 'anything but white males.'"
Melinda Briana Epler, CEO of Change Catalyst, a group that works with tech companies on diversity initiatives, said that while tech firms have made pro-diversity moves such as creating employee resource groups -- where underrepresented workers can meet up and build an internal workplace community -- and requiring employees and managers undergo implicit bias training, those resources do little to actually change the way people recruit workers who don't look like them.
"If you're looking for candidates in the same places you've always looked, then you might not find a lot of underrepresented people," she said. "You have to go where black people are if you want to recruit black people."
The problem of staff diversity spreads all the way to the top of large tech companies, according to their diversity reports, although there has been a notable shift in recent years to include nonwhite people in the C-suite.
Since 2014, the share of nonwhite leadership members at Twitter increased 16.3 percentage points, from 28 percent to 44.3 percent in its 2019 annual report, the last one before the company switched to quarterly reports. At Facebook, it grew 8.7 percentage points from 26 percent to 34.7 percent in 2019, and at Google it rose 7.7 points, from 28.7 percent to 36.4 percent in 2020. So far, Google is the only company in the analysis to release an annual report this year, as most other companies typically release theirs either in the summer or fall.
However, since the industry has only been focusing on D&I initiatives for the past six years, much of the work on making workforces less homogenous has been focused on new hires, Epler said. That progress could be moot thanks to the coronavirus pandemic: Those same entry-level employees are largely the first targets of layoffs and furloughs, and most companies that need to trim their budgets during times of financial strain start with cuts to their diversity and inclusion divisions.
"What we're seeing across the board is that black and Latinx workers are disproportionately let go or laid off or furloughed, and there are a lot of reasons for that," she said. "A lot of the underrepresented people that have been hired in the last six years were the last in, so the first to go."
And while the national conversation around race may feel different now because of the new allies emerging within it, Epler said it's unclear if Silicon Valley will actually change its strategy on diversity and inclusion. 
"There's definitely more companies feeling the need to address racism in a different way than they have before," she said. "So there may be a bit of a tide change -- I hope so, I don't know."
Sam Sabin previously worked at Morning Consult as a reporter covering tech.
We want to hear from you. Reach out to this author or your Morning Consult team with any questions or comments.
Contact Us